note.. this 'TheFreeOnline' blog is now banned in Turkey with Dozens more pro Rojava and anti Fascist sites. Wikimedia and many other sites are closed down.
[VIDEO] Turkey's Interior Minister says tourists to be detained at airports if suspected of 'terror' ties
information partly from TurkeyPurge | Mar 5, 2019 | Today in Crackdown
Turkey's Interior Minister Suleyman Soylu has said during a pre-election speech on Monday that tourists in Turkey resorts towns like Antalya, Mugla and Bodrum would be detained at airports if they are suspected of "terror" ties. (which can mean almost anything or nothing as massive purges continue.
Speaking to a Sakarya crowd, Soylu said it is not acceptable for Turkey to allow those who take part in "betrayal against Turkey" abroad spend their holidays in Turkey.
At least 217,971 people have been taken into police custody on "terror" accusations in Turkey).
Boycott Turkey .. Boycott Turkish Products  .. Cancel Holidays ..  DON't support this madness!
Don't risk going to Turkish airports!. Hundreds of prisoners , journalists and elected deputies are now dying on Hunger Strike against the Fascist Regime with 735 more Kurds arrested.
Turkey is known to every day abuse broadened terrorism laws to jail "opposition" of all backgrounds in the recent years.
Thousands of people, including mothers with babies, are now jailed and fired from their jobs,  just for being overheard criticizing the president, or retweeting on atrocities against Kurdish or Gulenist victims, or being an activist, or objecting to anti women and gay  repression, or genocidal Turkish invasions in Syria, or just having a friend or partner they suspect.  Hundreds of dissenters have even been kidnapped abroad and returned to Turkish jails.…
---
[VIDEO] Turkey's Interior Minister says tourists to be detained at airports if suspected of 'terror' ties || https://t.co/AcrZRNjsOw pic.twitter.com/TSFRltlwNh

— Turkey Purge (@TurkeyPurge) March 5, 2019
British holidaymaker raped by taxi driver in notorious Turkish …Daily Mirror
https://www.theglobepost  – 5 Austrians, all believed to be critics of President Erdogan, were deported from Turkey after brief detentions. Ece Heper, a Canadian citizen, was held in prison over allegations of insulting President Erdogan
Another Canadian, Davut Hanci, on a 2 week vacation has been held in a solitary confinement for 7 months. 5 Austrian citizens who previously spoke out against Mr. Erdogan were first detained and then deported from Turkey.
Turkish women protested proposed law to let off rapists who marry their victims
An  American woman was stabbed with a razor in the heart of Istanbul and her head was crushed with a rock …
---
see also ..The 1001 Crimes of Adolf Erdogan : #1002.. Abuses Little Girl on Stage
Jailed pro-Kurdish politician sentenced to another 1.5 years in
prison for insulting Erdogan || Feb 2019
Two Irish women waitresses were stabbed with knives, their bloody dresses were crushed and their bodies were thrown into the forest.
---
Don't go on holiday in Turkey! Don't buy Turkish slave goods!
The openly fascist dictator is promoting attacks and enslavement of women and a macho jihadist mindset. He has locked up over 160,000 people who might not like him, murdered thousands of Kurds, minorities and homosexuals,  uses refugees as illegal semi-slave labour, blackmails Europe with sending more IS terrorists, and now has invaded Afrin, destroying a peaceful democratic revolution, with Russian connivance.
by Yilmaz Özdil at Hurriyet newspaper
Here is a rough translation of the article and various Turkish press reports:
"I was raped in Izmit", said an Italian female artist who was going to Israel to do hitchhiking for world peace, she was later strangled and murdered.
---
 https://www.mirror.co.uk › New       Jun 24, 2017 – The Foreign Office website warns British tourists to Turkish coastal resorts to watch out for sexual attacks.
Figures show 18 cases of sexual assault, including rape, in Turkey were reported to British consular staff in 2015. The Foreign Office website warns Brits to watch out for sexual attacks in Turkish coastal …
A Danish tourist woman traveling by bicycle was raped at the fountain where she stopped in Yozgat.https://www.cnnturk.com> World> DW
Swiss tourists camped in Van were attacked, the male Swiss were tied up and beaten, and six Swiss women were raped.
In Nevşehir, two Japanese students were attacked with a knife, maniac … he raped one of the girls
---
'In the demonstrations tourists  were attacked  in Turkey' – Breaking News .. a uğradı'
---
Sep 9, 2015 – Denmark's BT newspaper, "Vacation paradise in violent demonstrations. Tourists were hit by stones resort set on fire," the report given by the headline, "Turkey's holiday paradise in Alanya is supposed to be peaceful but bars, restaurants, shops were set on fire, stones hit tourists were injured, "he said.    Vurun
Turkish police strip jailed purge victim, beat…
---
Pro-Kurdish HDP deputy sentenced to 7 years on "terrorist propaganda" charges
A Turkish appeals court has sentenced pro-Kurdish Peoples' Democratic Party (HDP) deputy Burcu Çelik Özkan to prison for alleged terrorism propaganda, according to a report by the pro-Kurdish Mesopotamia news agency.
 Those in Turkey who bravely spoke out against the state's invasion of Afrin have been met with heavy-handed repression. At least six hundred people have been jailed for opposing the war on Afrin since it began. Hundreds of detained dissidents have been charged with supporting terrorism by attending anti-war protests and spreading 'terrorist propaganda' on social media. Those prosecuted include eleven senior members of the Turkish Medical Association because the organization issued a statement critical of the war.
---
https://horizonweekly.ca/en…. – By Uzay Bulut The Gatestone Institute Just a few hours after the commemoration of the 102nd anniversary of the Armenian Genocide on April 24, 2017, Turkish warplanes dropped bombs on the Yazidi homeland of Sinjar (Shingal) on April 25 While Yazidis are still suffering from these atrocities, Turkey, …
---
 4 journalists from pro-Kurdish daily arrested on terror charges
A Turkish court on Tuesday ruled to arrest three editors and one media worker from the pro-Kurdish Özgürlükçü Demokrasi newspaper, which was seized by the Turkish government in late March on the grounds that it has links to the  Kurdistan Workers' Party (PKK).
Özgürlükçü Demokrasi is the successor of the Özgür Gündem newspaper, which was closed down by the government in the aftermath of a failed coup attempt in Turkey on July 15, 2016.
On March 28, the headquarters of Özgürlükçü Demokrasi in the Beyoğlu district of İstanbul and its printing house were raided and searched by police teams upon an order from the İstanbul Chief Public Prosecutor's Office. Twenty-two employees of the daily were detained, and 20 were subsequently arrested.
see also : Asli is the154th journalist jailed as Turkey heads for full Fascism
 Turkey's Erdoğan continues to fuel war in Libya
410 tons of explosives in 29 containers with detonators, ammonium nitrate and special gel.
By 
TM    
 In a bid to plant a closely aligned Islamist zealot as the ruler of Libya, the Erdoğan government has not only been facilitating the shipment of arms and the smuggling of oil but has also been helping in the transfer of jihadists back and forth between Libya and Turkey. The trace of evidence revealing his government's involvement has now found its way to the UN documents as well. I hope one day he and his associates will be held accountable for fuelling the war in this North African country.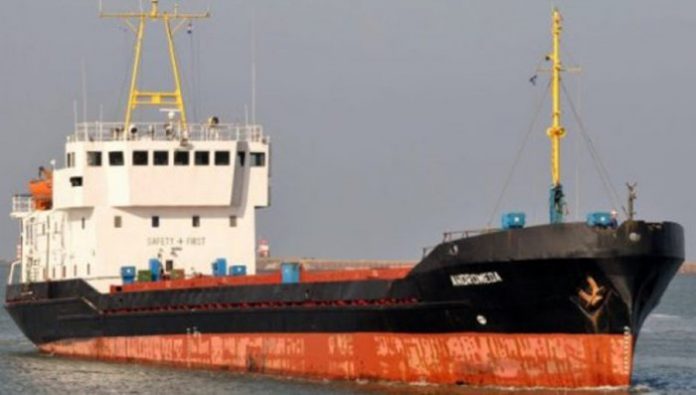 Abdullah Bozkurt
With yet another Libyan-bound ship carrying explosives from Turkey seized by the Greek coast guard on Jan. 10, 2018, the Islamist government of President Recep Tayyip Erdoğan has once again come under the renewed scrutiny of international monitors who are trying to cut off the flow of arms and ammunition to the war-torn country under the UN Security Council sanctions regime.
Speaking at a Security Council meeting on Jan. 22, 2018, Libyan representative to the UN Elmahdi S. Elmajerbi condemned the attempt to send explosives to Libya in the hold of a ship named the Andromeda and expressed hope that the Greek and Turkish governments would share the results of their investigations into these matters.
see also:  I revealed the truth about President Erdogan and Syria. For that, he had me jailed
---
   from Kurdish Kat .. There are over 100.000 waiting to be tried by the inquisitorial courts of the Turkish regime. The vast majority of the prosecuted are for their ideology either from the left or for being Kurdish. The minimum sentence they face is 5 years in prison but on average they are sentenced to twelve years.
Turkish Islamic President Recep Tayyip Erdoğan has defined students who oppose the Turkish imperialist intervention on Efrîn (Kurdistan of Syria) as "communists, traitors and terrorists." Since Erdogan came to power, , the number of imprisoned people have gone from 60,000 to 230,000, a spectacular figure considering that 38,000 common prisoners have been amnestied to clear prisons.  ..   from Kurdish Kat
---
Related Posts