Map:  All the known mass graves of the hundreds of thousands of victims of the fascist uprising and the Franco regime.
Spain has done little to give closure to the atrocities perpetrated during the dictatorship. Instead, as Alex W. Palmer explains in a recent article, Spain implemented a political agreement known as the "Pact of Forgetting." 200,000 people were executed in the dictatorship—mostly by the fascist forces, still more died during the bombings of cities and towns in Spain, and some 370,000 were held in concentration camps.
Spain has exhumed the remains of only 9,000 victims of the long fascist-catholic regime in the last 19 years. A report urges the government to formalize an urgent plan to recover up to 25,000 more bodies in the next five years. This will depend on whether a far right coalition wins the April 2019 election.
Info partly from  Nacho del Río with thanks ……  "Under the foundations that sustain a kind of modern democracy with serious ups and downs since 1978 a past framed in oblivion has been erected.
Lost among the vast lands of Spain hundreds of thousands of dead are crammed together, turned into symbols of the shame of a country that rejects them".
The Spanish oligarchy and Church killed most of them with an illegal military takeover and long dictatorship that elders avoid remembering and young people do not know. They are the victims of a time that is now labeled as confusing, unnecessary and even non-existent.
In Spain there have been  little reparations or process of reconciliation, so that the entrenched far-right and Church, the 'deep state',  still hold huge amounts of seized property and power in the politicized courts, constitution, media, police and military.
In 2019 once again the old poison of blind nationalism and 'machismo' is being fanned into flames to protect  and extend the privileges of the old rich and powerful in Spain and its present and  ex colonies.
"Another proof is that, although the Ministry of Justice admit that more than 2,500 graves exist,  holding the remains of the more than 130,000 victims (according to numbers of the historical memory associations), these data are outdated and not entirely reliable.
The map shows all the graves found since the first memory recovery projects began, as well as the characteristics presented by them. That is, if partial or total exhumations have been carried out, if they have not been intervened, if they have moved directly to the Valley of the Fallen or if they have not yet been located (these pits are marked with white dots on the map based on reports kept since the Franco regime, testimonies of relatives and victims and from documented battles whose scenario has not been explored or analyzed),
We say that the data shown on the map are not reliable because they have not been updated since 2011, the year in which the Government of Mariano Rajoy took office and abolished the  recent concession of grants and subsidies to associations of Historical Memory in charge of the work of identification and Exhumation of corpses.
During an interview in which he was asked why he had not repealed the Law of Historical Memory under which 370 exhumations were allowed with the recovery of nearly 6,000 bodies between 2007 and 2011, the then president boasted that he had allocated "zero euros" in the five Budgets of his Government".
"He added: "That issue has not generated great controversy here." As a result of this 'management', Spain has lost seven years of remarkable importance in terms of repairing the memory of the victims of the Franco regime, as pointed out in a new report that has delved into these figures.
According to the investigation led by the forensic archaeologist Francisco Echeverría, in the last 19 years only 740 graves have been opened in Spain, from which the bodies of only 9,000 victims of the war and the dictatorship have been recovered.
Echevarría himself points out that, with institutional support, between 20,000 and 25,000 bodies of victims of reprisals could have been recovered, although he believes that only 5,000 to 7,000 victims could be identified.
Therefore, the State is being urged to implement an urgent exhumation plan for the next five years. Echevarría's report, in collaboration with a group of 11 experts, also reveals worrying
data; among them, the impossibility of recovering all the victims buried along the Spanish territory in ditches, mountains and open fields; under widened roads or urbanized areas over time.
Here, the age of the family members is particularly worrisome, and over time they are dying and this makes it difficult to identify non-genetic bodies.
Faced with such expectations, the document proposes to develop a new map of pits that overcomes the existing gap with the current data and  that allows Justice, through Internet, with exhaustive searches at a local level to facilitate the location and recognition of the remains".
Mass Graves of Fascist-Catholic Regime still not opened
"Spain has the terrible honor of being the number one country in the European Union in the number of enforced disappearances, that of the more than 130,000 people in the Civil War and the fascist regime. Furthermore, worldwide, our country is only surpassed in criminal figures by Cambodia.
In our country, due to the abandonment of the governments established since the Transition, only about 2,600 graves have been found, although the data handled by the Association for the Recovery of Historical Memory (ARMH) suggest that the number of Unseen pits may be double that.
Time is running against Spanish democracy, which must now prioritize an exemplary work of recovery of memory that serves not only to give the deserved rest to all the victims who were punished by a cursed war and a dictatorship that repudiated diversity in all its forms, but also, to strengthen the bonds of a reconciliation that finally allows us to live in the present and look to the future without forgetting the past".
translated and adapted from the report below with added illustrations.
---
El mapa de la vergüenza en España: todas las fosas comunes de las víctimas de la Guerra Civil y el franquismo
Por Nacho del Río
"España ha exhumado los restos de 9.000 víctimas de la Guerra Civil y el franquismo en los últimos 19 años. Un informe insta al Gobierno a formalizar un plan urgente para recuperar hasta 25.000 cuerpos en los próximos cinco años.
Bajo los cimientos que sustentan una suerte de democracia moderna con serios altibajos desde 1978 se erige un pasado enmarcado en el olvido. Perdidos entre las bastas tierras de España descansan hacinados cientos de miles de muertos, convertidos en símbolos de la vergüenza de un país que reniega de ellos. La propia España los asesinó con una guerra y una dictadura que los mayores evitan recordar y los jóvenes desconocen. Son las víctimas de un tiempo que ahora se tacha de confuso, de innecesario y hasta de inexistente.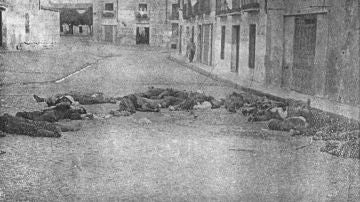 Fusilados en Talavera de la Reina en septiembre de 1936 | Hemeroteca Municipal de Sevilla
La prueba es que, si bien el Ministerio de Justicia cifra en más de 2.500 las fosas halladas en todo el territorio español que guardan en su interior los restos de las más de 130.000 víctimas de la Guerra Civil y el régimen franquista (según números de las asociaciones de memoria histórica), estos datos no son del todo fiables.
En el mapa se presentan todas las fosas encontradas desde que comenzaron los primeros proyectos de recuperación de la memoria, así como las características que presentan las mismas. Esto es, si se han llevado a cabo en ellas exhumaciones parciales o totales, si no han sido intervenidas, si se han trasladado
directamente al Valle de los Caídos o si no han sido localizadas aún (estas fosas están señaladas con puntos blancos en el mapa en base a informes guardados desde el franquismo, testimonios de familiares y víctimas y por batallas documentadas y cuyo escenario no ha sido explorado ni analizado).
Decimos que los datos expuestos en el mapa no son fiables porque llevan sin actualizarse desde 2011, año en que el Gobierno de Mariano Rajoy se asentó en el poder y suprimió las ayudas y subvenciones a las asociaciones de Memoria Histórica encargadas de la labor de identificación y exhumación de cadáveres. El propio Rajoy se encargó de recordarlo en 2015.
Durante una entrevista en la que le preguntaron por qué no había derogado la Ley de Memoria Histórica con la que se permitió 370 exhumaciones y la recuperación de cerca de 6.000 cuerpos entre 2007 y 2011, el por entonces presidente presumió de haber destinado "cero euros" en los cinco Presupuestos que ejecutó su Gobierno.
Y añadió: "Ese tema no ha generado aquí gran polémica". Como resultado de su gestión, España ha perdido siete años de notable importancia en cuanto a la reparación de la memoria de las víctimas del franquista, tal y como apunta un nuevo informe que ha ahondado en dichas cifras.
Por ello, ha instado al Estado a implementar un plan urgente de exhumaciones de cara a los próximos cinco años. El informe de Echevarría, en colaboración con un grupo de 11 expertos, también arroja preocupantes datos; entre ellos, la imposibilidad de recuperar a todas las víctimas enterradas a lo largo del territorio español en cunetas, montes y descampados; bajo carreteras ensanchadas o zonas urbanizadas con el tiempo.
Aquí preocupa especialmente la edad de los familiares, que con el tiempo irán falleciendo y dificultarán las tareas de identificación no genéticas de los cuerpos. Frente a tales expectativas, el documento propone elaborar un nuevo mapa de fosas que supere el desfase existente con los datos actuales de Justicia que permita, a través de Internet, búsquedas exhaustivas a nivel particular para facilitar la localización y el reconocimiento de los restos.
Muchas fosas sin abrir
España tiene el terrible honor de ser el primer país de la Unión Europea en número de desapariciones forzadas, la de las más de 130.000 personas a las que se llevó la Guerra Civil y el régimen fascista. Más allá, a nivel mundial, nuestro país solo es superado en cifras criminales por Camboya, que cuenta con más de 20.000 fosas comunes localizadas tras el devastador genocidio que acabó con la vida de más de un millón y medio de personas.
En nuestro país, a razón de la dejación de los Gobiernos establecidos desde la Transición, solo se han encontrado cerca de 2.600 fosas, si bien los datos que maneja la Asociación para la Recuperación de la Memoria Histórica (ARMH) apuntan a que el número de fosas sin localizar puede ser el doble.
El tiempo corre en contra de la democracia española, que debe priorizar ahora una labor ejemplar de recuperación de la memoria que sirva no solo para dar el merecido descanso a todas las víctimas que fueron castigadas por una guerra maldita y una dictadura que repudió la diversidad en todas sus formas; también, para estrechar los lazos de una reconciliación que por fin permita vivir el presente y mirar al futuro sin obviar el pasado".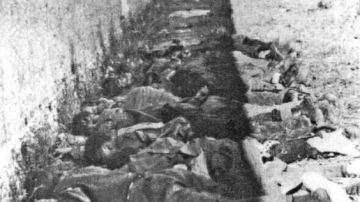 Fusilamientos en Navalcarnero, Madrid, en octubre de 1936 | Biblioteca Nacional de España
---
RELACIONADOS