from Indymedia Barcelona with thanks, translations TheFreeonline
We extract from Indymedia Barcelona and email various information about the eviction process of the squad Ca l´Espina, in the Gràcia neighborhood, with the holding of the first trial. A pressure campaign has started and a call for solidarity against the real estate agency Bojous S.L. For more information, you can visit the TW account of Ca l´Espina. For July 17, a property scandal has been called in Barcelona, waiting to confirm the place.
FIRST TRIAL OF CA L'ESPINA
Next Monday, July 20, we face the first trial of Ca l'Espina, a criminal case against the second floor when we already had a civil case open against the whole building. The property forces legality by imposing a meaningless criminal route through a building that has remained empty, abandoned and neglected, filing a second criminal complaint as the first was filed and redirected to a civil lawsuit.
The speculative eagerness of this great landlord will not drive us away. We have already received the first signs of solidarity and we know that we are not alone in this city riddled with speculation and greed, we resist and will resist until the end, because we will not allow a neighborhood only for the rich and tourists. They won't kick us out!
We call for it to resonate on balconies, walls, and the entire city, in every way you can imagine, until it becomes clear to the property owner:
BOJOUS S.L. REMOVE COMPLAINTS
CA L'ESPINA RESISTS
———————————

Ca l'Espina, a building occupied last January at Carrer Astúries 12, in the district of Gràcia, is under threat of eviction. We are facing a lawsuit for a building that was abandoned and neglected, in which one of the floors was covered by a meter of garbage and garbage. In the face of this threat, our request is clear: that the owner, the real estate company Bojous S.L., withdraw the complaint.
We know many of you will be wondering "WHO IS BOJOUS S.L.?"
Today we publish the properties of this so-called "small owner"
-4 Buildings
-31 Residential flats…
-Miscellaneous premises
Welcome to the MONOPOLY of BOJOUS S.L.!
There are so many properties that we can't hang all the posters on Indymedia, followed by the 9 most expensive properties.
IT DOESN'T END HERE, BOJOUS S.L. IT IS THE PROPERTY OF THE MASSIMO DUTTI OF PORTAL OF THE ANGEL, THE ANCIENT ZARA. A COMMERCIAL BUILDING ON THE STREET WITH THE MOST EXPENSIVE RENTALS IN ALL OF SPAIN.
A rental price of 285 € per m2, a total of 445,455 € monthly.
8.jpg
The lies of the property owner are clear.
He wants to take us out of one of his jewels, valued at 1,434,500 Euros. We resist and will resist Ca l'Espina, because the houses are for those who live in them and not for speculation
We have it very clear and we are going for it all, we know that we are not alone and that anything is possible! We know that with the strength of all we are unstoppable!
To all of you who feel the project is yours and want to take part in the campaign, we encourage you to help spread the word in any way you see fit. We have banners and we are preparing other material that we can distribute to you.
No to speculation, no to gentrification, not in Gràcia or anywhere.
Attack on Massimo Dutti on Carrer Comtal in solidarity with Ca l'Espina
per Solidàries 13 Jul 2020

The Massimo Dutti of Portal de l'Àngel is the same property as Ca l'Espina, under threat of eviction due to the complaint of its owner.
On Monday 13 July, a graffiti appeared in one of the windows of Massimo Dutti on Carrer Comtal itself where it could be read "Bojous SL withdraws the complaint" and a few hammer blows on the same glass that have produced several holes in it.
Solidarity with Ca l'Espina !!
BOJOUS S.L. … WITHDRAW THE COMPLAINT !!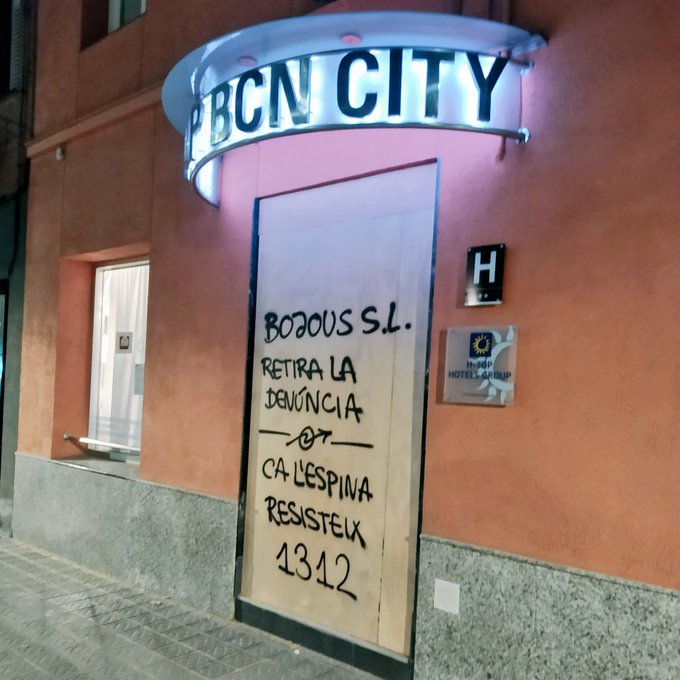 Atac al Massimo Dutti del Carrer Comtal en solidaritat amb Ca l'Espina per Solidàries 13 jul 2020
El Massimo Dutti de Portal de l'Àngel és de la mateixa propietat que Ca l'Espina, sota amenaça de desallotjmanet per la denúncia del seu propietari.
El dilluns 13 de Juliol ha aparegut en un dels vidres del Massimo Dutti del mateix Carrer Comtal una pintada on es podia llegir "Bojous SL retira la denuncia" i uns quants cops de martell en el mateix vidre que han produit diversos forats en aquest.
Solidaritat amb Ca l'Espina!!
BOJOUS S.L.RETIRA LA DENÚNCIA!!
original in Castillian
[Barcelona] Amenaza de desalojo de Ca l'Espina: primer juicio y campaña de resistencia
Extraemos de Indymedia Barcelona y del correo electrónico diversas informaciones sobre el proceso de desalojo de la okupa Ca l´Espina, en el barrio de Gràcia, con la celebración del primer juicio. Se ha iniciado una campaña de presión y llamado a la solidaridad contra la inmobiliaria Bojous S.L. Para más información, podéis visitar la cuenta de TW de Ca l´Espina. Para el 17 de julio, hay convocado en Barcelona un escrache a la propiedad, a la espera de confirmar el lugar.
---
PRIMER JUDICI DE CA L'ESPINA El proper dilluns 20 de juliol ens enfrontem al primer judici de Ca l'Espina, un procés penal contra el segon pis quan ja teníem un procés civil obert contra tot l'edifici. La propietat força la legalitat imposant una via penal sense sentit per un edifici que s'ha mantingut buit, abandonat i descuidat, interposant una segona denúncia penal en ser la primera arxivada i redirigida a un procés civil. L'ànsia especulativa d'aquest gran propietari no podrà fer-nos fora de casa. Ja ens han arribat les primeres mostres de solidaritat i sabem que no estem soles en aquesta ciutat corcada per l'especulació i l'avarícia, resistim i resistirem fins al final, perquè no permetrem un barri només per a rics i turistes. No ens faran fora! Fem una crida a què ressoni als balcons, a les parets i a tota la ciutat, de totes les formes que pugueu imaginar, fins que li quedi ben clar a la propietat: BOJOUS S.L. RETIRA LES DENÚNCIES CA L'ESPINA RESISTEIX
—————————————————————————————————————————————————- BOJOUS S.L. RETIRA LES DENÚNCIES Ca l'Espina, edifici okupat el passat gener al Carrer Astúries 12, al barri de Gràcia, es troba sota amenaça de desallotjament. Ens enfrontem a un procés judicial per un edifici que estava abandonat i descuidat, en el que un dels pisos estava cobert per un metre d'escombraries i deixalles. Davant d'aquesta amenaça, la nostra petició és clara: que la propietària, la immobiliària Bojous S.L., retiri la denúncia. Sabem que moltes us estareu preguntant «QUI ÉS BOJOUS S.L.?» Avui publiquem les propietats d'aquest autoanomenat «petit propietari» -4 Edificis…
-31 Pisos d'habitatge…
-Diversos locals… Benvingudes al MONOPOLY de BOJOUS S.L.!

Són tantes les propietats que no podem penjar tots els cartells a Indymedia, tot seguit les 9 propietats més cares. NO ACABA AQUÍ, BOJOUS S.L. TÉ LA PROPIETAT DEL MASSIMO DUTTI DE PORTAL DE L'ÀNGEL, L'ANTIC ZARA. UN EDIFIC COMERCIAL EN EL CARRER AMB ELS LLOGUERS MÉS CARS DE TOTA ESPANYA.
Un preu de lloguer de 285€ per m2, un total de 445.455€ mensualment. Q
ueden clares les mentides de la propietat. Ens vol fer fora d'una de les seves joies, valorada en 1.434.500 Euros. Resistim i resistirem a Ca l'Espina, perquè les cases són per qui les habita no per que especula Ho tenim molt clar i anem a per totes, sabem que no estem soles i que tot és possible! Sabem que amb la força de totes som imparables! A totes les que us sentiu vostre el projecte i volgueu participar en la campanya us animem a ajudar en la difusió de la manera que considereu. Tenim pancartes i estem preparant altre material que us podem repartir. No a l'especulació, no a la gentrificació, ni a Gràcia ni enlloc. Ca L'Espina Resisteix BOJOUS S.L. RETIRA LES DENÚNCIES!
Related Posts .. relacionados
see also: The Squatted Garden and the Vilest Vulture Fund on Earth
see also .. Barcelona: 15 day blockade stops Blackstone eviction of 10 Families
Leer En Castellano   AQUÍ      El Huerto Okupado contra el Buitre más Malvado del Mundo