Posted on by enough14 — Leave a comment
Originally published by Indymedia NL. shared with thanks
Thales profits from militarising and boosting the borders of Fortress Europe. Thales Netherlands exported arms to repressive regimes in Egypt, Pakistan and Indonesia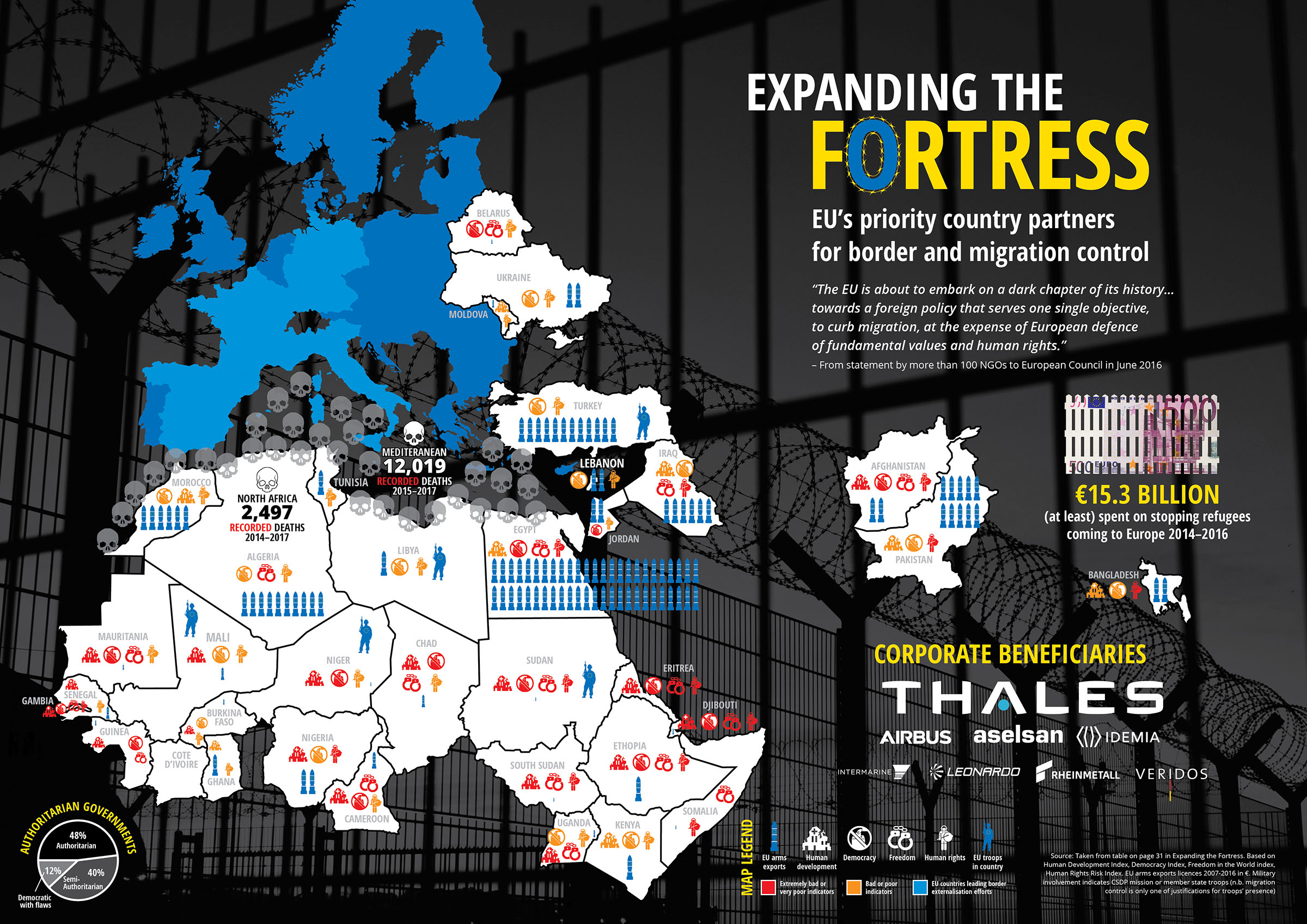 Amsterdam. Netherlands. February 17. Today, we replaced bus stop posters to shed light on the deadly practices of Thales, the company that has developed the OV-chip card system. Thales is currently replacing all the check-in gates for public transport in Amsterdam.
Thales exports arms all over the world. Last year, Thales Netherlands exported arms to repressive regimes in Egypt, Pakistan and Indonesia. The order for radar systems for the Egyptian Navy of €114 million was highly profitable for Thales. Egypt has a military dictatorship, thousands of political prisoners, and politically supports the Saudi led coalition in the Yemen war.
At the same time, Thales profits from militarising and boosting the borders of Fortress Europe. The company sells border security systems, mobile thermal units, and radar equipment for patrol boats to the EU and countries surrounding Europe.
Thales sees opportunities in the horrific fortification of borders on the route to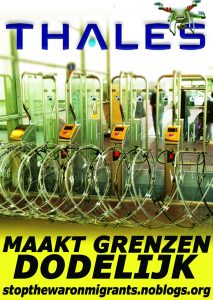 Europe, to prevent migrants from even reaching the external borders of the EU, stating that it is 'capitalising on the growth in security markets' in Africa. In 2019, the biometric company Gemalto became part of Thales. Gemalto has sold biometric passports and electronic border gates to many countries in Africa and the Middle-East.
In this way, Thales has built a profitable revenue model where it first profits by exporting arms that fuel conflicts, and secondly provides the border security equipment to stop the refugees that flee from those wars.
Thales not only profits for this, but also heavily lobbies to ease arms export regulations and to militarise borders. It is part of the European Organisation for Security (EOS), the lobby organisation that successfully campaigned for the expansion of power of Frontex.
Thales is not harmless: it is a company that destroys lives in the search for ever more profits. These kinds of companies need to be held accountable for the blood on their hands and destroyed.
Posted on by enough14 — Leave a comment Riot and Escape at Migrant Camp in #Malta
Fight Fortress Europe and it profiteers, stop the war on migrants!