leer en español AQUÍ.. https://wp.me/pIJl9-neZ

In the event of war caused by a NATO attack on Ukraine, the Black Sea or Latvia, Russia will have to destroy, in a matter of minutes, first Spain as a base for the anti ballistic missiles that its original nuclear arsenal awakens.
Since February 2014, the naval base in Rota (Cádiz) has housed four US destroyers as part of the NATO anti-missile shield. And now, the "USS Arleigh Burke" is deployed at the Cadiz base, which is the most technologically advanced destroyer of the US Naval Forces deployed in Europe.
Upon his arrival at the Cadiz base, Vice Admiral Gene Black, commander of the Sixth Fleet (in which the "Arleigh Burke" will be framed), assured that "it is an honor that this powerful warship, with its recently improved capabilities, join our destroyer squad in Spain ".

And it is that, although this ship built in 1991 was the first of the destroyers of its class equipped with the "Aegis" combat system, it has recently been modernized with the latest technology and updated to phase 9, which allows it to carry carry out "effective anti-aircraft, anti-submarine, anti-surface and attack operations in high-threat environments," as the Sixth Fleet explains in a statement.
"As one of the most technologically advanced destroyers in the entire United States Navy, we are excited to provide additional capability to Sixth Fleet operations," said Patrick Chapman, commander of the "USS Arleigh Burke."

However, the ships, and the entire NATO fleet are already obsolete and defenseless because Russia deploys hypersonic missiles' unstoppable 'that go up to 27 times the speed of sound (Russia deploys missiles '27 times faster than speed of sound' )
27 times the speed of sound = 33339.6 km / h or 20716.3 mph
In Rota, this destroyer will share a base with the "USS Ross", the "Roosevelt" and the "Porter", which will not only participate in the allied anti-missile shield, but will also patrol the Mediterranean with an eye always on key scenarios. for the USA: Russia and Iran.
Scheduled relays
The newcomer replaces "Donald Cook", who was the first of the American destroyers to arrive in Rota seven years ago.
The Spanish Eurofighters lead the NATO Air Police mission in the Baltic … Threatening Russia on its border. December 5, 2021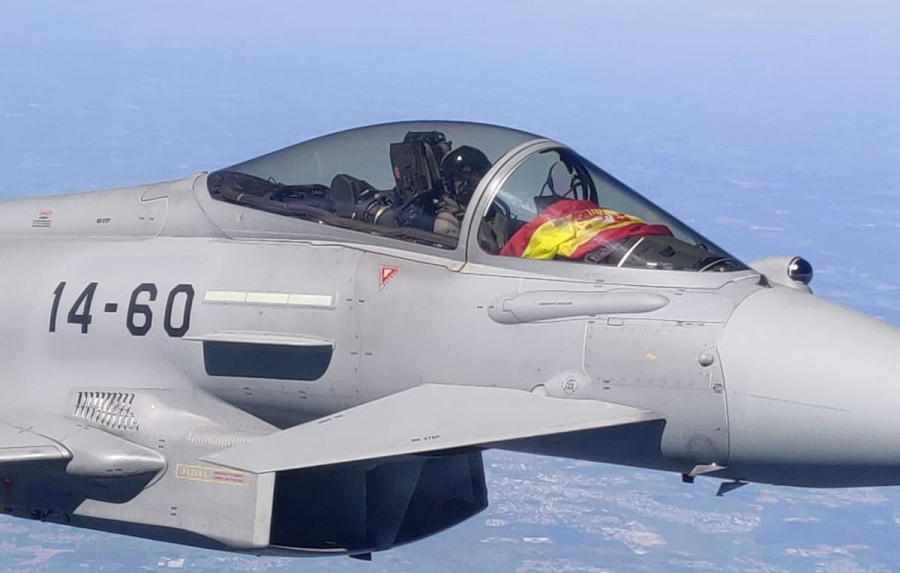 Eurofighter fighter from Wing 14. Photo by Air ForceLos Eurofighter españoles ahora lideran la misión de 'Policía Aérea' de la OTAN en la frontera de Rusia en el Báltico..
December 5, 2021 Russia has accused NATO of "crossing its red lines" with the US deployment of giant B52 nuclear-capable aircraft just "20 km from the Russian border."
Threatening Russia on its border. 2
Every day we hear new threats against Russia from US vassal states around the world. Now we have new sanctions, renewed blocking of the Northstream2 pipeline, and dire warnings against Russia invading Ukraine.-
But reality is the reverse, there is fear that Ukraine will launch a big attack on the breakaway ethnic Russian enclave of Donbass with their new NATO supplied arsenal, thus forcing Russia to intervene.
Though provocations and the military siege continue it is hoped that Biden has reminded Ukraine of their dependence on massive IMF, World Bank and EU subsidies, and of their failure to implement the Minsk agreement allowing Donbass autonomy within Ukraine.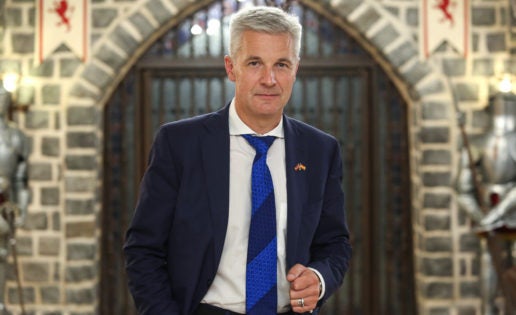 Latvian Defense Minister Artis Pabriks visits the Cartagena naval base, the Parachute Brigade and the NATO Combined Air Operations Center in Torrejón Artis Pabriks poses for ABC after the interview at the Alfonso VI hotel in Toledo / ÓSCAR HUERTAS Esteban Villarejo on Sep 09, 2019
-Has Minister Pabriks, Defense Minister Margarita Robles, guaranteed the presence of Spanish troops in Latvia in the coming years?
"We would like the deployment of Spain in Latvia to last as long as possible"……
editorial comment
But what did Russia do to deserve all this War preparation and hysteria, now gaining its own momentum and nearly unstoppable??
Nothing new has happened. Not even confirmation that Russia has 'moved its troops'.
It's absurd. Russian has zero interest in a suicide invasion of basket-case Ukraine, or anywhere else.
Russia "Moved Troops", in their own territory, according to Us 'intelligence' just maybe! What a crime to arrange Armageddon!?
What exactly is the Russian Threat? Russia has a GDP less than Italy and has to defend a federation that stretches to The Pacific!
Why is this happening? Is this what we pay our taxes for?
Why is NATO pushing the deranged ultra nationalists in Ukraine to shred all agreements ans well as arming, financing and urging them to massacre the 1 million ethnic Russians in Donbas?
Do they even know that most people by now in Donbas have dual Russian citizenship and Russia is forced to defend them. Can't Ukrainians remember how WW2 began?
Is the Pentagon locked into an unhinged compulsion to avenge its humiliation in Afghanistan? Or the War Industry, on a $750 billion budget, insanely desperate to use up its weapons ?.
Does Ukraine really want all those Russians in that tiny part of Ukraine? Do they really need Crimea, Russia's main naval base, which was never really Ukraine anyway? Aren't they content with the flow of soft IMF, EU and World Bank cash?
Are the NATO leaders suffering from Brain Fog from Vaccine Reactions.? Or Eastern European rulers delirious with mini-Hitler psychosis?
Russians are still deeply shocked by losing 20 million citizens to the European Nazi invasion, including by divisions of Ukrainians, Crimean tartars and Poles, now glorified by far-right parties from those countries now menacing Russia's borders. This is Russia's 'Red Line'. Can't they see that?
Please Mr NATO, can you kindly stand down and explain yourself? Before you kill me, my family, and just about everyone else!
Russia's Unstoppable missiles. Youtube
Hypersonic Missiles Arms Race: What You Need to Know
YouTube139K views
0:39
YouTube211K views
2:23
Related Posts
USA leads War Fever in constant Escalations on Russia's borders. Ukraine, Turkey, Georgia call for Nuclear War. October 26, 2021
US/NATO missiles on Russia/Ukraine border could force Nuclear War. Last Nazi attack on USSR killed 27 MILLION! October 30, 2021
NATO foreign ministers meeting ends with veritable declaration of war on Russia