19th March 2022 We republish Eric's poem to celebrate his court victory yesterday against a charge of assaulting a prison officer. see full details HERE: Victory!.. Imprisoned Anti-racist Activist Eric King Acquitted of New Charges — anarchistnews.org
from Behind Enemy Lines shared with thanks. Translation The Free Online 31 Aug 29020. Republished 19 March 2022
by Eric King
If words are as dangerous as bullets
and sharp as knives
Can we start filling the pages?
grinding our pencils to stubs
Turning ink into guillotines
prose the ropes onto their wrist
and rhyme these prison walls to paste
cause nothing else seems to be working
heads aren't rolling, the streets are on holiday
maybe enough words can spark
a million fires in our hearts
which would create a million fires in the banks
a million convicts in the streets
Not giving a fuck about a voters box
Giving a fuck about having a life
our words can break these chains?
then gather our dictionaries
there aren't enough thesauruses in the world
I need to fight more, I need to write more
My tongue has been shackled
I haven't resisted, I haven't insisted
More words, more battles, more victories
more poems, more struggle, more bumps
We'd be fighting with our minds
dismantling the system that strangles us
Then turning those words into life
A life more important than burning and bombing
Enough magic, love, growth and life
We can grow into a space worth existing in
Our words can get us free.
– Eric King, political prisoner, FCI Englewood, 2020
Who is Eric King?
by Eric King Support Crew
Eric G. King, a 33-year-old vegan anarchist political prisoner and poet, was arrested and charged with an attempted firebombing of a congressperson's office in Kansas City, Missouri, in September 2014. As part of his plea and sentencing, Eric publicly and proudly acknowledged that his intent was to take direct political action in solidarity with the community of Ferguson, Missouri, following the August 2014 police killing of Michael Brown Jr.
Eric was charged with throwing a hammer through a window of the building, followed by two lit Molotov cocktails. The criminal complaint states that both incendiary devices failed to ignite. Eric was identified as a suspect by local police because he had previously come under suspicion for anti-government and anti-police graffiti.
On March 3, 2016, he accepted a non-cooperating plea agreement to one count of using "explosive materials to commit arson of property used in or affecting interstate commerce." Almost three months later, on June 28, Eric was sentenced to 10 years, the statutory minimum and maximum for the charge he pleaded guilty to.
He is also maintaining his dedication to struggling for a world free of domination and oppression.
Since his arrest and subsequent incarceration, he has been extremely isolated from his loved ones and has repeatedly been targeted by the guards, who have regularly put him in jeopardy. At CCA Leavenworth, where Eric was held in pretrial detention, he was kept in segregation for six months at one point and was often subjected to stints in solitary confinement after the guards targeted him.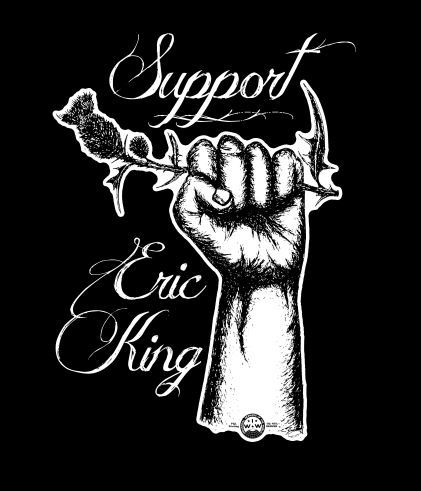 Despite these struggles, he continues to maintain his good spirits and resolve to see this situation through to the end. He is also maintaining his dedication to struggling for a world free of domination and oppression.
Eric is currently facing one count of assaulting a government official for an incident that occurred in August 2018 at FCI Florence. Eric has been housed in a segregation cell at FCI Englewood since August 2019 fighting this charge and is on "restricted general correspondence." He can only receive mail from his wife and mother for a six-month period minimally and cannot receive books and magazines. He faces a maximum of 20 additional years in prison and is fighting his case under very bleak circumstances and harassment by Bureau of Prisons staff.
Follow his case at supportericking.org and on social media as well. 
Eric King 27090045
FCI Englewood
9595 w Quincy Ave
Littleton co 80123
***********
19 de marzo de 2022 Volvemos a publicar el poema de Eric para celebrar ayer su victoria judicial contra un cargo de agresión a un funcionario de prisiones. vea los detalles completos AQUÍ: HERE: Victory!.. Imprisoned Anti-racist Activist Eric King Acquitted of New Charges — anarchistnews.org ¡Victoria!… Eric King, activista antirracista encarcelado, es absuelto de nuevos cargos — anarchistnews.org

31 de agosto de 2020 re-editado marzo 2022
de Behind Enemy Lines . Translation The Free Online
traducción literal de su poema
Si las palabras fueron tan peligrosas como las balas
por Eric King
Si las palabras son tan peligrosas como las balas
y afilado como cuchillos
¿Podemos empezar a llenar las páginas?
moliendo nuestros lápices en trozos
Convirtiendo tinta en guillotinas
prosa las cuerdas en su muñeca
y rima estas paredes de la prisión para pegar
porque nada más parece estar funcionando
las cabezas no ruedan, las calles están de vacaciones
tal vez suficientes palabras puedan provocar
un millón de fuegos en nuestros corazones
que crearía un millón de incendios en los bancos
un millón de presos en las calles
Me importa un carajo una caja de votantes
Me importa un carajo tener una vida
nuestras palabras pueden romper estas cadenas?
luego reúna nuestros diccionarios
no hay suficientes tesauros en el mundo
Necesito pelear más, necesito escribir más
Mi lengua ha sido encadenada
No he resistido, no he insistido
Más palabras, más batallas, más victorias
más poemas, más lucha, más golpes
Estaríamos luchando con nuestras mentes
desmantelando el sistema que nos estrangula
Luego convirtiendo esas palabras en vida
Una vida más importante que la quema y el bombardeo
Suficiente magia, amor, crecimiento y vida.
Podemos convertirnos en un espacio en el que valga la pena existir
Nuestras palabras pueden liberarnos.
Eric King, preso político, FCI Englewood, 2020
¿Quién es Eric King?
por Eric King Support Crew
Eric G. King, un prisionero político y poeta anarquista vegano de 33 años, fue arrestado y acusado de intento de atentado con bombas incendiarias contra la oficina de un congresista en Kansas City, Missouri, en septiembre de 2014. Como parte de su declaración y sentencia, Eric públicamente y reconoció con orgullo que su intención era emprender acciones políticas directas en solidaridad con la comunidad de Ferguson, Missouri, tras el homicidio policial de Michael Brown Jr. en agosto de 2014.
Eric fue acusado de arrojar un martillo a través de una ventana del edificio, seguido de dos cócteles molotov encendidos. La denuncia penal afirma que ambos dispositivos incendiarios no se encendieron. Eric fue identificado como sospechoso por la policía local porque anteriormente había sido sospechoso de grafitis contra el gobierno y la policía.
El 3 de marzo de 2016, aceptó un acuerdo de declaración de culpabilidad de no cooperación por un cargo de uso de "materiales explosivos para cometer un incendio intencional de la propiedad utilizada o que afecta el comercio interestatal". Casi tres meses después, el 28 de junio, Eric fue sentenciado a 10 años, el mínimo y máximo legal para el cargo del que se declaró culpable.
También mantiene su dedicación a luchar por un mundo libre de dominación y opresión.
Desde su arresto y posterior encarcelamiento, ha estado extremadamente aislado de sus seres queridos y ha sido blanco de los guardias en repetidas ocasiones, quienes regularmente lo han puesto en peligro. En CCA Leavenworth, donde Eric estuvo en prisión preventiva, estuvo en segregación durante seis meses en un momento dado y a menudo fue sometido a períodos en confinamiento solitario después de que los guardias lo atacaron.
A pesar de estas luchas, continúa manteniendo su buen humor y decidido a llevar esta situación hasta el final. También mantiene su dedicación a luchar por un mundo libre de dominación y opresión.
Eric se enfrenta actualmente a un cargo de agredir a un funcionario del gobierno por un incidente que ocurrió en agosto de 2018 en FCI Florence.
Eric ha estado alojado en una celda de segregación en FCI Englewood desde agosto de 2019 luchando contra este cargo y está en "correspondencia general restringida". Solo puede recibir correo de su esposa y su madre durante un período mínimo de seis meses y no puede recibir libros ni revistas.
Se enfrenta a un máximo de 20 años adicionales de prisión y está luchando contra su caso en circunstancias muy sombrías y el hostigamiento por parte del personal de la Oficina de Prisiones.
Seguir su caso en supportericking.org y también en las redes sociales.
escribir una carta
Eric King 27090045
FCI Englewood
9595 w Quincy Ave
Littleton co 80123