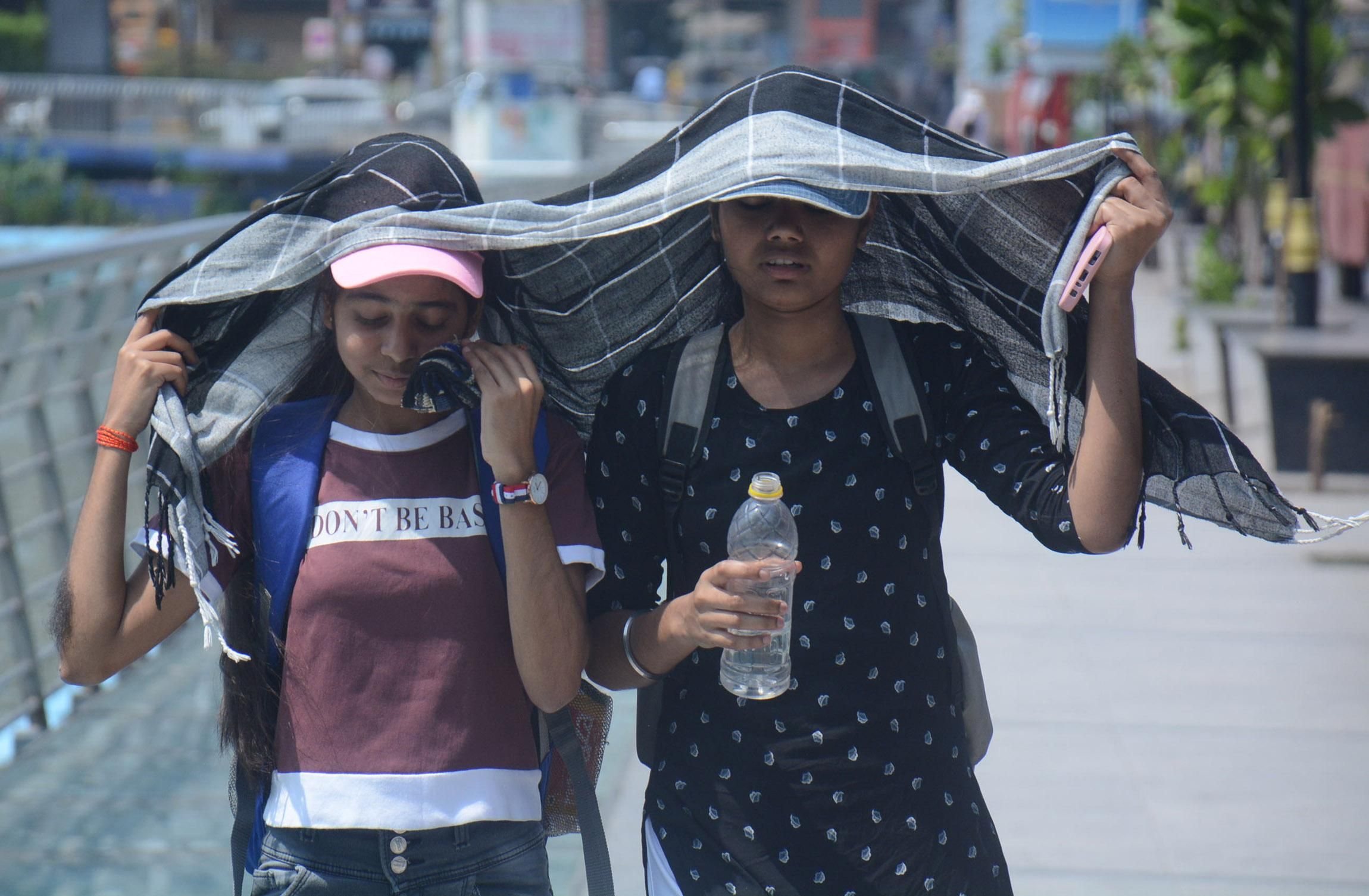 Two young girls cover their heads as they walk while drinking water in the scorching afternoon heat on April 25, 2022 in Mumbai, India. (Photo: Praful Gangurde/Hindustan Times via Getty Images)
"The deadly heat this week in India and Pakistan should dominate the news everywhere," said one environmentalist. "It's a horrifying event in its own right—and a glimpse of what is likely to become routine."
Kenny Stancil April 28, 2022
More than a billion people on the Indian subcontinent have been suffering for weeks amid a record-breaking heatwave, and with temperatures expected to approach 117ºF in the next few days, observers are warning that such deadly conditions are likely to become the norm in the absence of immediate and far-reaching climate action.
"Residents have described daily life as hellish, taps are starting to run dry, and soaring demand for electricity to power air conditioners has caused long and regular power cuts," The Times reported Wednesday. "In northern India, forest fires are destroying agricultural land. Vulnerable people have been advised to stay indoors."
Although heatwaves are common in India, especially in May and June, scorching temperatures arrived early this year, a clear manifestation of the fossil fuel-driven climate emergency, according to Clare Nullis, an official at the World Meteorological Organization.
Last month was India's hottest March in more than a century and one of its driest, according to the India Meteorological Department (IMD), and relief is nowhere in sight, with the region's annual monsoon season still weeks away.
Extreme heat is expected to intensify over the weekend in India and neighboring Pakistan. Forecasters at the IMD said Thursday that temperatures in parts of central India surpassed 114ºF on Wednesday and are projected to approach 117ºF in the northwestern part of the country in the next two days with "no significant change thereafter."
As the New York Times reported, "Heat-related watches were in effect on Thursday afternoon for all but a few of India's 28 states, encompassing hundreds of millions of people and most of the country's major cities. An alert—one notch up in severity—was in effect for the northwestern state of Rajasthan on Thursday, and would come into effect for other central and western states starting Saturday."
"Pakistan's Meteorological Department also warned that in regions dotted with glaciers, the heat could lead to so-called outburst floods, in which water spills from glacial lakes into populated areas," the newspaper added. "In 2013, an outburst flood in the northern Indian state of Uttarakhand led to flooding that destroyed villages and killed several thousand people."
"The subcontinent's scorching weather is a reminder of what lies in store for other countries in an era of climate change," the New York Times noted. "Climate scientists say that heatwaves around the world are growing more frequent, more dangerous, and lasting longer. They are certain that global warming has made heatwaves worse because the baseline temperatures from which they begin are higher than they were decades ago."
Roxy Mathew Koll, a climate scientist at the Indian Institute of Tropical Meteorology, told BBC News that several atmospheric factors are at play before adding that global warming is "the root cause for the increase in heatwaves."
Chandni Singh, senior researcher at the Indian Institute for Human Settlements and a lead author at the Intergovernmental Panel on Climate Change (IPCC), made clear that the devastating effects of extreme weather disasters are borne disproportionately by the poor.
"Poor people have fewer resources to cool down as well as fewer options to stay inside, away from the heat," said Singh.
Calling this week's deadly heatwave in India and Pakistan "a horrifying event" that "should dominate the news everywhere," environmentalist and author George Monbiot warned that the dire situation provides "a glimpse of what is likely to become routine."
Zeke Hausfather, a climate scientist and previous IPCC contributor, pointed out that the heatwave currently hammering the subcontinent is occurring in the context of 1ºC and 1.2ºC of warming in India and Pakistan, respectively.
The United Nations warned last year that even if governments around the world fulfill their current greenhouse gas-reduction pledges—few of which are backed by legislation or dedicated funding—the planet is barreling toward a "catastrophic" global temperature rise of 2.7ºC by 2100.
Based on the world's current emissions trajectory, India and Pakistan are expected to experience 3.5ºC of warming by century's end, according to country-level projections from researchers at Berkeley Earth.
Climate scientist Peter Kalmus told Common Dreams earlier this month that "if we don't rapidly end the fossil fuel industry and begin acting like Earth breakdown is an emergency, we risk civilizational collapse and potentially the death of billions, not to mention the loss of major critical ecosystems around the world."
---
Our work is licensed under Creative Commons (CC BY-NC-ND 3.0). Feel free to republish and share widely.
We've had enough. The 1% own and operate the corporate media. They are doing everything they can to defend the status quo, squash dissent and protect the wealthy and the powerful. The Common Dreams media model is different. We cover the news that matters to the 99%. Our mission? To inform. To inspire. To ignite change for the common good. How? Nonprofit. Independent. Reader-supported. Free to read. Free to republish. Free to share. With no advertising. No paywalls. No selling of your data. Thousands of small donations fund our newsroom and allow us to continue publishing. Can you chip in? We can't do it without you. Thank you.
Related
Landslides in India Kill 100+ as Monsoon Rains Pummel Nation Kenny Stancil · Jul 23, 2021
---
Humanity at "Doom's Doorstep" Says Bulletin of the Atomic Scientists Jessica Corbett · Jan 20, 2022
---
'Horrifying': Record-Breaking Northwest Heatwave Linked to Hundreds of Deaths Jake Johnson · Jul 1, 2021
---
'Time Is Running Out,' Says UN Chief as Thunberg and Nakate Lead Climate March in Milan Kenny Stancil · Oct 1, 2021