Antiwar Groups Protest Defense Industry Profiteering in Ukraine, Tyler Walicek, Truthout, 3 May 22,
The U.S. public largely endorses these policies, with a majority approving of or wishing to increase weaponry shipments. (Further, a remarkable 35 percent favor direct military action — "even if it risks nuclear conflict with Russia,"
The war of aggression that Russia has perpetrated in Ukraine has rightly generated widespread condemnation, both among Russia's Western critics and the world at large.
On the war's obvious heinousness, almost all of the U.S. political spectrum is in agreement. However, opinions as to the appropriate Western response proceed from vastly different premises.
The predominant left position is, on the whole, resolutely antiwar. U.S. activists of all stripes have been rolling out ambitious organizing efforts in the hopes of nudging the conflict towards diplomacy and an eventual ceasefire. Given the considerable death toll and the millions of refugees the war has produced — to say nothing of the threat of conventional or nuclear escalation — the matter is an urgent one.
Whatever their perspective on the circumstances, organizers from left-liberals to communists are calling upon the means of protest at their disposal, from media initiatives to global rallies to demonstrations at the thresholds of the military-industrial complex.
UK to supply $1.6 billion in military aide to Ukraine – The Savage Diary
To mount an effective confrontation with the U.S. empire and defense industry and influence a far-flung conflict is a daunting prospect. Yet despite the historic scale of the challenge, coalitions of antiwar activists are striving to realize their vision of the end of imperial aggression — perpetrated by Russia and the U.S. alike.
Defaulting to Militarism
Antiwar organizers generally share a conviction that diplomacy should take precedence in resolving the Russia-Ukraine conflict. The vast majority are vehemently opposed to any form of active U.S. military intervention — a prudent stance for those who wish to avoid a hot war with a nuclear power.
Unsurprisingly, the same cannot be said for the U.S. political establishment, which has seized upon the opportunity to vilify Russia, seemingly eager to court a clash between the two deteriorating superpowers. Right-wing war fervor, always simmering below the surface, has boiled over; Republican jingoists (and a number of foolhardy op-eds in major media) espoused everything from a no-fly zone to refusing to rule out the deployment of U.S. ground troops.
These lawmakers' martial fantasies are more than a little cavalier about the potential for Great Power conflict. Comparatively less reckless centrists, for their part, mostly favor a two-pronged approach: the imposition of devastating punitive sanctions on Russia and the delivery of vast amounts of weaponry to Ukrainian forces — stopping short of outright U.S. military intervention.
Democrats have leaped to snipe at the right by demonstrating who can demand the larger flood of weaponry, while leveraging the conflict for all manner of political purposes.
By any measure, it has been a field day for fawning, ham-fisted propagandists like noted stenographer Bret Stephens. ("The U.S. stands up to bullies!") Both parties are unequivocal in their shared support for an overflowing bounty of war materiel and other assistance. As of this writing, the White House is requesting a stunning $33 billion for Ukraine. The number keeps climbing.
The U.S. public largely endorses these policies, with a majority approving of or wishing to increase weaponry shipments. (Further, a remarkable 35 percent favor direct military action — "even if it risks nuclear conflict with Russia," speaking poorly of their aptitude in risk assessment.) NATO has held out against calls to impose a no-fly zone; at least the military alliance sees the wisdom in avoiding a shooting war with Russian forces.
The shooting will instead be done by Ukrainian hands with plentiful Western arms — very much to the benefit of the U.S. defense industry. It is no coincidence that we see such an eagerness to fortify Ukraine among the government and media. Not only is the state keen to see Russia battered and chastened, but conflict and arms deals, as ever, mean profit.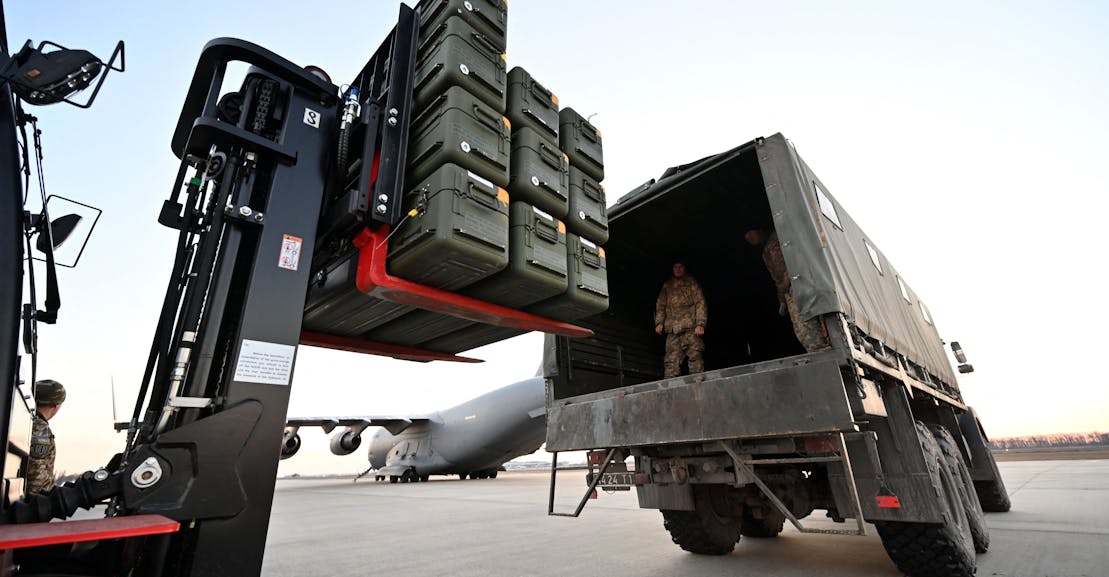 Antiwar activists perceive the inundation of Ukraine with armaments as yet another round of war profiteering — one that risks precluding diplomatic solutions.
As Ukrainian President Volodymyr Zelenskyy petitions the world to arm Ukraine and intervene militarily, antiwar groups, in contrast, have spoken out in strident opposition to the staggering influx of Western arms, as well as the Cold-War style bellicosity that U.S. power has again taken up with gusto.
Antiwar Coalitions in Action
In the meantime, large-scale real-world protests against the war have erupted on numerous fronts — both within Russia and Ukraine and across the globe. Progressive, pacifist and anti-imperialist groups in the U.S. are no exception, having mobilized their considerable institutional resources to voice their own opposition. Given the unlikelihood of influencing the actions of the Russian government, they've targeted the realm in which they are mostly likely to have an impact — namely, U.S. policy.
Because of its deep entanglements in the war, the U.S. response could easily be a critical determining factor on the outcome: either negotiation, drawdown and eventual peace, or escalation and sustained bloodshed………………….. https://truthout.org/articles/antiwar-groups-protest-defense-industry-profiteering-in-ukraine/?eType=EmailBlastContent&eId=77e07376-4f26-4746-9b6e-12d42fb0f129
Related
Antiwar Coalitions in ActionMay 7, 2022
This Is How the United States Could Help Bring Peace to UkraineApril 30, 2022
Ukraine is ground zero for the expansion of the U.S.-Russia proxy war, (and the war industry is jubilant)April 5, 2022Reblogged by 1 person
May 7, 2022 – Posted by Christina Macpherson | Uncategorized
No comments yet.