The fire of revolution, women's life and freedom rises and burns with the leadership of women and youth.

from thefreeonline on Jan 15 2023 by KurdisCat
Everyone knows about the Rojava Revolution in Nth Syria. Now the ideas of Jineoloji- of women's emancipation are spreading through Iran, beginning in the Kurdish area of Rojhilat where the cry of 'Woman, Life, Freedom' sounded like a revolutionary virus across the whole region and ethnic cultures.
The will of young revolutionaries who follow a free and equal life cannot be suppressed by aggression and violence.
In this context, the Revolutionary Youth Initiative of Rojhilat (Eastern Kurdistan) made its first call with the aim of winning the revolution of women, life and freedom and insisting on avenging the blood of all the martyrs on the way of freedom.
Related News.
The Islamic Republic of Iran on 29 December sentenced a female Kurdish writer, Mozhgan Kavousi, to five years imprisonment over "disrupting national security" charges, reported Kurdistan Human Rights Network (KHRN).
At least 476 protesters killed, around 100 facing execution in Iran – Medya News
19.06.2022 11:24 The role and effect of a revolution in the process of 50 years lead by Abdullah Ocalan 18.04.2022 10:19 Happy Newroz and The New Kurdish Year 2722! 18.03.2022 21:17
\
#JinJiyanAzadi #ZanZindagiAzaadi #WomenLifeFreedom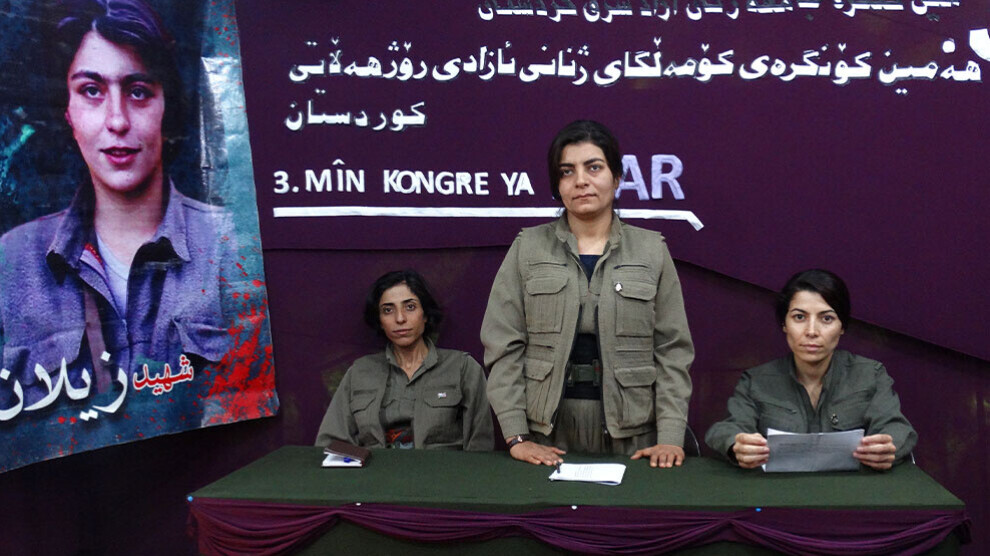 JINEOLOJÎ
see also..Slain feminist activist Nagihan Akarsel's work in her own words – Medya News
Neix la Iniciativa de la Joventut Revolucionària a Rojhilat (Kurdistan de l'Iran)
a dimecres, de gener 11, 2023 per KurdisCat
El foc de la revolució, la vida i la llibertat de les dones augmenta i crema amb el lideratge de dones i joves.
La voluntat dels joves revolucionaris que segueixen una vida lliure i igualitària no pot ser reprimida per l'agressió i la violència. En aquest context, la Iniciativa Juvenil Revolucionària de Rojhilat (Kurdistan oriental) va fer la seva primera convocatòria amb l'objectiu de guanyar la revolució de les dones, la vida i la llibertat i insistir a venjar la sang de tots els màrtirs del camí de la llibertat.