late news SVB Bank's Uninsured Depositors Bailed Out. Crypto Signature Bank Shut Down, All Depositors Bailed Out.
late late news…. Another Bank Goes BUST…Signature Bank was shut down on Sunday by New York Department of Financial Services, which announced that it took possession of the bank
Billionaire warns of SVB collapse aftermath. 'Only 11% of SVB's $175.4 Billion deposits will certainly be paid'.
from thefreeonline on 12th March 2023 from Wolf Street and Banned Agency
Bill Ackman says the government made "a-soon-to-be-irreversible mistake" in its treatment of the failed bank.
Billionaire US investor and hedge fund manager Bill Ackman on Saturday warned the US of dire consequences facing its banking sector and the broader economy following the implosion of Silicon Valley Bank (SVB), a major US lender focused on tech and startups.
Ackman wrote on his Twitter account that US authorities should not have allowed SVB to collapse without protecting all depositors. Official figures showed that only 11% of SVB's $175.4 billion in deposits were insured at the time of the bank's failure.
Other banks were also hit already by the collapse of Silicon Valley Bank, including First Republic, the 16th-largest U.S. bank with more than $ 180 billion in assets, which plunged 50% on Friday before closing with a 15% drop on the day (a 34% drop on the week).).
Non insured depositors will probably lose most of their money, depending on how any remaining assets are eventually divided up. Investors and sharehiolderts will lose everything. The Rating Agencies gave no warning of the collapse. On Wednesday March 8, Moody's, for example, still had an A3 rating on SVB Financial, owner of the now defunct Silicon Valley Bank, as it was already collapsing for all to see. Four notches into investment grade – a very respectable rating! On Friday it fell 20 notches to zero, but too late to get money out.
SVB Collapse: Roku Had $487 Million In Cash At Failed Bank
Shareholders got bailed in and face a total loss. They're the ones who are "bailed in" automatically when the FDIC takes over. Other investors may have a partial loss.
According to the investor, with the lender's failure "the world has woken up to what an uninsured deposit is – an unsecured illiquid claim on a failed bank." This means that when the banks reopen on Monday, "the giant sucking sound you will hear will be the withdrawal of substantially all uninsured deposits from all but the 'systemically important banks' (SIBs)."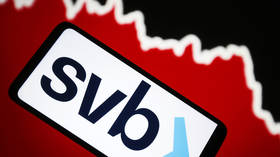 The situation will lead to an economic meltdown, as the withdrawals "will drain liquidity from community, regional and other banks and begin the destruction of these important institutions," Ackman says, adding that "thousands of the fastest growing, most innovative venture-backed companies in the US will begin to fail to make payroll next week."
According to the investor, US authorities should either find a buyer for SVB before the banks open on Monday, a prospect he believes to be unlikely, or to guarantee all of SVB's deposits.
SVB shares only began to collapse on Thursday during the day, and they continued to collapse after hours, and they continued to collapse before regular trading Friday morning, until trading was halted – and trading remains halted forever
"Had the gov't stepped in on Friday to guarantee SVB's deposits (in exchange for penny warrants which would have wiped out the substantial majority of its equity value) this could have been avoided and SVB's 40-year franchise value could have been preserved and transferred to a new owner in exchange for an equity injection… This approach would have minimized the risk of any gov't losses, and created the potential for substantial profits from the rescue," he writes.
READ MORE: US mulls ways to secure bank deposits after SVB collapse – Bloomberg
SVB collapsed last Friday, after its shares plunged amid a massive bank run. Depositors rushed to withdraw their funds following SVB's announcement that it had lost $1.8 billion on asset sales made in an attempt to raise capital.
"SVB's senior management made a basic mistake. They invested short-term deposits in longer-term, fixed-rate assets. Thereafter short-term rates went up and a bank run ensued. Senior management screwed up and they should lose their jobs," Ackman said.
He added, however, that US authorities were also at fault for the bank's failure, as their job is to monitor the banking system for risk and SVB "should have been high on their watch list with more than $200B of assets and $170B of deposits from business borrowers in effectively the same industry."
Israeli startups tumble in wake of Silicon Valley Bank collapse