from thefreeonline 28th March 2023 by French Revolution
On Saturday March 26, our comrade S. was hit in the head by an explosive grenade during the demonstration against the dams.
Despite his critical condition, the prefecture intentionally prevented emergency services from intervening in the first place and transferring him to a suitable care unit in the second. He is currently in neurosurgical resuscitation. His vital prognosis continues to be compromised.
'Absolutely criminal': Protestors hospitalised during anti-reservoir rally in western France
The outbreak of repressive violence suffered by the protesters resulted in hundreds of injuries, several of them with serious physical injuries, as stated in the various available reports.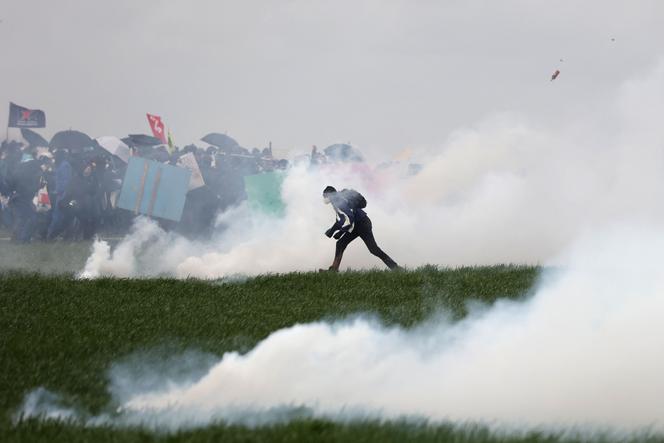 'Police reportedly detonated more than 4,000 non-lethal dispersion grenades to fend off protesters,…the Associated Press reported. Protest organizers said they also counted some 200 injured demonstrators, and that about 40 of them had deep cuts they said were caused by police projectiles'.
The 30,000 protesters had come with the aim of blocking the construction of the Sainte-Soline mega-dam, a project that aims to monopolize water management in the hands of a minority that benefits from a capitalist system that has nothing to defend except death. . The violence of the armed wing of the democratic State is the clearest expression of this.
A police water canon truck is parkt next to the construction site of an agricultural reservoir after clashes with protesters in Sainte-Soline,
In the current stage opened by the movement against the pension reform, the police maim and try to kill to prevent the uprising, and defend the bourgeoisie and their world. But nothing will weaken our resolve to end their rule.
On Tuesday March 28 and the following days, let's reinforce the strikes and blockades. Let's go out to the streets, for S. and for all the wounded and imprisoned of our movements.
Long live the revolution
Comrades of S.
PS: If you have any information about the circumstances in which S. was injured, please contact us at: s.informations@proton.me
We want this statement to have the widest possible dissemination.
*************
In France, 'megabasin' protesters hope to launch an international water movement

Le Monde.fr22h
Violent clash between French police, demonstrators at anti-reservoir protest

ABC73d
'Absolutely criminal': Protestors hospitalised during anti-reservoir rally in western France
original en castellano
Comunicado de prensa sobre la situación de S., que se encuentra entre la vida y la muerte tras la represión en Sainte-Soline
El sábado 26 de marzo, nuestro compañero S. fue alcanzado en la cabeza por una granada explosiva durante la manifestación contra los embalses. A pesar de su estado crítico, la prefectura impidió intencionadamente que los servicios de urgencias intervinieran en primer lugar y que le trasladaran a una unidad de cuidados adecuada en segundo lugar. Actualmente se encuentra en reanimación neuroquirúrgica. Su pronóstico vital sigue estando comprometido.
El estallido de violencia represiva que sufrieron los manifestantes se saldó con centenares de heridos, varios de ellos con lesiones físicas graves, tal y como recogen los diversos informes disponibles. Los 30.000 manifestantes habían acudido con el objetivo de bloquear la construcción del megaembalse de Sainte-Soline, un proyecto que pretende monopolizar la gestión del agua en manos de una minoría que se beneficia de un sistema capitalista que no tiene nada más que defender salvo la muerte. La violencia del brazo armado del Estado democrático es la expresión más clara de esto.
En la etapa actual abierta por el movimiento contra la reforma de las pensiones, la policía mutila e intenta asesinar para impedir el levantamiento, y defender a la burguesía y su mundo. Pero nada debilitará nuestra determinación de poner fin a su dominio. El martes 28 de marzo y los días siguientes, reforcemos las huelgas y los bloqueos. Salgamos a la calle, por S. y por todos los heridos y encarcelados de nuestros movimientos.
Viva la revolución
Camaradas de S.
PS: Si tienes alguna información sobre las circunstancias en las que hirieron a S., ponte en contacto con nosotros en: s.informations@proton.me
Deseamos que este comunicado tenga la mayor difusión posible.