La Cinètika     Last Saturday a gigantic 10 screen cinema was occupied as an autonomous social center in Barcelona. The abandoned building is owned by the City Council who had failed to find a use for it. en català per sota
The action began as an advertised 4 day series of debates and workshops, meals etc… with a whole range of strikers, squatters, immigrants, feminist struggles etc.. taking part.. all to be held in a local square, and beginning with a street parade around historic struggle sites.,.
The parade ended with the Cinètika occupation
The liberated area, with thousands of square meters and ten cinemas will become, henceforth, an open space in the neighborhood. The promoters of the project want to build a squatting assembly, feminist and outside the institutions. No alcohol will be sold at the venue, as the group believes that "alcoholism and drugs are a problem in the workers neighborhoods."
True to its name (in classical Greek "that which moves") the Cinètika hosted during the whole weekend a whirlwind of activities that have combined cleaning and clearance of the facilities with big publiv meetings on  making the independent anti capitalist Palomar barrio, a series of lectures, meals and screenings of documentaries scheduled until Tuesday.( see poster)
The lobby was filled with talks and debates  which have included the participation of the workers in the Telefonica struggle, the Barcelona Metropolitan Transport strikers(TMB), the  Auditorium and Liceu conflicts,  the movement against mortgage evictions PAH, the Union of Popular Street Vendors , All Strike, the Stop the Fare Rises platform, the writer Joni D. and the bus driver and the councillor Josep Garganté CUP.
"Refuse to continue watching passively the media circus of symbolic televised statements of the 'new left' institutions, while on the street there is no change in our living conditions which continue to worsen," states the occupation manifesto entitled 'End of the show: a letter to the districts from the new squatted cinema in Sant Andreu, published by Cinètika on Indymedia Barcelona.
"We want to equip ourselves with the tools and weapons necessary to build neighborhoods and strong communities […] able to build ways of living and meet their needs apart from and against relationships of domination and oppression that characterize today's society ".
Regarding the legal aspects, sources have told the group that "although we have seen police and plain clothes patrols around the cinema, to date there has been no incident. Neither have we received messages from the City Council. "
Indeed the City Council is in an awkward position, controlled by Barcelona en Común, and led by Ada Colau, herself an ex squatting activist against mortgage evictions , which makes an immediate eviction unlikely, but there must be intense pressure to stop the wave of occupations getting out of hand.
How is it possible to seize a multi cinema in Barcelona, but unthinkable in most other cities? The occupiers in San Andreu barrio have been active and trusted for many years, their tactics are excellent and there is a long history of anarchist type self organisation in the city.
Cinètika make this assessment of the progress of the project. "In the cracks of the Barcelona Brand Name  we are making combative living spaces: a cinema opened up to fill it with life,"
Cinema occupied for an autonomous, feminist, anticapitalist space in Sant Andreu.   Rambla Fabra i Puig, 32 (M L1 Fabra i Puig) #PalomarAutònom
There's a lot more local squatters news here…
The squatted bank Banc Expropriat, free social center in Gracia Barrio is threatened again after winning last year by huge public support.
A large building in the city center has been occupied by students for autonomous assembly run living space, etc.
The Transformadors anarchist CSO was evicted while empty.
A center in Sabadell city was attacked by 50 nazis who were driven off quickly by 200 anti-nazis called on Twitter.
The classic Rimaia  CSO, site of the Free University, has been re-occupied for the 5th time and is being refurbished.
Primavera okupa a Barcelona
La Cinètika obre les portes dels antics cinemes Lauren a Sant Andreu de Palomar i l'Assemblea de Joves de Cassoles ja té casal. Aquest matí, l'Ajuntament ha desallotjat un CSOA Transformadors buit
Pas de la cercavila per la plaça Orfila, on es va fer memòria de les càrregues de la Guàrdia Urbana després del desallotjament del CSO La Galia, a principis dels 2000
1-2. No és el resultat d'un partit de futbol, sinó el balanç que fa dels darrers tres dies el moviment okupa de la ciutat. Dissabte al matí, una cercavila finalitzava amb l'obertura al públic del cinema abandonat del passeig de Fabra i Puig, rebatejat com la Cinètika, on se celebraran fins dimarts les Jornades per un Palomar Autònom i Anticapitalista. El mateix dissabte a la tarda, l'Assemblea de Joves de Cassoles alliberava un local al carrer Bertran, que esdevindrà el nou casal juvenil de Sant Gervasi. Avui al matí, al Fort Pienc, l'Ajuntament ha fet efectiu el desallotjament del CSOA Transformadors, i s'ha trobat l'edifici buit. L'assemblea del centre social ha convocat una concentració de resposta avui dilluns a les vuit de vespre davant la seu del Districte de l'Eixample.

Close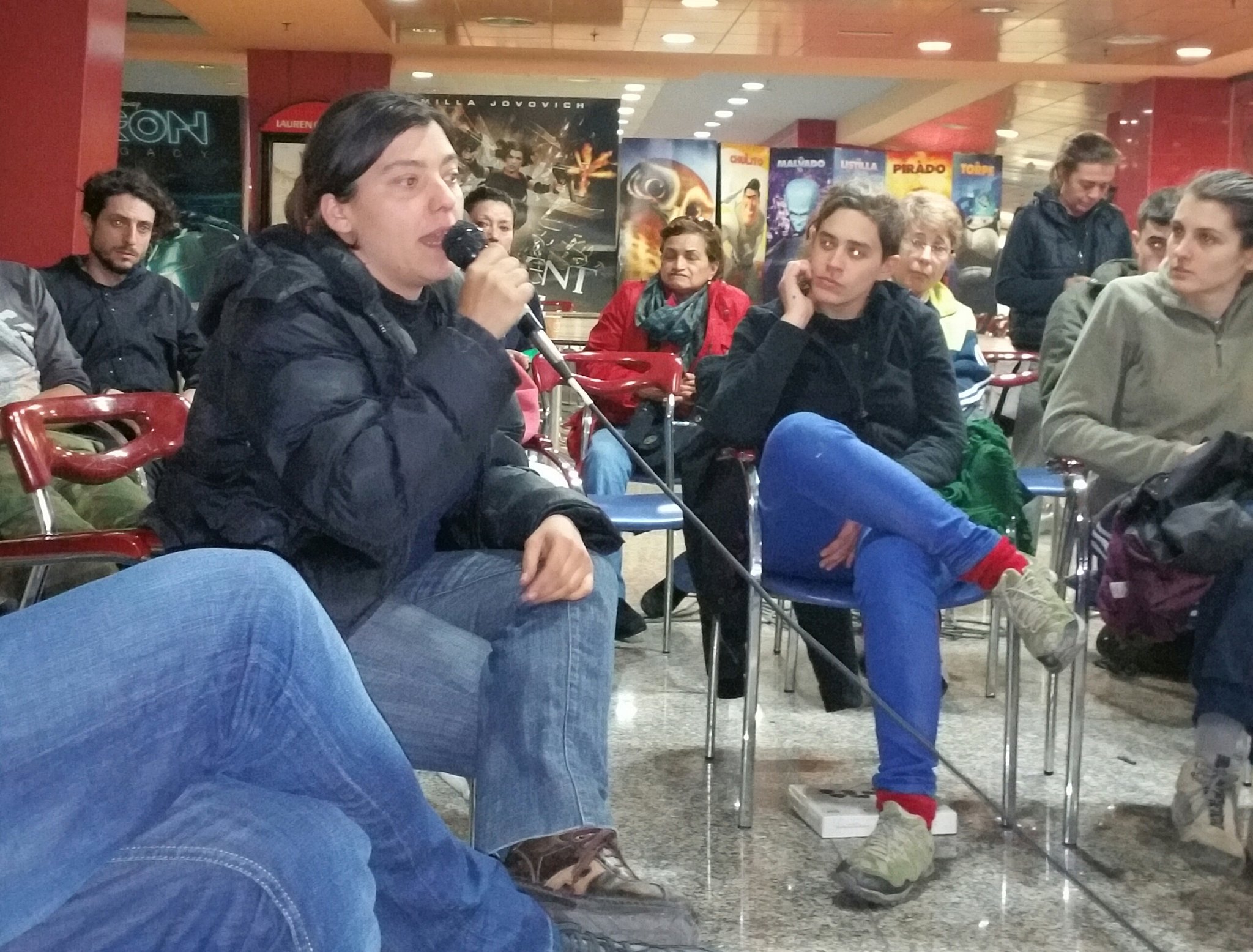 Les darreres setmanes s'han obert les portes de grans edificis abandonats, com la Nova Rimaia, a Sant Antoni, o la Residència d'Estudiants Okupada, al cor del Raval
La revifada de l'okupació és un fet als barris de Barcelona. Les darreres setmanes s'han obert les portes de grans edificis abandonats, com la Nova Rimaia, a Sant Antoni, o laResidència d'Estudiants Okupada, al cor del Raval. L'alliberament d'immobles buits per transformar-los en habitatges també és una tendència creixent a barris com Vallcarca i Sant Andreu. Els moviments socials de la Vila de Gràcia s'organitzen davant l'amenaça de desallotjament imminent del Banc Expropiat, que crida a apropar-se a l'exsucursal de Travessera de Gràcia tan bon punt arribi la comitiva i a manifestar-se a les 20 h del mateix dia a la plaça Revolució. L'endemà, estan convocades, de moment, concentracions solidàries a mitja dotzena de barris de Barcelona.
Aquesta darrera onada d'usurpacions arriba marcada per un element característic: molts dels nous espais alliberats són propietat de l'Ajuntament de Barcelona. És el cas de Transformadors, la Cinètika, un immoble okupat a Sarrià o l'antiga comissaria de la Policia Nacional espanyola que acull des del novembre el Casal Popular Tres Lliris, al carrer Torrent de l'Olla. Avui a les 9 del matí, el govern de Barcelona en Comú complia amb el seu propòsit de desallotjar el primer d'aquests espais, el CSOA Transformadors.
Palomar autònom
Fa cinc anys que una tàpia envolta els abandonats multicines Lauren del passeig de Fabra i Puig. Durant aquest temps, l'Ajuntament de Barcelona, propietari de l'immoble, parlava de diversos projectes per donar-li ús, però tot havia quedat en res… fins dissabte. La inauguració de la Cinètika va posar la cirereta final a una cercavila que va recórrer els carrers de Sant Andreu de Palomar fent parada als indrets més significatius de la memòria anticapitalista i autònoma de l'antic poble del pla de Barcelona. El cinema alliberat, amb milers de metres quadrats i deu sales de projecció, esdevindrà, a partir d'ara, un espai obert al barri. Les impulsores de l'okupació volen construir un projecte assembleari, feminista i al marge de les institucions. No es vendrà alcohol al recinte, ja que el col·lectiu considera que "l'alcoholisme i les drogues són un problema als barris populars".
A la Cinètika, no es vendrà alcohol, ja que el col·lectiu considera que "l'alcoholisme i les drogues són un problema als barris populars"
Fent honor al seu nom (en grec clàssic, "la que es mou") la Cinètika ha acollit tot el cap de setmana una voràgine d'activitats, que han combinat les tasques de neteja i habilitació de les enormes instal·lacions amb els actes de les Jornades per un Palomar Autònom i Capitalista, una sèrie de xerrades, àpats i, projeccions de documentals, programades fins dimarts. El vestíbul s'ha omplert de xerrades i debats que han comptat amb la participació de les treballadores en lluita de Telefònica, TMB, l'Auditori i el Liceu, així com de l'Obra Social de la PAH, el Sindicat Popular de Venedors Ambulants, Vaga de Totes, la Plataforma Stop Pujades, l'escriptor Joni D. i el conductor de bus i regidor de la CUP Josep Garganté.
"No volem continuar contemplant passivament el circ mediàtic de les declaracions simbòliques i televisades de la 'nova esquerra' institucional, mentre al carrer no canvia res i les nostres condicions de vida continuen empitjorant", expressa el manifest titulat Fi de l'espectacle: una carta als barris des del nou cinema okupat de Sant Andreu, que la Cinètika ha publicat al servidor Indymedia. "Volem dotar-nos de les eines i les armes necessàries per a construir barris i comunitats fortes […] capaces de construir formes de viure i satisfer les seves necessitats al marge i en contra de les relacions de dominació i opressió que caracteritzen la societat actual".
Pel que fa als aspectes legals, fonts del col·lectiu ens han explicat que "tot i que hem vist molta presència de patrulles i secretes als voltants del cinema, fins ara no s'ha produït cap incident. Tampoc no ens ha arribat cap missatge de l'Ajuntament". A la Cinètika fan una molt bona valoració de la marxa del projecte. "En les escletxes de la marca Barcelona creixen espais vius i combatius: obrim un cinema abandonat per omplir-lo de vida", expressava el col·lectiu des del seu compte de Twitter.
Cassoles ja té casal
Dissabte a la tarda, un grup de joves de Sant Gervasi de Cassoles –o simplement Cassoles, en toponímia laica– alliberaven un local per tal d'obrir-hi un casal, al número 24 del carrer Bertran. L'Assemblea de Joves del barri, impulsora de la iniciativa, feia tres anys que patia la mancança d'un espai on desenvolupar la seva activitat, després del desallotjament del Casal Popular Manuel de Pedrolo, situat al mateix carrer.
L'Assemblea havia engegat la campanya "No tenim lloc" per reivindicar la necessitat de locals, però denuncien que el govern municipal no ha respost a les seves exigències
Vinculada a esplais i caus de la zona, l'Assemblea havia engegat la campanya "No tenim lloc" per reivindicar la necessitat de locals pels col·lectius i entitats cassolencs. El govern municipal, però, no ha respost a les seves exigències. "Davant d'aquesta situació precària i indigna, hem decidit donar vida a un espai mort des de fa més de vuit anys. Entenem que la falta de voluntat resolutiva de l'Administració davant les demandes que hem presentat és un senyal inequívoc d'immobilisme enfront del jovent del barri, i la negació d'un dret bàsic com el que reclamem. La solució és clara: o ho solucionem nosaltres mateixes, o ens esperen més hiverns al carrer", exposa l'Assemblea de Joves de Cassoles en un comunicat.
"Transformadors"
El juliol de l'any passat, una vintena de persones van okupar l'edifici de Transformadors, al carrer Ausiàs March. Els fets van generar una polèmica important al barri, ja que feia anys que diversos col·lectius i entitats reclamaven a l'Ajuntament, propietari de l'immoble, que els cedís l'espai. Avui a les nou del matí, agents de la Guàrdia Urbana han accedit a l'edifici, que en aquell moment era buit.
A les dotze han arribat dos camions de BAGURSA, la societat mercantil encarregada de l'àmbit urbanístic de l'Ajuntament de Barcelona, i els operaris han començat a tapiar portes i finestres. Poca gent s'ha quedat a testimoniar el desallotjament. El col·lectiu ha valorat els fets a través del seu blog: "Tracten així de sepultar l'accés a una cultura lliure i llibertària per la qual nosaltres seguirem lluitant". L'assemblea de l'espai convoca també una concentració avui dilluns a les vuit del vespre a les portes de la seu del Districte de l'Eixample, al número 311 del carrer Aragó, "en rebuig a aquest desallotjament i en suport a tots els espais autogestionats que practiquen l'autonomia real".