info from… Follow The Money                 Over the past two years, Qatar has conducted over $86 billion worth of transactions in Chinese Yuan and has signed other agreements with China that encourage further economic cooperation.
This is incredibly important because Qatar shares its major natural gas reserve with Iran, and Iran also conducts its oil-related business deals with China in Yuan. Iran signed deals with France's Total, a multinational integrated oil and gas company, to develop this project.
If Iran and Qatar continue down this path, the U.S.' self-asserted hegemony over the world's financial markets will directly come under attack.
Until now the biggest losers are the 2 million immigrant workers who have been treated as slave labour, working in 40C degree heat,  but any real war on the oil and gas fields could wreck the world economy.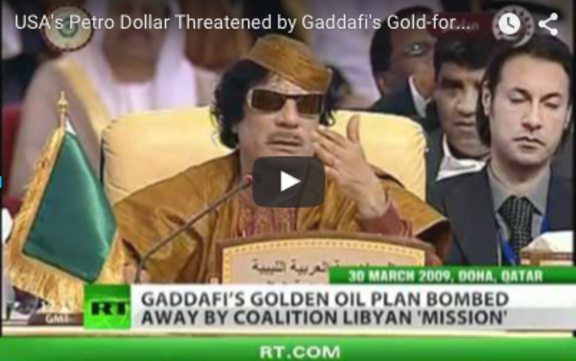 Remember that Hillary Clinton's leaked emails confirmed that the U.S. and France were so concerned with attacking Muammar Gaddafi (and destroying Libya to this day) not out of humanitarian concern, but rather, out of fear of his plan to unite Africa under a single gold-backed currency that would be used to buy and sell oil on the global markets, thus sabotaging their lucrative petrodollar monopoly
Remember that in 2000, Saddam Hussein announced he would sell Iraqi oil in euros, and the Guardian reported in 2003 that Iraq had actually netted a handsome profit in doing so — at least until the U.S. invaded not long after and immediately switched the sale of oil back to U.S. dollars. Continue reading "Attacks on Qatar were okayed by US 'for selling Gas in Yuan not US dollars'"