reblogged with thanks from:  http://libcom.org/news/mayday-2014-reports-around-world-01052014
With International Workers' Day taking place in a world riven by economic crisis, we're sharing short reports, pictures and videos on May Day protests and celebrations around the world.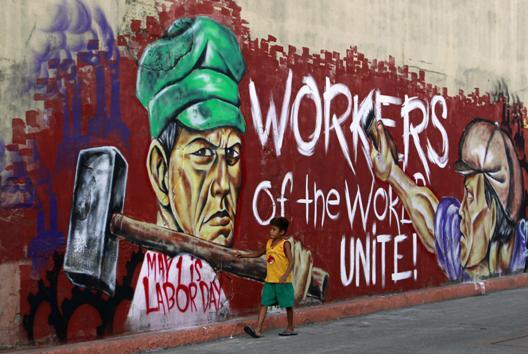 Below are some short reports, pics or videos of May Day protests. Let us know if you've seen any more!
Ankara, Turkey

Bologna, Italy
The tweet above says "There's nothing to celebrate for the precarious, students and workers".Istanbul, Turkey
Massive fighting between police and protesters as upwards of 30 groups defy a ban on demonstrations.
Turin, Italy
Scuffles also broken out with violent police attacks. For videos of the day, see here and here.
Pnomh Penh, Cambodia
Around 1,000 factory workers demonstrate against low wages, and are attacked by police with five workers injured.
May Day rallies demand reform; 5 hurt in Cambodia
Quote:
InPhnomPehn, civilian auxiliary police, armed with clubs and often used by the government to break up protests, turned on the demonstrators after opposition leaders spoke to the crowd of nearly 1,000. The assaults appeared to be random and limited, and were over in less than an hour.At least five people were hurt, said Om Sam Ath, an officer of the human rights group Licadho.

"These security forces seem to be addicted to beating people," he said. "Every time they disperse protesters, they beat people, and not one of them has been arrested."
Related articles
Barcelona demo dispersed after black bloc "riot".
Collapsing Capitalism: Global Revolution is NOW
Author:

thefreeonline

The Free is a book and a blog. Download free E/book ..."the most detailed fictional treatment of the movement from a world recognizably like our own to an anarchist society that I have read... View all posts by thefreeonline