from La Directa, by PEP MEDINA and JOANA VOISIN translation by The Free
"A small-scale revolution that has begun to change Granollers in just a few days ". The new Social Centre Squatted (CSO) Ca l'Enkant (the Enchanted House) opened this February in the capital of Vallès Oriental.
An enormous glass showcase welcomes us to the old car dealership of between 1,500 and 2,000 square meters located at Avenida Prat de la Riba, one of the main arteries of the city.
The buildings that make up the property, abandoned forat least nine years, is a well-known businessman in Granollers
The CSO (self-run Occupied Centre) was made public on 19 February after a parade through the streets of Granollers. The action announcement came days after the occupation, the owner is a well known entrepreneur who has different properties scattered around the city.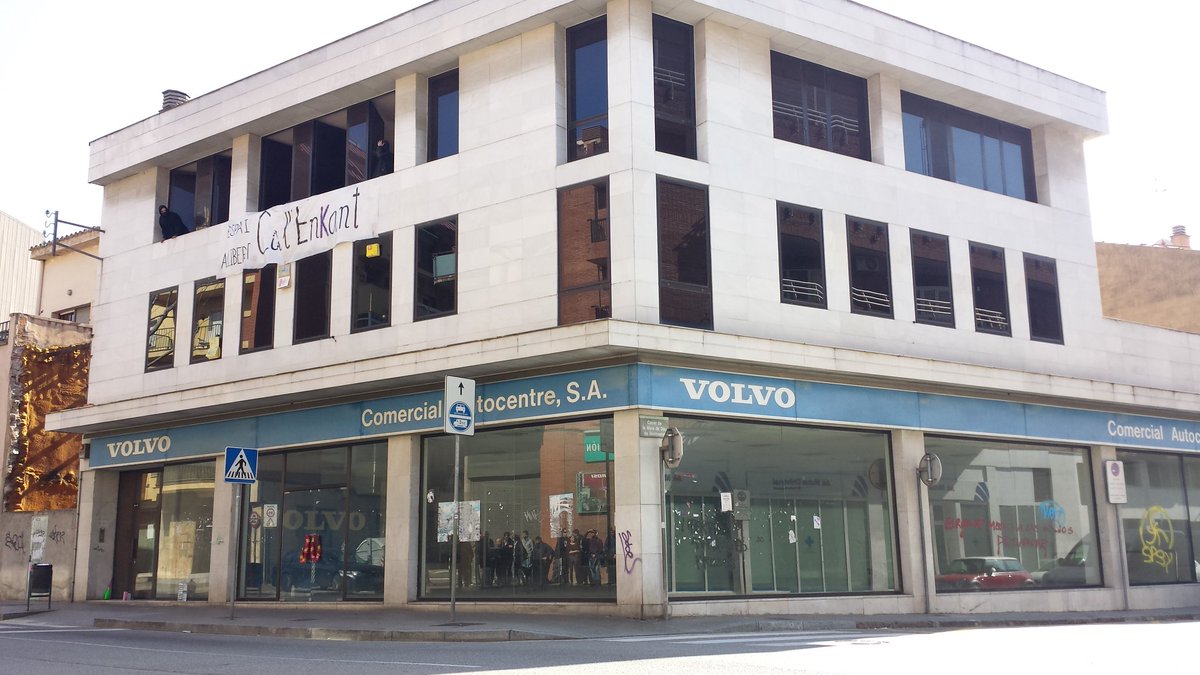 Okupied central office in the capital of the Vallès Oriental County..
"The initiative does not come from any group in particular, but tfrom Granollers neighbors who need to share a space and a meeting point for people as something really transformative..the public here in Granollers will power the Ca l'Enkant …. " explains Raquel, one of the spokeswomen for the group.
/ Pep Medina
This new political and social project has not left anyone indifferent in Granollers, especially considering what has been until now the composition and strength of social movements in the capital and suburbs of up to 100,000 people. The city has had up to 15% of dwellings left empty,  according PAH (The local group of the national Campaign for Mortgage Victims)- but occupations of a political and social are a rarity in this city .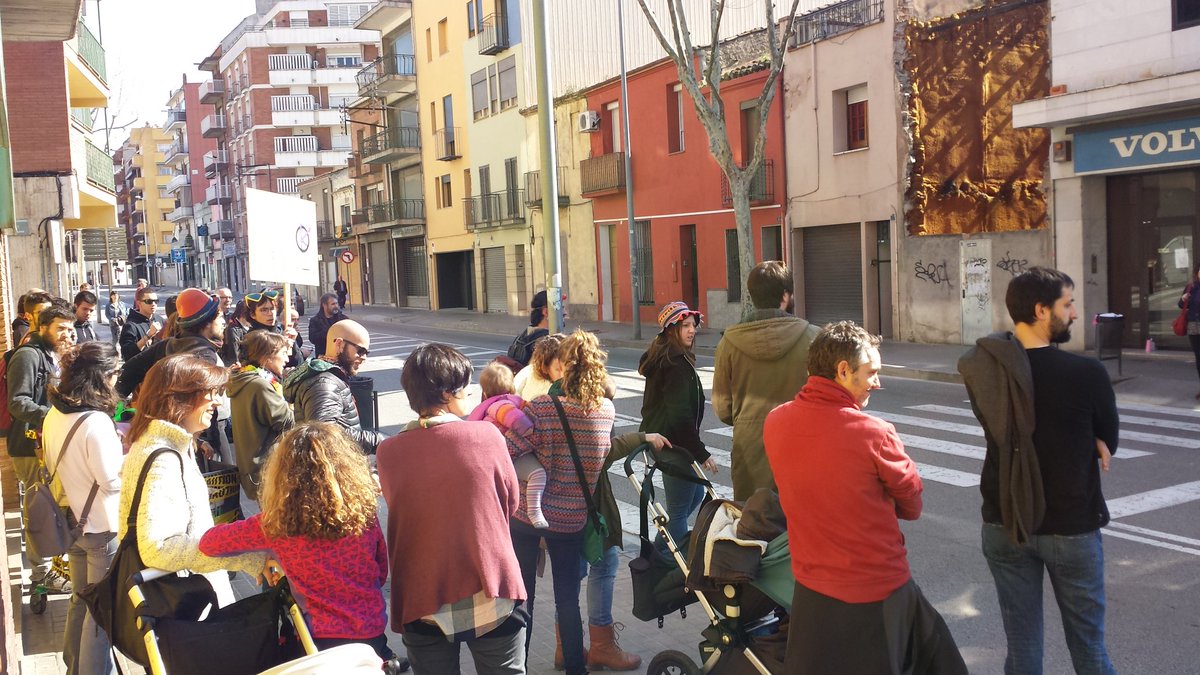 …The initiative has generated a lot of interest: The group estimates that more than a hundred people pass daily through space. Moreover, they  are holding daily assemblies together with some forty people from all over the Vallès Oriental County.
Façana del Centre Social a la capital del Vallès Oriental /Pep Medina
They want to make it clear that "they are not just a youth group, as has been claimed in recent days "it is not just a problem that the youth of Granollers need a self-managed  space, but the whole town need this space. …We need a place where you can  deal with the political model today… We work in this way: to create spaces for popular unity, 'says one of the members of the assembly of the CSO
The cornerstone of the project: self management
Ca l'Enkant  assembly is organizing some actions on their own initiative: a network of food and a popular school for underprivileged children and the elderly.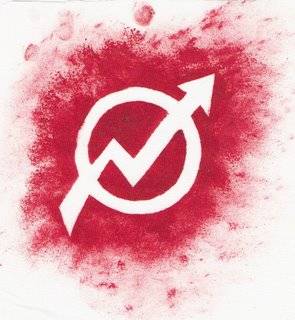 However, the intention is mainly to encourage both individual and collective projects. For Richard, another spokesman for the CSO "this shouldn't be a social center to organize things for people but a process of popular empowerment. Ca l'Enkant should be a place where people come, and is self-involved. "
So the group has set up a mailbox and are receiving an average of fifteen proposals daily for activities ranging from feminist self-defense workshops to study rooms, from a space for shared parenting to a circus school.
"The idea is that people who have made proposals can get logistical support, but they can carry out their activities within the space in a self-sustaining way. From there, the thing is to share knowledge, learning from each other … "explains Rachel.
Meanwhile, local organisationss such as the PAH, the Alliance against Energy Poverty(APE) and the Unemployed Assembly have also announced that their activities will now be carried out in this space, accompanied by the support shown by various organizations and neighbours.
In this regard there are information desks and a local committee is going around the area getting opinions about the social center and gathering suggestions and ideas.
Furthermore, the CSO has defined itself as a project following the precepts of feminism, environmentalism and degrowth.
Uniting social movements
One of the other key objectives of the Ca l'Enkant is to create a network between different social movements Granollers. "There are many social movements, the problem is that there is a lack of connection between them, which is what ends up constructing popular power: communication, mutual support and joint work…."says Ricard. Another member of the Assembly, and clarifies that "we saw that Granollers has no life, no social movement  and we realized it was missing the presence of a space like this: a space capable of uniting all the struggles of the city. "
"No matter which left wing group you are from, be iut anarchist or marxist, we have here a common" goal…. this point where the space is available to groups to become "a point of resistance and struggle in this city. We want to do social work and be a foundation for people who need it."
So one of the most developed assemblies has been the creation of a round table to bring together all the social organizations of the Granollers and Vallés/Maresme. So far, several assemblies of young people in the region such as Llinars del Vallès are attending the meetings.
We  Denounce pressures and maneuvers by municipal police
After the occupation began the government councilor Jordi Terrades PSC announced that just a week before the owner had "reserved" a license to reform this huge space. "It's too much coincidence. " says a member of the assembly, and explains that although the plans had been secret  ' squatting in a heavily controlled city like Granollers the power knows everything beforehand and the council could have raced to grab any argument to discredit the project.
However,  the assembly emphasized that "we are not against the owner, but against what he symbolizes: the symbol of a man, white and heterosexual, who oppresses people by his social status or gender."
…. As explained from the meeting, one of the plainclothes policemen "began to rebuke the person who acted as mediator and told him that was too adult to be doing foolish things." When our conpanion refused to come outside and be identified without the appropriate court order, "the police agent began to threaten him, saying " I know who you are and all that they can solve all this nicely or with violence".
According to several witnesses, that police agent is none other than the notorious Doñate of Henry Garcia, the chief inspector of the police station of Granollers since last January. Doñate Garcia was famously in charge of the Police District of Ciutat Vella (Old City) in Barcelona in 2013 when attacks by a group of agents caused the death in the Raval barrio of Juan Andrés Benítez. Following this case, the Interior Dept forced the removal of Doñate Garcia Cortes and three years later he was  moved again out to Granollers.
A win from the start
"Even if it ended now, we believe we have achieved a victory," said one of the speakers, because they believe that "we have exposed and put on the table the political model of  the city and how it is organized for private property" and this in itself is an objective reached". On the continuity of the project, the person explains that the aim is that the project goes beyond just a space.
"If one day Ca l'Enkant is evicted, it doesn't  end. It is a means of social transformation, this space should be the first of many places to start creating a different model of the city, this should not be a simple social center but a space to launch a fighting vanguard of social movements, "according to a struggle that they begin to germinate.
"It gives you the feeling that we are starting a small revolution when you see the streets of Granollers and people passing: it gives you the feeling that something is changing."
El nou Centre Social Okupat Ca l'Enkant revoluciona Granollers
L'okupació es va fer pública el passat 19 de febrer en una ciutat que no comptava amb un projecte d'aquestes característiques des de fa més de 10 anys. La iniciativa ha generat molt d'interès i l'espai ja ha començat a aglutinar lluites diverses
Façana del centre social a la capital del Vallès Oriental
Pep Medina
"Una revolució a petita escala que ja ha començat a canviar en pocs dies Granollers". Aquesta seria la carta de presentació de les impulsores del nou Centre Social Okupat (CSO) Ca l'Enkant, que s'ha obert aquest mes de febrer a la capital del Vallès Oriental. Un enorme aparador de vidre dóna la benvinguda a qui s'adreça a aquest antic concessionari de cotxes situat a l'avinguda Prat de la Riba, una de les artèries principals de la ciutat. L'espai consta d'entre 1.500 i 2.000 metres quadrats amb diversos espais diàfans –com el que era l'expositor de vehicles– i dues plantes superiors d'antigues oficines…………..