The squatter movement is strengthened with new occupations in Maresme and networking, creating islands of freedom and sanity in capitalist chaos.
 from La Directa, shared and translated with thanks
Closed municipal offices, abandoned hotels, banks and vacant lots are some of the properties that have been occupied in recent months for self-managed projects along the Maresme coast and around Catalonia (see map).
Last week, the first meeting of the group Recover Masnou town was held, in a building located at number 2 Avenue Joan Maragall, a former Bankia  bank ; the first open assembly produced all sorts of proposals to give it life from a library to a community food bank, from workshops to a popular gym.
Last month the Occupied Social Center 'Ca La Luna' took off in Canet de Mar-  a new space that plans to offer various activities for residents and raise money to help out prisoners and other "'victims of the system."
La Bruna..Occupied ex hotel
Weeks before, a squatter community recovered an old abandoned hotel in Calella, in a ceremony full of symbolism for a population seriously affected by mass tourism. La Bruna is a vegan and feminist space, and has been well received by the people.  ( see article here:   We've Occupied an Abandoned Hotel ..La Bruna.. for a Self-run Social Center:)
La Fibra.. occupied ex factory
In Mataró,  the capital of Maresme, county, a parade held  last December, in the district of Rocafonda ended up occupying a factory abandoned years ago, which has since blossomed inro the occupied project La Fibra.
The occupation is organized by the Association of neighbors in a space that had fallen into disuse after the City Council failed  to demolish the factory that stood in the middle of an esplanade. "It's a very large space where we can build a good city amenity that gives life to the neighborhood," says Maria Majó, 

Regional network
When only a month old, the squatted space La Bruna summoned in early February the First Assembly of autonomous spaces in Maresme  County. The aim was,  on the one hand, to get  themselves known within the wider movement and on the other, to "weave networks linking the various self-sustaining projects wotking in Maresme towns" Some fifty people from different areas attended the meeting to share experiences and learn about new initiatives that have emerged in the region in recent months, in addition to long-standing projects.
La Candela.. occupied ex farm
For example, there is La Candela in Santa Susanna.  
This project has chosen a new location after they were evicted last year . Among the activities that are organized is the Festival of Circus Art, organising now in its third edition.
There are also more  occupied spaces, in Canet like Mas Bestia, which this January celebrated its first year with a concert
Occupied Anarchist workers center
In Mataró the Ateneo Anarchist Pueblo Seco stands as a forum for discussion and dissemination of anarchist ideology.
The occupied Critical Library Hypatia,in Vilassar de Mar, is defined as a space for self-organised city youth and hosts various literary events and protests.
In total, about a dozen spaces complete the map of Maresme where squatting is gathering strength in recent years as an alternative to social housing.
From cultural centers, to  neighborhood service areas, including community housing projects, the squatter movement in Maresme revolves around a shared ideology that seeks to be an alternative to municipal institutions which often do not meet the social needs of neighborhoods and cities.
In many cases, in fact, occupied spaces have become guarantor of basic rights in situations of precariousness, offering a wide range of training opportunities, associations and leisure activities open to everyone.
Rebuilding the social fabric
Occupied ex bank, The Ferocious Beast
One of the most remarkable is found in Blanes, in the region of La Selva, near the Maresme. The Ateneo Popular Sa Fiera  is an ex office of La Caixa bank occupied for over two years to build a social space and association.. Since its creation, the 'Ferocious Beast' has established in Blanes as an intergenerational and intercultural cooperative which offers training and services for the district such as a communal laundry, a library and a meeting room for collectives.

The organisers of this area say that the Athenian has established so many activities in the city, such as the training workshops, "which no longer need an external stimulation to the participants organized independently. " Coordination and networking with other groups and neighborhood assemblies have seen Sa Fera become a reference in the associations of Blanes.
Squatters living spaces.. Can Jaumetó
Other occupations have appeared to meet the housing needs of groups that, given the lack of opportunities generated by speculation, decide to squat in unused spaces. Can Jaumetó is such a  case. In the month of April it celebrates its first year in a historical building in the center of Vilassar de Dalt town.

In Can Jaumetó live eight young vilassarenques, organized around a community housing project focused on working to offer workshops and activities open to all the people, such as movie passes, political debates and topical screen printing workshops. The Can Jaumetó project, according to their members, is intended to merge areas vital to integrate organic and everyday militancy : "Our aim is to work towards a full political autonomy and material that breaks with current capitalist dynamics, although we are well aware of the difficulties of implementing this approach. "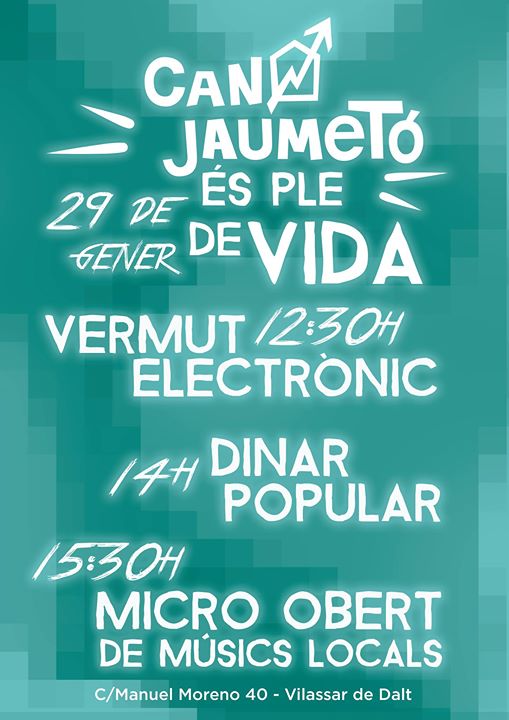 Judicial Offensive 
Many autonomous spaces have faced or are facing a judicial process, driven by real estate, municipalities or individuals who intend to evict people who work or live there. Can Jaumetó, for example, was freed from the last trial thanks to the complainant's lawyer arriving late to court. However, the owners expect that in the medium term they will demolish the historic building to build three blocks of flats and a green area with parking underground. The occupiers lament that "it would be a great loss for the people's assets" and also reported that the project does not meet housing needs because "Vilassar is full of empty apartments."
Can Sanpere    see article here Can Sanpere: Biggest ever 9,000 m3 Squat by 21 Collectives 
In Premia de Mar, Can Sanpere, one of the biggest squats in the world,  mobilized for months against the threat of an imminent eviction, having become an area of ​​convergence of groups and organizations that enrich the associations of the city.
Third anniversary of the occupation
The arrival of the judgment of TSJC to compensate the owners of Can Sanpere (legalisation process) coincides with the third anniversary of the occupation of the premises by various groups of people.
During this time, these groups have been organized to offer them a range of activities ranging from  clothes solidarity to support classes for students of the municipality, by various teachers. Other projects include a consolidated center with many disciplines, such as a group of RPGs, soccer court, ballroom and groups of African dance, or the consolidation of a choir called trumpets . Andreu Mumbrú explained that there are now dozens groups that stimulate the factory and it has just launched a radio station.
https://directa.carto.com/viz/233611e0-0a5d-11e7-9131-0ef24382571b/embed_map
Despite several attempts to curb the self management collective and squatters, many members of the movement say that an eviction can not stop everything that comes from these areas. Can Jaumetó are clear on this: "This goes beyond where we are. Although we are evicted our project will continue, because it is formed by all the people who belong."
 https://directa.carto.com/viz/233611e0-0a5d-11e7-9131-0ef24382571b/embed_map
original in Catalan here : from La Directa, shared and translated with thanks