NOTE: 'TheFreeOnline' blog which translated the post below is now banned in Turkey with Dozens more pro Rojava and anti Fascist sites
The People's Protection Units (YPG) on Wednesday said they killed 10 and injured another 20 in an attack on the Turkish army and the rebel al-Hamza Division group on Sunday."Within the scope of the resistance in Afrin, our units continue to target the occupying Turkish army elements and their allied terrorist groups," the YPG said in a statement.
"On Aug. 12, our forces targeted Turkish troops and Firqat al-Hamza (Hamza Division) terrorists with two separate bombing operations on the road leading to the Tirandah neighborhood in Afrin city center," said it added.
---
Kino Gabriel, Christian spokesman of the SDF: The priority, now, is Efrîn ..   August 13, 2018  from kurdiscat.
The Syrian Democratic Forces spokesman (SDF) has denied that military units of his militia are moving to Idlib to collaborate with the Arab Syrian Army (SAA). "The liberation of Efrîn remains our priority. We are making plans and preparations for its release. " Gabriel is part of the Syrian Military Council (MFS), Syrian Christian militia integrated into the SDF.
---
According to the Kurdish forces, "10 terrorists have been killed, [and] at least 20 others have been injured as a result of the operation."
The Turkish army and it's military police are on high alert in Afrin city since Tuesday night after several attacks by the YPG on Turkish-backed forces.
A report released on Aug. 6 by the Department of Defense Inspector General mentioned that the US stopped funding the Hamza Division in December 2017.
The report mentioned that some of the Liwa al-Hamza fighters, culled from several smaller rebel groups, fought in Afrin against members of the Kurdish YPG.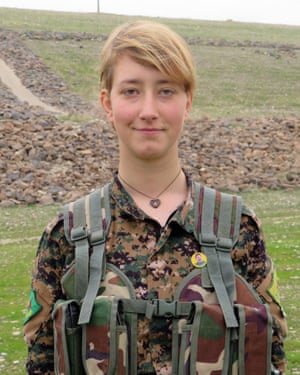 Anna Campbell, a British national who was murdered by illegally invading Turkish soldiers and their jihadi mercenaries  when defending families alongside YPJ women's forces in Afrin.
Furthermore, it said that "while some insurgent violence continued, Turkey solidified control over Afrin."
Turkish-backed forces finally took control of Afrin in March and have brought in settlers from other provinces, like al-Ghouta and Homs.
According to USAID, over 137,000 people were displaced from Afrin.
"Our fight in Afrin is to drive out those strangers," Nuri Mahmoud, the spokesperson for the People's Protection Units (YPG), previously told Kurdistan 24.
© BULENT KILIC/AFP/Getty Images A file photo of a Turkish-backed Syrian Arab fighter taking food items from a shop after seizing control of the northwestern Syrian city of Afrin from the Kurdish People's…
YPG top commander Sipan Hemo told Asharq al-Awsat last week that the YPG's military operations in Afrin continue and will grow in intensity over time.
According to the Syrian Observatory for Human Rights (SOHR), the YPG has carried out over 100 attacks against forces controlling the area.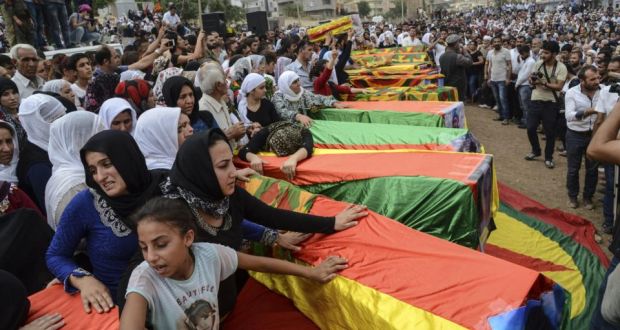 'Emperor' Erdogan used pretext of Childrens' Wedding Massacre..to attack the Victims!
Turkey claims it has expedited humanitarian efforts to help daily life in the town return to normal, the Turkish pro-government Daily Sabah reported.
The pro-government daily also reported that YPG fighters are believed to be hiding in mountainous areas in Afrin's northwest Rajo district.
However, a UN report in June detailed large-scale human rights abuses by Turkish-backed forces in Afrin, including looting, the abduction of civilians, confiscation of civilian property, arbitrary arrests, and occupation of homes.
In early August, Amnesty International called on Turkey to rein in rebel abuses.
Lynn Maalouf, Amnesty International's Middle East Research Director, called Turkey an "occupying power in Afrin," adding it "is responsible for the welfare of the civilian population and maintaining law and order."
Amnesty International: Turkish-backed rebels violating human rights in Afrin
World,
Turkish-backed Syrian rebel groups are committing serious human rights violations against civilians in the Kurdish canton of Afrin, Amnesty International revealed last week. The human rights monitor identified Syrian opposition groups Ferqa 55, Jabha al-Shamiye, Faylaq al-Sham, Sultan Mourad, and Ahrar al-Sharqiye as the main human rights abusers.
The worrying news come after the Greek paper Kathimerini reported in May  that most  new refugee arrivals in Greece now travel over land, crossing the river Evros on the Greek- Turkish border, and are Kurds from Afrin.
Turkey allowing Syrian rebels to abuse civilians in Afrin: Amnesty
Local sources told the international human rights watchdog of at least 86 instances of arbitrary detention, torture and enforced disappearance, including a woman displaced from Afrin who said that her uncle had been taken away by rebels after he had returned to his village three months earlier.
The violations are largely committed by the Syrian rebel groups, who are armed and equipped by Ankara. Local sources told the human rights monitor of at least 86 instances of arbitrary detention, torture and enforced disappearance.
Civilians run for cover from explosions in the city of Afrin in northern Syria on March 18, 2018, after Turkish forces and their rebel allies took control of the Kurdish-majority city.
In addition, Afrin region is experiencing a widespread looting and property confiscation, to which the Turkish army is turning a blind eye. What's more, some of the rebel groups, and Turkish forces themselves, have taken over schools, disrupting the education of thousands of children.
British #YPJ fighter Kimmie Taylor came to N. Syria to write about women's revolution, took part in the #Raqqa offensive and heroic defense of Afrin. @kimmieslife   photo: Kimmie wearing the typical flower scarf of the YPJ
Since March, children had been able to access only one school in Afrin city, while Afrin University has been shut down after it was destroyed and looted. One of the schools in Afrin is apparently being used as a Turkish army headquarters.
"Turkey's military offensive and occupation have exacerbated the suffering of Afrin residents, who have already endured years of bloody conflict. We heard appalling stories of people being detained, tortured or forcibly disappeared by Syrian armed groups, who continue to wreak havoc on civilians, unchecked by Turkish forces," said Lynn Maalouf, Amnesty International's Middle East Research Director.
Turkey and its allied forces occupy Afrin since March, following the military offensive against the YPG. The military offensive forced many of Afrin's civilians to seek safety in the nearby al-Shahba region of Syria, where now at least 140,000 people are living in camps or damaged houses without proper access to services, especially medical care.
Accorging to the AI report, Al-Shahba region is blocked by the Syrian govenment forces and the YPG, both deliberately preventing displaced people from returning to their homes or travelling further into Syria.
Since Turkey and allied armed groups seized control of Afrin, hundreds of people have been trying to return to the city by foot through a mountainous route, as the YPG has blocked the official routes into the city,  preventing displaced people from returning. Many of those who managed to return found that their properties had been confiscated and their possessions stolen by armed groups allied with Turkey.
Amnesty approached the Turkish government for comment on the report's findings. Ankara did not offer a solid response – merely questioning the researchers' terminology.
---
https://www.amnesty.org/en/latest/news/2018/08/syria-turkey-must-stop-serious-violations-by-allied-groups-and-its-own-forces-in-afrin/
Turkey is the occupying power in Afrin, and therefore is responsible for the welfare of the civilian population and maintaining law and order. So far, its armed forces have failed utterly in these duties," said Lynn Maalouf, Amnesty International's Middle East Research Director.
"It cannot evade responsibility by using Syrian armed groups to carry out its dirty work. Without further delay, Turkey must end violations by pro-Turkish armed groups, hold perpetrators accountable, and commit to helping Afrin residents rebuild their lives."
This is Alper Sapan, one of those people who were going to Kobane to help rebuild but instead met sudden brutal death in a terrorist bomb orchestrated by Erdogan to dynamite the Kurdish Peace Process. He wrote the text below as an objector to conscription:    'Hi, I am Alper Sapan. I am a 19 year-old anarchist. I am against injustice, exploitation and tyranny of the state. I condemn people killing each other, violence and the state. I listen to the inner voice of my conscience for freedom and refuse to serve in the military, (I am) for a  warless, nationless and borderless world where no one could ever be a soldier, no one could ever kill each others. Before militarism kills us, we should kill militarism'.
Kurds in Turkey are about 18 million people and are the largest ethnic minority in the country. [ 6] They speak an Indo-European language and live mainly in the east and southeast of the country, the region of Northern Kurdistan which has suffered prolonged  24-7 curfews, bombing, mass arrests and incarceration, shelling and sieges by the Turkish Security forces.
The Turkish State has a very long history of maintaining power by conducting fascist genocide and fanning xenophobic bigotry against minorities, in this case while at the same time being gifted billions of euros by the EU as blood money for closing off refugee access..