shared with thanks from.. https://directa.cat translation thefreeonline, original en Català cap a baix
Two years after the invasion of this canton of Rojava, Islamist factions under Turkish control continue to plunder the territory and clash with the civilian population, which nevertheless refuses to leave. Most of them have had to live in very poor conditions in the Shehba refugee camp, under military control of the Syrian regime of Bashar al-Assad.

A refugee child of Afrin in the camp of Serdema Ferran Domènech

A fuel truck exploded in late April in the central market of the city of Afrin (in the canton of Rojava, in the northwestern part of the Syrian state), killing about 50 people. While the Turkish government in Ankara blamed the Kurdish forces for the attack, they denied any involvement. Meanwhile, several Syrian opposition parties and organizations, some loyal to Turkey, blamed Turkish authorities for the blast.
This is another chapter in the instability in the canton of Afrin, in the northwestern tip of Syria, a region with a Mediterranean climate where olive trees, streams and small mountains give shape and character to its inhabitants. . There is not a single person in Afrin who is not in love with his land and speaks of it with devotion. Afrin is also one of the three historical cantons of Rojava where Democratic Confederalism – the ideology according to which the Kurdish movement is organized – had developed most successfully.

Paid by the Turkish State., the jihadi mercenaries are given free reign to loot,'confiscate' property and kill or expel residents. 

But since 2018 it has been under Turkish occupation. Since then, Ankara has carried out a demographic shift by establishing Arab and Turkmen populations in the area, whether they are Islamist fighters under Turkish orders or displaced families from other parts of Syria.
Barin Kobane-Avesta Xabur and Anna Campbell-our-heroes-murdered by Turkish invasion in-Afrin
The same demographic engineering is taking place in Sere Kaniye and Tell Abyad, areas occupied in October 2019, according to various human rights organizations. However, hundreds of people are reluctant to leave these territories, especially the elderly, who face harsh reprisals from pro-Turkish factions: from rapes to kidnappings in exchange for money or disappearances.
Destroy the forests and erase history
Hasan Hasan ran an English academy in the city of Afrin, which he was forced to abandon due to the invasion. He is currently a member of the Afrin Human Rights Association and is dedicated to documenting violations of rights by the Turkish state. He explains that "Afrin was the richest area of ​​Rojava, or even Syria." For this reason, the occupation has not been limited to repression of the local population and theft of property, but has taken other forms, such as the plundering of natural resources.
"At least 200,000 olive trees and hundreds of thousands of pines, oaks and other varieties have been cut or uprooted," says Hassan. Much of the olive trees would have been sold to other regions such as Idlib or Urfa, or processed into firewood and charcoal to cope with the high price of oil and diesel.
This plunder has also affected centuries-old trees in Sufi, Alevi and Yazidi religious shrines. Xudiret Betar, a member of the Yazidi minority, explains that the Proturant militias looted nineteen Yazidi sacred sites. "They steal what they can and destroy what is left."
He adds that "these sacred places are thousands of years old and of special value to us. They not only want to kill people, but also to destroy our history. " These attacks have been documented by the open research organization Bellingcat, including the temple of Ain Dara, a Hittite shrine more than 3,000 years old, razed in a Turkish bombing raid during the operation.

video.. Afrin, al-Shehba refugee camp. May 2020. Thousands of people demonstrate against Turkish occupation with placards of those killed defending their home
According to Eisha Sido, a member of Afrin's Yazidi Women's Union, "people remaining in Afrin have been retaliated against and even killed for sending images of the looting abroad. This fact demonstrates the exhaustive control of the telecommunications within the zones occupied by Turkey ".
Looting of aquifers
Another aspect of Afrin's occupation is water looting. Before the start of the Syrian conflict, Turkey had already diverted the course of several rivers by building dams within Turkey. In this way, it controlled and restricted water resources along the border with Syria. For example, the Negro River, in the Rajo subdistrict, a border river between the Turkish province of Hatay and Afrin that, when diverted, deprived villagers of the right to irrigate their lands. Turkish soldiers used to shoot at villagers approaching the river.
"The loss of water leads to the loss of agriculture, which impoverishes the local population, "said Hasan Hasan.
Since 2018, this water pollution policy has been dangerously aggravated. An example is the digging of wells next to springs. According to Hasan, "the main goal is not to benefit from the water, but to deprive the local population of these resources."
victims of Erdogan's war crimes in Afrin
During the invasion, the station that pumps and filters water throughout the region was attacked, a fact that was repeated during the Peace Fountain operation last October in Sere Kaniye and that Turkey has continued to carry out during the pandemic of the COVID-19.
Shehba Refugee Camp
We Still Won't leave
The population remaining in Afrin lives under the climate of fear generated by Islamist factions. One of them is Ferhat, who uses a pseudonym to protect his identity. He explains that "it is impossible for the Kurds to secure our daily bread. Our olives and our oil are worthless, and the occupation forces are left with half the production of zakat, the tax promoted by Islamic law. "
Ferhat states that there is no work and adds "to open a store, as a Kurd, you have to have a partner among the mercenaries to protect you. Otherwise, you will suffer their extortion ". For this reason, much of the native population lives on the income that their relatives send them from Europe.

"To open a store, as a Kurd, you have to have a partner among the mercenaries to protect you. Otherwise, you will suffer extortion, "said Ferhat, an Afrin resident

Islamist factions under Turkey's political and military control of the region are grouped under the banner of the self-proclaimed Syrian National Army, formerly known as the Free Syrian Army. In Afrin, it is mainly made up of Turkmen, an ethnic minority with a presence in the area for centuries. These are grouped within the Sultan Murad Brigade and the Sultan Mohammed Fatih Faction, the latter originally created by members of Al Qaeda. Each faction acts independently, which is used by Turkey to set them against each other and prevent them from rebelling against Ankara's control. This means that there are often fights between factions for the dominion of towns or natural resources.
Civilians run for cover from explosions in the city of Afrin in northern Syria on March 18, 2018, after Turkish forces and their rebel allies took control of the Kurdish-majority city. Turkish-backed rebels have seized the centre of Afrin city in northern Syria / AFP PHOTO / Bulent Kilic
Human rights violations and war crimes committed by these factions have been widely documented, as have their links to Islamic State. According to the Syrian Observatory for Human Rights, the latest operation by the Sultan Murad Brigade was the recruitment of about 150 teenagers between the ages of sixteen and eighteen living in Afrin, taking advantage of their poor economic situation. These would have been sent to Libya, where seventeen minors have already died in combat.
Shehba, living in a military zone
During the Turkish offensive on Afrin that began in January 2018, 543 civilians were killed and up to 137,000 people were displaced, according to the United Nations. That figure rose to 200,000 according to the Syrian Observatory for Human Rights. Most fled to Shehba, a small strip in the border province of Aleppo.
The area is under military control of the regime of Bashar al-Assad but at the same time under political and civilian control of the Autonomous Administration of Northern and Eastern Syria. Nearly 10,000 people live in refugee camps in Shehba, while more than 100,000 live in houses – most of them in very poor condition – that they were forced to occupy or rent after the escape.

About 10,000 Rojava refugees live in camps in Shehba, while more than 100,000 live in houses - most of them in very poor condition - that they were forced to occupy or rent.

The situation is relatively calm. But although no operation is underway, Turkey often bombards this area with mortars or drones. One of the deadliest episodes took place in early December, when eleven people were killed in Tell Rifaat, nine of them children playing in the street. For its part, the Afrin Liberation Forces (ALF) are waging a counterinsurgency war through infiltration actions on the Proturean lines.

A mother shows her son's cap killed by a Turkish drone along with eight other children last December. They were all residents of the same street | Ferran Domènech
The geographical reality of Shehba makes the arrival of humanitarian material particularly difficult, as the Syrian regime's authorities often claim up to 50% of the value.
La Directa.news has had access to the list of medicines needed by Shehba's main medical center, managed by the autonomous administration. Highlights include such basic supplies as penicillin or serum.
As for NGOs, strict control by the Syrian government makes it virtually impossible to work in Shehba without being subjected to the abuses of the regime.
Related Posts in English
Turkey's Support for Islamist Terrorism in Syria
Women's Day Marches attacked by Turkish Fascist Police: 17 Arrested
Hands Off Afrin: Demos, Support, Appeal, News Updates
Pro-Assad forces now Help Afrin Revolution against Turkish Terror
Compañero Samuel de Galicia Matado entre otros defendiendo Afrin de los Fascistas Advertisements
1 Vote
Boycott Turkey .. Boycott Turkish Products .. Cancel Holidays .. DON't support this madness!
Share:
ORIGINAL EN CATALÀ
Afrin, la cova dels lladres de Turquia
Dos anys després de la invasió d'aquest cantó de Rojava, les faccions islamistes sota el control de Turquia saquegen el territori i s'acarnissen amb la població civil que, malgrat tot, es resisteix a marxar. Bona part de la que ho ha hagut de fer viu en molt males condicions al camp de refugiades de Shehba, sota control militar del règim sirià de Bashar al-Assad
PUBLICAT: Maig 22, 2020
Un camió de transport de combustible va explotar a finals d'abril al mercat central de la ciutat d'Afrin (al cantó de Rojava, al punt nord-occidental de l'Estat sirià), i va causar una cinquantena llarga de morts. Mentre el govern turc d'Ankara culpava les forces kurdes de l'atac, aquestes van negar-ne qualsevol vinculació. D'altra banda, diversos partits i organitzacions de l'oposició siriana, alguns dels quals fidels a Turquia, van culpar les autoritats turques de l'explosió.
Es tracta d'un capítol més dins la inestabilitat que viu el cantó d'Afrin, a l'extrem nord-occidental de Síria, una regió de clima mediterrani on les oliveres, els rierols i les petites muntanyes donen forma i caràcter als seus habitants. No hi ha una sola persona d'Afrin que no estigui enamorada de la seva terra i en parli amb devoció. Afrin també és un dels tres cantons històrics de Rojava on el confederalisme democràtic –la ideologia segons la qual s'organitza el moviment kurd– s'havia desenvolupat amb més èxit.
Defeated but defiant. Reports of massacres by Turkish troops and the mercenaries of FSA came from around Afrin as the NATO tanks finally rolled in.
Ankara ha dut a terme un canvi demogràfic establint població àrab i turcmana a la zona, ja siguin combatents islamistes a les ordres de Turquia o famílies desplaçades d'altres punts de Síria
Però des de 2018 es troba sota ocupació turca. Des de llavors, Ankara ha dut a terme un canvi demogràfic establint població àrab i turcmana a la zona, ja siguin combatents islamistes a les ordres de Turquia o famílies desplaçades d'altres punts de Síria. La mateixa enginyeria demogràfica s'estaria produint a Sere Kaniye i Tell Abyad, àrees ocupades L'octubre de 2019, segons denuncien diverses organitzacions de drets humans.
Malgrat tot, centenars de persones es resisteixen a marxar d'aquests territoris, especialment les d'edat avançada, que s'enfronten a dures represàlies per part de les faccions proturques: des de violacions fins a segrestos a canvi de diners o desaparicions.
Mosque in a village of Shehba. Much of the region's buildings are partially in ruins due to the nine years of civil war in Syria – Ferran Domènech

Arrasar els boscos i esborrar la història
Hasan Hasan regentava una acadèmia d'anglès a la ciutat d'Afrin, que es va veure obligat a abandonar a causa de la invasió. Actualment és membre de l'Associació de Drets Humans d'Afrin i es dedica amb cos i ànima a documentar les violacions de drets per part de l'Estat turc. Explica que "Afrin era la zona més rica de Rojava, o fins i tot de Síria". Per aquesta raó, l'ocupació no s'ha limitat a la repressió vers la població local i el robatori de propietats, sinó que ha pres altres formes, com l'espoli de recursos naturals.
"S'han tallat o arrencat almenys 200.000 oliveres i centenars de milers de pins, roures i altres varietats", explica Hassan. Bona part de les oliveres haurien sigut venudes a altres regions com Idlib o Urfa, o transformades en llenya i carbó vegetal per fer front a l'elevat preu del petroli i el gasoil.
Pro-Turkish forces pillage Afrin after taking the city: Reports https://anfenglish.com/
Aquest espoli també hauria afectat arbres centenaris en santuaris religiosos sufís, alevites i yazidites. Xudiret Betar, membre de la minoria yazidita, explica que les milícies proturques haurien saquejat dinou llocs sagrats yazidites. "Roben el que poden i destrueixen el que queda". I afegeix que "aquests llocs sagrats tenen milers d'anys i un valor especial per a nosaltres.
No només pretenen matar la gent, sinó també destruir la nostra història". Aquests atacs han estat documentats per l'organització d'investigació oberta Bellingcat, entre els quals destaca el temple d'Ain Dara, un santuari hitita de més de 3.000 anys d'antiguitat, arrasat en un bombardeig turc durant l'operació.
Turkey recruiting ex-Isis fighters in their thousands to attack Kurds in Syria
Segons Eisha Sido, membre de la Unió de Dones Yazidites d'Afrin, "les persones que romanen a Afrin han estat represaliades i fins i tot assassinades per haver enviat imatges dels saquejos a l'exterior. Aquest fet demostra el control exhaustiu de les telecomunicacions dins les zones ocupades per Turquia".

Saqueig dels aqüífers
Una altra cara de l'ocupació d'Afrin és el saqueig hídric. Abans de l'inici del conflicte sirià, Turquia ja havia desviat el curs de diversos rius construint preses dins de Turquia. D'aquesta manera controlava i restringia els recursos hídrics al llarg de la frontera amb Síria. Per exemple, el riu Negre, al subdistricte del Rajo, un riu fronterer entre la província turca de Hatay i Afrin que, en ser desviat, privava els vilatans del dret de regar les seves terres. Els soldats turcs solien disparar contra els vilatans que s'acostaven al riu. "La pèrdua d'aigua comporta la pèrdua de l'agricultura, fet que empobreix la població local", explica Hasan Hasan.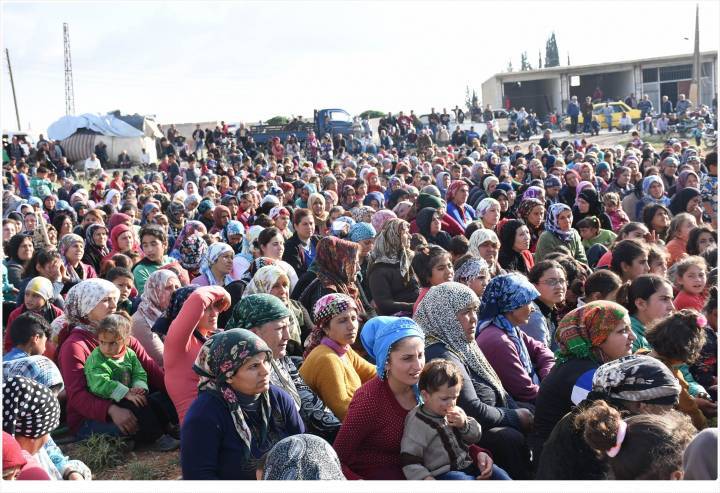 Womens meeting in Shehba, Rojava is a feminist revolution #WomenRiseUpForAfrin
Des del 2018, aquesta política d'espoli hídric s'ha agreujat perillosament. Un exemple és l'excavació de pous al costat dels brolladors d'aigua. Segons Hasan, "l'objectiu principal no és beneficiar-se de les aigües, sinó privar la població local d'aquests recursos".
Durant la invasió, l'estació que bomba i filtra aigua a tota la regió va ser atacada, fet que es va repetir durant l'operació Font de Pau del passat octubre a Sere Kaniye i que Turquia ha seguit duent a terme durant la pandèmia de la COVID-19.

Malgrat tot, no marxar
La població que roman a Afrin viu sota el clima de por generat per les faccions islamistes. Un d'ells és Ferhat, que utilitza un pseudònim per protegir la seva identitat. Explica que "als kurds ens és impossible assegurar-nos el nostre pa diari. Les nostres olives i el nostre oli no valen res i a sobre les forces d'ocupació es queden la meitat de la producció en concepte de zakat, l'impost promogut per la llei islàmica". Ferhat afirma que no hi ha feina i afegeix "per obrir una botiga, com a kurd, has de tenir un soci entre els mercenaris que et protegeixi. En cas contrari, patiràs la seva extorsió". Per aquesta raó, bona part de la població nativa viu dels ingressos que els seus familiars els envien des d'Europa.
"Per obrir una botiga, com a kurd, has de tenir un soci entre els mercenaris que et protegeixi. En cas contrari, patiràs la seva extorsió", afirma Ferhat, veí d'Afrin
Les faccions islamistes a les ordres de Turquia que tenen el control polític i militar de la regió s'agrupen sota la bandera de l'autoproclamat Exèrcit Nacional Sirià, anteriorment conegut com a Exèrcit Lliure Sirià. A Afrin, principalment està format per turcmans, una minoria ètnica amb presència a la zona des de fa segles. Aquests s'agrupen dins la Brigada Sultan Murad i la Facció Sultan Mohammed Fatih, la darrera originalment creada per membres d'Al-Qaeda. Cada facció actua independentment, fet que utilitza Turquia per enfrontar-les entre si i evitar que es puguin rebel·lar contra el control d'Ankara. Això provoca que sovint hi hagi combats entre faccions pel domini de pobles o recursos naturals.
Les violacions de drets humans i crims de guerra comesos per aquestes faccions han estat àmpliament documentades, així com els seus vincles amb Estat Islàmic. Segons l'Observatori Sirià de Drets Humans, la darrera operació de la Brigada Sultan Murad hauria sigut el reclutament de prop de 150 adolescents d'entre setze i divuit anys residents a Afrin aprofitant la feble situació econòmica en la qual es troben. Aquests haurien sigut enviats al Líbia, on ja haurien mort en combat disset menors.

Shehba, viure en una zona militar
Durant l'ofensiva turca sobre Afrin iniciada el gener de 2018 van morir 543 civils i fins a 137.000 persones van resultar desplaçades, segons les Nacions Unides. Aquesta xifra ascendiria a 200.000 segons l'Observatori Sirià dels Drets Humans. La majoria va fugir a Shehba, una petita franja dins la província d'Alep limítrofa amb Afrin. L'àrea es troba sota control militar del règim de Bashar al-Assad però, a la vegada, sota control polític i civil de l'Administració Autònoma del Nord i Est de Síria. Prop de 10.000 persones viuen en camps de refugiades a Shehba, mentre que més de 100.000 ho fan en cases –la majoria de les quals en molt mal estat– que es van veure forçades a ocupar o llogar després de la fugida.
#StopFeminincideInAfrin #feminism #WomenRiseUpForAfrin
Prop de 10.000 refugiades de Rojava viuen en camps a Shehba, mentre que més de 100.000 ho fan en cases –la majoria de les quals en molt mal estat– que es van veure forçades a ocupar o llogar
En l'àmbit militar, la situació és de calma relativa. Encara que no hi hagi cap operació en marxa, Turquia sovint bombardeja aquesta àrea amb morters o drons. Un dels episodis més mortífers va tenir lloc a principis de desembre, quan onze persones van ser assassinades a Tell Rifaat, nou de les quals nens que jugaven al carrer. Per la seva banda, les Forces d'Alliberament d'Afrin (ALF) duen a terme una guerra de contrainsurgència a través d'accions d'infiltració a les línies proturques.
La realitat geogràfica de Shehba fa que l'arribada de material humanitari sigui particularment difícil, ja que les autoritats del règim sirià sovint en reclamen fins al 50% del valor. La Directa ha tingut accés a la llista de medicaments que necessita el principal centre mèdic de Shehba, gestionat per l'administració autònoma. Destaquen subministraments tan bàsics com la penicil·lina o el sèrum. Pel que fa a les ONG, el control estricte per part del govern sirià fa que els sigui pràcticament impossible treballar a Shehba sense estar sotmeses als abusos del règim.
Articles relacionats
Ferran Domènech Fotografies | Ferran Domènech
David Meseguer Fotografies | David Meseguer
Ferran Domènech Fotografies | Hawar News