A river island that was literally forgotten as rapacious nation States gobbled up the defeated Ottoman Empire
I chose to translate this text as it reads like a story. There I saw the beautiful travel diary of a Macedonian-Bulgarian anarchist from the 19th century. The travel diary does not claim objectivity. He can make us travel through his words, make us think and make us conceive a little elsewhere. This takes us out of authoritarian structures, to a freer world observed by the author of it through his contact with the environment.
Surely such a story could not serve as basic material for historians, but its strength lies elsewhere. Summons our imagination to escape the authoritarian world and its oppressive relationships. It broadens our vision of the world and helps us to see better what is being built in our struggles. I believe that the imagination is a powerful weapon when it is not in the hands of the ruling classes.
Petar Georgiev Mandzhukov (1878–1966) was a Macedonian Bulgarian revolutionary and anarchist, member of the Internal Macedonian-Adrianople Revolutionary Organization and of the Supreme Macedonian-Adrianople Committee. The following is an excerpt from Mandzhukov's memoir 'Harbingers of Storm' (Sofia: FAB, 2013):
"As soon as it leaves the Iron Gates [1], the Danube river spills widely to the east. Approximately 3 km east of the Iron Gates, about two km southeast of the town of Orshova, and just south of the Romanian border town of Varchiorova, there is a fairly large island that divides the course of the Danube into two almost identical high-water branches, which afterward rejoin. At the western end of this island, there is a town surrounded by three belts of bastions with high ramparts. This is the town of Ada-Kaleh, a former first-class Turkish fortress.
elias deverent 1 week ago My mother grew up on this island. She constantly tells me about the quality of life and how privileged she is to once call this beloved island her home. Like a dream, it was over when political forces and economic pressures basically forced people to give up their home. Thank you so much for this presentation, my mother was quiet thrilled to see this and even learn new facts (comment on you tube video)
"I visited this island in April of the present 1898 year. The island is about three kilometers long from west to east and about one kilometer wide from north to south. Its entire area outside the fortress is workable land – fields and orchards, well cultivated and maintained. The inhabitants of the town of Ada-Kaleh are Turks, numbering 3500-4000 people; their livelihood is mainly based on providing coffee and services to Danube's passing ships, as well as to the boatmen from the port of Orshova, and the rest – partly farmers, partly merchants; all, without exception, are smugglers.
The settlement is a typical old Turkish town, with narrow and crooked streets covered with cobblestones; the market is a Turkish bazaar – with low shops that close with shutters; the shops are filled with goods that are sold at very low prices because they haven't been subject to customs duties and tolls. The streets of the town and those of the bazaar are swept and kept extremely clean.
Apart from the school and the mosque, there was no other institution in town. There is no mayor, no governor, no bureaucrats, no army, no police, no customs officers, no prison, no court, no taxes. All inhabitants decide on the needs of their town at a general assembly; the decided monetary sums are collected from those present at the assembly; the latter is the place where disputes between inhabitants – something that happens extremely rarely – are being resolved.
"As would happen everywhere in such circumstances, in the first few days after the sudden withdrawal of the Turkish military and civic authorities from the island, some of the inhabitants resorted to looting. The population, however, gathered and brought the robbers before the general assembly, which compelled them to return the plundered things; this seemed so disgraceful to the robbers that there has been no theft, robbery or arson on the island ever since.
The people of Ada-Kaleh are very helpful, hospitable, kind, and cautious. Private property exists as it existed before, without however to interfere with the free and respectful relations between the inhabitants.
There are 427 years between the time of Sultan Mohammed II, when the ancestors of the present-day Ada-Kalehans settled on the island, and 1878 when the Turkish military and civic authorities left it; generation after generation, the people of Ada-Kaleh lived and died with the idea of the necessity of authority and the State, ready to sacrifice themselves for the latter at any moment; most of the current inhabitants of the island lived in privileged conditions under Turkish rule. But after living only twenty years of truly free life, they were unable to understand what authority and the State are needed for.
"In July this year, a Hungarian army landed on the island and captured it. Now in Ada-Kaleh, there is a municipal government, there are officials, officers, a mayor, a governor, a commandant, there is a police station, a court, a prison. Now the residents want permission for everything, they pay fees and taxes for everything, the government collects fines from them for everything. The inhabitants of Ada-Kaleh are no longer free people, but Austro-Hungarian subjects.
Thus the freedom of Ada-Kaleh was suffocated quietly, with the tacit approval of neighboring countries, because Ada-Kaleh – this small island town – posed a great threat to all countries and all authorities: there people were not developing theories on antiauthority, no books and pamphlets were written to explain how the life of a free society will be arranged in the future; there freedom was practiced in the present, in the most natural way, by ordinary people".
Notes from the Translator:
[1] The Iron Gates is a gorge on the river Danube. It forms part of the boundary between Serbia (to the south) and Romania (north).
[2] The Treaty of Berlin was signed in the aftermath of the Russian victory against the Ottoman Empire in the Russo-Turkish War of 1877–1878, with the major powers restructuring the map of the Balkan region.
The island of Ada-Kaleh was submerged underwater in 1970 during the construction of the Iron Gates hydroelectric plant, the largest dam on the Danube river, and one of the largest hydropower plants in Europe.
Ada Kaleh: la isla balcánica donde una vez la gente vivió sin Estado, ni amo.

per Aliss 29 des 2020

Traducción al francés del Collectif Emma Goldman de un extracto de las memorias del anarquista macedonio y búlgaro Petar Georgiev Mandzhukov, recibido a través de la red de contrainformación anarquista, con dos imágenes de archivo.Collectif Emma Goldman

Elegí traducir este texto ya que se lee como un cuento. Allí vi el hermoso diario de viaje de un anarquista macedonio-búlgaro del siglo XIX. El diario de viaje no reclama objetividad. Él puede hacernos viajar a través de sus palabras, hacernos pensar y hacernos concebir un poco en otra parte.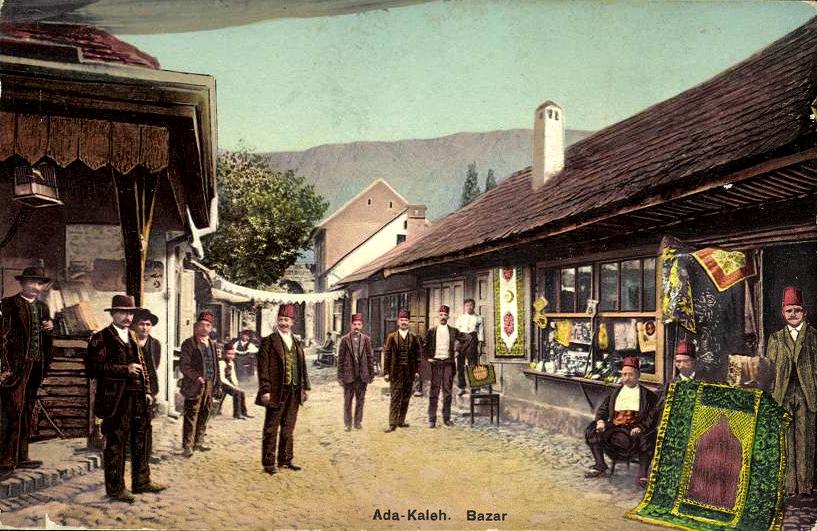 Esto nos lleva fuera de las estructuras autoritarias, a un mundo más libre observado por su autor a través de su contacto con el entorno. Sin duda, una historia así no podría servir como material básico para los historiadores, pero su fuerza reside en otra parte. Convoca nuestra imaginación para escapar del mundo autoritario y sus relaciones opresivas. Amplía nuestra visión del mundo y nos ayuda a ver mejor lo que se está construyendo en nuestras luchas. Creo que la imaginación es un arma poderosa cuando no está en manos de las clases dominantes.
Petar Georgiev Mandzhukov (1878-1966) fue un anarquista y activista revolucionario macedonio y búlgaro, miembro de la Organización Revolucionaria Interna Macedonia-Adriano (IMARO) y del Comité Supremo Macedonia-Adrianópolis. El siguiente texto es un extracto de las memorias de Mandzhukov, Messengers of the Storm (Sofía: FAB, 2013):
"Tan pronto como pasa las Puertas de Hierro[1], el Danubio se extiende a lo ancho hacia el este. A unos tres kilómetros al este de las Puertas de Hierro, a unos dos kilómetros al sureste de la ciudad de Orsova y justo al sur de la aldea fronteriza de Vârciorova, hay una isla bastante grande que divide el curso del Danubio en dos ramas de pleamar casi idénticas que se encuentran más tarde. En el extremo occidental de esta isla, hay un pueblo rodeado por tres cinturones de baluartes con altas murallas. Es la ciudad de Ada Kaleh, una ex-fortaleza turca de primera clase.
Según el Tratado de Berlín de 1878[2], la frontera entre Hungría y Rumanía por un lado y Serbia y Bulgaria por el otro se traza a lo largo del Danubio, ver en su recorrido cuál se utiliza para el transporte. Debido a que los barcos navegaban por igual a ambos lados de Ada Kaleh, según el tratado, la isla quedó fuera de las fronteras de los estados vecinos de Hungría, Serbia y Rumania. Según el mismo tratado, todas las fortalezas a orillas del Danubio debían ser demolidas. Un buen día de 1878, después de que los turcos hubieran evacuado a su artillería, guarnición y policía de la isla, Ada Kaleh se quedó fuera de las fronteras de los países vecinos: despertó sin la autoridad estatal.
Visité esta isla en abril del año 1898. La isla tiene casi tres kilómetros de longitud de oeste a este y aproximadamente un kilómetro de ancho de norte a sur. Toda su área, fuera de la fortaleza, se encuentra en tierras cultivables: campos y huertos bien cultivados y cuidados. Los habitantes de la ciudad de Ada Kaleh son turcos y turcas, que suman entre 3500 y 4000. Sus medios de vida se basan principalmente en el suministro de café y servicios desde los barcos que atraviesan el Danubio, como barqueros del puerto de Orsova. El resto, incluida una parte de agricultores y una parte de comerciantes, son todos, sin excepción, contrabandistas.
elias deverent hace 1 semana Mi madre creció en esta isla. Constantemente me cuenta sobre la calidad de vida y lo privilegiada que es al llamar a esta amada isla su hogar. Como un sueño, todo terminó cuando las fuerzas políticas y las presiones económicas básicamente obligaron a las personas a renunciar a su hogar. Muchas gracias por esta presentación, mi madre estaba muy emocionada de ver esto e incluso conocer nuevos hechos (commentario sobre video de You Tube) traducido
elias deverent 1 week ago My mother grew up on this island. She constantly tells me about the quality of life and how privileged she is to once call this beloved island her home. Like a dream, it was over when political forces and economic pressures basically forced people to give up their home. Thank you so much for this presentation, my mother was quiet thrilled to see this and even learn new facts (commentario siobre You Tube video)
, con pequeños quioscos que se cierran con contraventanas. Los quioscos están llenos de mercancías que se venden a precios muy bajos porque no han estado sujetos a derechos de aduana ni impuestos. Las calles de la ciudad y las del bazar están barridas y extremadamente limpias.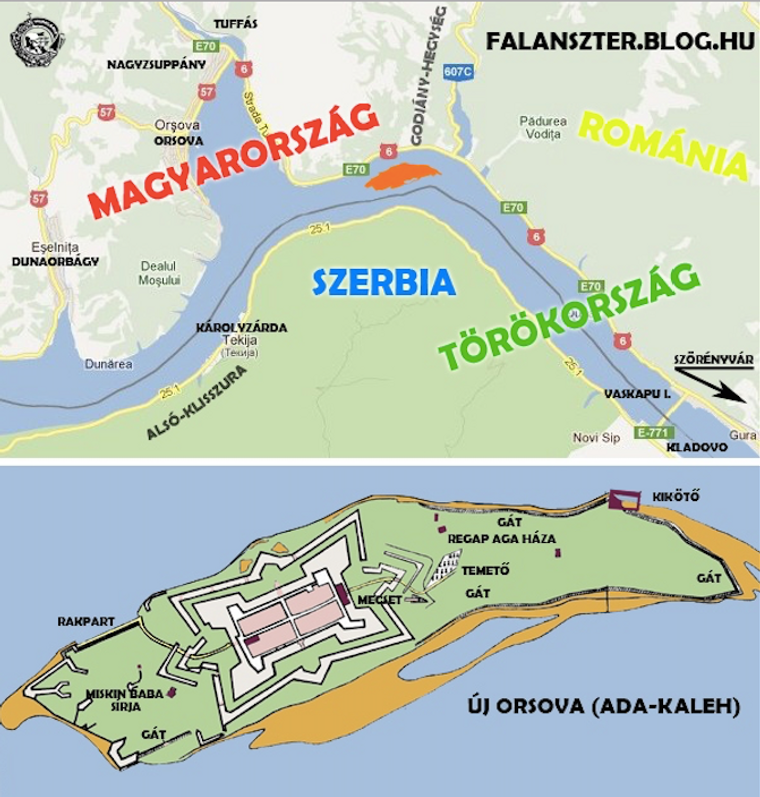 Aparte de la escuela y la mezquita, no había otra institución en la ciudad. No había alcalde, ni gobernador, ni burócrata, ni ejército, ni policía, ni aduanas, ni prisión, ni tribunal, ni impuestos. Los habitantes deciden sobre las necesidades de su ciudad en una asamblea general. Las sumas de dinero decididas se recaudan de los presentes en la reunión. En este último es donde se resuelven los conflictos entre vecinos, algo que ocurre muy raramente.
Como sucedería en cualquier lugar bajo tales circunstancias, en los primeros días después de la repentina retirada de las autoridades militares y cívicas turcas de la isla, algunos lugareños saquearon. La población, sin embargo, se reunió y llevó a los ladrones a la asamblea general, lo que los obligó a devolver los bienes robados. Ha sido tan deshonroso para los ladrones que nunca ha habido un ladrón, robo o incendio premeditado en la isla desde entonces.
La gente de Ada Kaleh es genuinamente servicial, hospitalaria, amable y cariñosa. La propiedad privada existe tal como existió, pero sin interferir en las relaciones libres y respetuosas entre los habitantes.
Pasaron 427 años entre la época del sultán Mehmed II, cuando los antepasados de los actuales habitantes de Ada Kaleh se establecieron en la isla, y 1878, cuando el ejército y las autoridades cívicas turcas lo abandonaron. Generación tras generación, la gente de Ada Kaleh vivió y murió con la creencia de que la autoridad y el estado eran necesarios, incluso dispuestos a sacrificarse por este último en cualquier momento. La mayoría de los habitantes actuales de la isla vivían en condiciones privilegiadas bajo el régimen turco. Pero después de vivir solo 20 años de vida verdaderamente libre, no pudieron entender por qué se necesitaba el estado y la autoridad.
En julio de este año, tropas del ejército húngaro desembarcaron en la isla para conquistarla. Ahora en Ada Kaleh hay un gobierno municipal, hay funcionarios, un alcalde, un gobernador, un comandante, hay una estación de policía, un tribunal, una prisión. Ahora los residentes piden permiso para todo, pagan tasas e impuestos por todo, el gobierno cobra multas por todo. La gente de Ada Kaleh ya no es gente libre, sino súbditos austrohúngaros.
Así, la libertad de Ada Kaleh fue sofocada gradualmente, con la aprobación tácita de los países vecinos, ya que Ada Kaleh, esta pequeña ciudad insular, representaba una gran amenaza para todos los países y autoridades. Allí, la gente no desarrolló una teoría sobre el antiautoritarismo, no se escribieron libros ni folletos para explicar cómo se organizará la vida de una sociedad libre en el futuro; allí, la libertad se practicaba al momento, de la manera más natural, no la habitual de la gente".
Notas del traductor de habla inglesa:
[1]Las Puertas de Hierro son un desfiladero del Danubio (el río). Forman parte de la frontera entre Serbia (al sur) y Rumania (al norte).
[2]El Tratado de Berlín se firmó tras la victoria rusa contra el Imperio Otomano en la Guerra Ruso-Turca de 1877-1878, con la reestructuración del mapa geográfico de la región de los Balcanes por parte de las grandes potencias.
La isla Ada Kaleh se sumergió bajo el agua en 1970 durante la construcción de la central hidroeléctrica Iron Gates, la presa más grande del Danubio y una de las centrales hidroeléctricas más grandes de Europa.
Traducción al francés del Blog colectivo de Emma Goldman Collectif Emma Goldman
J'ai choisi de traduire ce texte puisqu'il se lit comme un conte. J'y ai vu le beau récit de voyage d'un anarchiste macédonien-bulgare au 19e siècle. Le récit de voyage ne prétend pas à l'objectivité. Il peut nous faire voyager à travers ses mots, nous faire réfléchir et nous amener à concevoir un peu l'ailleurs. Celui-ci nous transporte en dehors des structures autoritaires, dans un monde plus libre tel que l'observe son auteur à travers son contact avec le milieu.
Sans doute un tel récit ne pourrait servir de matériau de base aux historiens et historiennes, mais sa force est ailleurs. Il convoque notre imagination à s'évader du monde autoritaire et ses rapports oppressifs. Il élargit nos visions du monde et nous aide à mieux voir ce qui se construit dans nos luttes. Je crois que l'imagination est une arme puissante lorsqu'elle n'est pas aux mains des classes dominantes. J'espère que ce texte vous passera le sourire.
Petar Georgiev Mandzhukov (1878–1966) était un militant anarchiste et révolutionnaire macédonien et bulgare, membre de l'Organisation révolutionnaire interne macédonienne-Andrinople (IMARO) et du Comité suprême macédonien-Andrinople. Le texte suivant est un extrait des mémoires de Mandzhukov Les messagers de la tempête (Sofia : FAB, 2013) :
Aussitôt qu'il passe les Portes de Fer [1], le Danube se répand sur une grande largeur vers l'est. À approximativement trois kilomètres à l'est des Portes de Fer, environ deux kilomètres au sud-est de la ville d'Orșova et juste au sud du village frontalier de Vârciorova, il y a une île passablement grande qui divise le cours du Danube en deux branches d'hautes eaux pratiquement identiques qui se rejoignent par la suite. À la pointe ouest de cette île, il y a un village entouré par trois ceintures de bastions avec de hauts remparts. C'est la ville d'Ada Kaleh, une ex-forteresse turque de première qualité.
elias deverent il y a 1 semaine.. Ma mère a grandi sur cette île. Elle me parle constamment de la qualité de vie et du privilège qu'elle a d'appeler cette île bien-aimée sa maison. Comme un rêve, c'était fini lorsque les forces politiques et les pressions économiques ont forcé les gens à abandonner leur maison. Merci beaucoup pour cette présentation, ma mère était ravie de voir cela et même d'apprendre de nouveaux faits (commentario sobre vidéo You Tube) traducido
Selon le Traité de Berlin de 1878 [2], la frontière entre la Hongrie et la Roumanie d'un côté et la Serbie et la Bulgarie de l'autre se trace le long du Danube, voir dans son cours qui sert au transport. Parce que les bateaux naviguaient de manière égale des deux côtés d'Ada Kaleh, sous le traité, l'île était laissée à l'extérieur des frontières des États voisins de la Hongrie, de la Serbie et de la Roumanie. Selon le même traité, toutes les forteresses sur les bords du Danube devaient être démolies. Un beau jour de 1878, après que les Turcs ont eu évacué leur artillerie, leur garnison et leur police de l'île, Ada Kaleh était laissée en dehors des frontières des pays voisins – s'est réveillée sans autorité étatique.
J'ai visité cette île en avril de l'année 1898. L'île a une longueur de près de trois kilomètres d'ouest en est et a une largeur d'environ un kilomètre du nord au sud. Toute sa superficie, à l'extérieur de la forteresse, est sur sol cultivable – des champs et des vergers bien cultivés et entretenus. Les habitants et habitantes de la ville d'Ada Kaleh sont turcs et turques, au nombre de 3500 à 4000. Leurs moyens de subsistance sont principalement basés sur l'approvisionnement en café et en services des bateaux passant par-là sur le Danube, ainsi que des bateliers du port d'Orșova.
Le reste, incluant une part de fermiers et une part de marchands, sont tous et toutes, sans exception, des contrebandiers. La localité est établie sur le modèle des vieux villages turcs typiques, avec ses rues étroites et courbées couvertes de pavées. Le marché est un bazar turc – avec de petits kiosques qui se ferment avec des volets. Les kiosques sont emplis de biens vendus à de très bas prix parce qu'ils n'ont pas été sujets à des droits de douane ou des taxes. Les rues de la ville et celles du bazar sont balayées et extrêmement propres.
En dehors de l'école et de la mosquée, il n'y avait aucune autre institution dans la ville. Il n'y avait pas de maire, pas de gouverneur, pas de bureaucrate, pas d'armée, pas de police, pas de douanier, pas de prison, pas de tribunal, pas de taxes. Les habitants et habitantes décident des besoins de leur ville dans une assemblée générale. Les sommes d'argent décidées sont collectées chez les personnes présentes à l'assemblée. Cette dernière est l'endroit où les conflits entre les habitants et habitantes – quelque chose qui survient très rarement – sont résolus.
Comme cela arriverait n'importe où en de telles circonstances, dans les premiers jours après le retrait soudain des militaires et des autorités civiques turcs de l'île, quelques-uns des habitants et habitantes ont fait du pillage. La population, toutefois, s'est rassemblée et a amené les voleurs devant l'assemblée générale, qui les a contraints à retourner les biens dérobés. Cela a été si déshonorant pour les cambrioleurs qu'il n'y a plus jamais eu de voleur, de vol ou d'incendie volontaire sur l'île depuis.
Les gens d'Ada Kaleh sont vraiment porté-e-s à aider les autres, sont hospitaliers, gentils et attentionnés. La propriété privée existe comme elle existait autrefois, sans toutefois interférer avec les rapports libres et respectueux entre les habitants et habitantes.
Il s'est passé 427 années entre le temps du sultan Mehmed II, lorsque les ancêtres des habitants et habitantes actuel-le-s d'Ada Kaleh se sont établi-e-s sur l'île, et 1878, quand l'armée et les autorités civiques turques l'ont quitté. Génération après génération, les gens d'Ada Kaleh ont vécu et sont morts avec l'idée que l'autorité et l'État étaient nécessaires, voir étaient prêts à se sacrifier pour ce dernier à tout moment. La plupart des habitants actuels de l'île vivaient dans des conditions privilégiées sous le régime turc. Mais après avoir vécu seulement 20 années de vie vraiment libre, ils étaient incapables de comprendre pourquoi l'État et l'autorité pouvaient être nécessaires.
En juillet de cette année, des troupes de l'armée hongroise sont débarquées sur l'île pour la conquérir. Maintenant, à Ada Kaleh, il y a un gouvernement municipal, il y a des fonctionnaires, un maire, un gouverneur, un commandant, il y a une station de police, un tribunal, une prison. Maintenant, les habitants et habitantes demandent la permission pour tout, paient des frais et des taxes pour tout, le gouvernement leur collecte des amendes pour tout. Les gens d'Ada Kaleh ne sont plus des gens libres, mais des sujets austro-hongrois.
Ainsi, la liberté d'Ada Kaleh a été étouffée à petit feu, avec l'approbation tacite des pays voisins, car Ada Kaleh – cette petite ville insulaire – posait une grande menace à tous les pays et toutes les autorités. Là-bas, les gens ne développaient pas de théorie sur l'antiautoritarisme, aucun livre ou pamphlet n'était écrit pour expliquer comment la vie d'une société libre sera organisée dans le futur; là-bas, la liberté était pratiquée au temps présent, de la manière la plus naturelle, pas des gens ordinaires.
Notes du traducteur anglophone:
[1] Les Portes de Fer sont une gorge du Danube (le fleuve). Elles forment une partie de la frontière entre la Serbie (au sud) et la Roumanie (au nord).
[2] Le Traité de Berlin a été signé à la suite de la victoire russe contre l'Empire ottoman dans la Guerre russo-turque de 1877-1878, avec la restructuration de la carte géographique de la région des Balkans par les grandes puissances.
L'île d'Ada Kaleh fut submergée sous l'eau en 1970 lors de la construction de la centrale hydroélectrique des Portes de Fer, le plus grand barrage sur le Danube et l'une des plus grandes centrales hydroélectriques en Europe.
Traduction francophone par le Blogue du Collectif Emma Goldman Publié il y a 6 days ago par Collectif Emma Goldman