The biggest leftwing HDP Party representing 18 million Kurds already has most of its elected members and Mayors jailed, disbarred or murdered. The dictator Erdogan can close them down when he wants but prefers to orchestrate a fascist purge campaign against them. The genocidal campaign is the latest to boost Erdogan's AKP party is currently shaken by corruption, mafia revelations and economic collapse
********
Armed attackers stormed the headquarters of pro-Kurdish Halkların Demokratik Partisi (HDP, People's Democratic Party) this morning in the central district of Konak in Izmir, Turkey, and killed party member #DenizPoyraz…
The victim was working at the headquarters and was shot dead. The HDP has issued a statement stating that "the instigator of this brutal attack is the AKP (Islamist) – MHP (Turkish neo-fascist) government and the interior ministry which is constantly harassing our party and our militants.
The three attackers have managed to escape from the building but one of them has been identified by the HDP itself as Onur Gencer.
According to Yol TV, the individual published photos of himself with a machine gun yesterday, claiming that the HDP was "an Armenian creation".
Hundreds of HDP members and supporters staged a protest in Istanbul after the killing GUNEYSU AFP
Ultranationalist issued threats, posted photos with assault weapons before attacking HDP office
By Turkish Minute – June 17, 2021 589 0
Onur Gencer, 27, who on Thursday admittedly killed a woman in an attack on the pro-Kurdish Peoples' Democratic Party (HDP) office in İzmir, had posted photos of himself carrying assault rifles and made threats against HDP members, calling them "Armenian spawn."
The HDP is the Turkish parliament's third-largest party, which the government is trying to close over alleged links to the outlawed Kurdistan Workers' Party (PKK). The party directed its anger over the attack at the government.
"After months of attacks by the ruling party and interior ministry and families being told to organize outside our provincial offices to spark provocations, there was an attack today at 10:30 a.m. on our İzmir provincial building," it said.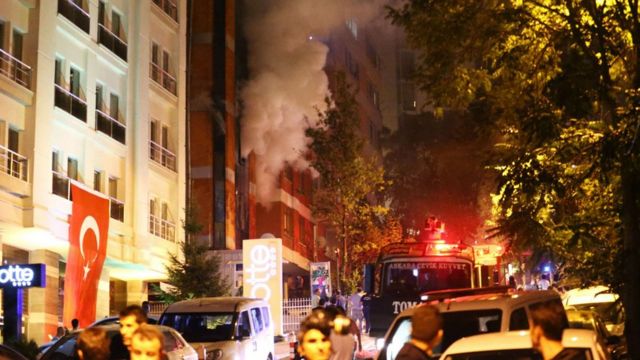 Turkey's pro-Kurdish HDP party offices attacked, killing woman worker
Gencer, currently under arrest, claimed to be acting on his own, saying in a statement: "I am not affiliated with any group. I entered the building because I hate the PKK and fired at random." He threatened the HDP in a social media post, expressing his resentment and promising to "make them bleed."
The pro-Kurdish party identified the victim as Deniz Poyraz, a party official in the western province of İzmir where the morning attack occurred.
Ertuğrul Kürkçü, the honorary chair of HDP and a former lawmaker, claimed on Twitter that the attacker was not alone, that three men stormed the building and that they were planning to perpetrate a mass killing. However, no one was in the building at the time except the victim, Kürkçü said.
HDP officials stressed that the attack occurred while the building was under round-the-clock police surveillance, accusing law enforcement of turning a blind eye.
According to the Tele1 news outlet, Gencer posted a graphic photo of the victim after gunning her down as a status update on WhatsApp, saying, "Carcass number 1."
Gencer, a healthcare worker who was reported as not showing up at work for a while, shared photos of himself holding automatic weapons on social media, according to Turkish media.
The photos appear to be taken in the Syrian provinces of Manbij and Aleppo, where the Turkish Armed Forces (TSK) conducted cross-border operations along with paid Syrian jihadi mercenaries and seized swathes of land from Kurdish militias.
After successive military campaigns in 2016, 2018 and 2019, rights groups and international organizations accused Ankara-backed forces of perpetrating war crimes in the region as they allegedly engaged in looting and rape and carried out summary executions.
The AKP was accused of arming jihadist groups in Syria and facilitating illicit arms and oil trade in the region.
These allegations have surfaced once again following the revelations of a mob boss who fled abroad after a fallout with senior government figures and started implicating people in the highest echelons of government in tell-all YouTube videos attracting millions of viewers.
HDP lawmaker Hüda Kaya claimed that Gencer was trained by SADAT, a paramilitary group established by Adnan Tanrıverdi, a former aide to Turkish President Recep Tayyip Erdoğan.
The assailant also posted photos making an ultranationalist hand gesture associated with the Grey Wolves, a far-right paramilitary group with close ties to the Nationalist Movement Party (MHP), an ally of the ruling Justice and Development Party (AKP).
The MHP has been targeting the HDP with genocidal language. MHP leader Devlet Bahçeli defined the HDP in December 2020 as "poisonous vermin" and repeatedly called for its closure.
HDP politicians are frequently subjected to legal harassment and face terrorism charges in Turkey as the government and Erdoğan see the party as the political front of the outlawed PKK.
The chief public prosecutor of the Supreme Court of Appeals on June 7 refiled an indictment with the Constitutional Court seeking to close down the HDP.
The court in March returned the first version of the indictment to the chief prosecutor's office at the top appeals court for review on the grounds that there were deficiencies in the indictment.
The indictment seeks the imposition of a political ban on 451 party members as well as freezing the party's bank accounts.
Hundreds of politicians from the party including its former co-chairs have been behind bars on politically motivated charges for several years.
Turkey's attempt to dissolve the HDP has drawn widespread condemnation from Western allies and protests from human rights groups.
Assaltada la seu de l'HDP a Esmirna i assassinada una treballadora
Atacants armats han assaltat aquest matí la seu del pro kurd Halkların Demokratik Partisi (HDP, Partit Democràtic dels Pobles) al districte central de Konak, a Esmirna (Turquia) i han matat la membre del partit Deniz Poyraz. La víctima treballava a la seu i ha estat abatuda a trets. L'HDP ha emès un comunicat on afirma que "l'instigador d'aquest brutal atac és el govern AKP (islamista) – MHP (neofeixista turc) i el ministeri de l'interior que constantment assetja al nostre partit i els nostres militants.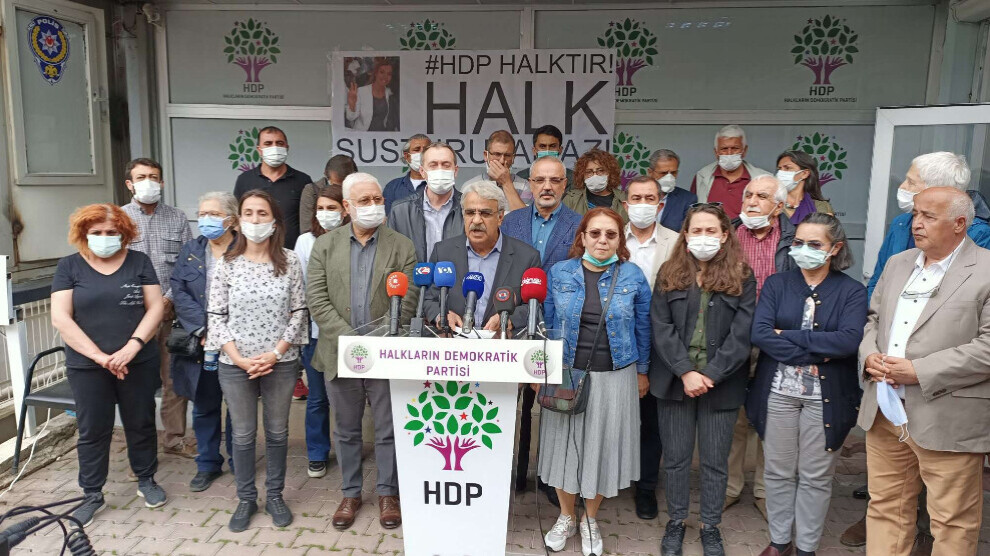 ANF | Sancar: A massacre was planned in Izmir
Els tres atacants han aconseguit fugir de l'edifici però un d'ells ha estat identificat pel propi HDP com a Onur Gencer. Segons Yol TV l'individu hauria publicat ahir fotografies seves amb una metralleta on afirmava que l'HDP era "un engendre d'armenis".