Spain. Bail for all comrades detained on 27F, but only one of them manages to get out of jail

November 30, 2021 Publicacion Refractario. info added shared with thanks
The six anarchist comrades who spent the last 8 months in preventive detention near Barcelona (C.P.Brians 1) were "given release" under the obligation to pay € 40,000 bail each!
They are accused of illicit association, and of acting in a coordinated manner with violent actions, such as attempting to burn a police van on the Rambla during the 10 days of the February riots in Barcelona for the release of political rapper Pablo Hazel.
The young anarchists have no money and the State continues its revenge for the 10 day wave of mass resistance to the jailing of Pablo Hasel. Pablo is a popular young Catalan communist rapper who is jailed for the radical lyrics of his songs against the corrupt King and Royal family and supporting ETA etc.
The magistrate's latest statement says that the main charge of 'attempted murder' with 'collective responsibility of an organised group' (against the policeman inside the van) is 'no longer a reality' because some firefighter-experts discovered that the danger of the burning liquid outside the van to the policeman inside was very small, it hardly damaged the paintwork.
The Fire Dept report that the arson was a harmless squirt from a plastic bottle was available all along but suppressed by the Court. The mass arrest of the frontline anarchists was used as a media splash to end the Pablo Hasel riots in Barcelona. Now forced to finally grant bail the magistrate set the amount impossibly high.
In fact the case has already collapsed because the young anarchist woman charged with the arson had to be released when videos proved the police had jumped on the wrong person. Since all the others were 'collectively charged' along with her with attempted murder by all logic they should also have been released or given bail.
However the police and prosecution continued the case and investigated more charges. Accusing the young anarchists of illicit terrorist organisation, for example, for living together in an anarchist squat center.
Update received :
"Yesterday (Nov. 10) we reported that the six anarchist comrades (27-F) have been released, but unfortunately the € 40,000 bail money has only been raised so far for only one of them who has been released from prison today.
"This macro bail bond shows the ugly face of the Spanish / Catalan justice, first they make them pay with 8 and a half months in prison and then seeing that th left political arm (of the Catalan government) is heavily involved, they are so grateful to steal a lot of cash from anarchists, their friends and families. Yet they can't really prove their fanciful accusations."
see also
8 arrested are "An Anarchist Group, responsible for the riots in Barcelona for Pablo Hasel's Freedom" claim cops. Eng/Esp
Barcelona: delayed court verdict as frame up of jailed 'Anarchist 8' unravels
Berlín: Mani 22/3.. Libertad para todos los presos afectados por la represión en Barcelona.. Esp/Eng/De
Barcelona: 8 comrades charged with murder attempt for just 1 squirt of liquid on a cop van
Police Storm occupied Uni and jail Pablo Hasel for Rapping Truth.. Spain's Shame! 60 DEMOS today!
España. Fianza para todxs lxs compañerxs detenidxs el 27F, pero uno solo de ellos consigue salir de la carcel
noviembre 30, 2021 publicacionrefractarioDeja un comentarioGo to comments
Los compas del 27-F en libertad bajo fianza (10 Nov.2021)
Los seis compañeros anarquistas que permanecieron los últimos 8 meses en prisión preventiva cerca de Barcelona (C.P.Brians 1) fueron liberados bajo la obligación de pagar 40.000€ fianza cada unx! Acusadxs de asociación ilícita, y de actuar de forma coordinada con acciones violentas, como quemar un furgón policial en la Rambla durante los 10 días de los disturbios de febrero en Barcelona para la liberación del rapero político Pablo Hazel.
El último comunicado del magistrado dice que la antigua acusación de 'intento de asesinato' (el policía dentro de la furgoneta) ya no es en realidad porque algunos bomberos-expertos descubrieron que el peligro del líquido ardiente fuera de la furgoneta para el policía dentro era muy pequeño.
Actualización recibida el 11/11/2021:
Ayer (10 Nov.) informamos que lxs seis compas anarquistas (27-F) han sido liberadxs, pero desgraciadamente hasta ahora solamente uno de ellxs ha podido pagar la fianza de 40.000€ y ha salido hoy de la prisión.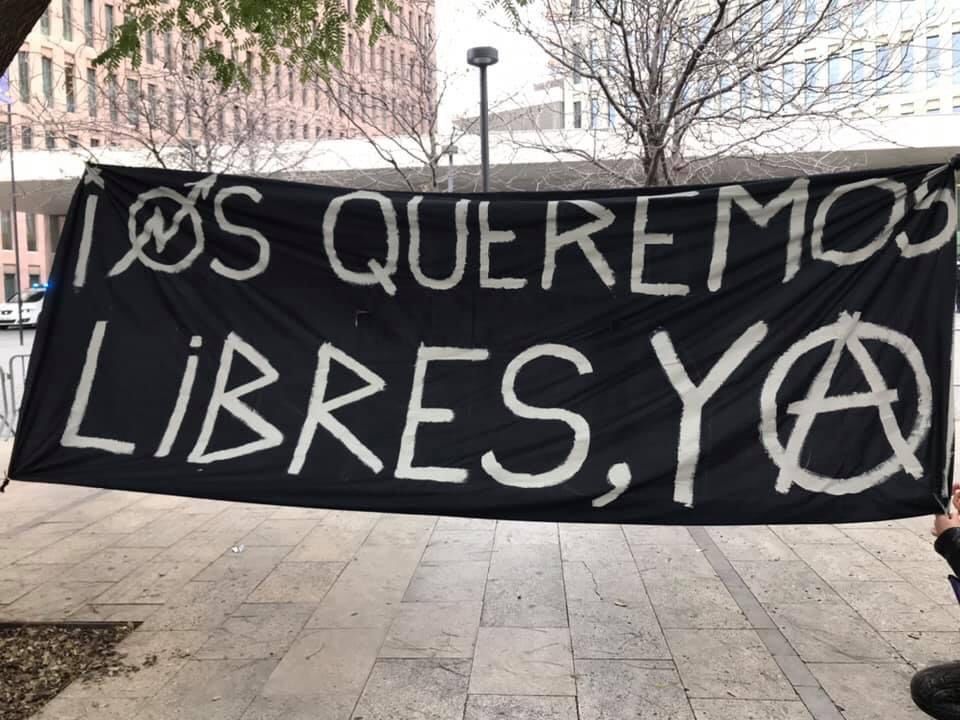 Esta macro-fianza demuestra la cara fea de la justiicia española/catalana, primero les dejan pagar con 8 meses y medio de prisión y después viendo que su brazo politico isquierdo (del gobierno catalán) está fuertemente metido, son tan agradecidos de robar un montón de pasta a lxs anarquistas, sus amigxs y familias. Aún que no pueden realmente probar sus fantasiosas acusaciones.