IWGB/ Angry Workers of the World/ Anarchist Communist Group/ IWGB Couriers and Logistics Branch
I don't particularly have much to offer in the way of thoughtful analysis of last year, but there's a few moments I think deserve to be remembered. There have been various end-of-year round-ups, I'll try to collect a few decent ones at the end of this, but this one is mine.
Bristol Kill the Bill
The Kill the Bill movement saw some fairly determined resistance in a few places, but none more so than in Bristol. As the Bristol Anarchist Black Cross/Bristol Defendant Solidarity statement put it:
"What happened on 21st March was an outpouring of rage against the violence of the police. The crowd fought back after police officers attacked the crowd with batons and riot shields. Pepper spray was used indiscriminately, people were charged with police horses. The protesters fought back, seizing police riot shields, helmets and batons to defend themselves. By the end of the evening several police vehicles had been set on fire.
We are writing this statement to make clear that we support those who have been sentenced today, and that we are proud of them for fighting back. We need to be ready to defend ourselves against the police, and stand with those facing repression and criminalisation."
You can keep up with the ongoing cases from that night at the Bristol ABC blog, Bristol Defendant Solidarity on twitter, or Support Kill the Bill Prisoners on instagram. And donate to the prisoner support fund here.
Manchester bus strike
There have been a few strikes against fire and rehire, but the Manchester bus strike was perhaps one of the most determined, at a total of 85 days. Unite called the outcome a huge victory, the Anarchist Communist Group have a more critical write-up, and perhaps the most serious and detailed analysis of the dispute came from Revolutionary Socialism in the 21st Century, who also published a video collecting interviews with the striking workers themselves.
The Go North West Queens Road depot is currently seeing more trouble, as the first female bus driver there is now being sacked after 34 years because the company redesigned the buses and then said she was too short for them. The campaign to stop her sacking now has a twitter and fb presence, and will be holding a rally in her support on Tuesday 11th.
Rank and file actions in construction
In my opinion, one of the year's most exciting stories in terms of truly self-organised working class action was also wildly under-reported: the construction rank and file were able to take on Balfour Beatty and NG Bailey in a national dispute over de-skilling and win. Following the end of the de-skilling dispute, construction workers in Gateshead won another impressive dispute in a wildcat struggle at the site of an Amazon warehouse. That one started out with a walk-out over de-skilling and safety, which then saw around 40 workers being sacked, and then reinstated after further wildcat action.
JustEat/Stuart couriers' strike
Not a victorious struggle like many of the others listed here, but one that's still ongoing: at the end of 2021, the recent wave of militancy among food couriers reached JustEat/Stuart Deliveries in response to an attempted pay cut. While the dispute has not yet been settled, it's already been an impressive display of self-organisation, spreading from an original strike in Sheffield to last for at least 18 days and include workers in Chesterfield, Huddersfield, Blackpool and Sunderland, as well as an occupation of JustEat's headquarters.
Stopping Cambo?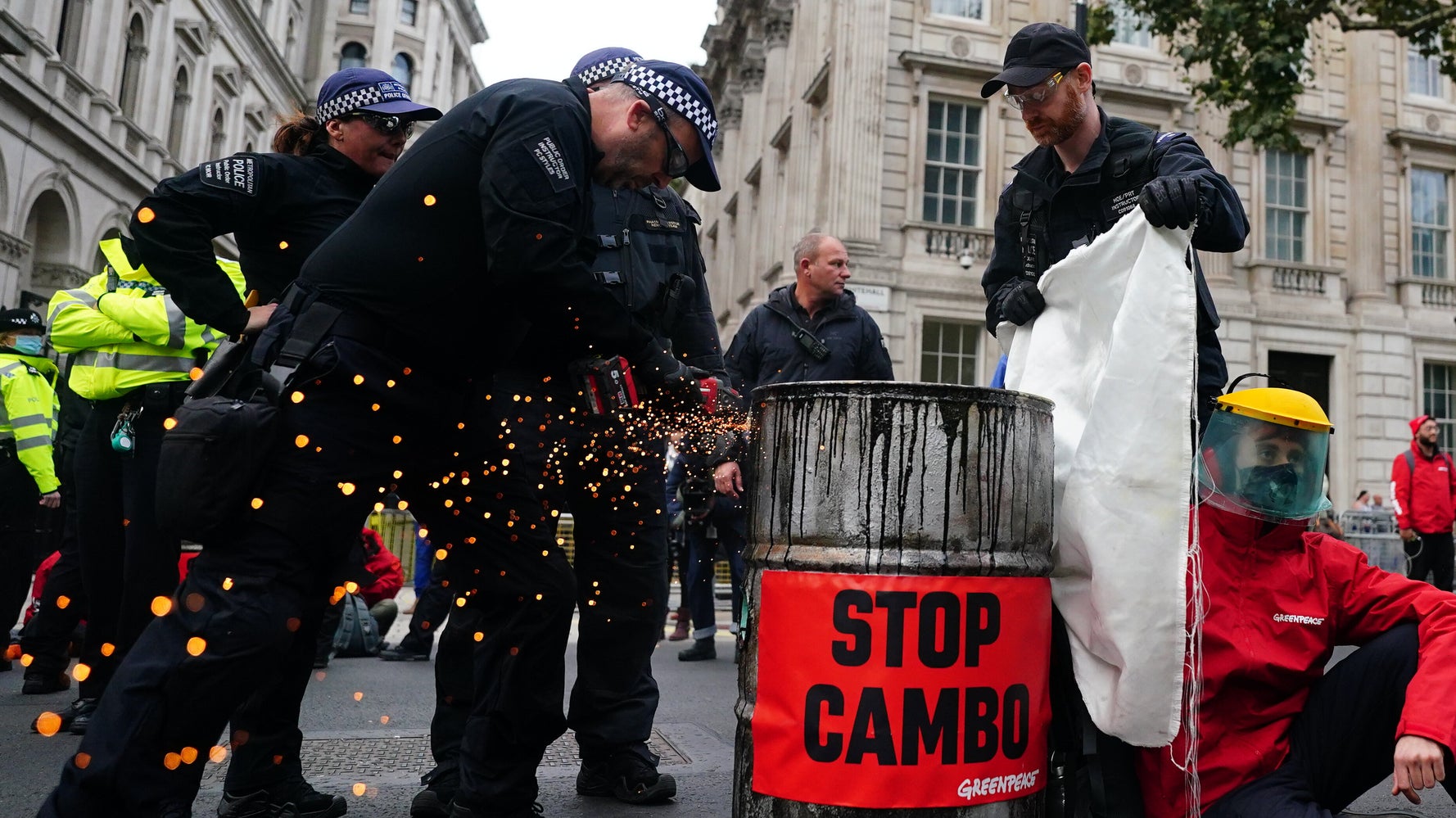 Good news to do with climate change is often hard to find, so Shell pulling out of the Cambo oilfield project was a welcome exception. You can find the Stop Cambo campaign's reaction to that news here.
Elbit/arms trade actions
The past year saw a truly impressive string of actions from the Palestine Action campaign – the 6-day occupation of an Elbit drone factory in Leicester was a spectacular highlight, and one that was followed up by the occupation of another Elbit factory in Tamworth, action against Elbit's landlords LaSalle in London, and an occupation against Arconic in Birmingham. Other actions and occupations targeted a Runcorn factory making equipment for Elbit drones, an Elbit-Ferranti site in Oldham, causing an estimated £500,000 in damage, Vine Property Management for their role managing Elbit sites, Elbit Tamworth again, Elbit's London headquarters, Elbit Leicester again, Oldham again, the ACC Liverpool arms fair, the London DSEi arms fair, Jones Lang LaSalle in London, York and Manchester, an Elbit subsidiary in Kent, Elbit's Bristol offices, and another drone material supplier in Wrexham. Which feels like one of the most intense sustained campaigns of direct action, mainly directed at a single company, I can remember seeing in this country. And the year ended on another sweet note with the "Elbit Three" being acquitted after a court case for an action in Staffordshire from January.
Kenmure Street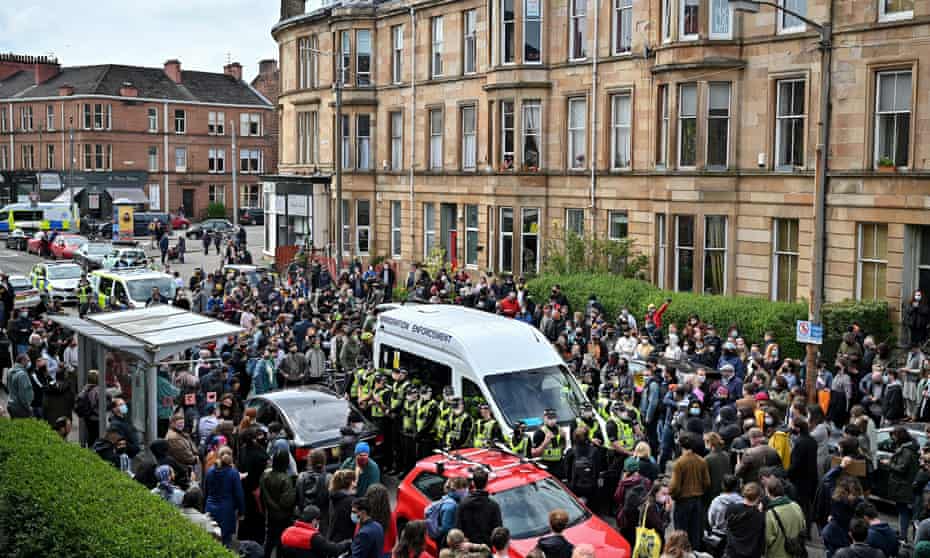 Speaking of direct action, Glasgow provided another shining example with the mass resistance to an immigration raid in Pollokshields in May.
Shrewsbury 24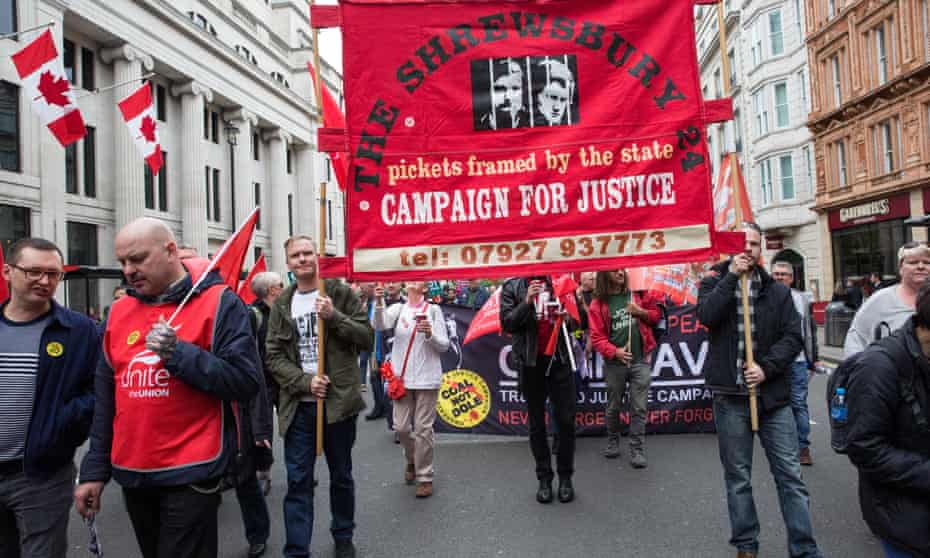 There can be few struggles more determined or long-lasting than that of the Shrewsbury 24, who after a long campaign were finally able to overturn their convictions from 1973-74 this year.
Indian farmers
Having put together a thoroughly UK-centric list, it feels a bit weird to gesture vaguely at the rest of the world and say "oh, and stuff happened in other countries too". But still, the farmer's movement in India won a great victory in 2021, and that deserves to be celebrated.
Rouvikonas, Nikos Mataragkas and Giorgos Kalaitzidis vs the Greek state
This obviously isn't and can't be a full list of good news internationally, but similarly, I want to acknowledge that the Greek state's attempt to frame Nikos Mataragkas and Giorgos Kalaitzidis, two members of the anarchist group Rouvikonas, for a murder, would have had horrific and life-changing consequences for them, and the fact that the attempted frame-up completely fell apart is a good thing that should be remembered.
Other people's round-ups and new year's messages
Those were some highlights of 2021 for me, here's a selection of others:
Housing Action Southwark and Lambeth's 2021
Looking back: Palestine Action's strongest moments from 2021
Prisoner Solidarity Network retrospective 2020-2021
New year message from the Anarchist Communist Group
ACORN's highlights of 2021
A roundup of radical activism in Britain in 2021 (Freedom)
Ten Times Workers Beat the Bosses in 2021 (Tribune)
Five climate wins in 2021 that give hope for the year ahead (Stop Cambo)
Surviving 2021: The Year in Review (Crimethinc)
A year in hyper links – AngryWorkers looking back on our 2021
How they missed the chance to call that last one some variation on "looking back in anger" I'll never know. Anyway, wishing a belated happy new year to all readers, comrades and friends!