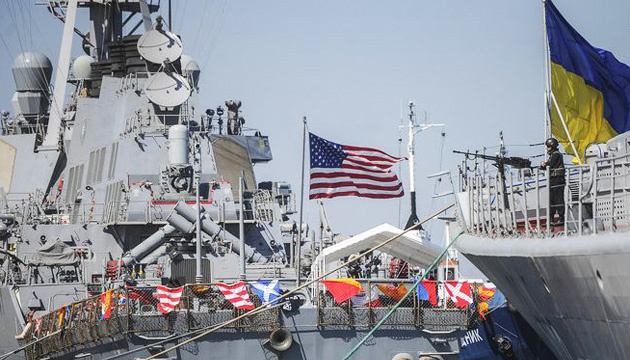 Date: January 13, 2022Author: Rick Rozoff0 Comments
Over 60 nations, int'l organizations invited to this year's Sea Breeze drill
During the Sea Breeze exercise in 2022, Ukrainian border guards will train alongside other security forces of Ukraine, those of NATO Allies and partners in the sea, air, and land components.
This was discussed in Odesa at a planning conference for this year's Ukrainian-American Sea Breeze military exercise….
***
The border guards noted that the Sea Breeze is constantly expanding in terms of components and participants.
Last year's exercises were the largest in more than 20 years. They involved 32 vessels, 40 aircraft, and 5,000 troops representing 17 NATO allies and partners.
More than 60 nations and international organizations have been invited to participate in this year's training, the ministry said.
The Commander of the Georgian Defense Forces will attend the meeting of the military commanders in the format of the NATO-Georgia Commission
Related
Ukrainian foreign minister: NATO would defeat Russia in Black Sea warJuly 2, 2021In "News"
Biden, Pentagon, NATO signal readiness to go to war against Russia over UkraineApril 2, 2021In "News"
Peace prospects dim as Ukraine tries to drag U.S., NATO into its confrontation with Russia
Baltic states ask for more NATO troops on Belarusian, Russian bordersBaltic States ask NATO to increase number of troops on their territory Latvia, Lithuania and Estonia are asking NATO to increase the number of NATO troops deployed in their territory. They are negotiating about it as DW reported citing to Prime Minister of Estonia Kaja Kallas. In turn, one of the diplomats of the alliance, who wished to remain anonymous, said that the request of the Baltic States could be considered at a meeting of defense ministers of NATO in mid-February.Visit(opens in a new tab)Rick Rozoff,
Ukrainian deputy naval commander: If you want peace, prepare for warThe very expression used by Evelyn Farkas two days ago in an article transparently calling not for peace but war. Though she was able to procure the original Latin from someone: Si vis pacem, para bellum. Don't be fool, neither she nor the Ukrainian naval official wants peace. ==== Russia could invade Ukraine from sea, – officerVisit(opens in a new tab)Rick Rozoff,