Source Published to The Liberty BeaconTLB from EuropeReloaded.com February 1, 2022
The controlled mass media are still shutting down, minimising and lying on the massively supported Canadian truckers rebellion spreading around the world. Here's the latest we have..
A solid contingent of truckers from around Canada, including some from the US, arrived at Parliament Hill in Ottawa this past Saturday. What's been happening since then?
For Youtube viewers, we can recommend Portland Andy for giving us a split-screen, livestream view of events, or Convoy Radio site. Here are some twitter accounts/thread readers might find useful for more updates:
Truckistan Amb. Poso (Jack Posobiec) / Ezra Levant / K2 /#FreedomConvoy2022
As a trucker in one of the videos below explains, Ottawa itself cannot accommodate the volume of trucks, it's simply not big enough. So local protests by truckers across Canada are also taking place.
Freedom Convoy Organizers Condemn Media Lies in First Press ConferenceThe Freedom Convoy's first press conference was given on Jan. 30 without any of the MSM being there for reasons co-organizer Benjamin Dichter explains. See […]
One Victory: Quebec plan to tax unvaccinated dropped to avoid 'angry' backlash.. Canada's Quebec province has reversed course on a special health tax proposed for residents who decline to take a Covid-19 vaccine, with the regional government foir feaervofv the growing Convoy Rebellion.
Topics below:
another attempt could be made against the truckers' GoFundMe account
there is a pile-up of trucks over at the Alberta-Montana border crossing
Trudeau resorts to more extremist, racist insults;
Prof. Michel Chossudovsky reveals Trudeau's and the Canadian government's links to the real neo-Nazis of Ukraine, involved in the west's D.S. overthrow of the legitimate Ukraine government back in 2014
***
Trudeau is hiding in a safe location, claiming to have Covid. Afraid of 'fringe' Canadians with 'unacceptable views'. This curious, unconfirmed tweet came to our attention:
****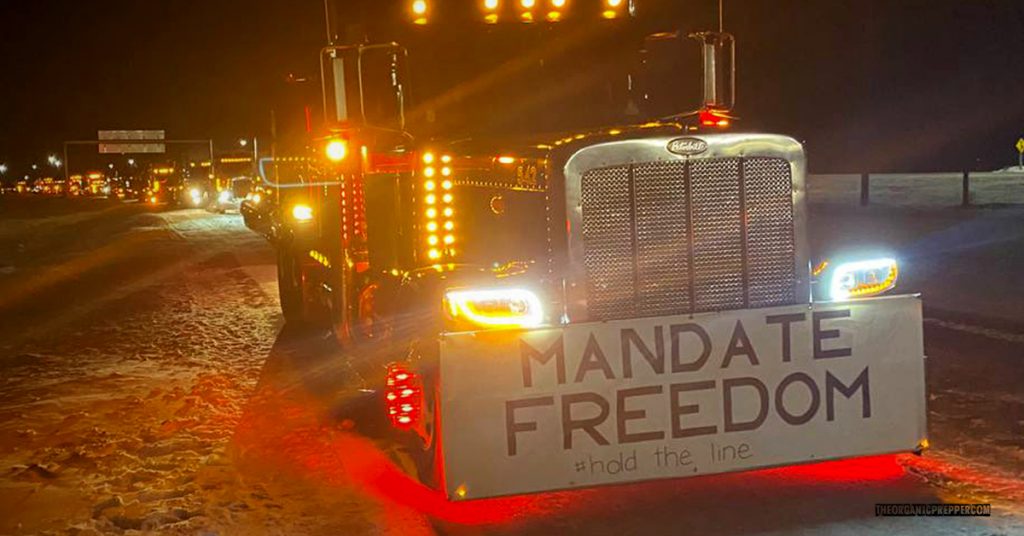 and see Ron Paul's post "Thus it is after two years of Covid authoritarianism that in Canada the largest truck convoy in history has smashed through the Berlin Wall of tyranny".
Ottawa City Councillor requests lawsuit to seize GoFundMe funds raised for Canada's Freedom Convoy
Another attempt that could suppress public support.
CHRISTINA MAAS… Public participation in online crowdfunding for public protests related to the Freedom Convoy taking place in Canada continues to be hit with roadblocks and is becoming a further threat to free expression and the right to protest.
After first, having GoFundMe temporarily block the release of some of the funds that Canadians have donated to help support the livelihoods of the truckers taking place in the demonstration, GoFundMe began to pay out the funds, with the first payment of $1M in Canadian dollars being released, the campaign organizer tweeted on Friday.
However, the campaign has raised more than $7.3 million in Canadian dollars and those funds could now be at risk of being seized by the local government if some politicians get their way.
Mathieu Fleury, the Ottawa City Councillor of Rideau-Vanier Ward, has today announced his support for the government to launch a legal challenge to seize the remaining GoFundMe donations that had been collected online.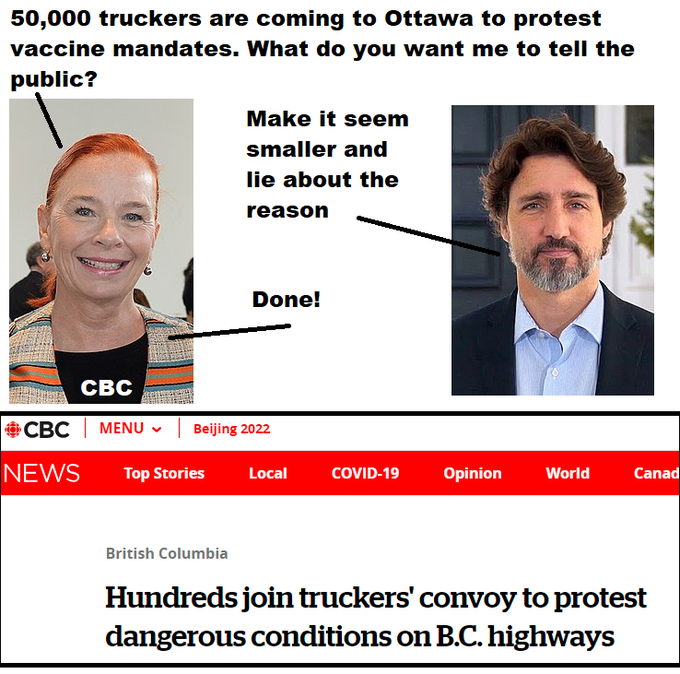 "This morning, I have asked the city manager and city solicitor to immediately launch court proceedings targeting the millions of dollars in funds frozen by @GoFundMe so Ottawa taxpayers are not left holding the bag for these protests," Fleury tweeted, before locking his account after facing backlash.
He showed his letter to the city manager, announcing the request.
The email reads: Source
********
See also this from Zerohedge: Canadian Official 'Expects Police To Take Appropriate Action' As Truck Convoy Blocks US-Canada Border Crossing
Truckers blockade US-Canada border
Alberta dispatched heavily armed police to break up 'unlawful' protest .. from RT
Scores of Canadian truckers blocked the border crossing between Coutts, Alberta and Sweet Grass, Montana over the weekend, as thousands of their colleagues descended on the Canadian capital of Ottawa to picket the parliament.
A truck convoy protesting Covid-19 vaccine mandate blocks the US-Canada border crossing in Coutts, Alberta, January. 31, 2022. © Jeff McIntosh/The Canadian Press via AP .
On Monday afternoon, surrounded by special units of the Royal Canadian Mounted Police, the truckers prayed and decided to open one northbound lane for local traffic and let anyone who wished to leave to do so, but voted to stand their ground. One of them vowed the "only way I'm leaving is in a [police] cruiser."
Police are "not willing to negotiate," one of the truckers told the outlet Rebel News, adding that by opening a lane, they were technically complying with a provincial law passed in 2020 to crack down on indigenous rights activists.
According to Coutts Mayor Jim Willett, about 100 trucks were blocking Highway 4 on the Canadian side, causing a miles-long backup on Interstate 15 in Montana. About 50-100 trucks have reportedly been stuck on the US side since Saturday.
The blockade is a protest against US and Canadian governments mandating that truckers must be "fully vaccinated" against Covid-19, which came into effect on January 15.
Alberta Premier Jason Kenney, who is in Washington, DC for a meeting of US governors (ER: a meeting of US governors?), denounced the blockade on Sunday as "causing significant inconvenience for lawful motorists" and insisted it "must end immediately."
Kenney, a member of the United Conservative Party, also joined Prime Minister Justin Trudeau – a Liberal – in condemning the "Freedom Convoy" that drove across Canada last week and parked outside the parliament in Ottawa, demanding an end to vaccine mandates. (ER: Kenney has a history in Canada's Liberal party for those misled by the word 'conservative'.)
Trudeau claimed that he will not give in to "those who fly racist flags" or "engage in vandalism or dishonor the memory of our veterans," insinuating that an unidentified man photographed with a Nazi flag and three protesters who climbed onto the National War Monument disqualified the entire movement.
Kenney has said the Coutts protest violates the Alberta Traffic Safety Act. Truckers have countered that opening up a lane for local traffic technically makes them compliant with both ATSA and the 2020 Critical Infrastructure Defence Act, passed after indigenous rights activists blockaded railways.
However, Mayor Willett told reporters on Monday morning that the RCMP was "getting impatient." Source
*****
Video: Justin Trudeau Accuses Freedom Convoy 2022 of Propagating Hatred, Racism and Violence
PROF. MICHEL CHOSSUDOVSKY
To receive Global Research's Daily Newsletter (selected articles), click here. Visit and follow us on Instagram at @globalresearch_crg.
***
'Yesterday I stood with friends and colleagues at one of the many highway overpasses in Toronto as we watched a truly historic moment unfold before our tear-filled eyes. Thousands of liberty-loving Canadians from all walks of life were gathered there—as they were throughout the country—in the freezing cold, holding aloft flags and signs to show support for hundreds of courageous transport truck drivers as they passed by us in the Freedom Convoy on the way to our nation's capital.' — David Skripac, renowned author and pilot who served as a Captain in the Royal Canadian Air Force
***
According to Justin Trudeau:
the protesters "have expressed hateful rhetoric and violence towards their fellow citizens."
"So to those responsible for this behaviour — it needs to stop, …
Canadians at home are watching in disgust and disbelief at this behaviour, wondering how this could have happened in our nation's capital. …
Trudeau says that no one has a right "to abuse, intimidate and harass … fellow citizens."
(January 31 Statement followed by Press Conference, Video below)
"Disgust and Disbelief" according to Trudeau. Millions of Canadians from coast to coast have supported and continue to support the Freedom Convoy 2022.
There was no evidence of racism, hatred and violence by protesters, abuse against fellow citizens as claimed by the Prime Minister.
The Vaccine Is Safe According to Trudeau
Trudeau claims without evidence that the vaccine is safe. We do not support disinformation and conspiracy theories, he says.
He attacks Erin O'Toole, leader of the Conservative Party. He calls on politicians to think very carefully who they are supporting.
He calls upon politicians to "respect science".
The 'Canada Revenue Agency' falsely accused truck protestors of ransacking office buildings.Meanwhile, Trudeau continues to insult the 54% of Canadians who want his COVID mandates to end:Trudeau made the comment after describing truckers as "tin foil hats" deserving of public disgust:
Science and Facts
Trudeau calls for "trust in science, trust in facts". In that regard I fully support him.
My message to Justin Trudeau:
I suggest you read the official science and facts reports of the EU, US and UK pertaining to reported, recorded and registered vaccine-related deaths and adverse events. Bear in mind: Most deaths and adverse events are not reported….
TOTAL for EU/UK/USA – 61,654 Covid-19 injection related deaths and 9,755,085 injuries reported as at 28 January 2022.
And Health Canada does not inform Canadians on the deaths and adverse events pertaining to Covid-19 vaccine.
Freedom Convoy' Vows to Stay in Ottawa Until COVID Vaccine Mandates LiftedBy Megan Redshaw Hundreds of truckers and thousands of citizens protesting Canada's vaccine mandates for truckers remain in Ottawa, vowing…..
See Trudeau's Statement followed by Press Conference
Prime Minister Justin Trudeau says "hate speech and racist symbols must not be tolerated in Canada." 1:46
(ER: There are those on social media who genuinely doubt this is Trudeau but one of his stand-ins. Check the puffy face.)
See video below.
This is what is happening. And Trudeau calls it a "fringe minority".
Video: ALL of Canada Has Joined The Convoy, Except Trudeau
Swastikas
Trudeau referred to swastikas intimating that the organizers are supportive of Neo-Nazi symbols. (There was one swastika event in Ottawa coupled with a Confederate flag, confirmed by the Times of Israel).
****
What Trudeau, however, fails to mention is that his government is supporting Ukraine's National Guard, which is controlled by Neo-Nazi elements. (ER: To our knowledge, 'neo-Nazi' is not a throwaway term here.)
According to the Ottawa Citizen (November 9, 2021)There is ample evidence of Canadian and US support to Neo-Nazis in Ukraine going back to the 2014 Euromaidan: Ukraine's Kiev Regime is not "Officially" A Neo-Nazi Government
Neo-Nazi Leader Andriy Parubiy Becomes Member of Parliament
In 2016 Nazi leader Andreiy Parubiy was invited to Ottawa to meet the Prime Minister of Canada. Deputy Chairman of Ukraine's Parliament, Andriy Parubiy, visited Ottawa in February 2016, meeting with the prime minister. At that meeting (from left) are Ukraine's Ambassador to Canada Andriy Shevchenko, Verkhovna Rada Deputy Chairman Andriy Parubiy, Prime Minister Justin Trudeau and Member of Parliament Borys Wrzesnewskyj.
************
Source Published to The Liberty Beacon from EuropeReloaded.com

••••
Freedom Convoys Revving Up in the Netherlands for 'Prelude to National action'
Panic Over? Finland to Lift All Covid Restrictions Despite Being in Deadliest Phase of Pandemic
MPs Launch Investigation into Government Covid Propaganda After Psychologists Criticise Nudge Unit For "Grossly Unethical Tactics" of Fear
UK's NHS Vaccine Mandate Scrapped
Covid-19 Vaccines have a negative effectiveness of MINUS 425% in Canada after Fully Vaccinated account for 89% of Cases since December – The Expose
If you're tired of censorship, cancel culture, and the erosion of civil liberties subscribe to Reclaim The Net.