Internationalists from many countries of the world are marching from Frankfurt to Strasbourg this year to mark the anniversary of 15 February 1999. Young people, who started the march on 6 February, demanding freedom for Abdullah Öcalan.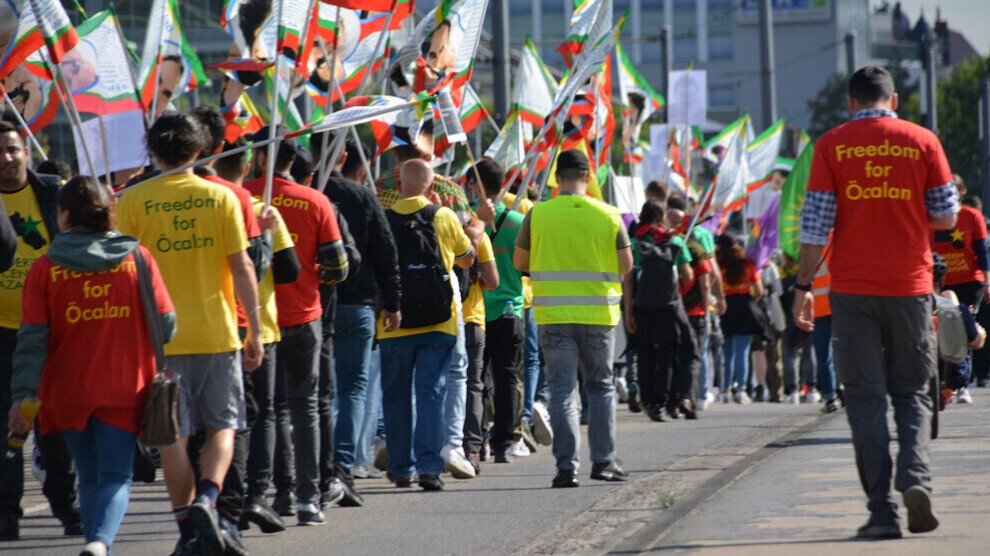 ANF FRANKFURT Monday, 31 Jan 2022, 10:47
The 23rd anniversary of the international conspiracy against the Kurdish people in the person of Kurdish people's leader Abdullah Öcalan brought together internationalists from different countries of the world.
The internationalists came together in Frankfurt to demand freedom for Abdullah Öcalan on Saturday 5 February. They joined the Long March that will end on 11 February in Saarbrücken.
Internationalists will participate in a mass demonstration to be held in Strasbourg on February 12. The march, which will last approximately 180 km, will host internationalists from Colombia, Brazil, Ecuador, Mexico, Spain, the Basque Country, Catalonia, Italy, Switzerland, Germany, Belgium, Austria and Scandinavia.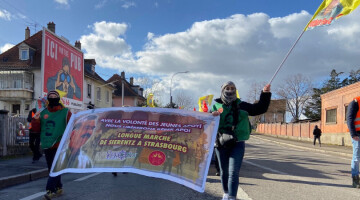 Long March in France continues on its second day
Rojava Volunteers 12.01.2022 – Registration for 2. international Working Brigades online now! Dear Friends, the registration for the first international Working Brigades is now closed. You can register for the second Brigades that will make their way to Rojava from the 12th May until the 5th June 2022!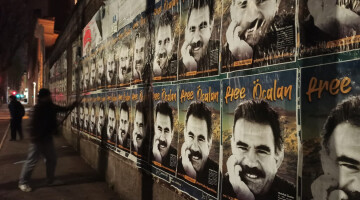 Kurds mobilize in Italy in the run-up to 15 February
Abdullah Öcalan must be freed
Internationalists announced why they are carrying out such a march in a press release. Emphasizing that not only the Kurdish people but also the peoples of the world need Abdullah Öcalan's ideas, the internationalists recalled that no news had been heard from the Kurdish people's leader since March 2021.
Internationalists recalled the petition campaigns for Öcalan, which have been carried out for years with the participation of millions of people, and added that "the philosophy of Abdullah Öcalan is necessary not only in Rojava or in the mountains of Kurdistan, but where crises occur. For this reason, we all have a duty to break the isolation in Imrali and to liberate Abdullah Öcalan."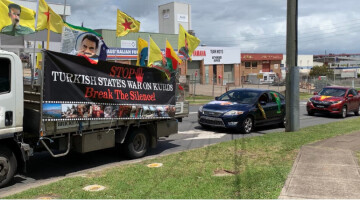 Kurds in Sydney demand freedom for Abdullah Öcalan
Expressing that the worldwide struggle for democracy and freedom will become stronger with the freedom of Abdullah Öcalan, internationalists drew attention to the following points: "The struggle for democracy and freedom in the region must be combined with the struggle against the isolation imposed on Abdullah Öcalan. Because Abdullah Öcalan is the architect of the democratic confederalism model, which was developed as an alternative to the nation-state model that causes wars in the world."
Website in 10 languages
Internationalists also launched a website called "The Long March for Abdullah Öcalan's Freedom", in 10 languages. The site can be found here
Those who want to participate in the walk can also apply by writing to the following e-mail address: longmarch2022@protonmail.com
The program of the march is as follows:
5 February (Saturday): Frankfurt, assembly day
6 February (Sunday): Frankfurt-Darmstadt. The march will start at 10 am from Hauptwache.
7 February (Monday): Darmstadt- Bensheim
February 8 (Tuesday): Commemorative event for Weinheim-Mannheim, Berivan and Ronahî.
February 9 (Wednesday): Ludwigshafen-Bad Dürkheim
February 10 (Thursday): Homburg-Saarbrücken
11 February (Friday): Saarbrücken, concert.
February 12 (Saturday): Central rally in Strasbourg.
Turkey Helps ISIS Attack Rojava
**********************
Italy demos.. Dal Rojava al Messico Ribelle
Tue Feb 22, 2022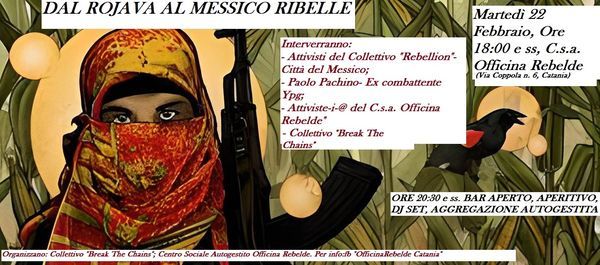 Dal Rojava al Messico Ribelle
Rojava e Chiapas, Pkk ed Ezln, Siria del Nord e Messico Ribelle. Al C.s.a. Officina Rebelde, cuore pulsante della Sicilia che si autorganizza e resiste dal basso, una serata per approfondire con la voce e le testimonianze di ex combattenti in Rojava ed attivisti di collettivi messicani le analogie tra due processi rivoluzionari.

Evento in costruzione: restate connessi per ulteriori novità ed aggiornamenti.
Date & Time
Tue Feb 22 2022 at 6:00 pm
(Central European Standard Time)
Location
OfficinaRebelde Catania, Via Coppola n° 6 (Portone Grigio, Secondo Piano), 95131 Catania, Sicilia, Italy, Catania, Italy
**************************
Turkish strike kills four more in northeast Syria: monitor
A Turkish strike on a Kurdish-run power plant in northeastern Syria killed four people, a monitor said Wednesday, an operation Ankara said coincided with raids on Kurdish targets in Iraq, Agence France-Presse reported.
Turkish drones struck a village near the northeastern Syrian town of Derik on Feb. 1, 2022. (Photo: Rojava Information Centre)"This bombardment has sparked a mass civilian exodus, as numerous people have fled to safer areas," the report said
The Tuesday night strikes hit a power plant near the town of Al-Malikiyah in Hasakeh province, where a brazen jailbreak attempt by the Islamic State of Iraq and the Levant (ISIL) group last month sparked days of clashes that have left hundreds dead, the Britain-based Syrian Observatory for Human Rights said.
"At least four people were killed in the strike targeting a power station near Al-Malikiyah," said the war monitor, which relies on a network of sources inside Syria.
It said the raids killed power plant staff and fighters of the Kurdish-led Syrian Democratic Forces — the Kurdish administration's de-facto army.
They also caused some damage to the power station resulting in a blackout in surrounding towns and villages, the war monitor added.
In a statement on Wednesday, Ankara said its warplanes targeted several positions held by Kurdish armed groups in Iraq and Syria, including in Al-Malikiyah.
It said it hit suspected bases of the Kurdistan Workers' Party (PKK) and the People's Protection Units (YPG) which Ankara views as terrorists.
The YPG, which forms the backbone of the SDF, condemned the Turkish strikes that came on the heels of ISIL's largest Syria operation in three years.
"Turkey tries to continue what ISIS started," it said on Twitter, using a different acronym for ISIL.
"Everyone has to take action against this attack now."
Washington relied heavily on the SDF to defeat ISIL jihadists who overran large swathes of Syria and neighboring Iraq in 2014.
The SDF said 40 of its fighters as well as more than 70 prison guards and staff were killed in the week-long ISIL attack on the Ghwayran jail in Hasakeh.
https://ekurd.net › over-330-killed-islamic-state-2022-01-30
Syrian Kurdish YPG/SDF forces deploy outside Gweran prison in northeastern city of Hasaka in Syrian Kurdistan (Rojava) on January 26, 2022. Photo: AFP Farhad Shami, who heads the SDF's media office, to…
https://rojavainformationcenter.com › 2022 › 01 › the-battle-of-heseke-timeline-and-analysis
January 20th, 2022 The attack on Sina'a Prison began late at 7:30 pm with the explosion of a suicide car bomb outside of the prison walls. The bomb detonated at the prison gate, damaging the gate and the walls, and killing some guards stationed outside.
*******************
Interview with an international comrade from Czech in the YPJ (Rojava Women's Defense)
Posted on by enough14 — Leave a comment
Rojava. An interview by Women Defend Rojava with comrade Ruken from the Czech Republic, member of the YPJ. Originally published by Women Defend Rojava.
WHY INTERNATIONALIST WOMEN COME TO ROJAVA ?
In many revolutions, international participation has been an important part of the revolutionary process and the Rojava Revolution is not an exception.
We are living in times of global chaos, there are many different crises in the world. Time shows us, that the real face of capitalism can not be hidden anymore, it is capitalism by itself causing those crisis and becoming itself unsustainable. People all over the world are struggling for changes and searching for alternatives.

The capitalist mindset wants to make us believe, that is it the last and the most developed solution. But the reality shows us, it is the system that is the most against society ever. In the Democratic Confederal System, already with 10 years experience in Rojava, the communal life and economy, women liberation and ecologic approach are the three main pillars of the Revolution.
They are offering us a realizable alternative and solution to most essential social problems. Of course, this will not happen from one day to the other and without a lot of effort, difficulties, and struggle.
Many women from all over the world are inspired by this Revolution and coming to Rojava to take part in this process and join YPJ. To join this Revolution is to give an important step in this struggle.
WHO IS THE YPJ AND WHAT ARE THEY FIGHTING FOR ?
The Philosophy of Abdullah Ocalan has become the path for liberation to thousands, not only Kurdish people. It is putting a light on a skeptical and dark vision of our future and giving us hope for a more equal and just life.
Self-defence is a basic function and inherent to all livings beings. Also YPG – YPJ were built from this basic need to defend and protect their people. But it is important to say YPG – YPJ is essentially different from the state 's armies.

In the first place, they are not protecting the interests of any state, neither struggling for hegemony nor wanting to invade the lands of others. They are The People and Women Protection Units.
Partipation is voluntary and always connected to the revolutionary ideology.
The Kurdish people for hundreds of years have been under constant attacks and all kinds of genocides. It is the Turkish state with the help of different Islamist extremist groups as AL- Nusra or Daesh, and the interests of hegemonic powers under-knees, whose want to wipe out the Kurds from mother earth and take the profit from their ancient land.
But despite all the attacks, invasions, embargoes and difficulties the Kurdish people have resisted and have not stopped to struggle for their outonomy and dignity… They also heroically defeated the Daesh and liberate the territory. Which is today known as The Democratic Confederation of North- Eastern Syria.
WHAT DOES IT MEAN AS INTERNATIONAL WOMEN PARTICIPATE IN YPJ ?
Many women from different places come to participate because they feel connected to these ideas. The fact itself, to be the only women unit is a very inspiring and liberating idea.
For thousands of years, women have been shaped and oppressed by the patriarchal mentality, force to look and feel like weak beings, always to be depending on somebody or being seen as the property of a man, a mentality which is still present not only here in the Middle East. Women have been pushed out from social spheres, used as a slaver or instruments to produce children and serve to man.
Women suffer violence, get kill and abuse everywhere, no matter how much "progressive" the country is where they are from. To be a woman is to be connected by this reality and by the same struggle and purpose.

"The society will be not free till women will not be free" Abdullah Ocalan

All women need to know how to defend themself, be aware of their strenght, struggle for own liberation, protect their community and fight of their land.

The biggest threat for Rojava in the present is the Turkish state, which hand by hand with Islamist extremist have occupied three cities from the liberated territory, using the dirties methods and causing many war crimes. The attacks still continue despite several international agreements and with the presence and silence of world hegemonies.

To resit and against those attacks, it is not only to give own life in the struggle against fascism, but it also resists against the whole mindset, which is behind those crimes and ruling the world in our present days.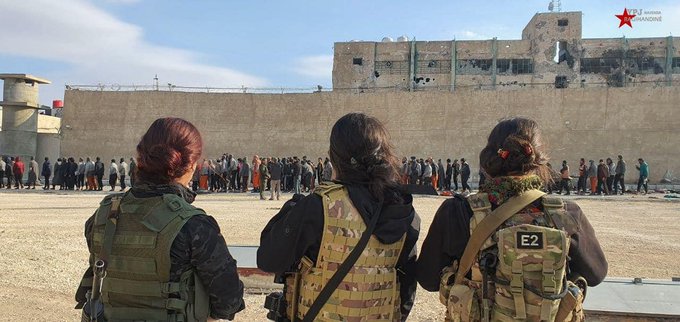 February 2022 – YPJ/SDF women fighters watch 100's of defeated ISIS terrorists surrender: 'We defeated ISIS mercenaries once again, 40 SDF heroes died in the prison battle.

TO BE IN YPJ AND TAKE PART IN THIS RESISTANCE IS A BIG HONOR AND VERY EMPOWERING FOR ANY WOMAN!
I wish that, the women and girls who feel the common need to fight for their liberation and freedom, no matter where they are from, support and join the Rojava Revolution. I hope many as possible they can at least understand what is happening in Rojava and how important steps have been given here.

The history is now, and we are part of it. Let's hold it strongly in our hands and protect it !

Comrade Ruken from Czech Republic
Member of YPJ