via thefreeonline .
WORSE than what Russia did in Ukraine! Because Putin's invasion was to protect ethnic Russians being massacred by nazis. Erdogan openly boasts he does it for Imperial Ambitions.
When Putin ordered the Ukraine invasion the West went crazy with unprecedented sanctions, billions in weapons and an orchestrated 24/7 cacophony of largely invented media propaganda.
When Turkey does the same, or worse, there is a deathly silence.
Erdogan knows he can do what he likes. After all this is his 4th invasion, grabbing and 'Turkifying' more bits of Syria. Hundreds of thousands of ethnically cleansed Kurds are still trapped and destitute in refugee camps in the desert. Those in Shabha, for example, are regularily bombed by his extreme islamic proxy mercenaries, including Al Qaeda and ex ISIS guerillas.
Revolutionary Kurdish Afrin Refugees trapped in Shabha resist blockades and bombs from Turkey and Syria –
He can do what he likes. He can bomb and drone again from his NATO base in Incirlik. He can again roll over the self defense militias, the YPG and YPJ in his shiny German tanks, while the West continues to class any resistance or protest as PKK Terrorists.
He can do what he likes and be well rewarded. He is the worst terrorist mass murderer and blackmailer. Ironically demanding armaments and persecution of Kurdish protestors. Ironically blackmailing the NATO terrorists with his veto on Finland and Sweden joining in the great insane US Crusade to destroy and loot Russia.
The 20 million Kurds in Turkey have held two long peaceful self declared ceasefires against their oppressors, the second unilaterally destroyed by Erdogan with massive military repression
Enlarging the Turkish occupation of northern Syria will result in certain endless war and suffering. Russia, with its back to the wall, can hardly say no.
And the US, despite cynically backing the YPG defense and SDF multi ethnic fighters (to counter ISIS and Iran and annoy Syria), will hardly resist Turkish blackmail to defend them.
********************
Ankara says it intends to extend a 30-kilometer "safe zone" along entire Syrian border
24 May, 2022 from a Banned News Agency via thefreeonline shared with thanks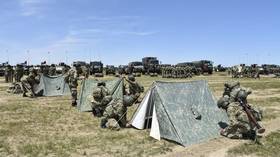 FILE PHOTO © Turkey's Defense Ministry / Facebook
Turkey will soon launch a new military operation in northern Syria, President Recep Tayyip Erdogan said on Monday. Though he did not provide any specifics, the illegal incursion is likely to target areas held by US-backed Kurdish militias.
"We will soon take new steps regarding the incomplete portions of the project we started on the 30-km deep safe zone we established along our southern border," Erdogan said after a cabinet meeting, according to AP.
"The main target of these operations will be areas which are centers of attacks to our country and safe zones," he added, according to Reuters. Operations will begin once Turkey's military, intelligence and security forces complete their preparations, Erdogan said without elaborating further.
Ankara has sent troops into Syria three times already, starting with Operation Euphrates Shield in 2016. The most recent incursion, 2019's Operation Peace Spring, was met with US sanctions and a war of words between Erdogan and French President Manu. Turkey currently controls portions of Syria's Aleppo, Raqqa and Hasakah governorates, in addition to supporting militants in Idlib.
READ MORE: Iraq condemns Turkey's invasion
Last month, Turkey also sent troops into Iraq, targeting Kurdish militias in the northern regions of Metina, Zap, and Avasin-Basyan in what it called Operation Claw-Lock. Baghdad condemned the operation as a violation of its sovereignty, but has been unable to do anything about it.
Turkey has accused the Syrian Kurdish militia YPG of links to the Kurdistan Workers' Party (PKK), which Ankara has designated as a terrorist organization. Since 2015, the US has used the YPG as the basis of the so-called Syrian Democratic Forces (SDF), a proxy militia it has armed and supplied to fight against Islamic State (IS, formerly ISIS) terrorists. The SDF is also tasked with denying the territory to the government in Damascus, which Washington seeks to overthrow.
READ MORE: Turkey demands concessions from NATO applicant
Backed by as many as 2,000 US troops, Washington's proxies currently hold` the northeastern portion of Syria, including most of its oil wells and arable land.
Erdogan has recently voiced objections to Finland and Sweden joining NATO, due to the fact the two Scandinavian governments have granted political asylum to a number of Kurdish activists that Turkey considers terrorists.