Headlined by The Guardian and the Irish Times, and also grimly noted by some journals here and there, this should-be-big news is apparently NOT "fit to print," or post, or broadcast by the US press
by Mark Crispin Miller Jul 10th 2022 shared with thanks via thefreeonline
This silence, shocking though it is, should come as no surprise, from a "free press" that's been meticulously, militantly blacking out the toll of those "vaccines"—as well as (let us not forget) the many real vaccines that have been killing/sickening/crippling us for decades;
Also countless other toxic pharmaceuticals; the additives in most of what we eat, and those in nearly all the products that we use to clean our homes and selves, and most cosmetics; and, of course, our cell phones, and the scourge of 5G overall.
In short: We're being poisoned on a mammoth scale, and evidently not by accident, or through incompetence—since, if that were the case, the press would not be blacking all such information out.

Now, if this news re: glyphosate has been reported by a major corporate outlet (or even a major "alternative" outlet), please note it in the comments. My search was, necessarily, a quick one, since we're short-handed here (and overwhelmed by each week's news of "sudden deaths").
News from Underground by Mark Crispin Miller is a reader-supported publication. To receive new posts and support my work, consider becoming a free or paid subscriber.
************



201 likes
139 Comments
35 replies by Mark Crispin Miller and others
| | |
| --- | --- |
| | KW NORTONWrites KW Norton Borders Jul 10"They" have been trying to kill us for quite awhile. With what they spray in the atmosphere to control the weather, spray on our food to kill weeds, provide us through "health" care and the largesse of Government it's a wonder there's any of us left at all. |
In memory of those who "died suddenly" in the United States, June 28-July 4Linda Kramer (Aerosmith drummer's wife), "Breakin'" star Bruno Falcon, US jet ski champion Eric the Eagle, YouTuber Technoblade, Xerox CEO John…
Jul 6
They all "died suddenly" just this past week (February 8-14)See how many "sudden deaths" have made some news—while "our free press" continues to DENY this Holocaust, and thereby keeps it going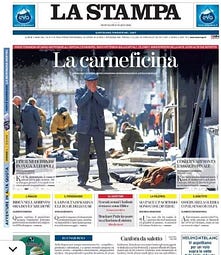 No, it's NOT "fake news." It's Nazi propaganda.Someone who's over there demolishes three whopping lies about "Ukraine," with visual evidence beyond dispute
May 2