from Blog SAHARAUI international and thefreeonline

Madrid (ESC). – The Executive that governs in Spain surprises us more and more. This summer, Spain led the purchase of Russian gas and became the country that entered the most capital in Moscow in the midst of the war in Ukraine.
According to a report compiled by the Economist, since the war broke out in Ukraine, purchases of Russian gas from Spain have doubled, from 2,174 gigawatt hours (GWh) to 5,317 GWh, according to the latest Enagas bulletin for the month of July .
US Imported $6 Billion From Russia As It Forces Others To Quit Doing Business With Moscow. The US is currently importing over $1 billion per month in Russian wood, metals, food and other goods. More than 3,600 ships from Russia have arrived at American ports since February 24, according to statistics cited by the Associated Press.
The spike in gas purchases by Spain from Russia occurs in the months of June and July. According to sources from the Sánchez government, this increase responds to the adjustment of the annual volumes of the amounts agreed in the contracts.
The government first blamed the increase in purchases of Russian gas for the diversion to Spain of two LNG ships after the suspension, for maintenance, of four regasification plants in France. But the gas purchases continue for many months, according to official Enagas reports.. only surpassed by huge purchases of US fracking gas. see chart below..
According to a new monitoring of Russian oil, gas and coal shipments by the Center for Research on Energy and Clean Air (CREA), the Sánchez government paid Moscow some 750 million euros in the months of July and August. Thus, it ranked above countries such as France, China, Belgium, Japan and Portugal.
In the first six months of the war in Ukraine, Spain ranked third among the largest importing countries worldwide, paying more than 1,500 million euros, preceded only by France and Belgium.
According to the report, Russia's revenue from fossil fuel exports totaled $158 billion in this period. Specifically, the EU imported 54%, for an approximate value of 85,000 million.
Spain leads the purchase of Russian gas and becomes the country that entered the most capital in Moscow in the midst of the war in Ukraine.
Now, of course, most of the gas imported into Spain is the 'Fracking Gas' from the United States, which is the most damaging to the climate due to methane leaks. The radical change to buy almost 30% gas from the US comes after accepting the occupation of the Sahara by Morocco. The action is clearly against UN and international legality but it is done to obey the US, Israel, and the Spanish extractive industries. In response, Algeria has cut off the supply of gas to Morocco, Spain and Portugal through one of the two gas pipelines, forcing the purchase of LNG gas on the market.
Now Spain supports Morocco's occupation by force of Western Sahara, Israel's occupation of Palestine, NATO's occupation of Kosovo, Libya, etc. Yet it is willing to provoke a world war because Russia occupied Donbass to protect ethnic Russian inhabitants.
Información en parte del Blog SAHARAUI de Actualidad Internacional Noticias de Actualidad para difundir las noticias del Sahara Occidental y la información internacional
Spain will train troops from Ukraine – media
Soldiers will 'soon' arrive in Zaragoza to receive guidance from their hosts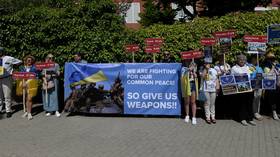 Protesters demand more military aid outside NATO summit in Madrid © AFP / Oscar del Pozo
Spain's armed forces will soon begin training Ukrainian combat troops, military sources confirmed to El Mundo on Friday.
The newspaper revealed that the personnel have been preparing to instruct their counterparts from Kiev in the use of battle tanks, missile systems, military medicine, and demining work.
---
España lídera la compra del gas ruso y se convierte en el país que más capital ingresó a Moscú en plena guerra de Ucrania
El Gobierno de Sánchez pagó este verano a Rusia unos 750 millones de euros por el gas, tres veces más caro que el gas argelino.

ECSAHARAUI

Madrid (ECS). – El Ejecutivo que gobierna en España cada vez nos sorprende más. Este verano, España lideró la compra del gas ruso y se convierte en el país que más capital ingresó a Moscú en plena guerra de Ucrania. Según informe recogido por el Economista, desde que estalló la guerra en Ucrania, las compras de gas ruso desde España se han duplicado, desde los 2.174 gigavatios hora (GWh) hasta los 5.317 GWh, según el último boletín de Enagas para el mes de julio.
Ahora, por supesto, la mayoría del gas importado a España es el 'Fracking Gas' de Estados Unidos, que es el más dañino al clima por los escapes de metano. El cambio radical a comprar casi 30% gas de los EEUU viene después de aceptar la ocupación del Sahara por Marruecos. La actuación es claramente contra la legalidad internacional pero se hace para obedecer a EEUU, Israel, y las industrias de extracción españolas. Como respuesta Argelia ha cortado el suministro de gas a Marruecos, España y Portugal por una de los dos gasoductos, forzando la compra de gas GNL en el mercado.
Ahora España apoya la ocupación por fuerza de Marruecos del Sáhara Occidental, la de Israel en Palestina, la de la OTAN en Kosovo, Libia, etc.. Pero está dispuesto a provocar una guerra mundial porque Rusia ocupó Donbass para proteger los de habitantes de etnia rusa
El epunte de las compras de gas por parte de España a Rusia se produce en los meses de junio y julio. Según fuentes del gobierno de Sánchez, este incremento responde al ajuste de los volúmenes anuales de las cantidades acordadas en los contratos.

El gobierno achaca el incremento de las compras del gas ruso por el desvío a España de dos buques de GNL tras la suspensión, por mantenimiento, de cuatro plantas regasificadoras en Francia.

Según un nuevo seguimiento de los envíos de petróleo, gas y carbón rusos realizado por el Centro de Investigación sobre Energía y Aire Limpio (CREA, por sus siglas en inglés), el gobierno de Sánchez pagó a Moscú unos 750 millones de euros en los meses de julio y agosto. Se situó, así, por encima de países como Francia, China, Bélgica, Japón y Portugal.
En los seis primeros meses de la guerra de Ucrania, España ocupó el tercer puesto entre los mayores países importadores a nivel mundial, al pagar más de 1.500 millones de euros, solo precedida solo por Francia y Bélgica.
Según el informe, los ingresos de Rusia por las exportaciones de combustibles fósiles alcanzaron en total los 158.000 millones en este periodo. Concretamente, la UE importó el 54%, por un valor aproximado de 85.000 millones.

.España lídera la compra del gas ruso y se convierte en el país que más capital ingresó a Moscú en plena guerra de Ucrania
España entrenará tropas de Ucrania: medios

Los soldados llegarán 'pronto' a Zaragoza para recibir orientación de sus anfitriones
España entrenará tropas de Ucrania: medios
Manifestantes exigen más ayuda militar frente a la cumbre de la OTAN en Madrid © AFP / Oscar del Pozo
Las Fuerzas Armadas españolas comenzarán próximamente a entrenar a las tropas de combate ucranianas, según han confirmado este viernes a El Mundo fuentes militares.
El periódico reveló que el personal se ha estado preparando para instruir a sus homólogos de Kiev en el uso de tanques de batalla, sistemas de misiles, medicina militar y trabajo de desminado………
sigue leyendo aquí -spain-train-ukraine-troops-weapons/