3 Nov 2022 David F Sabadell by El Salto translation thefreeonline

The citizens of Madrid rebel massively against the privatized policies of the regional government and corrupt destruction of the Health system by far right profiteers. The public response has been massive.
Attendance at the demonstration by Public Health this Sunday, November 13, has exceeded the forecasts of the calling groups and has overflowed the streets of Madrid, the result of a health rebellion against the privatization measures of the government of Isabel Díaz Ayuso.
The Government Delegation has encrypted attendance at more than 200,000 people, while the organization raises the figure to 670,000 people.
At the same time, concern among citizens escalated to overwhelm the initial forecasts for this Sunday's demonstration.
80% of the new 24-hour emergency centers announced by Ayuso opened without a doctor – El Salto –
The hasty and chaotic opening of the new Local Continuous Care Clinics (PAC) without sufficient staff, since 80 PACs were deployed with the staff of the 40 extinct Rural Care Services (SAR), has caused an indefinite strike called by the union AMYTS doctors, strikes promoted by the SUMMAT and MATS unions for all PAC personnel during weekends, and the resignations of doctors.
To this is added the abandonment of senior leaders of the Ministry of Health upon learning of the new plans for out-of-hospital emergencies.
Pedro Almodóvar in the march for Public Health. The organization highlights as key the call of actors and actresses to support the march in the last two weeks. byDavid F Sabadell
All this explains the massive response of citizens this Sunday. After 12:30, leaving Atocha station to go to the march was practically impossible, reports Susana Albarrán, from El Salto Madrid.
The four columns that would head towards Cibeles from Nuevos Ministerios, Ópera, Hospital de la Princesa and Atocha have converged on the Paseo del Prado, demonstrating the rejection of the people of Madrid for the health management of its president.White scarves, slogans for Public Health and requests for Ayuso to resign have been some of the messages.
"7,291 older people perished inside the residences without being transferred to a hospital."
Before reading the manifesto, there was a special memory for the elderly people who died in the residences of the Community of Madrid in the pandemic. "These are not deaths, they are murders", the attendees have chanted to show their outrage at the protocols that were signed between March 18 and 25 and that established the criteria so that these transfers did not take place based on their physical or cognitive abilities. .
13 November 2022 3A girl holds a banner for Public Health during the demonstration in Madrid. byDavid F Sabadell
Lola Barquero recalled that women are the ones who care the most and accompany them in health-related procedures.
"The unfair distribution of care tasks makes women suffer from the deficiencies of primary care", she assured, to highlight the role of close care that primary care outpatient clinics represent. Barquero has reminded all the women who make Health possible —caretakers, cleaners—, who share with many women the consequences of precariousness.
She then spoke to Rebeca, a patient with persistent covid. "Trying to get healthy cannot depend on having enough money", which in Madrid affects more than 200,000 people, she has said, with up to 200 different symptoms that become chronic and have no cure.

Demonstration Health 13 November 2022 4
The public response has been massive. David F Sabadell
Antonio Cabrera recalled that one of the consequences of the pandemic is the need for mental health care, given the lack of adequate resources and policies. Itziar Valero, meanwhile, has described the situation of rural emergencies and has been very critical of the regional government's plan to implement telecare.
The organization has remembered the doctor Mar Noguerol, a medical doctor after recording a video of a protest at her health center. There has also been a warning about the health exclusion of migrants: the Health that citizenship has claimed is universal and no person should be deprived of it.
"This is historic", assured the organization before concluding the march giving way to the Solfónica.
Manifestation Health 13 November 2022 5
Protesters with banners against health exclusion. Alvaro Minguito
Filed under: Isabel Díaz Ayuso ‧ Community of Madrid ‧ Social movements ‧ Public health
Sanidad pública
Más de medio millón de personas respaldan la marcha por la Sanidad pública en Madrid
La ciudadanía de Madrid responde de manera masiva a la marcha contra las políticas privatizadas del gobierno regional.
Redacción El Salto 13 nov 2022 12:45
La asistencia a la manifestación por la Sanidad Pública este domingo 13 de noviembre ha superado las previsiones de los colectivos convocantes y ha desbordado las calles de Madrid, fruto de una rebelión sanitaria contra las medidas privatizadoras del gobierno de Isabel Díaz Ayuso. La Delegación de Gobierno ha cifrado la asistencia en más de 200.000 personas, mientras que la organización eleva la cifra hasta las 670.000 personas.
La precipitada y caótica apertura de los nuevos Puntos de Atención Continuada (PAC) sin la plantilla suficiente, ya que se desplegaron 80 PAC con la plantilla de los 40 extintos Servicios de Atención Rural (SAR), ha provocado una huelga indefinida convocada por el sindicato médico AMYTS, paros promovidos por los sindicatos SUMMAT y MATS para todo el personal de los PAC durante los fines de semana, y las renuncias de facultativos. Al mismo tiempo la preocupación entre la ciudadanía escalaba hasta desborar las previsiones iniciales para la manifestación de este domingo.
Comunidad de Madrid | Cronología | Los pasos del Gobierno de Díaz Ayuso durante la crisis de las residencias – El Salto – Madrid
A eso se suma el abandono de altos dirigentes de la Consejería de Sanidad al conocer los nuevos planes para las urgencias extrahospitalarias.
Todo esto explica la respuesta masiva de la ciudadanía este domingo. Pasadas las 12.30, salir de la estación de Atocha para dirigirse a la marcha era prácticamente imposible, informa Susana Albarrán, de El Salto Madrid. Las cuatro columnas que se dirigirían hacia Cibeles desde Nuevos Ministerios, Ópera, Hospital de la Princesa y Atocha han confluido en el Paseo del Prado demostrando la repulsa de las madrileñas y los madrileños a la gestión sanitaria de su presidenta.
Pañuelos blancos, consignas por la Sanidad pública y peticiones de dimisión a Ayuso han sido algunos de los mensajes. Antes de la lectura del manifiesto, ha habido un recuerdo especial para las personas mayores fallecidas en las residencias de la Comunidad de Madrid. "No son muertes, son asesinatos", han coreados los asistentes para mostrar su indignación por los protocolos que se firmaron entre el 18 al 25 de marzo y que establecieron los criterios para que no se produjesen estos traslados en función de sus capacidades físicas o cognitivas. "7.291 mayores perecieron dentro de las residencias sin ser trasladados a un hospital".
Lola Barquero ha recordado que las mujeres son quienes más cuidan y acompañan en las gestiones relacionadas con la salud. "El injusto reparto de las tareas de cuidado hace que las mujeres suframos las deficiencias de la atención primaria", ha asegurado, para poner en valor el papel de la atención de cercanía que suponen los ambulatorios de atención primaria. Barquero ha recordado a todas las mujeres que hacen posible la Sanidad —celadoras, limpiadoras—, que comparten con muchas mujeres las consecuencias de la precariedad.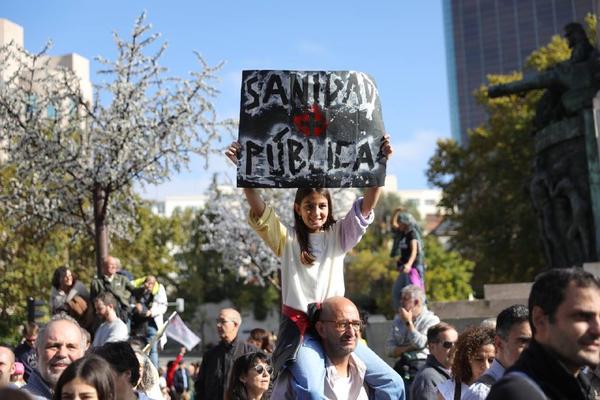 Después ha tomado la palabra Rebeca, una paciente de covid persistente. "Intentar recuperar la salud no puede depender de que tengas el dinero suficiente", que en Madrid afecta a más de 200.000 personas, ha dicho, con hasta 200 síntomas diferentes que se cronifican y no tienen cura.
Antonio Cabrera ha recordado que entre las consecuencias de la pandemia está la necesidad de una atención a la salud mental, frente a la falta de recursos y políticas adecuadas. Itziar Valero, por su parte, ha descrito la situación de las urgencias rurales y ha sido muy crítica con el plan del Gobierno regional para implantar la teleasistencia.
La organización ha recordado a la médica Mar Noguerol, médica expediéntala tras grabar un vídeo de una protesta en su centro de salud. También ha habido una advertencia ante la exclusión sanitaria a las personas migrantes: la Sanidad que ha reclamado la ciudadanía es universal y ninguna persona debe verse privada de ella.
"Esto es histórico", ha asegurado la organización antes de dar por concluida la marcha dando paso a la Solfónica.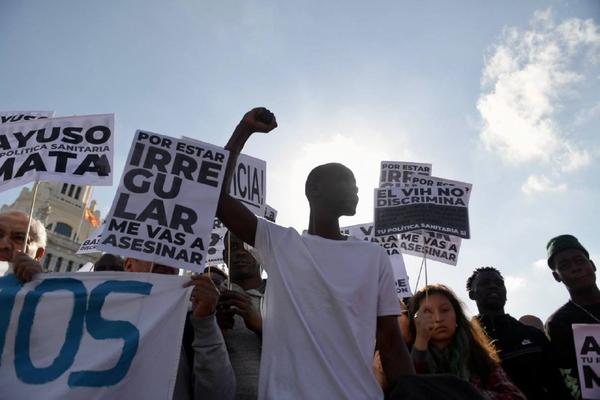 Archivado en: Isabel Díaz Ayuso ‧ Comunidad de Madrid ‧ Movimientos sociales ‧ Sanidad pública