This Cash Cow needs to be euthanized..
from thefreeonline on 27th January 2023 by Robert W Malone MD, MS
---
---
---
---
---
Part One.. see part 2 below
---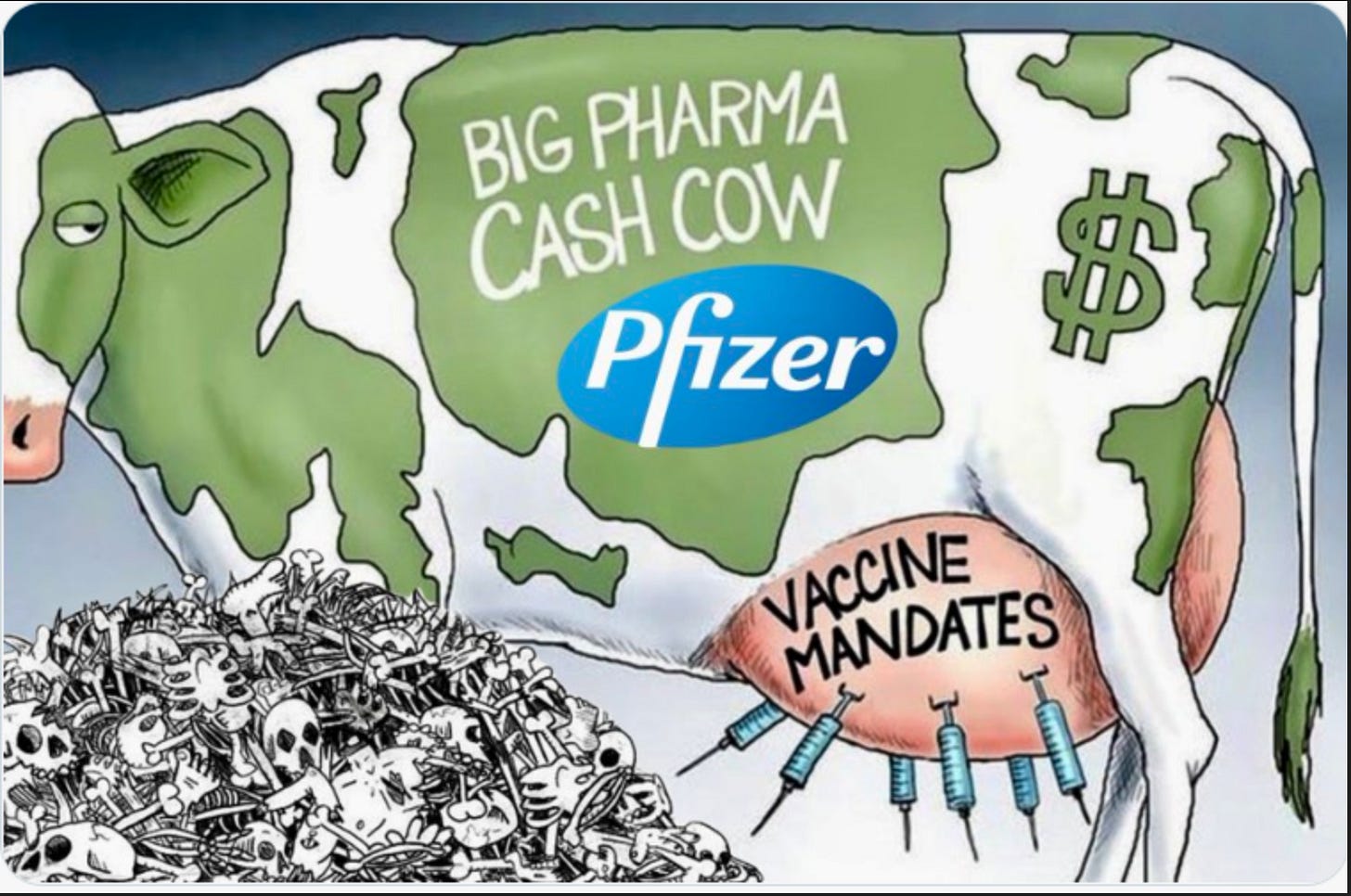 ---
Pfizer Executive: Dr. Jordan Walker.
---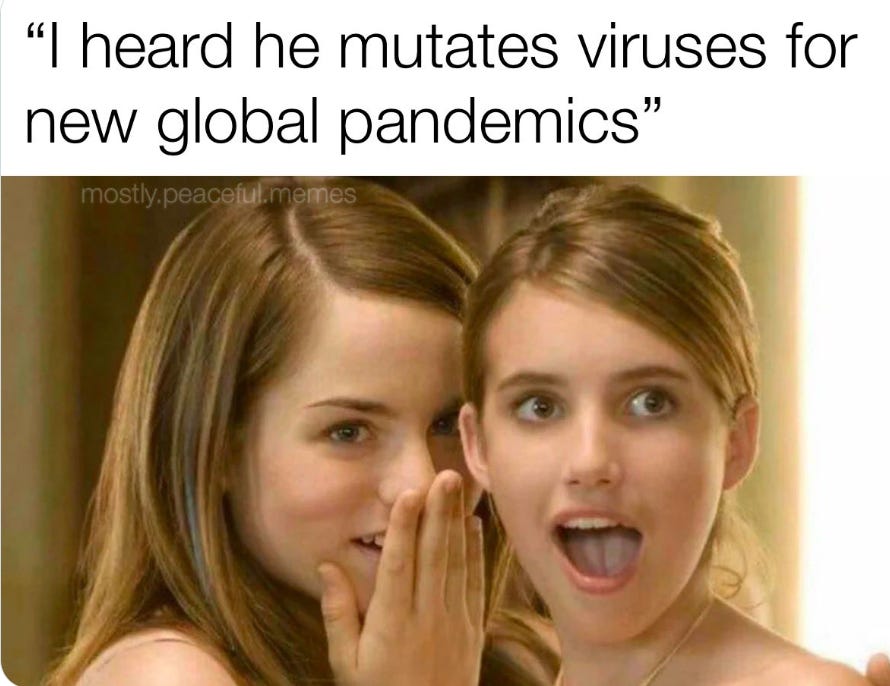 ---
This video is the second half of the Project Veritas sting operation, with the lead role going to Pfizer executive Dr. Jordan Walker. I really think this clip deserves a place in the Friday Funnies.
This dude is in trouble. Pfizer is in trouble. They know it. We know it. They know we know it.
The stock market knows it.
A little bit of evidence to the damage done to Pfizer from this truth bomb explosion comes from the corporation itself. Pfizer's TikTok account has had the comments turned off to the public for anything they post as of about two days ago. Ouch. That's not a good look.
Pfizer's Twitter account now limits comments:
Of course, state-sponsored mainstream media has not covered any of this, with the exception of Tucker Carlson, who had me on as a guest last night. And yes, I can verify that Tucker's staff independently verified that Jordan Walker is a real human being who works at Pfizer.
Trust it to Newsweek to do a "fact check" on whether the Pfizer director, Dr. Jordan Walker and his comments are for real. Bottom line: Newsweek seems to have conceded the point that yes, Dr. Jordan Walker, Pfizer exec extraordinaire is real. Newsweek's conclusion: this video is "unverified" – based on the fact that Newsweek doesn't have the raw video footage themselves to analyze. BTW don't bother reading their article, it is a bad jacketing hit piece on Project Veritas, that ends with the high-minded belief that as the reporter doesn't like the tactics of Project Veritas, therefore no one should trust the video footage. Good to know.
---
Some of the comments in my Twitter feed about the above video do belong in the Friday Funnies! (click on the image to expand).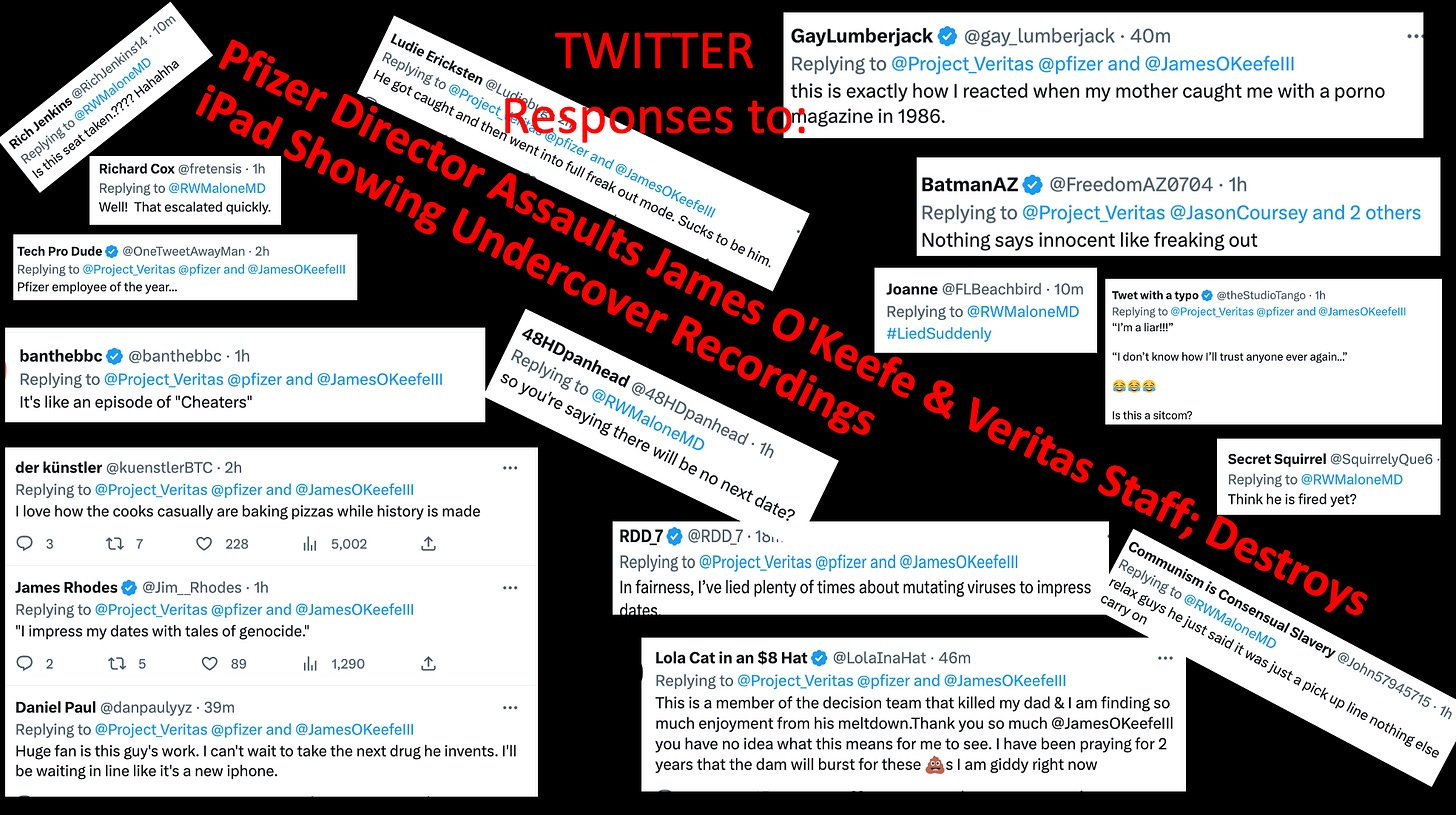 ---
"I'm literally a liar"
Jokes aside – Dr. Jordan Walker was literally frightened out of his mind by the fact that he had revealed Pfizer secrets to the press. Watching the two videos back-to-back is like watching a train wreck in slow motion.
In the second video when Dr. Walker realizes he is being taped, he has a full blown panic attack. He can't deny he said these things, so he tries the only verbal defense he can think of to save his job – he calls himself a liar. When it dawns on him that this won't work, he tries to use the force of law by saying that they can't video tape him, that it is illegal.
When that doesn't work, he begins to literally grab their video equipment and break it! Clearly, this is not a person who is used to attacking people – he is swept up with his fear and anger but just has no clue how to go about actually doing damage.
Finally, he tries to bring the police in to confiscate the digital equipment. This person is desperate. Crazy out of his mind with fear. He is so frightened that his fear clearly overwhelmed his ability to comport himself with dignity.
Dr. Jordan Walker knows how dangerous Pfizer and the government is. They know what he has done. The only question is, what will Pfizer and its allies do next?
I hope that Dr. Walker has good security. We have been living with Pfizer's allies and various governments on our backs for the past two years. It is not fun and it is not something I would wish on anyone, even Dr. Walker.
But in the meantime, more evidence about vaccine effectiveness from Russell (on Rumble)
---
For those that have the time for one more video, JP hits it out of the park with his report on Davos:
Who is Robert Malone is a reader-supported publication. To receive new posts and support my work, consider becoming a free or paid subscriber.
Thank you for reading Who is Robert Malone. This post is public so feel free to share it.
---





178 likes
31 Comments
Liked by Robert W Malone MD, MS
CARTOON NEEDED: Given the information that Josh Stirling shared on an Epoch Times interview I am wondering when I will get a discount on my insurance for being non-vaxxed just like getting a non-smoker discount. Please, let's have a cartoon for that idea!
Liked by Robert W Malone MD, MS
Great work, Doc! Wish you had more time on Tucker last night. The lack of outrage and coverage by the MSM leads to two possibilities: either it's a complete hoax, or it's true and the pernicious MSM are part of a greater evil. I'm choosing the latter.
What if the largest experiment on human beings in history is a failure?A report from an Indiana life insurance company raises serious concerns.
Jan 3, 2022
Open Letter to the Canadian Truckers.These are my truths, and I believe that they are self-evident.
Feb 11, 2022
Monkey PoxTruth versus Fearporn.
May 21, 2022