from thefreeonline on 21st February 2023 by MedyaNews and World News …
Both Israel and Turkey couldn't wait to again start bombing civilians in Syria. Aid is little and late due to US sanctions and border blockades.
Multiple casualties were reported in a "residential neighborhood" of the Syrian capital. Syria is currently seeking to recover from the February 6 earthquake, which did not affect Damascus but which killed more than 44,000 people across the country's north and southern Turkey.
At least one missile hit the Kafar Souseh neighborhood of Damascus overnight, severely damaging a residential building and causing multiple deaths and injuries, state news agency SANA reported early on Sunday, blaming the Israeli military.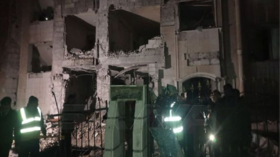 A volley of missiles fired from the occupied Golan Heights targeted Damascus and its surroundings around midnight, and even though Syrian air defenses were activated, at least one of the "hostile" projectiles directly hit a multi-story residential building, the agency said.
At least five people, including one soldier, were killed and another 15 civilians injured in the attack, a Syrian military source told SANA, adding that the "Israeli aggression" led to the "destruction of a number of civilian homes" and other "material damage."
https://t.me/SyrianArabNewsAgency/85540?embed=1
The Israel Defense Forces have not acknowledged the strike, in line with their long-standing policy of not discussing operations outside the country.
continues below
Turkey attacks Rojava despite natural disaster at home:
Kurdish officials say a Turkish drone targeted the Kurdish city of Kobane in northeast Syria , posting the photogra ph of a person who killed in the attack. The Syrian Observatory for Human Rights (SOHR) said a Turkish drone hit a military vehicle which it said belonged to the SDF in Kobane.   The UK-based war monitor also reported casualties from the SDF ranks. 
Afrin Canton, near the epicenter, has received little or no help or attention despite being one of Turkish Erdogan's occupations with ethnic cleansing, and much worse than Russia's Ukraine invasion.
However, citing a pre-emptive right to self-defense against Iran, Israel has carried out "hundreds" of bombing and missile strikes against Syria since 2011.
Syria has repeatedly protested the raids as a violation of its sovereignty, to no avail.
Sunday's missile bombardment is the first major attack since a series of devastating earthquakes killed thousands of people in northern Syria less than two weeks ago.
Neighboring Türkiye, which suffered catastrophic death and destruction, has received more attention and international aid, with rescuers from around the globe flying in to help.
Israeli airstrikes kill five in Damascus:
In Syria's case, only a few select nations have come to its aid, with the government in Damascus blaming Western sanctions and a years-long US-led economic blockade and occupation for exacerbating the crisis and hampering relief efforts.