from thefreeonline on 13th MarcH 2023 By Wolf Richter  for WOLF STREET  13 Comments
Banks as stock-pump schemes in the era of consensual hallucination.
First Republic Bank, headquartered in San Francisco, and Western Alliance Bank, headquartered in Phoenix, are on the forefront of the regional banks that haven't collapsed yet. Their shares continued their plunge today as trading was halted on and off. Other bank stocks got hammered too, but not to this extent.
First Republic is intricately tied to the Free-Money party in Silicon Valley and San Francisco – "a leading private bank and wealth management company," it calls itself. The stock had doubled from 2019 to peak consensual hallucination in November 2021. It had quadrupled from 2014 – a bank stock! Which shows how crazy this consensual hallucination was.
>U.S. regional banks First Republic and PacWest sink | Fortune
And because it was tied to this party, it is tied to the end of the party. Since the high in November, the Nasdaq Composite has plunged by 30%. The shares of many startups that had gone public via IPO or SPAC collapsed.
Cryptos plunged. Silicon Valley Bank, which was instrumental in all this, collapsed on Friday.
Many people whose wealth was tied to startups are finding themselves less wealthy. And First Republic catered to them.
Shares [FRC] collapsed 61% for the day, and were down by 86% from their high in November 2021, therefore making it into my glorious pantheon of Imploded Stocks (data via YCharts):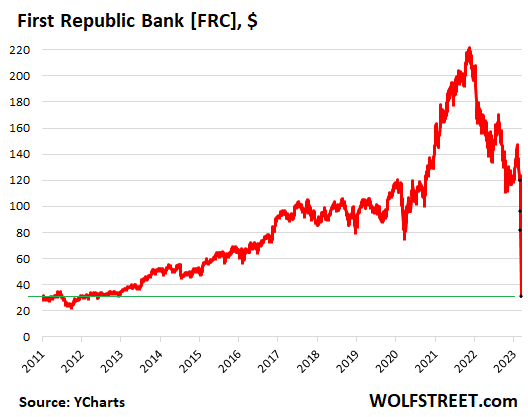 https://1853789679cc78108efdfda354d4ecf5.safeframe.googlesyndication.com/safeframe/1-0-40/html/container.html
Note that shares, currently at around $31, are back where they'd been in 2013, which really isn't a biggie – why should shares of a bank quadruple every four years? A bank is a government-regulated taxpayer-backed financial utility, not a stock pump scheme.
First Republic experienced an intense run on the bank by the same folks it so energetically catered to: the wealthy.
They were yanking their cash out of their bank accounts at First Republic by the millions of dollars at a time – same thing that accelerated the fall of Silicon Valley Bank when cash-rich companies, often pushed by their venture-capital investors, yanked their millions and hundreds of millions out.
On Sunday, the Fed came out with a program to shore up teetering banks like First Republic, by providing additional loans through a new facility.
Also on Sunday, First Republic announced that it had received additional funding from JPMorgan, on top of the funding it had from the Fed, and "continued access to funding through the Federal Home Loan Bank." It said that its "total available, unused liquidity to fund operations is now more than $70 billion."
First Republic Bank falls nearly 70%, trading halted after collapse of SVB, Signature
First Republic Bank is not a conservatively run bank. It represents the worst excesses in the Free-Money party.
During the Financial Crisis, Bank of America ended up with it when it purchased Merrill Lynch, which had acquired it in 2007. In 2009, Bank of America sold First Republic to a group of investors that included private equity firms Colony Capital and General Atlantic.
They sold it to the public via an IPO in December 2010. And then the Free Money party began.
>Full List of Bank Shares That Halted Trading as Panic Spreads
The primary purpose was to pump up the stock price.
First Republic went after the wealth management and private banking business, particularly in Silicon Valley and San Francisco, and then spread out from there.
It provided all kinds of services, such as making loans to startup founders who were sitting on illiquid shares that were at the time highly valued – by Softbank, LOL.
If they wanted to plow several million into a fancy home or needed cash otherwise, they could pledge their illiquid shares as collateral.
But the Free-Money era is over.
Startup valuations have plunged, venture capital has dried up, Softbank's Venture funds have taken huge losses, many startups are facing an existential crisis and will fold, and they're laying off people to lengthen the time they can operate, and shares of many startups that went public via IPO or SPAC have collapsed.
Western Alliance Bancorp is another magnificent stock-pump mirage of the Free Money party.
Its shares more than doubled between early 2020 and peak consensual hallucination in November 2021, and they multiplied by a factor of six since 2014 – a bank stock, for crying out loud!
>Bank Runs Set To Accelerate As Fear And Panic Spreads 13th March
Its shares [WAL] plunged 47% today and since the high in November 2021 are down by 79%, thereby making it into my pantheon of Imploded Stocks.
Like Republic Bank, the chart of Western Alliance shows what kind of stock-pump scheme it was in the era of consensual hallucination (data via YCharts):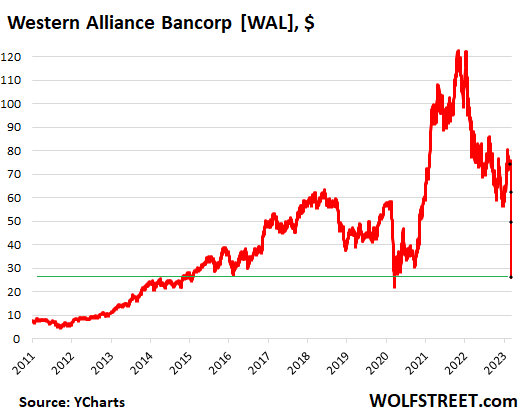 Western Alliance, like Silicon Valley Bank, is heavily focused on catering to businesses through various subsidiaries in different Western States, including Western Alliance Bank.
Its subsidiary Bridge Bank in the San Francisco Bay Area is into "startup banking – tech," and also caters to companies in commercial real estate, biotech, etc. Yup.
Western Alliance too was hit by a magnificent run on the bank.
On March 10, when Silicon Valley Bank collapsed, Western Alliance released "updated financial figures" to show that deposits "remain strong," liquidity "remains robust," and capital remains "strong," with various numbers attached, upon which its shares plunged.
>Bank Runs Set To Accelerate As Fear And Panic Proliferate 13th March
This morning, Western Alliance issued an "updated" 8-K filing with the SEC, which included this statement:
"Since the statement we released last week, Western Alliance has taken additional steps to strengthen its liquidity position to ensure that we are in a position to meet all of our client funding needs, including increasing our borrowing capacity.
As of this morning, cash reserves exceed $25 billion and are growing, while deposit outflows have been moderate. Including accounts eligible for pass-through insurance, insured deposits exceed 50% of total deposits."
Upon which its shares collapsed 47%.!!