>> Parlamento de Brasil aprueba enmienda que congela inversión social por 20 años
 Brazil's Congress voted by 400 to 1 to reject an anti corruption bill signed by 2.5 million citizens, and gave themselves more immunity. Now they vote through massive cuts and  sell off public assets to foreign corporations at bargain prices.
Amid massive protests, neoliberal government installed after coup aims to lock 20-year spending freeze into constitution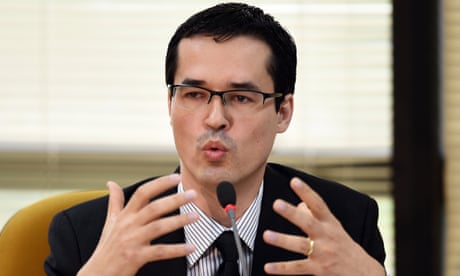 see also:  Brazil Spring:. Who are the Boys and Girls occupying 961 Schools and Universities
Under President Michel Temer, who seized power after a coup ousted the democratically elected Dilma Rousseff, Brazil's first female president, the spending freeze will be locked into the country's constitution.
The senate held a final vote on the measure Tuesday 13th and it  was passed by the servile corrupt politicians.
In response to the news, Philip Alston, the U.N. special rapporteur on extreme poverty and human rights, decried the bill known as PEC55.
"This is a radical measure, lacking in all nuance and compassion," he said in a statement, calling the package an attack on the poor. "It is completely inappropriate to freeze only social expenditure and to tie the hands of all future governments for another two decades. This amendment  will place Brazil in a socially retrogressive category all of its own."
Many feared that Temer's rightwing policies would revert Brazil back to a state of extreme inequality. In September, Venezuelan President Nicolas Maduro said the coup against Rousseff was not "just against Dilma. It is against Latin America and the Caribbean. It is against us. This is an attack against the popular, progressive, leftist movement."
---
Prosecutors and investigators looking into a massive political kick-back scheme in  Brazil's biggest-ever graft scandal have threatened to resign en masse if a move to gut an anti-corruption bill won approval from legislators as the nation mourns an air disaster. The Congress passed the bill in the early hours of Wednesday morning by 450 votes to 1, with changes that would help shield lawmakers from prosecution and weaken the authority of public prosecutors. The anti-corruption bill originated in a petition signed by 2.5 million Brazilians frustrated at widespread graft.
see also:   Gang of Rightwing Robbers Steal Brazil! : to destroy Rights and Biosphere: Huge Resistance!
---
Brazil is Latin America's largest economy and is currently undergoing its deepest recession in decades. Its unemployment rate has doubled since 2015. Nonetheless, Temer has targeted social welfare programs since coming into office. In November, TeleSUR described the bulk of PEC55's policies:
The reform, previously known as PEC 241, freezes public spending rates for the next 20 years by tying any increase to social assistance programs to the previous year's inflation rate rather than GDP rates. This effectively limits what all future governments can spend on health, education and social welfare. Critics argued that the poor and marginalized in Brazilian society will disproportionately bear the burden of the cuts that will significantly undermine rights enshrined in the constitution.
Alston echoed that warning on Friday, stating, "If adopted, this amendment would lock in inadequate and rapidly dwindling expenditure on health care, education, and social security, thus putting an entire generation at risk of social protection standards well below those currently in place."
"It clearly violates Brazil's obligations under the International Covenant on Economic, Social and Cultural Rights, which it ratified in 1992, not to take 'deliberately retrogressive measures' unless there are no alternative options and full consideration has been given to ensure that the measures are necessary and proportionate," he said".
The austerity package comes amid massive protests on the streets of Brazil. Jorge Darze, the president of the Doctor's Union of Rio de Janeiro, told the Guardian, "The situation is very serious. It is very difficult to discuss, because the legislative militarizes its entrance and the public prosecutors office has turned its back. This austerity package is far from solving the economic crisis, and I think it will worsen the social crisis."
see also: Rape and Looting of Brazil Begins, supported by US
Deforestation levels take off in Brazilian Amazon
---
  Total Corruption of Politicians… 400 to 1
 Brazil's Congress voted by 400 to 1 to totally subvert an anti corruption bill signed by 2.5 million citizens, and give themselves  immunity.
Instead, they added penalties, including prison sentences, for abuses of authority committed by judges and prosecutors. 
Brazil's top prosecutor, Rodrigo Janot, said in a statement the changes were clearly aimed at "intimidating and weakening" the authority of prosecutors and the judiciary.
The overwhelming support for the bill reflected concern over an impending plea bargain deal with the country's largest engineering conglomerate Odebrecht, in which executives are expected to inform on bribes paid to as many as 200 politicians in recent years.
The sabotaged anti corruption bill still needs Senate approval.