Waiting to greet our friends with firecrackers and flags on June 3rd
The largest squat and self-managed district in the Spanish state is in Gasteiz and is called Errekaleor and has at least 150 inhabitants. At the moment it is besieged by the Ertzaintza, the Basque police forces in the service of speculation and the Spanish State .
Over 10,000 people came out to defend the occupied anti-capitalist neighbourhood on June 3rd. Dozens were injured or arrested by riot police who dug up the street to cut electricity cables to the barrio.  
The mayor of Vitoria, Gorka Urtaran, has promised that he will destroy the amazing revolutionary Errekaleor project and evict  the occupiers, including many children and a 3 month old baby, whom the PNV politician defined as "anti-system"
We are the biggest occupied space on the Iberian Peninsula, with over 25 acres of land and 150 inhabitants. Among us are children, elderly residents, blue-collar workers, the unemployed, students, teachers, and a variety of local wildlife. Our project includes a 5-acre organic farm, a bakery, a bar, a social center, an old church turned music venue, a library, a theater, a free shop, a recording studio, a publishing house, and a school with language classes.
All of our activities are meant to provide for our basic needs, but also to continually re-enforce our own commitment and understanding of autogestion, consensus, feminism, anti-capitalism, and Basque cultural reinvigoration.
Working on our organic farm.
We see our project as including two axes. We have an internal need to take care of ourselves and actively create our own community, making an environment for ourselves that allows us the security and care that we need, free from the pressures and coercive forces of normal life. On the other hand, we do this in a manner that can serve as an alternative to the political, social, and interpersonal currents that exist outside.
We hope that by constantly integrating our activities with external events and organizations we can offer new models of organization and interpersonal relations that can be taken up throughout the city and the region. All of our projects are made to build and reinforce both of these axes, looking both outward and in.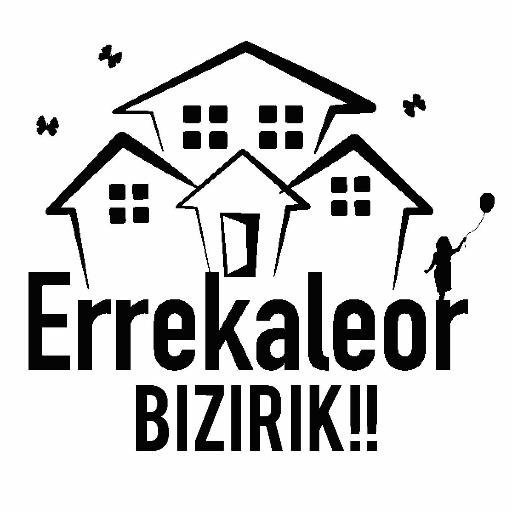 We have been living in this space for close to four years now, quickly growing from a dozen students to a diverse and active neighborhood that is constantly active within the activist movements in Gasteiz and Euskal Herria.
One of our open market days.
History
In the 1950's the neighborhood was built in order to provide housing for the workers that were entering the city due to an industrialization program forced on the region by the dictator Franco. Due to the working-class character of the neighborhood, many of its residents were involved in ongoing labor struggles after the change to democracy in Spain.
In a famous city-wide labor strike, Romualdo Barroso Chaparro, one of residents of Errekaleor, was killed in a police massacre, giving the neighborhood a distinctly militant reputation. As time went by and the city limit expanded to the edge of Errekaleor, this land increasingly became seen as a valuable resource to be exploited by the rich and powerful in the city and beyond. In the 1990's and early 2000's the overwhelming wave of housing speculation, much like that seen in the United States and elsewhere, arrived in Errekaleor.
In a larger process of turning the outskirts of Gasteiz into inhuman concrete jungles of speculated apartment complexes, the city decided to evict the residents of Errekaleor and destroy the historic neighborhood.
By 2010 the city had created yet another proposed development plan for the neighborhood and had forcibly evicted almost all of the old residents of the neighborhood. However, since the economic crisis had proved more than any other temporary bust cycle, and the Spanish housing bubble had burst beyond repair, these plans ground to a halt.
After coercing almost 200 families out of their life-long homes and into concrete developments with no community or human interaction, Errekaleor became a ghost town. As buildings fell into disrepair and copper was stripped from every wall, the few remaining residents had to protect themselves from robbers and intruders.
In this context, in 2013 a group of ten students from the local university occupied one of the 32 buildings that hold six apartments each, after getting permission from the remaining handful of families. From this point on, the neighborhood became known as Errekaleor Bizirik (Errekaleor lives!) and a self-managed project of self-sufficiency and autonomous communal living began.
Here in Errekaleor Bizirik we reject the modern form of life that requires the alienation and separation of individuals in order to create false needs that require the all-to-real exploitative working conditions. In every other neighborhood individuals are made accustomed to being a passive subject of society.
In Errekaleor Bizirik we are made a protagonist and active agent in the narrative of our own lives, from the food we grow to the art we create to the homes we build for ourselves and to the community that we create every day. We do not ask for rights that the government wants to provide for us, rather we actively create our own culture, community, and basic needs.
We see our project as connected to all liberatory struggles worldwide, while clearly set in the context of a longstanding regional struggle for autonomy and cultural recognition. For this reason we are also active outside of our neighborhood, working in militant circles throughout the city, region, and in many distant countries.
Facing off against the police presence on May 18th
What is happening now?
On May 18th, 2017, workers from the ex-public electrical company now called Iberdrola and seven vans of riot police entered Errekaleor to cut the electrical supply to the neighborhood. Due to a determined group of 10 residents chained themselves together in front of the general transformer, and the active resistance of close to a thousand friends and family, the company was not able to enter the electrical room.
However, they were able to access the main electrical cable. Cutting this line they not only took away the lights and stoves of student occupiers, but of families, children, a recently born baby, elderly and homebound residents, and of multiple nearby houses with ongoing contracts for their electricity.
Throughout the day there was a spirited resistance that resulted in the constant harassment of workers and police in their work and significantly delayed and interrupted their progress. At the end of the day we have three of our family facing charges and dozens of injured, with many having to seek medical treatment from our own medical services and the hospital.
Even now, close to a week later, many people have their arms and legs in casts and slings as a result of police aggression during a passive resistance.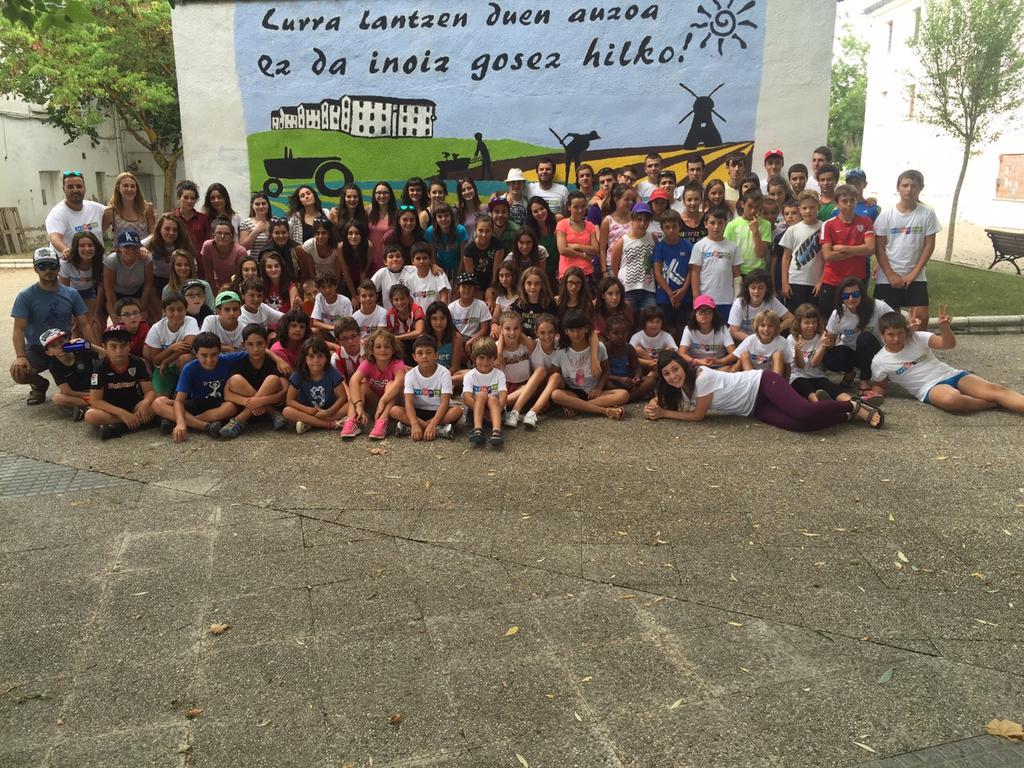 While the local government claims that this was done for our own safety, we know this to be a transparent excuse to begin their long-awaited effort to evict us from our homes. Not only do we have the certification of various professional electricians that our infrastructure exceeds that of the legal requirements and many other neighborhoods, but the mayor of Gasteiz himself stated that this was part of an eviction process and had nothing to do with security.
---
Together with La Esperanza at Gran Canaria, Errekaleor is one of the biggest occupied spaces in Spain and the biggest in Basque country. The houses in the neighbourhood were build in the 1950's for migrants from the south of Spain who worked in the factories in the north. In the beginning of the 1980s the neighbourhood was slowly abandoned, due to the poor quality of the houses, the distance from the city center and declining industrial employment.
---
With the threat of eviction imminent, we are now working long days and nights installing an environmentally sustainable and independent electrical system, and preparing for the coming confrontation.
On June 3rd, we held a march that brought together 10,000 individuals and dozens of organizations from across Europe. With tractors and Joaldunak dancers leading the way, our 15 columns marched throughout the city, and entered our neighborhood where residents had taken position on the roofs with firecrackers and flags.
Thousands of people stayed for hours, some getting to know the space for the first time and many enjoying one of their favorite places in the city. Watching families, students, the elderly, all from a hugely diverse set of backgrounds, only reaffirmed to us the value of our project.
But while this was an amazing day, it was only the beginning. Now comes the long road of defense, building a sustainable and independent energy grid for our neighborhood, and barricades for those who would take it from us.
What can you do?
If you are anywhere near Euskal Herria, you are invited to come visit our project and participate in our many cultural, political, and musical events. For those of you that are too far away to personally attend, feel free to make a quick call to the mayor of Vitoria-Gasteiz Gorka Urtaran at +34 945 16 13 82 or +34 945 16 13 83 or send us a message at errekaleorbizirik@gmail.com!
Any type of international solidarity means the world to us and can make a real difference in the attitudes of the local government here. As well, we have just launched a coopfunding campaign in order to pay for the installation of solar panels and other sustainable energy options now that we are off the grid, to supplement our own bicycle electricity generators that we are currently building.
Once this infrastructure is in place, we will be the largest zero-carbon neighborhood in all of Europe, to our knowledge.
But most importantly, we hope you will do anything you can both today and in the future to create new liberatory moments and spaces. By building a freer world wherever you are, you are supporting our work here as well.
Gero Arte!         Errekaleor Bizirik
---
La resistencia de un barrio okupa en Gasteiz, ejemplo de defensa social noviolenta
Actualmente está cercado por la Ertzaintza, las fuerzas policiales vascas al servicio del orden propio de esta sociedad postcapitalista y sus poderes más localistas.
 El alcalde de Vitoria, Gorka Urtaran, ha prometido que derribará Errekaleor quieran o no quieran sus actuales vecinos, a quienes el político del PNV definió como "antisistema"
¿Una niña de dos meses antisistema?, ¿un anciano de más de 70 años?, ¿un centro cultural?. A veces los alcaldes pasan de la temeridad a la comicidad y dan entre risa y lástima. Es el caso.
Errekaleor es el esqueleto que el anterior alcalde del PP, Alfonso Alonso, pretendía convertir en un nuevo diseño residencial al uso de los tiempos aquellos en que las políticas liberalizadoras del suelo acabaron por construir el desastre inmobiliario con el que nuestros ricos y sus representantes políticos nos atizaron y empobrecieron. Luego vino la gran crisis, la gran estafa, y el faraónico proyecto del alcalde Alonso se fue al traste.
Pero los vecinos del barrio fueron, no obstante, expulsados del barrio y obligados sin piedad a realojarse en otros lugares. Necesitaban en suelo libre para el negocio.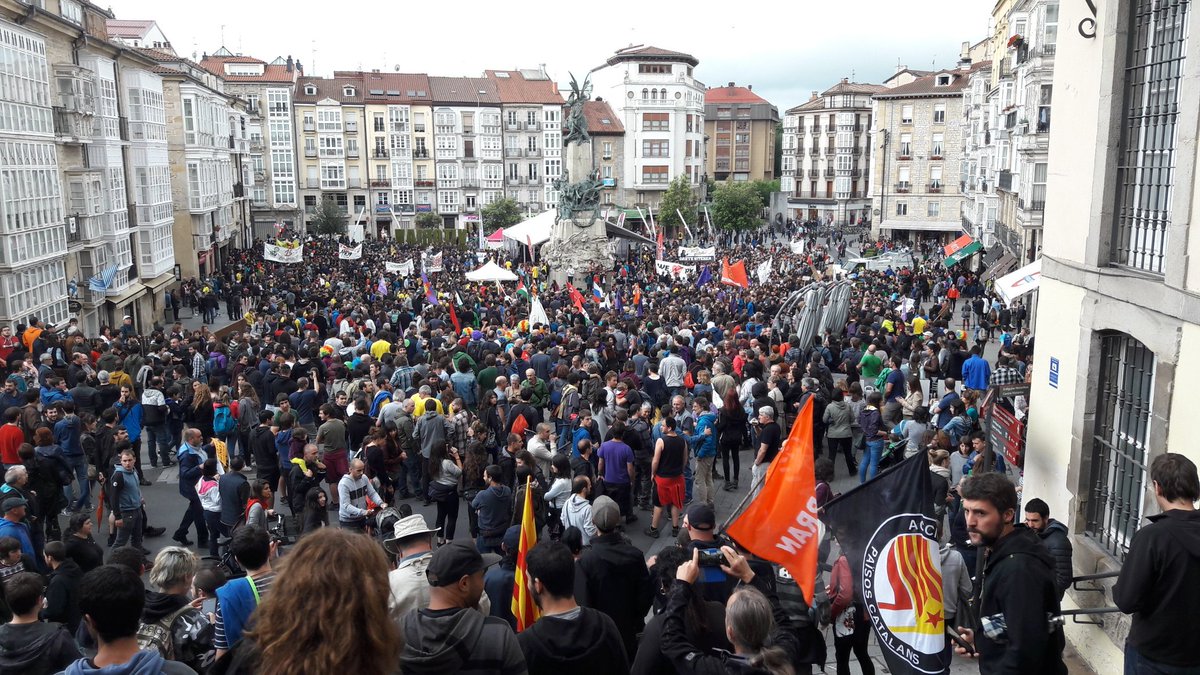 En septiembre de 2013, varios jóvenes se instalaron en uno de los portales vacíos. Fue la mecha que encendió la llama: en apenas unos meses, la vida volvió a esta desolada zona del extrarradio de Vitoria. El barrio renació y ahora es el mayor barrio autogestionado del Estado y con su funcionamiento abre una brecha que el decrépito poder de este decadentoso régimen no puede cerrar.
Hace pocos días Iberdrola cortó la luz a todo el barrio. El Alcalde tiene como objetivo desalojarlo y tirar, casa a casa, hasta la última piedra. Es intolerable, debe pensar, que a la gente la de por vivir a su manera y, de paso, nos jorobe las brillantes ideas urbanísticas con las que encandilamos a los votantes. Hay que dar ejemplo de seriedad y eficacia administrativa.
La gente prefiere decidir su propio destino a su manera y defiende lo que considera que ha de defender. En este caso la vida del barrio donde viven, frente a los intereses políticos de quienes tan desastrosamente nos conducen por el filo de un precipicio y aspiran a que les consideremos nuestros defensores.
Esta historia ya la hemos vivido en otros lugares y en otras épocas. Vecinos que tejen la convivencia en un sitio dejado a su suerte e intereses económicos y políticos que en un momento dado deciden que hay que echarlos a todos.
La historia, corta historia de menos de cinco años, de la lucha del barrio de Errekaleor, es en parte un ejemplo más de la lucha social de la gente por lo que le interesa defender frente a lo que los de arriba quieren defender en nuestro nombre y llaman seguridad. Seguridad humana frente a un enfoque de seguridad de los intereses de los de arriba.
El conflicto es inevitable.
Mientras se incorporaban nuevos vecinos y se ponían en marcha distintas iniciativas para rehabilitar la zona, los grupos municipales de PNV, PSE y PP se unían para advertir que no lo tolerarían. A finales del año pasado, la sociedad pública Ensanche 21 (que se reivindica como titular de este gigantesco espacio) decidió presentar una demanda de desahucio contra todo el barrio. La medida fue promovida por los representantes del PP y apoyada por PNV y PSE.

En ese contexto, el pasado jueves 18 llegaron varias dotaciones de los Antidisturbios de la Ertzaintza, quienes hacían de escoltas de un número más reducido de técnicos de Iberdrola. La misión de estos últimos era cortar la luz, mientras que los primeros se encargarían de apartar a quienes se pusieran en el medio. Así pudieron constatarlo los numerosos jóvenes que rodearon el transformador de la zona y que fueron sacados a rastras por los policías. Así, entre forcejeos, Iberdrola cumplió su cometido. Según explicó la Policía Autonómica, detrás del operativo se encontraba el departamento de Industria del Gobierno Vasco, que había solicitado el corte de energía por cuestiones de "seguridad".
Pero los vecinos defienden lo que quieren defender y no se dejan amilanar. Es una lucha social y ahora han tenido una nueva idea que demuestra la eficacia de la defensa de la seguridad humana con metodologías de acción directa noviolenta, con estrategias de lucha social y con fórmulas de organización autogestionada y de base.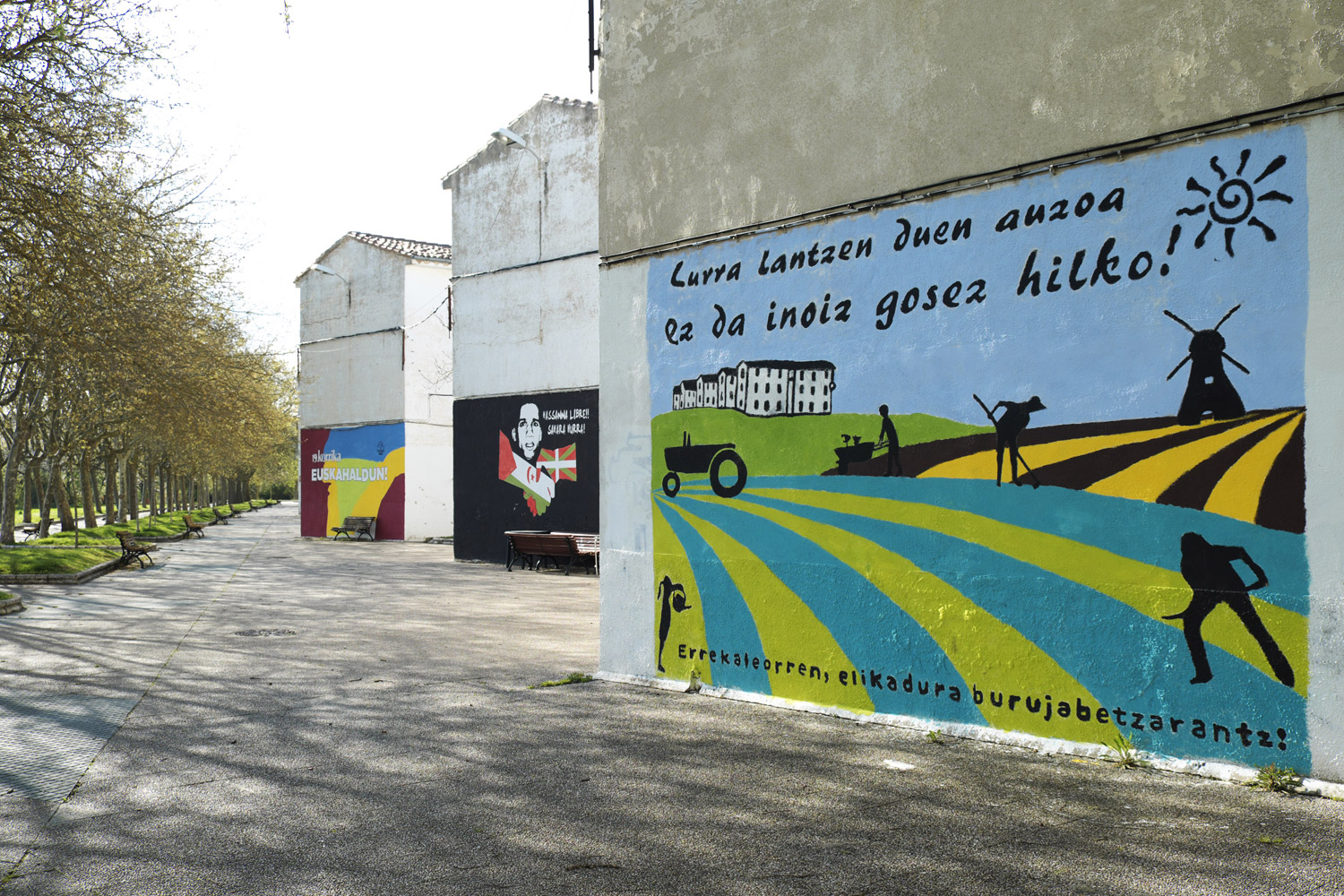 Los vecinos han iniciado un trabajo para autoabastecerse de electricidad y luz con energías limpias. Una vez que la coacción del ayuntamiento e Iberdrola les ha liberado de la atadura de las energías promovidas por el lobby energético, los vecinos han decidido generar energía limpia y solidaria y demostrar que hay vida más allá de Iberdrola y el muro de la Ertzaintza. Otro ejemplo que apunta al futuro que esta lucha social quiere construir y al pasado que denuncian y rechazan.
Donde los malos esperaban una coacción intolerable, han abierto sin quererlo una oportunidad a la creatividad y liberación de la gente.
Una semana después de ser apaleados por la Ertzaintza, los 150 vecinos de Errekaleor, el barrio autogestionado más grande del Estado, buscarán convertirse en la "mayor isla autosuficiente del sur de Europa". El plan ya está diseñado: en los próximos días, la asamblea barrial pondrá en marcha una campaña de apoyo, dirigida a hacerse con 550 placas solares que permitirían dar luz a todas las casas de esta antigua zona obrera de Vitoria, contra la que hoy cargan (además de la Policía Autonómica) los responsables del PNV, PSE y PP.
La lucha empieza a ser conocida en otros lugares. El barrio aspira a ser el más grande barrio autogestionado y autosostenible del Sur de Europa y desata la simpatía y la solidaridad.
Así lo confirmaba el colectivo Errekaleor Bizirik (Errekaleor Vivo) desde su cuenta en Twitter, donde daba pistas sobre el futuro que intentarán construir. "¡Primer tweet sostenible! Hemos colocado la primera placa solar. Con tu ayuda serán muchas más", anunciaban. Según señalaron a Público sus portavoces, la campaña será presentada formalmente el próximo sábado 3, en el marco de una manifestación a favor de este proyecto autogestionario que se realizará en la capital alavesa.
´Nos alegra este ejemplo que apunta directamente a la seguridad humana y a la defensa de lo que la gente quiere defender. Un ejemplo de defensa noviolenta que nos enseña además que podemos aspirar a otra defensa y a derribar la defensa militar.