11 passengers were finally evicted from a Vueling flight after refusing to sit down in a failed attempt to stop the deportation of a handcuffed Senegalese immigrant on the same flight.
"When I looked into the eyes of the deported boy, it became clear to me that humanity had to prevail over legality" said one of them. The passengers are demanding new tickets and that no charges be made against them. the previous Saturday there was a similar incident.
In a separate development anti deportation activists have published the above poster to alert supporters about a deportation flight to Guinea Conakry on July 24th 2017.
The Spanish State has bought agreements with most north african states to accept entry of poor and undocumented black deportees.
The publication of this poster has sparked sporadic hunger strikes and protests by over 40 prisoners inside the Internment Center in Barcelona where hundreds of immigrants, mainly with no previous convictions are imprisoned awaiting deportation.
Although the Catalan government and Barcelona Council have voted to close the prison the rightwing central govt has forced it to stay open.
press conference yesterday of activists against deportations in Barcelona
The BBC Report
Spain passengers on Vueling jet delay migrant deportation
A group of passengers could face hefty fines after delaying a Vueling flight in Barcelona out of sympathy with a Senegalese migrant on board.
The Senegalese man, in handcuffs, was eventually deported to Dakar on the flight. The jet took off after police had come on board to stop the protest.
The 11 protesters could be fined up to €225,000 (£197,000; $258,000) each for endangering flight safety.
The protest delayed both that flight and the return flight from Dakar.
Spanish media report that the Barcelona-Dakar flight was delayed by two-and-a-half hours at El Prat airport on Saturday, after all the passengers had been ordered off the plane.
When they boarded again, 11 passengers – identified by police as protesters – were not allowed through.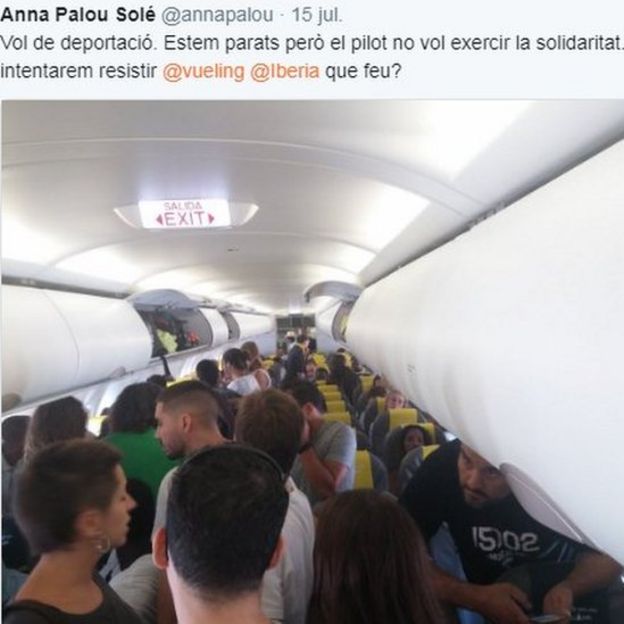 A Spanish journalist, Anna Palou, tweeted a video clip showing the protest on the budget airline jet.
The clip showed several passengers blocking the aisle and bore the message in Catalan: "We have succeeded! Flight of deportation stopped. Now the authorities are coming to take the person away! Solidarity is our best weapon!"
The BBC has approached Vueling for comment on the incident.
Italy delays migrant citizenship law
The deadly Spanish route attracting migrants to Europe
Trying to stop ships rescuing migrants
Witnesses quoted by Spanish media said the sympathy protest started on the plane when the Senegalese man, escorted by two border guards, complained loudly about being deported.
Lacking any work or residence permit, he had been refused entry to Spain, the Efe news agency reported.
The delay meant that the return flight from Dakar had to be postponed to Sunday, forcing Vueling to pay for the overnight accommodation of 176 passengers.
The incident prompted anti-deportation activists to rally at Seville airport on Sunday. The activists, from the group Caravana Abriendo Fronteras (Open Borders Caravan), staged a noisy protest in the airport terminal.
The numbers of migrants and refugees arriving in Spain from Africa this year have increased compared with the same period (January-July) last year.
The International Organization for Migration (IOM) says 6,973 had arrived in Spain by sea as of 11 July, compared with 2,476 in the first half of last year.
However, far more took the Central Mediterranean route to Italy.
---
La Directa Reports translated
Eleven passengers were expelled from a Vueling plane when they protested for forced deportation
It is the second consecutive Saturday that the passengers have tried  to avoid the expulsion of migrants. On this occasion, however, the Civil Guard has identified protesters who have lost their flights
The flight of Vueling VY7888 to Dakar had to leave at 4:25 p.m., but finally left after 19:00.About fifteen passengers refused to sit in the seats as a protest signal. They wanted to prevent a youth who was kneeling by the wrists and escorted by two police officers being deported to Senegal.
By order of the captain, all the passengers left the plane and the military police have identified six – at first -, indicated by agents of the Civil Guard's , as Anna Palou explains. The agents informed the six passengers that they could not fly and that they should leave the restricted zone of the airport.
According to the affected, the pilot would file a complaint against them, accusing them of "creating danger to fly" and preventing them from returning to the plane. The rest of the passengers  moved back to the plane, along with the crew, and it was then when five other people protested because the migrant was still handcuffed on board.
The military police then expelled them by order of the pilot and captain of the airship.
According to CNA, the police also tried to deport two boys to Dakar last Saturday – Vueling has a weekly Barcelona-Dakar flight – and protests by passengers prevented it.
Palou, a member of 'Stop Mare Mortum', explains that, he six passengers who had protested were forced to go down and carried by a shuttle to the airport terminal.
They have filed a complaint with Vueling's offices and do not rule out legal action to report the facts. Finally, the forced deportation of the migrant has been confirmed.
The fourth deputy mayor of the Barcelona City Council Jaume Asens expressed his concern with a message to the social networks: "We are concerned about the situation of passengers flying BCN-Dakar VY7888 held at the airport in defense #DHH. We want explanations at @ vueling And the Civil Guard ".
At the end of 2016, the award of the contract for the air transport of migrants to the Centers of Internment for Foreigners (CIE) and their countries of origin was made public in case of being repatriated.
---
"When I looked into the eyes of the deported boy, it became clear to me that humanity had to prevail over legality"
The people expelled from Vueling's flight last Saturday demand that no judicial proceedings be initiated against them and they be compensated for being left on the ground. The passengers were evicted and detained after they protested against the deportation of a Senegalese youth
---
The transport, that had been in the hands of Air Europa and Swiftair in the two previous tenders, has passed to a temporary Union of Companies (UTE), formed by the Evelop airline, the Portuguese Orbest and Air Nostrum, the Iberia subsidiary, whose low cost company is Vueling.
The budget is 11,880,000 euros for 18 months, but the final cost depends on the number of flights and the cost of each one.
As La Directa was published this week, it seems that on Monday July 24, a macro-flight of deportation to Guinea Conakry is being organized. For this reason, about fifty interns at the CIE in Barcelona started a hunger strike and forty-one continued intermittently.
Paremos los vuelos de deportación de inmigrantes @Stopdeportacion es un Grupo … Confirmamos que el lunes 24 de julio habrá un vuelo de deportación con destino Guinea Conakry. ….
original in Catalan
Onze passatgeres expulsades d'un avió de Vueling quan protestaven per una deportació forçosa
És el segon dissabte consecutiu que el passatge intenta evitar l'expulsió de persones migrants. En aquesta ocasió però, la Guàrdia Civil ha identificat les persones que protestaven, que han perdut els vols
Les passatgeres en el moment de l'incident
El vol de Vueling VY7888 destí a Dakar havia de sortir a les 16:25 h, però finalment ho ha fet passades les 19 h. Prop d'una quinzena de passatgeres es negaven a seure als seients en senyal de protesta.
Volien evitar que un noi que estava amordassat pels canells i escortat per dos policies fos deportat cap al Senegal. Per ordre del capità han fet sortir de l'avió totes les passatgeres i n'han identificat sis –en un primer moment–, assenyalades per agents de paisà de la Guàrdia Civil, segons explica Anna Palou. Els agents han comunicat a les sis passatgeres que no podrien volar i que haurien d'abandonar la zona restringida de l'aeroport.
Segons les afectades, el pilot hauria interposat una denúncia contra elles, acusant-les de "generar perill per volar" i impedint així que tornessin a pujar a l'avió. La resta del passatge l'han traslladat de nou a l'avió, juntament amb la tripulació, i ha estat aleshores quan altres cinc persones han protestat perquè el migrant encara era dins –lligat–. Els guàrdies civils de paisà han assenyalat a cadascún dels passatgers i també els han expulsat per ordre del pilot i capità de l'aeronau. Segons Tanquem els CIE, el dissabte passat la policia també va intentar deportar dos nois cap a Dakar -Vueling té un vol setmanal Barcelona-Dakar- i les protestes de les passatgeres ho van impedir.
Abriendo Fronteras protesta por la deportación del migrante en El Prat Abriendo Fronteras protesta en Sevilla por la "deportación" del migrante desde El Prat y habla de negocio del Estado con las aerolíneas.
Palou, membre d'Stop Mare Mortum, explica que, en un primer moment, el pilot els ha dit que tenien la llibertat de baixar del vol, però que ell compliria amb el que li tocava. Poc després han portat el noi senegalès al fons de l'avió amb la intenció de baixar-lo. Les sis passatgeres que havien protestat han estat forçades a baixar i les han portat amb una llançadera fins a la terminal de l'aeroport.
Allà han sabut que la resta del passatge estava a punt d'enlairar-se de nou amb l'avió, un vol que elles no han pogut agafar i d'on altres cinc viatgeres havien estat expulsades. Han presentat una queixa a les dependències de Vueling i no descarten emprendre mesures legals per a denunciar els fets. Finalment s'ha confirmat la deportació forçosa del migrant.
El quart tinent d'alcalde de l'Ajuntament de Barcelona Jaume Asens ha expressat la seva preocupació amb un missatge a les xarxes socials: "Ens preocupa situació passatgers vol BCN-Dakar VY7888 retinguts a aeroport en defensa #DDHH. Volem explicacions a @vueling i Guàrdia Civil".
A finals del 2016, es va fer pública l'adjudicació del contracte del transport aeri de migrants als Centres d'Internament d'Estrangers (CIE) i als seus països d'origen en cas de ser repatriats. El transport, que havia estat en mans d'Air Europa i Swiftair les dues licitacions anteriors, va passar a una Unió Temporal d'Empreses (UTE), formada per l'aerolínia Evelop amb seu a Palma, la portuguesa Orbest i Air Nostrum, subsidiària d'Iberia, la companyia low cost de la qual és Vueling.  El pressupost és de 11.880.000 euros per a 18 mesos, però la despesa final depèn del número de vols i el cost de cada un.
Tal i com va publicar la Directa aquesta setmana, tot apunta que el dilluns 24 de juliol podria organitzar-se un macrovol de deportació amb destí a Guinea Conakry. Per aquesta raó, una cinquantena d'interns al CIE de Barcelona van començar una vaga de fam i una quarantena l'han continuat de forma intermitent.