We send our warmest revolutionary greetings to all comrades who took part in the hunger strike and the many resistance actions and congratulate the free peoples on this victory.
Ocalan in the past has declared long ceasefires with the Turkish State rejecting terrorism and separatism  in favour of 'municipal anarchist' communal ideas and feminist emancipation which have swept through the over 15 million Kurdish population.
On November 8, 2018 the Kurdish politician Leyla Güven had started her hunger strike to lift the total isolation against Abdullah Öcalan, the representative of the Kurdish people and philosophical thought leader of the revolution in Northeast Syria.
More than 7000 political prisoners in the dungeons of the AKP-MHP regime and dozens of activists in all parts of Kurdistan and Europe joined this historical resistance and went on an indefinite hunger strike. 30 prisoners recently went to a death fast and found themselves in a critical situation. A total of 8 comrades sacrificed their lives in the prisons and in the Federal Republic of Germany in actions of protest. Many more will suffer permanent damage to their health.
Finally after a long series of mass murders, tortures, imprisonments, bombings and invasions on his way to absolute power the dictator Erdogan has been forced to partially relent in the face of thousands fasting to death plus international pressure, electoral debacle and economic recession.
---
see also: How Ocalan Transformed the PKK into Anti-Terrorists
Erdogan arrests 735 more Kurds as Peace Hunger Strikers near Death
---
Today we can state with great joy that this courageous and self-sacrificing resistance was crowned with success. On May 22 the lawyers of Abullah Öcalan were once again allowed to visit their client on the prison island Imrali and he addressed his message to the fighting activists and the whole world publicly. For eight years our friend, comrade and thought leader Abullah Öcalan was kept under total isolation and cut off from any contact with his lawyers and from the outside world since April 2015.
Yonca is dead!Yonca Akici was in Şakran's women's prison for four years for her ideology and political militancy, feminist and anti-fascist. On March 29, she tried to put an end to his life to protest against the isolation of Kurdish leader Abdullah Öcalan. She died on April 1st.
Öcalan is today not only the political representative of the Kurdish people and not only the idea giver of the revolutionary project in Northeast Syria, but also the most important theorist of socialism in the 21st century. His paradigm of a grassroots democratic, ecological society based on the liberation of women has become a source of inspiration and a source of new courage for revolutionaries worldwide.
Thus solitary confinement is not only an attack on the Kurdish people but at the same time an attack on the democratic future of the Middle East and on all people fighting for a free tomorrow. The Revolution of Rojava has been the practical proof for seven years that Öcalan's theories can show a way out of the chaos in the region. They are a solution beyond the nation state, religious fundamentalism and imperialist intervention, which gives the peoples of the Middle East their destiny back into their own hands.
ver también: Cesa la huelga de hambre tras el mensaje de Abdullah Öcalan
We are therefore, of course, delighted to receive news from Abdullah Öcalan and to see the AKP-MHP regime fall to its knees in the face of this historic resistance. Nevertheless, we must stress that the goal of Abdullah Öcalan's freedom is far from being achieved with a few visits by lawyers.
Nothing has changed in the rapprochement of the Turkish state and imperialism towards the revolution. Our common international resistance drove them into a corner but the struggle has only just begun.
Abdullah Öcalan's call for the creation of a free and new Syria and a democratic Turkey, as communicated today by the lawyers to the peoples of the region and to the world public, is a great challenge for all revolutionary and democratic movements. Just as we have fought for this success together, it is up to us to take the next steps.
We send our warmest revolutionary greetings to all comrades who took part in the hunger strike and the many resistance actions and congratulate the free peoples on this victory.
Freedom for Abdullah Öcalan!
Down with Turkish fascism!
The revolution in the Middle East will win!
Internationalist Commune of Rojava
Democratic Federation of Northeast Syria
26.05.19
Source: Internationalist Commune of Rojava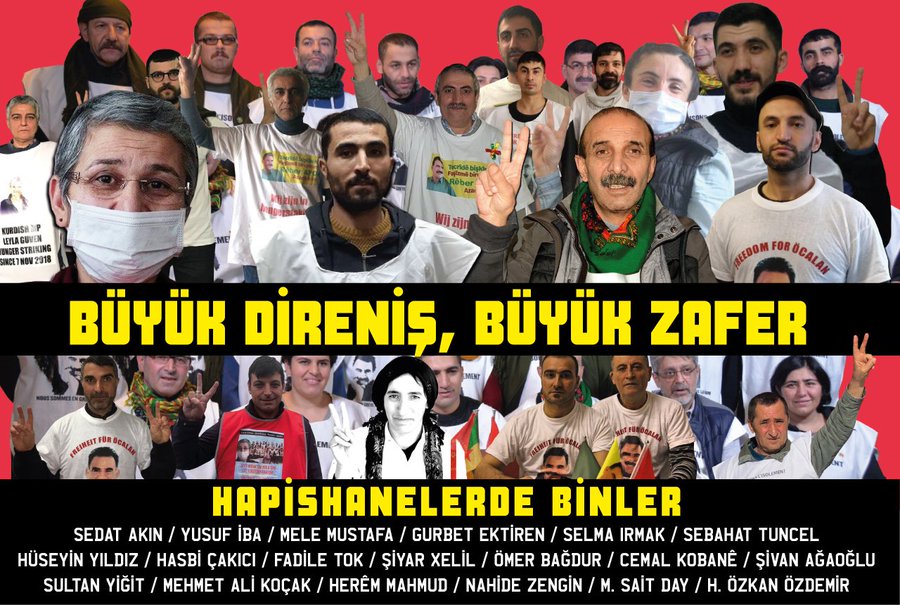 #HungerStrikeVictory
Kurdish activists called off hunger strike following Öcalan's message
Thousands of prisoners and activists around the world were on hunger strike demanding the end of the isolation against Abdullah Öcalan
Asrın Law Office lawyers advocating Kurdish People's Leader Abdullah Öcalan held a press conference regarding their meeting with their client on May 22nd.
The statement of the lawyers said the following;
We had another meeting with our client Mr. Öcalan on 22 May in the İmralı Island Prison.
Mr. Öcalan once again emphasized the importance of the text he previously shared with the public. He expressed his content with the debates on the text with seven points, co-authored by our four clients on 2 May 2019. He was of the opinion that Turkey's fundamental need was a debate on social consensus, democratic politics, democratic negotiation and an honorable peace.
---
Medya Çınar (25 de març, presó de Mardin tipus E)
– Zehra Sağlam (24 de març, presó Oltu Type-T).Zehra Sağlam (Suicide in hunger strike protest ..
– Uğur Şakar is dead. He set himself on fire in protest at the isolation of Ocalan. (21 de febrer, Alemanya),
He also said he would do his part to make these points the core values of Turkey's politics. He also added that everyone was aware of the hope and the setting in Turkey, created by the approach and stance in 2013, and that his message should be discussed further.
As he did during the previous meeting, Mr. Ocalan reminded that the permission to have these meetings did not mean the presence of a negotiation process. He said his messages were to all the democratic forces, the political structures of various ranges in Turkey and the Turkish state. Regarding his stance, he also said "We will see how these circles will react 30-40 days later". We understood that he did not make any comment regarding the reaction of these circles for now.
The message, which contained seven points and was presented to the public on 6 May, explained how the solution to issues in Rojava, Northern Syria, SDF and Syria should be. He reiterated his opinions on this issue. Mr. Ocalan said that if given the opportunity, he would play a positive role for the issues in Syria, including the Kurdish issue, within Syria's territorial integrity. He emphasized that his ideas and suggestions for solution would solve the problems in Syria, and that the fundamental rights of the Kurds and other communities should be constitutionally secured.
It is a fundamental necessity that these discussions are carried out in a way that could lead to deeper and historical results, and they should not be compressed into daily, narrow political agendas. In this manner, we would like to remind that Turkey and the Middle East have historical and profound problems and Mr. Ocalan said that these problems could be resolved with rational, political and cultural approaches.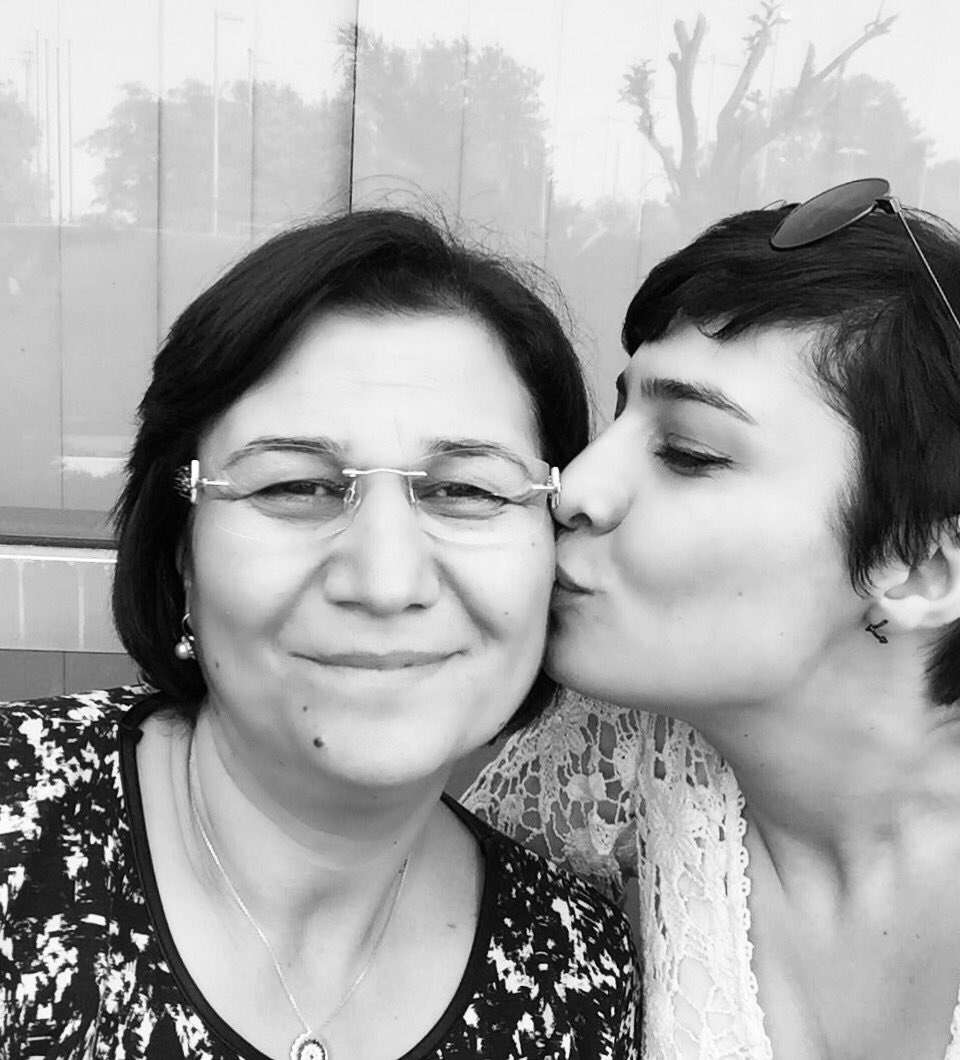 Leyla and her daughter, before her epic victorious hunger strike
Imrali isolation is not only a serious legal problem, but also a phenomenon that politically undermines the climate of peace in Turkey. Turkey has witnessed Mr. Ocalan's positive impact on the country when he was able to even partially perform his role as a political subject and present his solutions to fundamental problems. In the last four years of the aggravated isolation on Mr. Ocalan, war, chaos and crisis have intensified in Turkey and the region, and pessimism has dominated over all the social structures.
On the other hand, we have seen that when Mr. Ocalan was able to share his opinions even in a limited way for twice in the last 20 days, hope in a different and new perspective for the rapidly deepening problems has raised.
In these meetings, we clearly observed that Mr. Öcalan had maintained his position to solve the problems based on a dignified peace through democratic resolution and he was hopeful and confident for the future.
We hereby express our belief that democratic public opinion should take responsibility and be a follower of the process in order to overcome the immoral attitude that has been exhibited for many long years in İmralı Prison as a whole. It is a legal responsibility, as well as a moral responsibility of the administrative and judicial authorities to fulfill their responsibilities to ensure that the establishment of legal rights is provided without any conflict and discrimination,
Although several topics were discussed within the context of the meeting, the main agenda item was the hunger strikes and death-fasts that has come to a critical stage.  ……………… continues below
---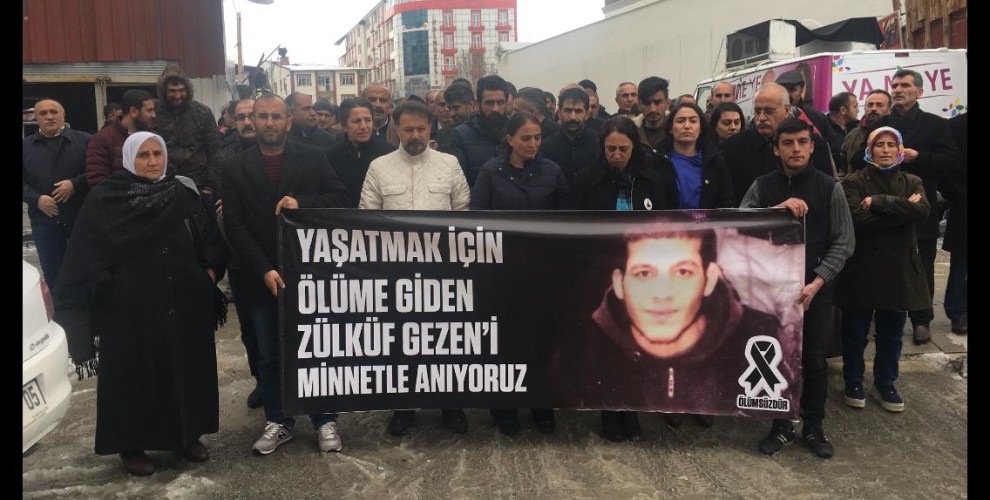 The first to die was – Zülküf Gezen (17 de març, presó de tipus F Tekirdağ n º 2), aged 30, serving his sentence since 2007 for membership of the Kurdistan Workers Party, PKK.He was sentenced to perpetual imprisonment. His family say he hanged himself to draw attention to the isolation of Ocalan. 
Turkish anti-riot police block members of the pro-Kurdish Peoples' Democratic Party (HDP) trying to visit the grave of Kurdish activist Zulkuf Gezen. Photo: Ilyas AKENGIN / AFP
---
In this interview, Mr. Öcalan expressed his gratitude for the will and dedication of the activists and considered this attitude as an honorable stance. At the same time, he found the attitude of the mothers to be very important and highly appreciated their value. We hereby send his special greetings to the mothers.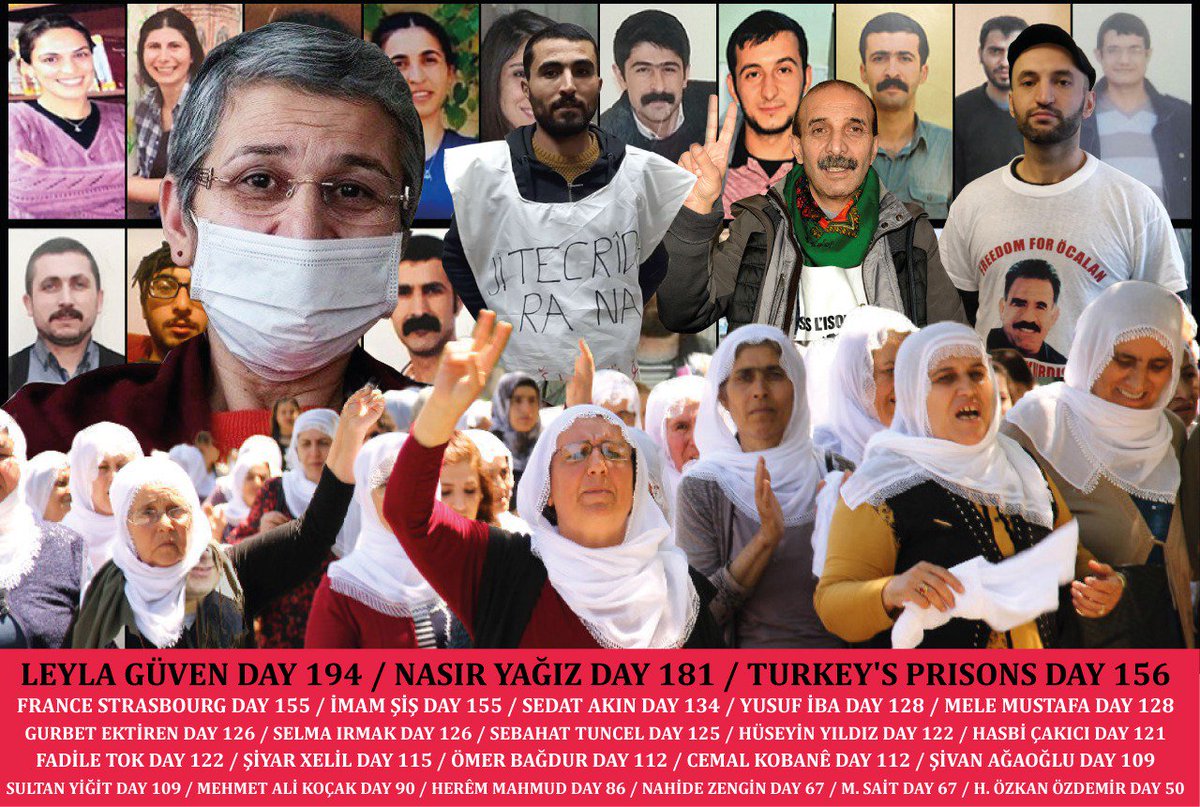 During the meeting, Öcalan insisted on his call for the termination of hunger strikes and death-fasts, which have achieved their goals. After this call, we believe that strikers will terminate the action.
Our client stated that if talks were not held in the future, it could be protested by a political struggle, but actions such as hunger strikes and death-fasts should be avoided.
He stated that the main thing is a culture of democratic political struggle and that it is more important for the strikers to be physically, spiritually and mentally healthy. Using Gandhi as an example for his hunger strike, he said that Gandhi made his hunger strike meaningful by his social struggle.
"Suspicious"Tourists to be Arrested at Turkish Airports. says Minister
300 on Hunger Strike – How Ocalan Transformed the PKK into Anti-Terrorists
TURQUÍA | Las huelgas de hambre vencen al fascismo
Las organizaciones miembro de la Red Sindical Internacional de Solidaridad y de Luchas aplauden la acción de las personas kurdas que se encuentran en huelga de hambre y de quienes les apoyan; apoyamos la lucha contra el régimen fascista de Erdogan y la revolución kurda. Copiamos a continuación un comunicado del Consejo Democrático Kurdo en Francia que hacemos nuestro.
Red Sindical Internacional de Solidaridad y de Luchas
Enviado por RojoyNegro_Digital el Sáb, 01/06/2019 – 03:46.
La resistencia de las personas en huelga de hambre ha hecho retroceder al fascismo en Turquía
Al anunciar el comienzo de su huelga de hambre el 7 de noviembre de 2018, Leyla Guven, diputada kurda del Partico Democrático de los Pueblos (HDP), declaró:
"Me comprometí activamente con la política influenciada por la perspectiva el líder del PKK Abudllah Ocalan, que promovía la participación política de las mujeres.
Hoy, el aislamiento impuesto a Ocalan no se ejerce contra una sola persona, sino contra todo un pueblo. El aislamiento es una violación de los derechos humanos. En tanto que miembro de este pueblo, inicio una huelga de hambre indeterminada y sin relevos para protestar contra el aislamiento impuesto a Ocalan.
A partir de ahora, no me defenderé más ante los tribunales. Llevaré adelante mi acción hasta que la justicia ponga fin a sus decisiones injustas y se ponga fin al aislamiento. Si es necesario, transformaré mi acción en el ayuno de la muerte".
El movimiento se ha extendido a las prisiones, a Hewlêr (Erbil), Makhmour, Estrasburgo, París, Inglaterra, los Países Bajos, Alemania, Canadá, Austria, Suiza. A él se le han sumado progresivamente miles de personas. Se ha convertido en un movimiento de resistencia sin precedente contra el fascismo.
Miles de personas han puesto sus vidas en juego para denunciar el aislamiento, las violaciones de derechos humanos y las masacres cometidas por la dictadura de Erdogan, así como para llamar la atención sobre el peligro que este régimen fascista representa para el Kurdistan y todo Oriente Medio.
La determinación de los y las huelguistas de hambre ha tenido efecto en el régimen de aislamiento total impuesto a Ocalan: después de 8 años de prohibición de visitas, el líder kurdo se ha podido encontrar con sus abogados.
Esta victoria se la debemos también a las madres de todas estas personas, presas políticas, que se han manifestado sin descanso delante de las prisiones y en las calles en apoyo a sus hijos e hijas. Han afrontado por ello la represión, la violencia policial y un trato humillante. Ellas han roto las cadenas del aislamiento.
Su velo blanco tradicional se ha convertido en un símbolo de resistencia contra el aislamiento y el fascismo. No hay que olvidar tampoco a todas aquellas personas, también presas políticas y militantes, que no han encontrado otro medio que darse muerte para denunciar el fascismo y la dictadura en Turquía: Umit, Zulkuf, Ayten, Medya, Zehra, Ugur, Yonca, Siraç.
Frente a la resistencia, que ha sido ampliamente transmitida a Europa y en particular a Estrasburgo por las huelgas de hambre y las manifestaciones de apoyo, el régimen fascista de Erdogan está empezando a recular. Permitió en un primer momento, en enero, que el hermano de Ocalan le visitara y luego autorizó a sus abogados que se reunieran con él por primera vez el 2 de mayo y por segunda el 22 de mayo.
Después de este último encuentro, Abdullah Öcalan ha remitido a sus abogados un mensaje llamando a los y las huelguistas de hambre a que pongan fin a su acción, toda vez que esta ha alcanzado su objetivo.
En respuesta a este llamamiento, Leyla Guven y el resto de presas políticas y de personas implicadas en este vasto movimiento en todo el mundo anunciaron el domingo 26 de mayo que ponían fin a su acción. Se ha logrado una victoria contra el aislamiento, pero la lucha por la liberación de Ocalan y contra el régimen fascista turco continúa.
http://www.laboursolidarity.org/TURQUIA-Las-huelgas-de-hambre?lang=es