Ever since the Indonesian mass killings 50 years ago the State has been ruled by far right authoritarian capitalists whose reign of corruption and colonialism continues to destroy native languages and cultures and literally bulldoze the environment.
In West Papua, Indonesia, we investigate allegations of fraud and human rights abuses in billion-dollar land deals.
25 Jun 2020 15:53 GMT Human Rights, Indigenous rights, Indonesia, Land grabs, South Korea
West Papua is home to Asia's largest remaining rainforests, Indigenous communities and unique species.
But this exclusive 101 East investigation reveals how Korean-run companies are allegedly engaging in questionable deals as they buy up forests to develop palm oil plantations.
Featuring rare access to a restive Indonesian province usually off-limits to journalists, we meet tribesmen who allege that Posco International and Korindo are plundering their land for a pittance.
Both companies deny all allegations including fraud and human rights abuses.
Selling Out West Papua was produced in collaboration with Mongabay, The Gecko Project and the Korea Center for Investigative Journalism.
Join the conversation @AJ101East
Source: Al Jazeera
Tell us what you think
Sign up for our Newsletter RelatedShould West Papua remain part of Indonesia?
Recent clashes with Indonesian forces have reignited calls for referendum on Papuan independence.Killing Indonesia's Wildlife
101 East investigates how the illegal wildlife trade is wiping out rare species on the Indonesian island of Sulawesi.
Wild Animals, Indonesia, Environment, Asia Pacific
RELATED POSTS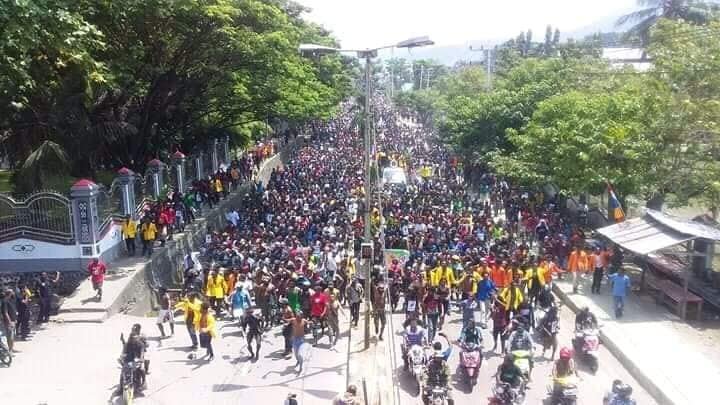 August 26, 2019PRESS RELEASE: 'Second Wave' of 'West Papua Uprising' commences in struggle for independence referendum
"
The Indonesian mass killings of 1965–66 (Indonesian genocide,[11][2][3]:4Indonesian Communist Purge, Indonesian politicide,[12][13] or the 1965 Tragedy) (Indonesian: Pembunuhan Massal Indonesia & Pembersihan G.30.S/PKI) were large-scale killings and civil unrest that occurred in Indonesia over several months, targeting Communist Party of Indonesia (PKI) party members, Communist sympathisers, Gerwani women, ethnic Javanese Abangan,[1]ethnic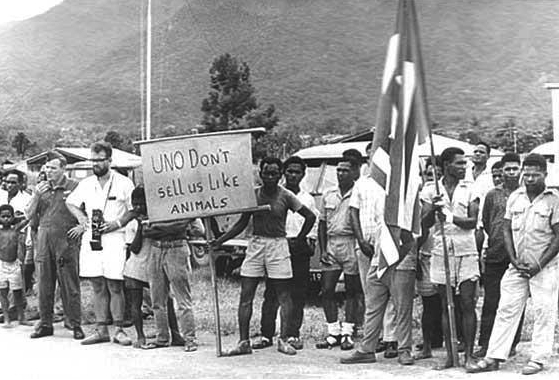 Chinese and alleged leftists, often at the instigation of the armed forces and government. It began as an anti-communistpurge following a controversial attempted coup d'état by the 30 September Movement. The most widely published estimates were that 500,000 to more than one million people were killed,[3]:3[4][5][6] with some more recent estimates going as high as two to three million.[14][15] The purge was a pivotal event in the transition to the "New Order" and the elimination of PKI as a political force, with impacts on the global Cold War.[16] The upheavals led to the fall of PresidentSukarno and the commencement of Suharto's three-decade authoritarian presidency.
Bradley Simpson, Director of the Indonesia/East Timor Documentation Project at the National Security Archive, contends that "Washington did everything in its power to encourage and facilitate the army-led massacre of alleged PKI members, and U.S. officials worried only that the killing of the party's unarmed supporters might not go far enough …
In the Sambas riots in 1999 Muslim Malays and Animist Dayaks joined together to massacre the Muslim Madurese during the Sambas conflict. Madurese were mutilated, raped, and killed by the Malays and Dayaks and 3,000 of them died in the massacres, with the Indonesian government doing little to stop the violence.
Initial Invasion. From the start of the invasion in August 1975 as well as afterward, the TNI forces engaged in the wholesale massacre of Timorese civilians. At the start of the occupation, FRETILIN radio sent the following broadcast: "The Indonesian forces are killing indiscriminately. Women and children are being shot in the streets….