Turkish genocide approved by depraved NATO with okay to attack 170,000 Kurdish refugees in Tal Rifaat/Shebha enclave..
from ANF , SOHR, Kongra Star, @RojavaIC … via thefreeonline
Why Why Why? The 2nd biggest NATO army starts artillery and deploys with its jihadi mercenaries to invade and 'Turkify' 5 big refugee camps of families it already expelled from Afrin. Families who survive constant blockades, drone and Artillery attacks.
Because these people will not lie down. Because they live, work and fight in common with complete equality for women and smaller communities, Yazidis, Christians, Arabs and others trapped here. Because by genociding Kurds Erdogan might win the looming elections. Because NATO will let him…
On the other hand, Erdogan has called out his badly paid jihadi mercenaries, all men in strict hierarchies, without their women servants, all subscribing to unreformed medievil scripts- death to gays, lesbians, trans, shia arabs, but especially Kurds.
Tal Rifaat is host to a Kurdish-majority population of civilians expelled with the loss of everythin, from Afrin, a region that Turkey and its proxy Syrian militants occupied in 2018.
Back in February 2016, Kurdish-backed forces had taken the nearby town of Tal Rifaat from ISIS rebel groups.
Around 170,000 displaced Kurds from Afrin (Efrîn) fled to Tal Rifaat during Turkey's 2018 invasion and the chaotic occupation of the Afrin region by assorted Turkish sponsored terrorist groups now redundant after sweeping gains by the Damascus regime.
Turkey has threatened on several occasions to launch a cross-border offensive to capture Tal Rifaat. So far, Russia and Iran have deterred such action.
However, Turkish-backed groups, and Turkish army in the nearby Azaz HQ, regularily pound the area wirth artillery and drones, targeting civilians in 4 massacres.
Kurdish-backed groups in Tal Rifaat have responded by shelling positions controlled by their fighters. They were using mortar shells, according to the UK-based Syrian Observatory for Human Rights (SOHR).
The incidents come amid ongoing tensions between Kurdish-led forces of the AANES autonomous revolutionary administration(SDF) and Turkey.
3rd July 22.. Gathering for a Nato backed genocide: Turkish-paid SNA jihadi militias line up military forces near Syria's Tal Rifaat for a new NATO backed War Crime against 170,000 trapped revolutionary refugees. https://www.kurdistan24.net/en/story/28853-Turkish-backed-groups-parade-military-forces-near-Syria%27s-Tal-
On Friday, a Turkish drone attack injured a Kurdish civilian in the town of Kobani while Turkish-backed groups shelled the M4 road near Ain Issa in northeast Syria.
The Shehba (Shabha) camps have been self organised horizontally on the model of the Rojava revolution, with equality for all races and especially women, and all kinds of communally organized production, facilities and initiatives.
ANF | Report on the refugees from Afrin in Shehba published
Two thousand children from the Afrin region in Kurdish, Arab and Yezidi, aged between 6 and 12 years, gathered with their teachers in Serdam camp in Al-Ahdath district of Al-Shahba canton to participate in the drawing of the world's longest painting.
Kurdish officials and media have shown that that Damascus the regime has imposed sieges on pockets of territory belonging to the Syrian Democratic Forces (SDF) in Shahba district – home to hundreds of thousands of Kurds who fled the Turkish invasion of Afrin in early 2018 – and the Ashrafiyah and Sheikh Maqsoud Kurdish neighborhoods in Aleppo.
Culture-Art Center opened in al-Shahba – ANHA | HAWARNEWS .
What are Robar, al-Shahba camps children's demands? | ANHA
ANF | People in Rojava take to the streets again
In October 2019, after Turkey attacked Kurdish forces in northern Syria, the US and Russia reached separate ceasefire agreements with Turkey to stop the fighting between Kurdish-backed forces and Turkish-backed rebels.
Despite this shelling by Turkish-backed groups and drone strikes by the Turkish army have continued to target Kurdish-led forces and civilians.
Now, along with Manbij, Shebha/Tal Rifaat is incredibly targeted for annihilation by Turkey and proxies. For this they need Russian airspace permission, (which they got in thge Afrin takeover in 2018 by signing the Turkstream 2 gas pipeline).
This time round Russia can ill afford to prevent a massacre of women and children refugees. Because Turkey holds the key to preventing a NATO takeover of the Black Sea, because they could close Turkstream 2, … etc.
Tal Rifaat/Shebha is defended by the makeshift multi ethnic SDF forces To the south is Damascus regime territory, and urgent pleas for help have led to a buildup by the Syrian Arab Army (SAA), despite their anri Kurd hostility.
And what about the USA? The SDF is in theory supported by themm but only sometimes and against ISIS . The USA stood idly by in the Afrin invasion, for instance, as Turkey use the NATO base in Incirlik to blast the Afrin (Efrîn) resistance with US mad jetys and German made tanks. Now of course NATO (The US) cannot say boo to Turkey without delaying Nordic accession.
July 3, 2022
Xelîl: (a Kurdish politician).. NATO gives green light for Turkish occupation attack.. "If NATO had not actively supported the Turkish state, the Kurdish people would be in a different situation today and would have already realised their wishes for freedom".
3 Jul 2022 Turkey already bombing villages in Shehba Canton
The Turkish state is bombing the villages in Shehba Canton.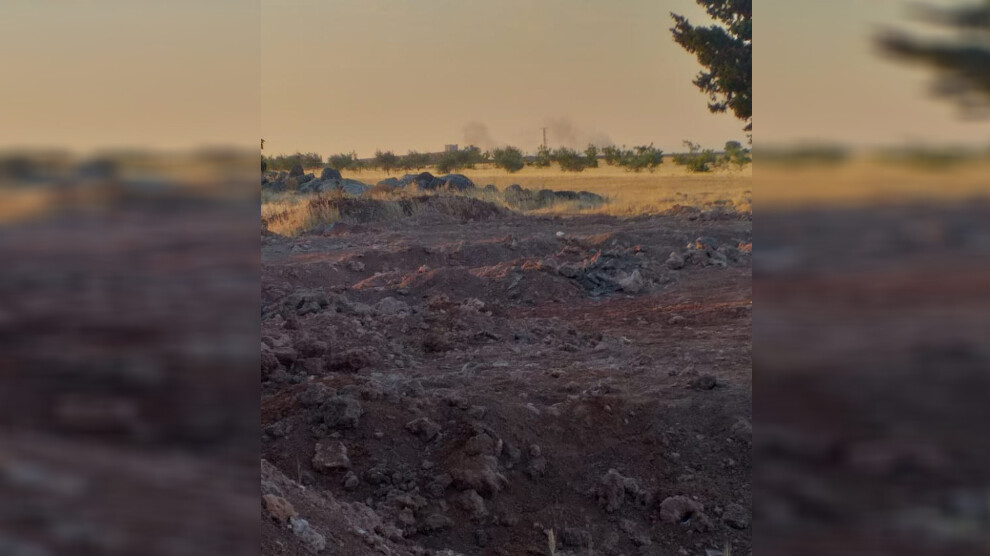 ANF .. SHEHBA Sunday, 3 Jul 2022, 08:22 … According to the information received from the region, the Turkish state is currently bombing the villages of Bêlûniyê and Eyn Deqnê in Shehba Canton and the surroundings of Tell Rifaat district.
Osman Khalaf the co-chair of the Democratic Society Movement (TEV-DEM) condemned "the double international standards in dealing with the Kurds and their cause, because "whoever defeated the terrorism led by ISIS and sacrificed the lives of thousands of its young children in order for the world to live in peace, does not deserve all of this denial of the world."
08 Feb 2021, KOBANE – AL-SHAHBA Dozens of members of the Revolutionary Youth Movement gathered in coordination with the Kongra Star in Ahdath district in al-Shahba canton in the district park, carrying the picture of the leader Abdullah Ocalan, the flags of the Kongra Star, and the flags of the Revolutionary Youth Movement
'First objective in any Turkish campaign in Syria will be Tall Rifat' says journalist
Amed Dicle, a journalist specialising in the region, estimates that Turkey will probably launch a large scale military campaign in northern Syria in July, and that Russia has already given its consent.
Dicle said that the remarks of the Russian foreign minister Sergey Lavrov about Turkey's involvement in Syria was an indication of a possible agreement between Russia and Turkey.
"Because Turkey needs Russia in Syria, and Russia needs Turkey," he said. "The Ukrainian issue did not have a negative impact on relations between Turkey and Russia, as is widely presumed."
Dicle added that the United States was also likely to give a green light for the illegal genocidal Turkish invasion.
SOHR activists have reported that Turkish forces stationed at bases in "Euphrates Shield" area have carries out intensive rocket fire on the villages of Yalini and Mohsenli and other areas on "Al-Sajur Line" in Manbij countryside, east of Aleppo.
7] The FSA units (Turkish jihadi proxy militias)in the zone have accepted the Istanbul-based "Syrian Islamic Council" as religious authority.[36] TFSA fighters are paid salaries by the Turkish government, though the falling value of Turkish lira began to cause resentment among the TFSA by mid-2018. One fighter noted that "when the Turkish lira began to lose value against the Syrian pound our salaries became worthless".[2]
This rocket attack coincided with a Russian warplane flying over the area.
Meanwhile, clashes are now taking place between regime forces and SDF military forces on the one hand, and National Army factions on the other on Al-Kuridiyah frontline in the vicinity of Qabasin in the northern countryside of Aleppo.
SOHR sources had reported that patrols of Russian forces inspected the positions of regime forces that were targeted by Turkish drones in Tel Rifaat city and its outskirts in the northern countryside of Aleppo.
A few hours ago, SOHR activists reported that a kamikaze drone hit a checkpoint of regime forces' "state security" branch, near the train tracks in the city centre of Tel Rifaat, north of Aleppo, leaving material damage only.
This morning, SOHR activists reported that a kamikaze drone hit a Syrian regime military post on the outskirts of Tel Rifaat in northern Aleppo countryside. Material damage only was reported.
Syrian regime forces also succeeded to shoot down the drone in Tel Rifaat, partially damaging a house.
Syrian Observatory activists also reported that Turkish forces stationed at Al-Thulthanah base on the outskirts of Marea city and scientific research in Azaz city fired over 25 heavy artillery shells on the vicinity of Tel Rifaat city and the vicinity of Kafrnaya and Maranaz in the northern countryside of Aleppo since early morning.
This shelling ignited terror and fear among people and displaced persons in Kafrnaya village.
Meanwhile, regime forces responded by shelling the outskirts of Marea with several artillery shells.
On the other hand, Turkish forces shelled areas in the villages of Umm Adasa, Umm Jaloud, Al-Sayyada, Pak and Yran in Manbij countryside, north-east of Aleppo.
This development comes as a part of the ongoing Turkish military escalation in the area.
The Siege of Shebha
The siege imposed by Damascus Government on al-Shehba, the Syrian Government has been starving the people of al-Shehab and Afrin since 4 years, where the refugees exceed 150,000, including, the indigenous people, they are living in 5 camps and semi-destroyed houses."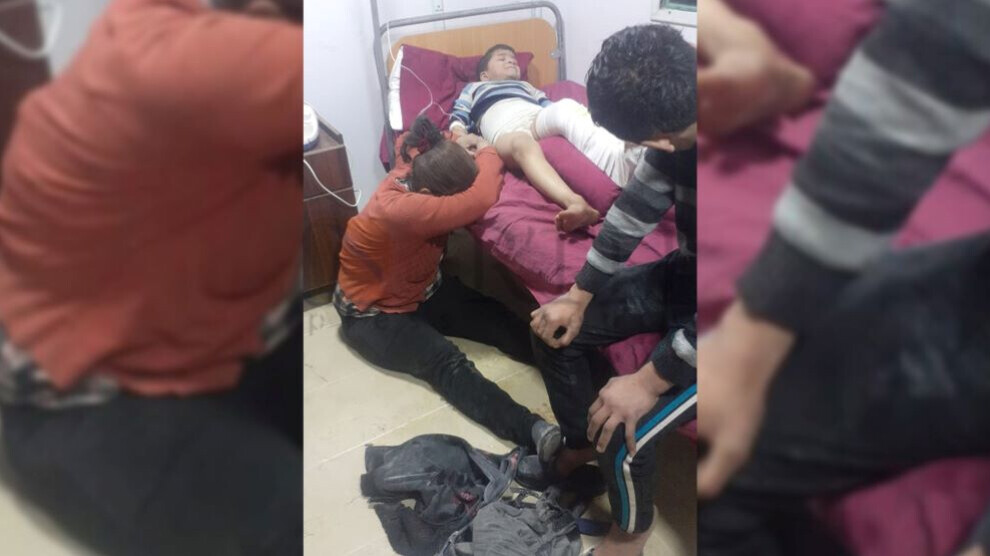 And added " The siege has doubled the suffering in getting the diesel, gas, medicinal aids, baby milk, flour and other foodstuffs, as this violates the principles of international humanitarian law, as well as the 1977 Additional Protocols annexed to the four Geneva Conventions as well as under Rule 53 of the Law."
Turkish occupation mercenaries reattack residential areas in Raqqa countryside
2 July، 2022
Raqqa, SANA- Turkish occupation mercenaries of terrorist organizations reattacked the residential areas in Raqqa northern countryside, causing material damage to the locals' properties.
Local sources told SANA that the terrorist mercenaries targeted, from the areas of their deployment along the borders with Turkey, with heavy artillery the vicinity of Aayoun village and the International Highway M4 in Raqqa northern countryside.
The sources pointed out that the aggression caused huge devastation in some houses caused by artillery shells exploding.
Hala Zain
Related Posts
Multiple atrocities as Turkish Hitler bombs Afrin (Efrîn) villages with NATO planes
'Erdogan's terrorists "Assassinating, Beheading, Stabbing and Planting Explosives' in 'Safe Zone'
Hands Off Afrin: Demos, Support, Appeal, News Updates
'Bringing the Afrin War to European Streets': Direct Action Catalogue
Defending Afrin means Defending the Women's Revolution
Turkish occupation shells al-Shehba villages
25 Jan 2021, Mon – 15:02
09 Feb 2021, Tue – 18:36
23 Jan 2021, Sat – 15:37
January 25, 2018
In "anarchist"
January 18, 2018
In "social revolution"