from thefreeonline by La Directa vía Editorial El Salto on 4th Feb 2023
La Directa uncovers a National Police agent who was infiltrated for three years in social movements in Catalonia, and.anarchist spaces in Madrid and the Basque Country.
He has now ' disappeared'.
On the left, agent D.H.P. during his time at the Ávila police school. In the image on the right you can see the tattoos he got between 2020 and 2021
"I met Dani one night in June 2020 in the Plaza de las Palmeres in the Sant Andreu neighborhood.
He was a very jokey, smiling and close person, with whom it was easy to connect, and he approached us girls with a funny flirtation.
I slept with him several times and on three occasions we had sexual relations".
The speaker is Joana, one of the eight women with whom Daniel Hernàndez Pons, a National Police agent, had relations with the aim of infiltrating social movements in Catalonia, according to an extensive report by La Directa.

According to the report, Hernández Pons infiltrated the La Cinètika social center in June 2020.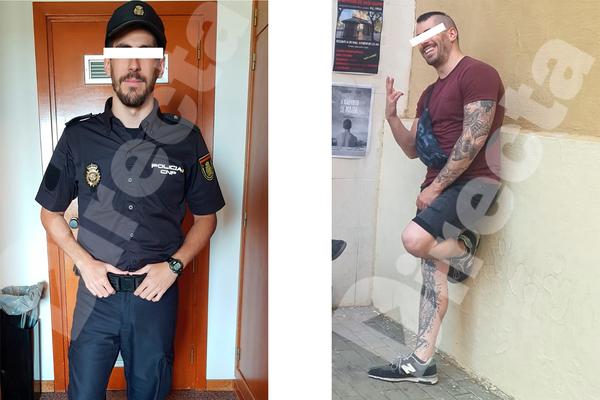 He is not the first National Police agent infiltrated in social movements discovered by La Directa, which seven months ago published how another agent, Marc Hernández Pon, infiltrated in June 2020 the Catalan independence movement.
"After a long and meticulous investigation, La Directa has been able to confirm that we are facing an operation to introduce multiple spies into activism, under the hierarchical leadership of the Spanish Minister of the Interior, Fernando Grande-Marlaska," La Directa points out in its report. .
Dani appeared for the first time in the gym of the squatted La Cinètika center, on Paseo Fabra i Puig in Barcelona, in June 2020.
He was 31 years old at the time. "He said that he had found the address on the internet while looking for a cheap place to train," explains one of the space activists.
It was the beginning of a rapid infiltration into the neighborhood's social movements, facilitated by a mayhem star tattooed on his knee, T-shirts with anti-fascist symbols, earrings, and a mohawk suitable for his new anarchist context.
Even so, from time to time someone mentioned to him that, upon his arrival, someone had distrusted him because nothing was known about his past.
He "answered sportingly, with a smile. Dani has always been a joker", Jaume explains to La Directa, a pseudonym used for the report by a person who until a week ago considered himself the best friend of the undercover police officer.
As confirmed by La Directa, the real identity of Daniel Hernàndez Pons responds to the same initials: D.H.P.
The newspaper points out that it has verified his real identity thanks to the mistakes made by the infiltrator, through which they have been able to access open data about his past and present, and through a physiognomic expert test that compares the photographs of his passage through the Ávila police school between 2018 and 2019 with images of him as an activist in Barcelona.
During his time as an infiltrator, Daniel participated in the demonstrations against the imprisonment of Pablo Hasél in February 2021, in several rallies to avoid evictions, in one of which he confronted a Desokupa worker, and was fined 600 euros. —which he did not pay— for another mobilization.
He has also visited self-managed spaces in Madrid y País Vasco Madrid and the Basque Country.
Specifically, La Directa details how this infiltrated police officer visited the squatted social center La Casika in Móstoles on several occasions and also attended the first libertarian meeting held in Vitoria in 2021, in Errekaleor.
La Directa explains that, to explain the absences due to his double life, the infiltrator claimed that he worked as an assistant to an air conditioning installer or that he was going away for a few days to visit his family in the Balearic Islands or a friend in Tarragona.
Sexual Relationships as an Infiltration Strategy
According to the La Directa report, the infiltrated policeman had relationships with several women participating in the city's social movements, one of them for a year, and who served as a bridge to enter the neighborhood collectives.
"Through all of them he set foot in various projects and political spaces," reads the La Directa report. Among them, he lists the film screenings at La Cinèteka, the work group of the same social center to prepare a guide to prevent and act in the face of patriarchal violence and joining the tour of the Zapatista movement in Catalonia.
He also joined the Antirepressive Coordination group of Sant Andreu. "A good opportunity to see everyone who was active in the neighborhood," explains Iris, one of the eight women who were related to the infiltrated agent with whom La Directa has spoken.
Another sexual relationship with an activist from Ciutat Vella made it easier for him to enter other spaces, such as the Kasa de la Muntanya. And Rut, with whom he had a six-month relationship, made it easy for him to enter the CGT anarchist trade unión

Filed under: Catalonia ‧ Police ‧ Espionage
Dani, el segundo policía infiltrado en el activismo catalán destapado por La Directa
La Directa destapa a un agente de la Policía Nacional que estuvo infiltrado durante tres años en movimientos sociales de Catalunya, y que pasó por espacios libertarios en Madrid y País Vasco.
30 ene 2023 13:43
"Conocí a Dani una noche de junio de 2020 en la plaza de las Palmeres del barrio de Sant Andreu. Era una persona muy bromista, risueña y cercana, con quien era fácil conectar, y a las chicas se nos acercaba con un flirteo gracioso. Dormí con él varias veces y en tres ocasiones mantuvimos relaciones sexuales".
Quien habla es Joana, una de las ocho mujeres con las que Daniel Hernàndez Pons, agente de la Policía Nacional, mantuvo relaciones con el objetivo de infiltrarse en los movimientos sociales de Catalunya, según destapa un extenso reportaje realizado por La Directa. Según detalla el reportaje, Hernández Pons se infiltró en el centro social La Cinètika en junio de 2020. No es el primer agente de la Policía Nacional infiltrado en los movimientos sociales descubierto por La Directa, que hace siete meses publicó cómo otro agente, Marc Hernández Pon, llegaba también en junio de 2020 al movimiento independentista catalán. "Después de una larga y minuciosa investigación, la Directa ha podido confirmar que estamos ante una operación de introducción de múltiples espías en el activismo, bajo la batuta jerárquica del ministro de Interior español, Fernando Grande-Marlaska", señala La Directa en su reportaje.
Dani apareció por primera vez en el gimnasio del centro okupado La Cinètika, en el paseo Fabra i Puig de Barcelona, en junio de 2020. Por entonces tenía 31 años. "Decía que había encontrado la dirección por internet mientras buscaba un sitio económico donde entrenar", explica una de las activistas del espacio. Fue el inicio de una rápida infiltración en los movimientos sociales del barrio, facilitada por una estrella del caos tatuada en su rodilla, camisetas con simbología antifascista, pendientes y un peinado en cresta adecuado para su nuevo contexto anarquista. Aun así, de vez en cuando alguna persona le mencionaba que, a su llegada, alguien había desconfiado de él porque no se sabía nada de su pasado. "Se lo tomaba deportivamente, con una sonrisa. Dani siempre ha sido muy bromista", explica a la Directa Jaume, pseudónimo que usa para el reportaje una persona que hasta hace una semana se consideraba el mejor amigo del policía infiltrado.
Según ha confirmado La Directa, la identidad real de Daniel Hernàndez Pons responde a las mismas iniciales: D.H.P. El diario señala que ha comprobado su identidad real gracias a los errores cometidos por el infiltrado, por los que han podido acceder a datos en abierto sobre su pasado y presente, y a través de una prueba pericial fisionómica que compara las fotografías de su paso por la escuela de policía de Ávila entre los años 2018 y 2019 con imágenes suyas como activista en Barcelona.
La Directa detalla cómo este policía infiltrado visitó en varias ocasiones el centro social okupado La Casika de Móstoles y acudió también al primer encuentro libertario celebrado en Vitoria en 2021, en Errekaleor
Durante su tiempo como infiltrado, Daniel participó en las manifestaciones contra la entrada en prisión de Pablo Hasél en febrero de 2021, en varias concentraciones para evitar desahucios, en uno de los cuales se enfrenta a un trabajador de Desokupa, y fue multado por 600 euros —que no pagó— por otra movilización. También ha visitado espacios autogestionados en Madrid y País Vasco. En concreto, La Directa detalla cómo este policía infiltrado visitó en varias ocasiones el centro social okupado La Casika de Móstoles y acudió también al primer encuentro libertario celebrado en Vitoria en 2021, en Errekaleor.
La Directa explica que, para explicar las ausencias que conllevaba la doble vida que llevaba, el infiltrado afirmaba que trabajaba como ayudante de un instalador de aire acondicionado o que se iba por unos días a visitar a su familia en Baleares o a un amigo en Tarragona.
Relaciones sexoafectivas como estrategia de infiltración
Según explica el reportaje de La Directa, el policía infiltrado encadenó relaciones con varias mujeres participantes en los movimientos sociales de la ciudad, una de ellas durante un año, y que le sirvieron de puente para introducirse en los colectivos del barrio.
"A través de todas ellas puso los pies en diversos proyectos y espacios políticos", se lee en el reportaje de La Directa. Entre ellos enumera las proyecciones de cine en La Cinèteka, el grupo de trabajo del mismo centro social para elaborar una guía para prevenir y actuar ante violencias patriarcales, se sumó a la gira del movimiento zapatista por Catalunya y se metió en la Coordinadora Antirrepresiva de Sant Andreu.
"Una buena oportunidad para ver a todo el mundo que militaba en el barrio", explica Iris, una de las ocho mujeres que se relacionaron con el agente infiltrado con las que ha hablado La Directa.
Otra relación sexoafectiva con una activista de Ciutat Vella le facilitó su entrada a otros espacios, como la Kasa de la Muntanya. Y Rut, con quien mantuvo seis meses de relación, le facilitó llegar a CGT.
Archivado en: Catalunya ‧ Policía ‧ Espionaje
De esta salimos juntas.
En El Salto nos tomamos la independencia muy en serio: no aceptamos que nuestros artículos los paguen las grandes multinacionales ni las empresas del Ibex35, no aceptamos publicidad de partidos en campaña electoral y más del 80% del presupuesto viene de las más de 9.000 personas socias del proyecto. Si crees que es necesario consolidar medios que funcionan de forma diferente, te necesitamos. ¡Suscríbete!