---
Call to resistance in Fraguas.. en castellano abajo
Sent by Gavroche on Mar, 06/18/2019

 Fraguas.. NO Eviction NO Jail NO Demolition
Imminent danger of eviction, demolition and imprisonment of 6 people from the village of Fraguas. We can not allow it. We call for indefinite days of resistance in order to stop it. This can only be stopped if there is a massive influx of people willing to defend the project.
'Half of Spain is de-populated to serve the capitalist consumer nightmare now destroying the planet. Now is time to defend Fraguas and re-occupy thousands of abandoned villages'.
There is no concrete date for the demolition but there are many preparations to be made and we need help. We intend to use techniques of peaceful resistance and disobedience. They want to destroy autonomy, community life, self-sufficiency, self-management, the rural world, its inhabitants and traditional culture.
-We believe and fight for the community, self-government, self-sufficiency and self-management. Since we arrived we were "invited" to abandon our dreams by environmental agents and civil guards with threats and fines, some of us carry thousands of euros in fines-.
They want to keep total control, civil society has to say 'That's enough'. With all humility we want to invoke the spirit of other struggles like those of Sasé, the ZAD, Hambach and many other stories of resistance that although they did not always conserve the space, served as seeds or inspiration for everyone.
They want to imprison 6 people for crimes that were committed by the Francoist government, usurping the houses and lands from their rightful owners and changing the territorial arrangement that had lasted for more than 5 centuries. Imprison them as real estate speculators, ironic when the corrupt and speculators are in the courts.
To all the people who have ever come, or if you have never come and want to see the land alive, it is time to come and defend it, if you wait it may be too late. Now or never. A big hug to all supporters.. Long live self-management.
Translate and disseminate this text .. and come to Fraguas!.
Fraguas resists
We write these lines from Fraguas, a squatted and rehabilitated village in the Sierra Norte de Guadalajara. the village, where 6 years ago there were were nothing but ruins, has been rebuilt through the work and enthusiasm of hundreds of people who have supported this self-managed project.
An assembly without hierarchies, with the principle of sustainability with the natural environment that surrounds it, learning day by day to sustain ourselves less and less attached to the capitalist system, caring for the earth and collecting its fruits, without harming it and learning to live in it, since from the moment we were born we were only taught to exploit it.
Practicing a collective existence and not falling into the competitive individualism that promotes the capitalist productive model. Rehabilitating with the materials that the earth gives us, the ruins that through the fraudulent expropriation at first left the Francoist state in 68, expelling forever its former inhabitants for a handful of pesetas and  condemned them to a life of work salaried in most cases; and later the use as a military practice range that took place in the 90's.
Right now a sentence dictates that "to restore balance" we must pay for the demolition of the reconstructions carried out and sentences 6 people to more than two years of prison . The Board of Castilla la Mancha (Podemos in coalition with the PSOE in the previous term and the PSOE with absolute majority since May 2019) conceals the atrocities carried out in the Franco regime. They intend to leave the town in ruins once more, expelling its inhabitants and leaving it in oblivion.
The State represses any attempt to attack or propose alternatives to its mercantilist dogma. Self-managed and horizontal projects such as this one, which escape their consumption logic, are in focus. In this logic of domination and control they attack Fraguas, just as they have attacked and will continue attacking any initiative that opposes them.
We can not allow them to achieve their objectives and simply crush us, we have to defend our liberated spaces. By supporting each other we have more strength and we will achieve it among all. With all humility we want to invoke the spirit of other struggles such as Sasé, the Zad, Hambach, Errekaleor and many other stories of resistance, which serve as seed or inspiration for all.
Currently there is no specific date of eviction but this could be imminent and we will not allow it. Concurring different types of strategies but with the firm conviction that here we are going to stay and continue to experience ways of living outside of authority and control.
We call for indefinite days of resistance in the village of Fraguas.
Living villages in struggle.
from Ekomedia Barcelona. translation TheFreeOnline
Llamamiento a la resistencia en Fraguas
Enviado por
Gavroche
en Mar, 18/06/2019 – 23:03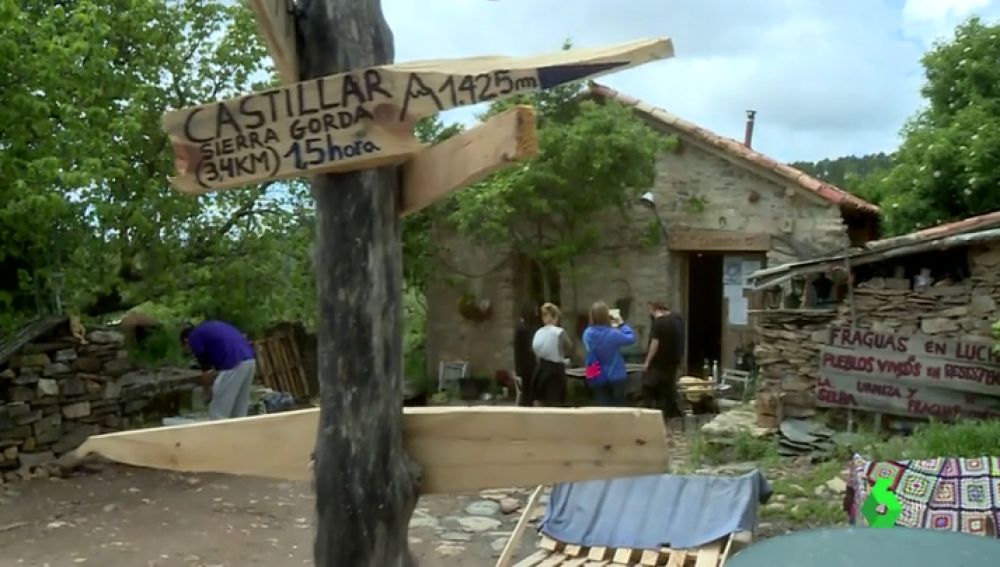 Fraguas Resiste
Peligro inminente de desalojo, demolicion y encarcelamiento de 6 personas del pueblo de Fraguas. No podemos permitirlo. Hacemos un llamamiento a las jornadas de resistencia indefinidas con el fin de paralo. Esto solo podrá pararse si hay una afluecia masiva de gente dispuesta a defender el proyecto.
No hay una fecha concreta para la demolición pero hay muchos preparativos que hacer y necesitamos ayuda. Pretendemos utilizar técnicas de resistencia pacifica y desobediencia. Quieren destruir la autonomía, la vida en comunidad, la autosuficiencia, la autogestión, el mundo rural, a sus habitantes y la cultura tradicional.
Quieren manejar todo a sus anchas, la sociedad civil tiene que decir basta. Con toda la humildad queremos invocar el espíritu de otras luchas como las de Sasé, las Zad, Hambach y otras muchas historias de resistencia que aunque no siempre conservaron el espacio sirven de semilla o inspiración para todxs.
Quieren encarcelar a 6 personas por delitos que fue el gobierno Franquista quien los cometió, usurpando las casas y tierras a su legítimos dueños y cambiando la ordenación territorial que tuvo durante más de 5 siglos. Encarcelarles como especuladores inmobiliarios, irónico cuando corruptos y especuladores están en las cortes.
A todas las personas que habeis venido alguna vez, o si no habeis venido nunca y quereis verlo vivo es el momento de venir a defenderlo, si esperas quizás sea demasiado tarde. Ahora o nunca. Un abrazo a toda la peña viva la autogestion.
Traduce y difunde este texto,y acude a Fraguas.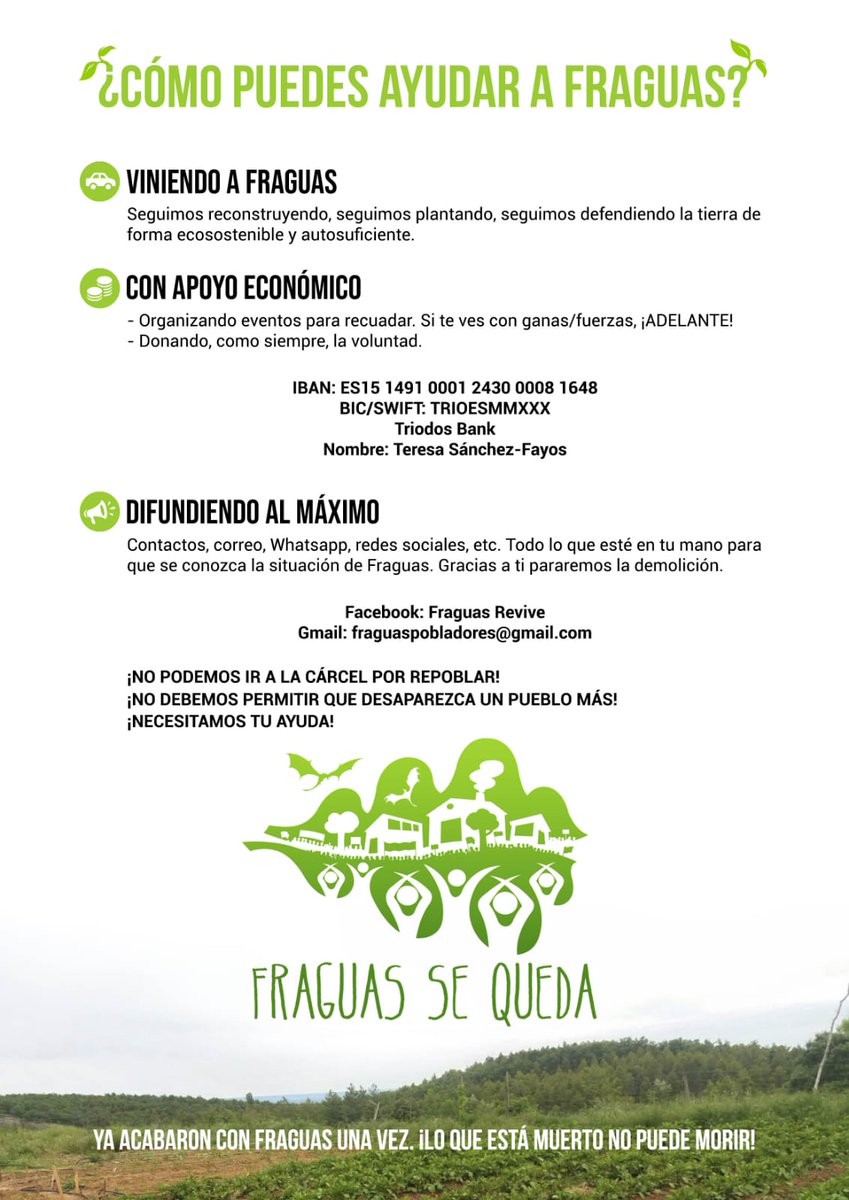 Aún no hay fecha, pero los repobladores de Fraguas temen que no queden muchos días hasta que lleguen las máquinas que demolerán las casas reconstruidas de este pueblo de Guadalajara. Por ello, han hecho un llamamiento para defender este pueblo recuperado.
"Parece que va a ser prácticamente ya", señala a El Salto Lalo Aracil, uno de los repobladores de Fraguas condenados por reconstruir este pueblo. "Están haciendo cortafuegos alrededor del pueblo, cuando no es fecha para ello, y también vino la Guardia Civil con peritos y estuvieron viendo las casas, incluso las que estaban fuera de la sentencia", continúa. "Nos van a notificar dentro de nada, cuando ellos quieran. Y no sabemos qué plazo nos dará la notificación, algunos nos dicen que seguramente nos darán 24 horas, para que no estemos preparados".
Ante una demolición que se prevé inminente, los pobladores de Fraguas han pedido apoyo a diversos colectivos, "para ver estrategias de defensa claras", apunta Aracil. "Queremos que venga gente todo el rato, el llamamiento es continuo, para hacer unas jornadas indefinidas de resistencia, que se reúna masa de gente suficiente para poder detener a la policía", continúa.
Por lo pronto, ya son entre 60 y 70 las personas que han acudido a acampar o a proteger las construcciones de Fraguas. También cuenta con el apoyo de otros pueblos recuperados de Pirineos y Navarra, desde donde se van a fletar camiones con materiales. Y de El Calabacino, otro pueblo neorrural de Huelva.
"Están intentando hacer grupos de permanencia de colectivos rurales para tener aquí un grupo de gente que se mantenga de forma fija, poder hacer cuadrantes y mantener a un mínimo de personas de continuo que aguantes hasta que se dé una alerta y dé tiempo a que gente de otros puntos del Estado pueda venir a ayudarnos también", señala Aracil. La convocatoria ha ido más allá de España, contestando también gente del ZAD y del bosque de Hambach.
Condenados a pagar la demolición
Han pasado ya cerca de seis años desde que una docena de jóvenes decidieron ir a Fraguas, un pueblo que dejó de existir cuando, en los años 60, Franco ordenó su demolición para replantar pinos. Después se convirtió en zona de prácticas militares. Desde ese año 2013, los repobladores de Fraguas reconstruyeron tres de las casas del pueblo.
Todo fue bien hasta que la Consejería de Ordenación de Territorio, Urbanismo y Medio Ambiente les denunció por delitos contra el territorio y usurpación. En junio del año, seis de los repobladores de Fraguas pasado fueron condenados por el Juzgado de lo Penal número 1 de Guadalajara.
En enero, la Audiencia Provincial confirmó la condena de un año y nueve meses de cárcel para cada uno de ellos, además del pago de multas que suman los 16.380 euros y, también al pago de la demolición, cuyo coste, en la primera tasación, ascendía a 26.600 euros.
"La condena quedó en que, si no pagábamos la demolición, entrábamos a la cárcel dos años y tres meses, recurrimos al [Tribunal] Constitucional, porque consideramos que nuestros derechos de defensa habían sido vulnerados, y rechazaron el recurso porque dicen que no tenían relevancia constitucional suficiente", explica Aracil.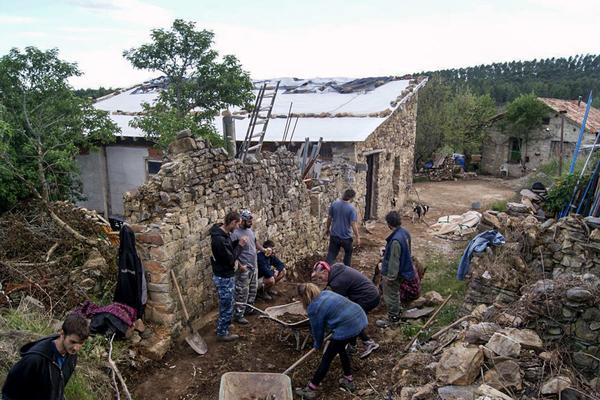 Aunque sí se plantean pagar los 16.000 euros de multa, Aracil confirma que no tienen ninguna intención de pagar la demolición: "No tenemos dinero, y es que no creemos que haya que demoler el pueblo por segunda vez, solo hemos reparado unas casas que ya estaban aquí".
En los próximos días señalan que se hará una segunda tasación de la demolición de Fraguas, y, con la nueva suma, tienen previsto acudir al juzgado para pedir una moratoria de la ejecución de la condena por cinco años. También siguen a la espera de la contestación de un recurso que presentaron para suspender las penas de prisión, y de una reunión con la Consejería de Ordenación de Territorio.
"Llevan dándonos largas desde abril". En ese mes, desde la Consejería les dijeron que si conseguían crear un marco legal al proyecto de Fraguas, la institución castellano-manchega lo firmaría. "Ayer fuimos al registro para pedir una reunión de máxima urgencia, pero todavía no nos han contestado", concluye Aracil.
Llamamiento a la resistencia en Fraguas
Escribimos estas líneas desde Fraguas, un pueblo okupado y rehabilitado en la Sierra Norte de Guadalajara. Pueblo que hace 6 años no eran más que ruinas y que mediante el trabajo y la ilusión de cientos de personas que han apoyado este proyecto autogestionado, asambleario sin jerarquías, con el principio de sustentabilidad con el medio natural que lo rodea, aprendiendo día a día a sostenernos cada vez menos atadxs al sistema capitalista, cuidando la tierra y recogiendo sus frutos, sin dañarla y aprendiendo a vivir en ella, ya que desde que nacimos sólo fuimos enseñadxs a explotarla. Practicando una existencia coleciva y no cayendo en el individualismo competitivo que promueve el modelo productivo capitalista. Rehabilitando con los materiales que nos da la tierra, las ruinas que mediante la expropiación fraudulenta en un primer momento dejó el estado franquista en el 68, expulsando para siempre a sus antiguos habitantes por un puñado de pesetas y para ser condenadxs a una vida de trabajo asalariado en la mayoría de los casos; y más tarde las prácticas militares que se llevaron a cabo en los 90.
Ahora mismo una sentencia dicta que "para restablecer el equilibrio" debemos pagar la demolición de las reconstrucciones realizadas y condena a más de dos años de prisión a 6 personas. La Junta de Castilla la Mancha (Podemos en coalición con el PSOE en la anterior legislatura y el PSOE con mayoría absoluta desde mayo) encubre así las atrocidades realizadas en el franquismo. Pretenden dejar en ruinas el pueblo una vez más, expulsando a sus habitantes y dejándolo en el olvido.
El Estado reprime cualquier intento de atacar o plantear alternativas a su dogma mercantilista. Proyectos autogestionarios y horizontales como este, que escapan a su lógica de consumo, están en su punto de mira. En esta lógica de dominio y control atacan Fraguas, al igual que han atacado y seguirán atacando cualquier iniciativa que se les oponga.
No podemos permitir que logren sus objetivos y nos aplasten sin más, tenemos que defender nuestros espacios liberados. Apoyándonos entre todxs tenemos más fuerza y entre todxs lo conseguiremos. Con toda la humildad queremos invocar el espíritu de otras luchas como las de Sasé, las Zad, Hambach, Errekaleor y otras muchas historias de resistencia, que sirven de semilla o inspiración para todxs.
Actualmente no hay una fecha concreta de desalojo pero este podría ser inminente y no lo vamos a permitir. Confluyendo distintos tipos de estrategias pero con la firme convicción de que aquí nos vamos a quedar y continuar experimentando formas de vivir al margen de la autoridad y el control.
Convocamos unas jornadas indefinidas de resistencia en el pueblo de Fraguas.
Pueblos vivos en lucha.