source   In Oaxaca's Istmo de Tehuantepec region, the traditional indigenous division of three genders is seen as a natural way of being. 

en castellano abajo
By Ola Synowiec     November 2018..     "Which form should I use when I talk to you: feminine or masculine?" I asked Lukas Avendaño, who I had seen in trousers earlier in the day but now was wearing a traditional black skirt with colourful embroidered flowers called an enagua. We were speaking in Spanish, with its gendered nouns and pronouns. "I prefer you'd just call me sweetheart," Avendaño giggled.
There's men and women and there's something in between, and that's who I am
Here, in the Istmo de Tehuantepec region in Mexico's southern state of Oaxaca, there are three genders: female, male and muxes. This third classification has been acknowledged and celebrated since pre-Hispanic times, and it's hard to imagine life without muxes here. But in this region where most people speak the indigenous Zapotec language, my question doesn't make much sense.
"In Zapotec, as in English, there are no grammatical genders. There is only one form for all people. Muxes  (pronounced like -mooches-) have never been forced to wonder: are they more man or woman?" Avendaño explained.
"We're the third sex," added Felina, who, unlike Avendaño, decided to change his given male name, Ángel, and goes only by this moniker. "There's men and women and there's something in between, and that's who I am."
with English subtitles.
I was at Vela de Las Intrepidas (Vigil of the Intrepids), the annual celebration of muxes that takes place each November in Juchitán de Zaragoza, a small town on the Istmo de Tehuantepec. Observing the different muxes, I couldn't see much in common between their styles.There were muxes who, like the local tehuanas (women from the Istmo de Tehuantepec), wore the same richly embroidered outfits that inspired Frida Kahlo's unique look.
Others seemed to prefer Western-style dresses or drag queen apparel. And there were some wearing men's clothes, showing their status with just simple makeup and nail polish.
"It's hard to describe who a muxe is. Basically, we can say that a muxe is any person who was born a man but doesn't act masculine," Avendaño said.
"What we know, 'under Western eyes', as 'male-to-female transvestite', 'male-to-female transsexual', 'effeminate gay' or 'masculine gay' seems to be included within the category of 'muxe' as long as there is also a strong component of ethnic identity," writes anthropologist Pablo Céspedes Vargas in his article Muxes at work: between community belonging and heteronormativity in the workplace.
Avendaño similarly emphasised that 'muxe' is a Zapotec term and it can't be understood without knowing more about their culture.
That's because the concept of muxe exists only here, on the Istmo de Tehuantepec, where they are an important part of the community. Some say they fell out from the pocket of Vicente Ferrer, the patron saint of Juchitán, as he passed through town, which, according to locals, means they were born under a lucky star.
A second version of the saint's legend says that Vicente Ferrer was carrying three bags: one with female seeds, one with male seeds and one where the two were mixed. According to this story, the third bag sprung a leak in Juchitán, and that's the reason why there are so many muxes here.
"It's not true there are more of them here. They're just more respected, so they can be more visible," said Fernando Noé Díaz, a primary school teacher who has many muxe friends.
One named Kika (who also only goes by her first name) had invited us for tonight's vela. There, each muxe had a section with tables and decorations where food and drinks were served to their guests.
"I guess muxes are so respected because they are more a social gender rather than a sexual one. They have an important role in the community," Noé Díaz added.
When the man is at sea or in the field and the woman is at the market, there is no-one to take care of the household and family – that's where the muxe comes in
Juchitán is famous throughout Mexico for its strong and proud women. Some even call it a matriarchy, which is not necessarily correct, but women traditionally handle the money brought home by the men. (Locals joke that men here have sweet or salty penises, meaning they are either farmers or fishermen.)
Women, on the other hand, are supposed to sell what men produce, and the market is their domain. Tonight, as is vela tradition, women traditionally donate money as a gift, while the men carry cases of beer.
"When the man is at sea or in the field and the woman is at the market, there is no-one to take care of the household and family. That's where the muxe comes in," Noé Díaz explained. "Some even say it's a blessing for a mother to have a muxe son who will help her at home and take care of young siblings.
Also, muxes are socially not allowed to have long-term relationships or get married so they can stay with their mothers when they get old."
At the vela, the mothers are the ones who serve food at each muxe's table. Kika's mother was checking that nobody was hungry, and younger family members gave me a new bottle of beer when mine started to empty. But Kika didn't want to dedicate herself to housework, as is one of the muxe's traditional roles, along with handicrafts and selling at the market. She owns a beauty salon in the centre of the town. The same with Felina, who runs a muxes' group, Las Auténticas Intrepidas Buscadoras del Peligro (The Authentic Intrepid Danger Seekers), the organisers of tonight's vela.
According to Noé Díaz, a lot of muxes work preparing the traditional fiestas that are a big part of the local economy. They make costumes and ornaments for velas, baptisms, communions, quinceañeras (15th birthday parties) and weddings.
Noé Díaz also knows muxes who dedicate themselves to creating art and handicrafts to sell at markets. Another of his muxe friends is a primary-school teacher.
Avendaño is an actor and director who travels the world with his show about being a muxe, Réquiem para un Alcaraván (Requiem for an Alcaravan). The spectacle puts a lot of emphasis on the Catholic part of the muxe identity.
God created woman and man, but he also created human nature
"Muxes have always had an important role in the local Catholic church. It was their job to prepare the church decorations. In Tehuantepec, the town I come from, muxes have their own brotherhood inside the church," Avendaño said, explaining that the Catholic Church wisely accommodated the tradition of three genders that is so strong and deeply ingrained in the local culture.
Today's celebration started with a holy mass in honour of muxes at the local church of Vicente Ferrer.
"God created woman and man, but he also created human nature, and – please forgive me, God, if I offend you – it's possible that the nature created by him decided who humans are. And among people, there are homosexuals and it's totally natural," said 'Padre Panchito', as parish priest Arturo Francisco Herrera González is nicknamed, while he delivered his homily. "God created us in his image, and each one of us is unique. There are no two identical individuals and we have to respect that," he stated.
After mass, the traditional procession began through the streets of the town. The colourful crowd was led by a band and muxes carrying candles. Behind them, more muxes rode in cars and trucks decorated with flowers, balloons and paper decorations.
But the highlight of the day was the party that took place at night outside town. There were three stages and big speakers. I could see many people: women, men and children. Everyone was wearing regional clothes: women in enaguas and embroidered blouses called huipiles; men in white guayabera shirts.
All were welcomed on the stage by a muxe who was this year's 'la mayordomo', the main organiser of the vela, who was accompanied by their partner who is a mayate. Mayates are men who have sexual relationships with muxes, but aren't muxes themselves and are not considered gay.
"An important difference with urban Western sexual culture is that for Zapotecs, only sexual relationships between a muxe and a heterosexual male have meaning. Relations between muxes or between a muxe and a gay man don't make sense, in fact they are even inconceivable.
No muxe would sleep with a man who considers himself gay," writes Marinella Miano Borruso in an article Entre lo local y lo global. Los muxe en el siglo XXI (Between local and global. Muxes in the 21st Century). "Zapotec society as a whole doesn't perceive a man who has relations with a muxe as a homosexual, his hetero-status is not questioned."
According to Miano Borruso, historically muxes didn't have to be homosexual. There were cases of them being heterosexual, bisexual or asexual. "Traditionally, being muxe didn't depend on sexual orientation. It's a cultural gender, social function and identity, but not a characteristic of someone's desires," she explains in her book Hombre, mujer y muxe en el Istmo de Tehuantepec (Man, woman and muxe in Istmo de Tehuantepec).
Nonetheless, all the muxes I talked to at the vela considered themselves homosexual or as a woman born in a male body. Some transform themselves with hormone therapy and implants.
During the annual Queen of the Muxes contest, which formed part of the vela, I noticed many of them had artificial breasts. "That's something new. Fake boobs don't make a muxe more muxe," Noé Díaz commented.
If we, the daughters of St Vicente, won't fight for our rights, then who will?
Muxes have also been involved in the struggle for LGBT rights. Amaranta Gómez Regalado, a muxe from Juchitán, was a local candidate in the elections for the Mexican Congress. Even though she didn't get enough votes, she became famously known as the first transsexual candidate of Mexico.
She's still involved in politics, especially in campaigns against homophobia and for HIV/AIDS prevention.
"Instead of dedicating our lives to embroidery, handicraft or street sales, more and more of us are getting higher education," Felina said. "If we, the daughters of St Vicente, won't fight for our rights, then who will?"
Still, Mexicans have been ambivalent towards homosexuals in general. On one hand, Mexico City was the first Latin American capital to legalise same-sex marriage.
Yet Mexico also suffers one of the highest rates of crime against the LGBT community in the world, with 202 people murdered due to homophobia between January 2014 and December 2016 – which equates to one every three to four days.
For the Mexican and international gay community, Juchitán has become a queer paradise and a symbol of tolerance. Even though some locals still discriminate against muxes, and the muxe community as a whole has less opportunity to study and gain employment, the traditional indigenous division of three genders as a natural and traditional way of being has inspired the LGBT scene around the world – and muxes are becoming aware of it.
"We dedicate this night not only to muxes," I hear from the stage. "It's also your night, for all homosexuals, not just for the ones from the state of Oaxaca, but for all gays from all over the world. Juchitán is open to all of you."    Our Unique World
Los "muxes", las mujeres transgénero de México desde la era precolombina
ovejarosa
Actualidad
,
Trans 
         Poco se ha hablado de la existencia de géneros no binarios en la era precolombina. Imaginamos que, como con las lesbianas, la mejor manera de hacer desaparecer una realidad no deseada es directamente ignorar su existencia.
De ahí que sea tan importante y necesario rescatar nuestra historia LGTB presente y pasada.En la región zapoteca de Tehantepec (México) existieron, ¡y existen!, los muxes.
Ese es el nombre con que los zapotecas denominaban a personas nacidas con genitales masculinos pero que asumían roles y maneras femeninas, tanto social como sexualmente.Los zapotecas eran una civilización profundamente avanzada, y una de las más antiguas, de la era precolombina.
Eran excelentes arquitectos, y su sociedad estaba edificada sobre un matriarcado igualitario: Mientras las mujeres tomaban las decisiones sobre economía y comercio, los hombres se ocupaban de la vida política.
Los muxes eran como un tercer género totalmente integrado en la sociedad. Podían formar parejas monógamas con un hombre o con una mujer, según su propio deseo, y casarse por los mismos rituales que el resto, así como tener hijos.
Algunos muxes seguían el rito de iniciar sexualmente a los muchachos adolescentes, no así a las muchachas, pues para los zapotecas una mujer debía llegar virgen al matrimonio. –Se ve que todas las culturas del mundo están un poquito obsesionadas con la virginidad femenina-.
En la actualidad siguen existiendo los muxes –según un estudio atropológico reciente conforman el 6% de la población de Tehuantepec-. Hoy en día suelen formar relaciones temporales con hombres, aunque pueden hacerlo con mujeres si lo desean.En las familias el hijo muxe es considerado todavía como "el mejor de los hijos" y suele ser el que se queda al cuidado de los padres en la vejez, asumiendo el rol de apoyo moral de la familia, algo que se considera "prestigioso". Al morir la madre o abuela, heredan la autoridad moral y económica de la familia.
Es posiblemente ésta la razón porque en algunas familias, principalmente las que no han tenido hijas, se cría a uno de los hijos para que sea muxe, aunque este siempre tiene la última palabra.Los muxes tienen una presencia social tan fuerte que tienen supropia festividad, llamada La Vela de las Auténticas Intrépidas Buscadoras del Peligro, evento que integra la diversidad sexual en la vida cotidiana de la sociedad oaxaqueña. Durante la fiesta se realizan shows muxes, semejantes a los shows travestis, que cuentan con gran aceptación en la sociedad.En el 2003, una muxe de 25 años, Amaranta Gómez, presentó su candidatura al congreso unicameral del estado de Oaxaca. Actualmente participa en varios proyectos en pro de la comunidad LGTB y es miembro del Comité Estatal Contra la homofobia

Si te interesa profundizar en la realidad muxe, te recomendamos el documental "Muxes: Auténticas, intrépidas y buscadoras de peligro", de Alejandra Islas.
Los muxes, el tercer género que existe en México: "Hay hombres y mujeres, y hay algo en medio"
En la región de Istmo de Tehuantepec, en el estado de Oaxaca, hay tres géneros desde la época prehispánica: hombres, mujeres y muxes.
"¿Qué forma debo usar cuando hablo con usted: femenina o masculina?", le pregunté a Lukas Avendaño, a quien había visto en pantalones al principio del día pero que ahora llevaba una falda negra tradicional con coloridas flores bordadas.
Estábamos hablando en español, con sus sustantivos y pronombres con género. "Prefiero que solo me llames cariño", se ríe Avendaño.
Aquí, en la región de Istmo de Tehuantepec, en el estado de Oaxaca, en el sur de México, hay tres géneros: hombres, mujeres y muxes. Esta tercera clasificación ha sido reconocida y celebrada desde la época prehispánica, y es difícil imaginar la vida sin muxes aquí.
Pero en esta región donde la mayoría de la gente habla el idioma indígena zapoteco, mi pregunta no tiene mucho sentido.
"En zapoteco, como en inglés, no hay géneros gramaticales. Solo hay una forma para todas las personas. Los muxes nunca se han visto obligados a preguntarse: ¿son más hombres o más mujeres? ", explica Avendaño.Somos el tercer sexo", añade Felina, quien, a diferencia de Avendaño, decidió cambiar el nombre masculino que le puso su familia al nacer, Ángel, y solo usa este apodo. "Hay hombres y mujeres y hay algo en medio. Y eso es lo que soy".
Estuve en la Vela de las Intrépidas (Vigilia de las Intrépidas), la celebración anual que llevan a cabo los muxes cada noviembre en Juchitán de Zaragoza, una pequeña ciudad en el Istmo de Tehuantepec.
Distintos estilos
Al observar a los diferentes muxes, no encontré mucho en común entre sus estilos. Había muxes que, como las tehuanas locales (mujeres del Istmo de Tehuantepec), vestían los mismos trajes ricamente bordados que inspiraron el estilo único de Frida Kahlo.
Otros parecían preferir los vestidos de estilo occidental o la ropa de drag queen. Y había algunas prendas de vestir para hombres, mostrando su estado con solo un simple maquillaje y esmalte de uñas.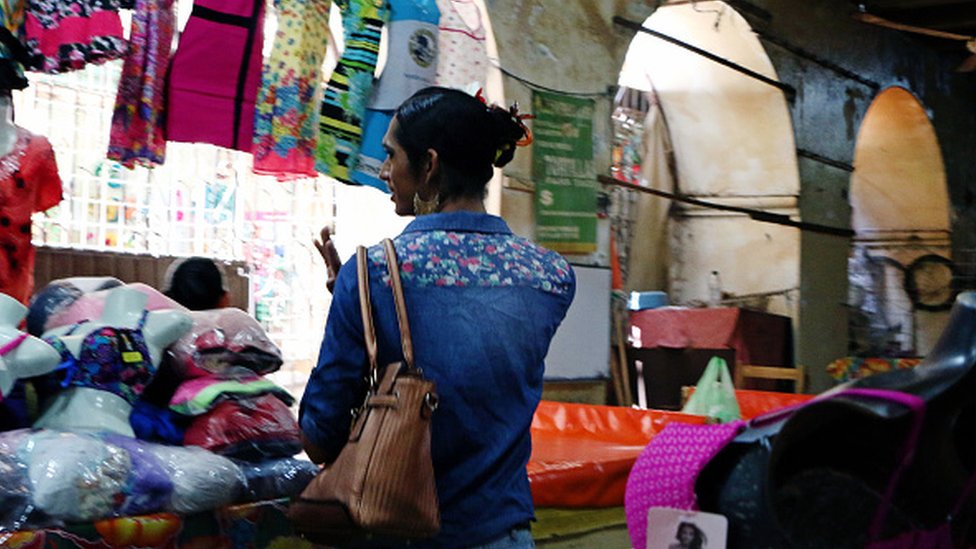 "Es difícil describir quién es un muxe. Básicamente, podemos decir que un muxe es cualquier persona que nació hombre pero que no actúa de manera masculina", dice Avendaño.
"Lo que sabemos, 'bajo el punto de vista occidental', es que 'travesti de hombre a mujer', 'transexual de hombre a mujer', 'gay afeminado' o 'gay masculino' parece estar incluido en la categoría de 'muxe' siempre que haya un fuerte componente de identidad étnica", escribe el antropólogo Pablo Céspedes Vargas en su artículo "Muxes en el trabajo: entre la pertenencia de la comunidad y la heteronormatividad".
Avendaño también enfatiza que "muxe" es un término zapoteco y no se puede entender sin saber más sobre su cultura.
Esto es así porque el concepto de muxe solo existe aquí, en el Istmo de Tehuantepec, donde estas personas son una parte importante de la comunidad. Algunos dicen que se cayeron del bolsillo de Vicente Ferrer, el santo patrón de Juchitán, al pasar por la ciudad, lo que, según los lugareños, significa que nacieron con una estrella de la suerte.
Una segunda versión de la leyenda del santo dice que Vicente Ferrer llevaba tres bolsas: una con semillas femeninas, una con semillas masculinas y otra donde las dos estaban mezcladas. De acuerdo con esta historia, la tercera bolsa se filtró en Juchitán, y esa es la razón por la que hay tantos muxes aquí.
Pero Fernando Noé Díaz, afirma, un maestro de escuela primaria que tiene muchos amigos muxe, no está de acuerdo con esto. "No es cierto que haya más aquí. Simplemente son más respetados, para que puedan ser más visibles", afirma.
Un muxe llamado Kika nos había invitado a la vela de esta noche. Allí, cada habitación tenía una sección con mesas y decoraciones donde se servían alimentos y bebidas a sus huéspedes.
"Supongo que los muxes son muy respetados porque son más un género social que sexual. Tienen un papel importante en la comunidad", añade Noé Díaz.
Su papel en la comunidad
Juchitán es famoso en todo México por sus mujeres fuertes y orgullosas. Algunos incluso lo llaman matriarcado, lo cual no es necesariamente correcto, pero las mujeres tradicionalmente manejan el dinero que los hombres traen a casa.
Los locales bromean diciendo que los hombres aquí tienen penes dulces o salados, lo que significa que son agricultores o pescadores. Las mujeres, por otro lado, deben vender lo que los hombres producen, y el mercado constituye sus dominios.
Esta noche, como es tradición en la vela, las mujeres tradicionalmente donan dinero como regalo, mientras que los hombres llevan cajas de cerveza.
"Cuando el hombre está en el mar o en el campo y la mujer está en el mercado, no hay nadie para cuidar de la casa y la familia. Ahí es donde entra el muxe", explicó Noé Díaz.
"Algunos incluso dicen que es una bendición para una madre tener un hijo muxe que la ayudará en la casa y cuidará a los hermanos pequeños. Además, a los muxes no se les permite socialmente tener relaciones a largo plazo o casarse para que puedan quedarse con sus madres cuando envejezcan".
En la vela, las madres son las que sirven comida en cada mesa. La madre de Kika comprueba que nadie tiene hambre, y los miembros más jóvenes de la familia me dan una nueva cerveza cuando la mía comienza a vaciarse.
Pero Kika no quería dedicarse al trabajo doméstico, uno de los roles tradicionales de muxe, junto con las artesanías y las ventas en el mercado. Ella es propietaria de un salón de belleza en el centro de la ciudad. Lo mismo ocurre con Felina, que dirige un grupo de muxes, las Auténticas Intrépidas Buscadoras del Peligro, que son los organizadores de la vela de esta noche.
Según Noé Díaz, muchos muxes trabajan en la preparación de las fiestas tradicionales que suponen una gran parte de la economía local. Confeccionan disfraces y adornos para velas, bautizos, comuniones, fiesta de 15 años y bodas.
Noé Díaz también conoce muxes que se dedican a fabricar artesanías para vender en los mercados. Otro de sus amigos muxe es un maestro de escuela primaria.
Avendaño es un actor y director que viaja por el mundo con su espectáculo sobre lo que significa ser un muxe y que se titula Réquiem para un Alcaraván.
El show pone mucho énfasis en la parte católica de la identidad del muxe.
"Los muxes siempre han tenido un papel importante en la Iglesia católica local. Su trabajo era preparar las decoraciones de la iglesia. En Tehuantepec, la ciudad de donde provengo, los muxes tienen su propia hermandad dentro de la Iglesia", dice Avendaño al explicar cómo la Iglesia católica acomodó sabiamente la tradición de los tres géneros que está profundamente arraigada en la cultura local.
La celebración de hoy comenzó con una santa misa en honor a los muxes en la iglesia local del patrón Vicente Ferrer.
Después de la misa, comenzó la tradicional procesión por las calles del pueblo. La multitud colorida fue liderada por una banda y muxes portando velas.
Detrás de ellos, más muxes seguían la caravana en autos y camiones decorados con flores, globos y decoraciones de papel. Pero lo más destacado del día fue la fiesta que tuvo lugar por la noche fuera de la ciudad.
Pude ver a muchas personas: mujeres, hombres y niños. Todos llevaban ropa regional: mujeres en enaguas y blusas bordadas, llamadas huipiles; hombres en guayaberas blancas.
Todos fueron recibidos en el escenario por un muxe que desempeña el papel de lo que se conoce como el "mayordomo", el organizador principal de la vela, que estuvo acompañado por su compañero, que es un mayate.
Los mayates son hombres que tienen relaciones sexuales con muxes, pero no son muxes y no son considerados homosexuales.
"Una diferencia importante con la visión cultural sobre el sexo de Occidente es que para los zapotecas, solo las relaciones sexuales entre un macho muxe y un heterosexual tienen significado. Las relaciones entre muxes o entre un hombre muxe y un hombre gay no tienen sentido, de hecho son inconcebibles. Ningún muxe dormiría con un hombre que se considera gay", escribe Marinella Miano Borruso en un artículo titulado "Entre lo local y lo global: los muxe en el siglo XXI".
"La sociedad zapoteca en su conjunto no concibe a un hombre que tiene relaciones con un muxe como un homosexual, su estatus de hetero no se cuestiona".
Según Miano Borruso, históricamente, los muxes no tenían por qué ser homosexuales. Hubo casos en los que eran heterosexuales, bisexuales o asexuales.
"Tradicionalmente, ser muxe no dependía de la orientación sexual. Es un género cultural, una función social y una identidad, pero no una característica del deseo sexual de alguien", explica en su libro "Hombre, mujer y muxe en el Istmo de Tehuantepec".
No obstante, todos los muxes con los que hablé en la vela se consideraban homosexuales o una mujer nacida en un cuerpo masculino. Algunos se transforman con terapias de hormonas e implantes.
Durante el concurso anual de la Reina de los Muxes, que formó parte de la vela, noté que muchos de ellos tenían senos artificiales. "Eso es algo nuevo. Los pechos falsos no hacen a un muxe más muxe ", comentó Noé Díaz.
Los muxes también han estado involucrados en la lucha por los derechos LGBT. Amaranta Gómez Regalado, un muxe de Juchitán, fue candidato local en las elecciones para el Congreso mexicano.
A pesar de que no obtuvo suficientes votos, se hizo famosa como la primera candidata transexual de México. Sigue involucrada en política, especialmente en campañas contra la homofobia y para la prevención del SIDA.
"En lugar de dedicar nuestras vidas al bordado, la artesanía o las ventas callejeras, cada vez más recibimos una educación superior", dijo Felina.
"Si las hijas de San Vicente no luchamos por nuestros derechos, ¿quién lo hará?".
Aún así, los mexicanos siguen teniendo sentimientos encontrados hacia los homosexuales en general. Por un lado, Ciudad de México fue la primera capital latinoamericana en legalizar el matrimonio entre personas del mismo sexo.
Sin embargo, el país también sufre una de las tasas más altas de delitos contra la comunidad LGBT en el mundo, con 202 personas asesinadas por homofobia entre enero de 2014 y diciembre de 2016, lo que equivale a uno cada tres o cuatro días.
Para la comunidad gay mexicana e internacional, Juchitán se ha convertido en un paraíso extraño y un símbolo de tolerancia.
A pesar de que algunos lugareños siguen discriminando a los muxes, y la comunidad muxe en general tiene menos oportunidades de estudiar y conseguir un empleo, la división indígena tradicional de tres géneros como una forma de ser natural y tradicional ha inspirado a los colectivos LGBT en todo el mundo.
Los muxes son cada vez más conscientes de esto.
"Dedicamos esta noche no solo a muxes", escucho desde el escenario. "También es tu noche. Para todos los homosexuales, no solo para los del estado de Oaxaca, sino para todos los homosexuales del mundo. Juchitán está abierto para todos ustedes".