Bombing and shelling let loose along the whole border.
To bomb Rojava Erdogan certainly has Airspace Use permission from the US, making Trump a direct War Criminal.
Turkey has also let loose its paid jihadi mercenaries who are attacking  the Kobani area, hoping to murder, loot and rape.
22:00 Turkish aggression on Gire Spi killed a couple in the village of Mikalta.
21:52  Turkish jets strike the vicinity of al-Chirkin prison in Qamishlo where ISIS prisoners are held. Mustefa Bali, head of SDF Press Office, said the place is where the most dangerous jihadists are held.
Rumours say that Turkey will use the same tactic as in the Afrin invasion. That is to prolong a massive bombardment to make the surviving people flee, never to be let return,  before setting up military bases. Ethnic cleansing has already begun.
18:27   While the attacks continued around the city of Sêrikaniyê with mortars, Sêrikaniyê Military Assembly forces responded. There are thousands of civilians in the city, children, old people, this is pure fascist terror  .. 21:28  .. Al-Nusra gangs and the Turkish army are heavily bombing Serekaniye from three sides. The occupation forces attempt to enter the area amid intense artillery fire.


---

21:08Clashes with heavy weapons continue at Qamishlo border. The Turkish army continues with mortar attacks against the city center, leaving some civilians wounded.
21:00Agression on Bisheriya neighborhood of Qamishlo left 25-year-old Syriac woman Juliet Nikola and 37-year-old Fadi Hapsono heavily wounded. The ongoing bombardment has caused fire in some houses.20:45SDF: Three of our fighters and five civilians have been martyred.20:44Turkish army and allies are heavily shelling the Qamishlo and Gire Spi city centers.20:38

SDF fighters have destroyed a tank of the Turkish army at Derik border.

20:15

The invading Turkish army is shelling the village of Sülük in Kobanê with howitzers. SDF forces are responding.

20:13

Violent clashes reported between the occupying Turkish state and SDF fighters in Eyn Dîwarê, a district of Derik.

20:07

Upon hearing that the Turkish state launched attacks on Rojava, the Kurds and their friends living in the Swedish capital Stockholm stood up for the defense of Rojava.

19:55

Warplanes belonging to the invading Turkish army are bombing around Girê Spî. Movement of warplanes continues in the region.

19:46

A civilian was killed and 1 injured in the attack of the Turkish army against the Syrian and Assyrian neighborhood of Bêşiriye in Qamishlo.
18:32
In Dêrik, the people protested the Turkish state's invasion of northern and eastern Syria. People marched chanting slogans on the streets of the city.
18:27
While the attacks continued around the city of Sêrikaniyê with mortars, Sêrikaniyê Military Assembly forces responded. There are thousands of civilians in the city.
18:23
A 6-year-old boy in the village of Sê Girka in Qamishlo was wounded during the attack of the occupying Turkish state. In the same area, the Turkish army shot a vehicle belonging to civilians.
18:21
Responding to the Turkish state's occupation attack, HDP co-chair Sezai Temelli said in a statement, "Let us give voice to Rojava. Let's speak out against this war against the Kurdish people".
Turkey's jihadi mercenaries vow to massacre Kurds. "Strike them with an iron fist, make them taste the hell of your fires," a statement from the so-called National Army, the main Turkey-backed rebel force told its fighters.. Al Jazeera.
---
Erdogan has gone too far with his dictatorship, purges, economic wrecking and corruption. His own AKP Party is rapidly losing members. But he has gained huge personal dictatorial powers.  The biggest demonstrations against the Invasion are taking place now in Turkey itself. We should also support  them in every way we can and call for a general uprising in Turkey now.
The invasion is going ahead, despite the unanimous rejection by all communities, Arab, Syriac, Christian, Armenian, etc not just Kurdish people in the local towns, as well as most major countries worldwide, with Russia silent.24hr Human Shields protests have been set up along the border with local people vowing to stand before the hundreds of tanks lined up to roll south.
The local councils of various towns and areas have held huge protests and promised to resist Turkish fascism to their last breath.
What was the Erdogan/Trump deal?  We don't know if anonymous money will change hands. It was a Sunday night phone call. It's possible Trump was drunk or drugged because he later made much of a promise by 'Erdy' to save the US the expensive of ISIS detainees, not realizing that the detainees aren't in US custody anyway. Seems like Trump the dirty dealer didn't even sell a patriot missile in exchange for gifting his allies country to an insane fascist dictator.

Bombing/Shelling Begins:

#Breaking:Two civilians lost their lives, two others were injured in the Turkish aerial bombardment targeted the village of Misharrafa, west of Ras al-Ain. pic.twitter.com/fZOM8T76I9

— Coordination & Military Ops Center – SDF (@cmoc_sdf) October 9, 2019

A witness told the Reuters news agency that thousands of people had fled Ras al-Ain deeper into SDF-controlled territory towards Hasaka province.  09 Oct 2019, Wed – 16:35  Turkish occupation aircraft bombs Serekaniye … 09 Oct 2019, Wed – 16:43     Turkish occupation army shells Ain Issa and Girê Spi , 09 Oct 2019, Wed – 17:19   Occupation army shells western Qamishlo's Sikarka village  … etc …
Who will win?
Trump gave in to Erdogan with a silly promise to withdraw, then stated vaguely that there are limits, with some macho threats. The key limit may be whether he has permission to use the airspace which in NE Syria is controlled by the USA.
Without the bombing permission his gigantic army can still roll south, but might take heavy casualties. In the Afrin Invasion this airspace permission was granted by Russia in exchange for an evil deal, (making Putin a mass war criminal) and the place was carpet bombed for days before the invasion began.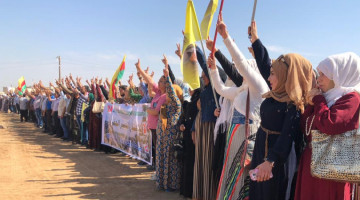 Trump did not deny giving bombing permission, but its possible with his Generals and many countries worldwide against the invasion, (including France and the UK which are still nominally in the Coalition), that airspace permission could be withheld.
---
Then Erdogan might go ahead anyway..( it's hard to see the US shooting down a Turkish jet, which is also NATO and could even be sharing the same Incirlik airbase!).. or could limit the invasion for now to the fake "safe area" along the border.
In any case the invasion is going ahead, despite the unanimous rejection by all communities, Arab, Syriac, Christian, etc not just Kurdish people in the local towns, where internal refugees have  flocked back as Isis was driven out and who seem happier to live in a democratic, horizontally organised democracy than under Erdogan, ISIS, Al Qaeda or Assad.
The SDF coalition of militias, of Rojava/Autonomous Administration(AA) though 70,000 strong, are facing a giant 639,551.[8] strong modern NATO army , led by an openly fascist, racist, misogynist and mass murdering expansionist regime, as being illustrated daily  in Afrin,  which could roll over them in days.
The SDF has very few armoured vehicles, tanks or heavy artillery and of course no air force while Turkey is the second biggest NATO force with tens of thousands, now poised to take over Rojava and northern Syria.
Therefore the SDF will probably go for a guerilla resistance from the beginning, as any set battles in the open countryside could be suicidal.
The Turkish state ruled by the AKP-MHP coalition has openly announced its plan to invade the Rojava region. HDP, SYPG-JKŞ-CKŞ, TJA and ESP called for resistance against the invasion plan.ANF    Peoples' Democratic Party (HDP), Free Women's Movement (TJA), Socialist Party of the Oppressed (ESP) and SYPG-JKŞ-CKŞ released statements in response to the Turkish state's threats of invasion against Rojava.
Free Women's Movement (TJA) stated that an imminent military operation against Northeast Syria by the AKP-MHP coalition, which remains standing with war and repression, is an effort to bring itself into existence over attacks against Kurdish achievements and to cover its collapsing domestic policies with fascism and militarism.
TJA called upon all circles of society to stand against the AKP-MHP government's policies for deepening the conflict.
Peoples' Democratic Party (HDP) Central Executive Board stressed that the AKP-MHP government putting a new military aggression against North and East Syria on the agenda was an extremely dangerous and wrong step.
HDP warned that the destruction to be caused by an intervention of this kind and population engineering would be categorized as a crime against humanity before international law.
The party pointed out that in addition to the Kurds, Arabs, Turkmens, Syriacs, Armenians and Yazidis in the region were also under a great threat.
HDP called on the forces of peace and democracy in Turkey to take an effective and determined stance against the AKP-MHP alliance that is trying to consolidate its destabilized rule;  "Such a military intervention means more repression on the society in Turkey, more financial burdens, poverty, a deepening crisis, widespread lawlessness and the lack of democracy.
With this likely intervention, Turkey is being dragged into a dangerous and deep trap, an adventure with no boundaries. We can stop this together."
The Socialist Party of the Oppressed (ESP) warned against "fascist Turkish state threat of invasion against the Rojava Revolution that gained its right to existence with a battle based on self defense against ISIS mercenaries, the reactionary states in the region and imperialist forces".
ESP called on Turkish workers and laborers to reclaim their honor and to oppose the colonial war.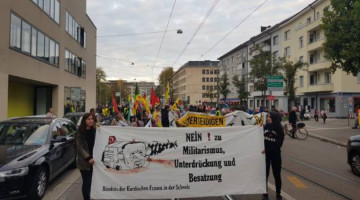 "Rojava Revolution is the revolution of workers, women, youth and the oppressed peoples. Rojava Revolution is our revolution. Let's defend it against the fascist colonialist state and its mercenaries. Let's be the voice of Rojava peoples everywhere we are. Let's raise the struggle against occupant colonialism on the streets."
SYPG-JKŞ-CKŞ pointed out that this operation cannot be considered or started independently from international imperialist alliance relationships.
The statement by SYPG-JKŞ-CKŞ said; "It is not really surprising that the US which was in a tactical alliance with SDF at first, now approves the Turkish state's occupation campaign against North and East Syria. The US, which acts in line with its own international military and economic interests, connives at the massacre of the region's peoples by Turkish invasion today, an act that actually corresponds its essence.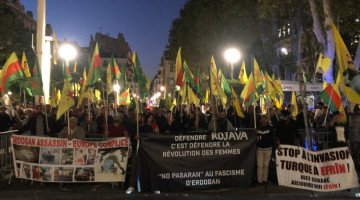 They are afraid because Rojava Revolution is the door to the freedom of all peoples. Alongside the self defense forces and mechanisms of the people, we will be resisting the occupation operations of the Turkish state, colonial regional states and international imperialist forces to the last drop of blood.
To keep silent is to be a party to this crime. All streets should be turned into areas of resistance against invasion."