see also..UPDATE 9 Oct: Urgent Calls for Resistance against Turkish Invasion of Rojava
International Call: Rise Up, Defend Rojava!..
.ANF NEWS DESK
see also:
The SDF coalition of militias, of Rojava/Autonomous Administration(AA) though 70,000 strong, are facing a giant 639,551.[8] strong modern NATO army , led by an openly fascist, racist, misogynist and mass murdering expansionist regime, as being illustrated daily  in Afrin,  which in principle should destroy them in days.
The SDF has very few armoured vehicles, tanks or heavy artillery and of course no air force at all, while Turkey is the second biggest NATO force with tens of thousands, now poised to take over Rojava and northern Syria.
21:41 10 Oct 19:Fighting resumes between Manbij Military Council fighters and the occupation forces in Ceblê, Hemra, Til Torîn and Boxaz villages of Manbij that were attacked with heavy weapons. Manbij Military Council fighters are retaliating in kind.
Most of Turkey's weapons are US, and there are no restrictions, so in replacements the US, and personally Donald Trump, stand to gain a bonanza from a genocidal massacre they permitted, and could have prevented with just 1000 of their million strong military.
The SDF should therefore probably go for a guerilla resistance from the beginning, as any set battles in the open countryside could be suicidal. However this is do or die for them, and for their amazing human revolution. Everything else has been tried. There is no other choice but total resistance.
Another tactic then may be to extend the battlefield, on all levels.. all the long border, in Afrin, in Iraq, in Iran and across Europe and the world, with all, including me and hopefully you, resisting at their own level.
Rise Up For Rojava !
---
@RojavaNetwork    SDF Military source: "SDF stunned Turkish forces and confused them by extending the front line to 650 km while Ankara planned to 80 km, so the SDF opened more than eight battle fronts while the Turkish army planned one."
@RojavaNetwork       Afrin Liberation forces: "A convoy belonging to the Turkish occupation army were targeted in Afrin, casualties unknown, at the same time our forces has eliminated four and wounded two Turkish-backed militants"

 @RojavaNetwork  +++People protection units (YPG) has infiltrated in the city Cizre (Cizîr) in Turkey. YPG has raided and surrounded a police station, clashes continue.

#Twitterkurds

#Rojava

#SDF

#Turkey

#TSK

#Syria

---
International reactions have been almost unanimous but not concrete. Only Qatar and  Spain have supported Erdogan with their aggression. The USA has remained erratic. Trump has assured that he will not accept Erdogan's inhuman action and threatened with "more than just sanctions."
At the same time, he said he did not care if the 10,000 prisoners of the Islamic State escaped as they would go to Europe and not the US and that the Kurds "fight for their land", so it was not a problem with the U.S."They did not help us in World War II nor in Normandy," said the ridiculous Republican president. In the US, a bipartisan proposal (Democrat and Republican) has been presented by congressmen and senators to approve economic sanctions against Turkey for aggression.
Most states have opted for silence or verbal convictions such as the EU, Germany, Egypt or Saudi Arabia.Finland has announced that it stops selling material that can be used militarily, mainly iron and steel. The Netherlands has called on the Turkish ambassador to consult and has called a parliamentary session to approve sanctions against Erdogan.
The French state, with troops in the region, for the moment it is unknown where they are, has organized a meeting between E. Macron and a Kurdish delegation. Former President F. Hollande has been more specific and has called for immediate sanctions against Erdogan.
Iran has recommended that the Self-Government of the North and East Syria be submitted to the Syrian government of Assad, but Aldar Xelîl, representative of Rojava, has stated that Russia has blocked any possible agreement with Damascus.
Surprisingly the Syrian government has not made any statements about the Turkish entry into its territory and the air and ground bombardments. '
translated from Kurdis Cat
---
Bombing and shelling let loose along the whole border.
To bomb Rojava Erdogan certainly has the key Airspace Use Permission from the US, making Trump a direct War Criminal.
Turkey has also let loose its paid jihadi mercenaries who are attacking  the Kobani area, hoping to murder, loot and rape.
 Turkish aggression on Gire Spi killed a couple in the village of Mikalta.
  Turkish jets strike the vicinity of al-Chirkin prison in Qamishlo where ISIS prisoners are held. Mustefa Bali, head of SDF Press Office, said the place is where the most dangerous jihadists are held.
Rumours say that Turkey will use the same tactic as in the Afrin invasion. That is to prolong a massive bombardment to make the surviving people flee, never to be let return,  before setting up military bases. Ethnic cleansing has already begun.
 While the attacks continued around the city of Sêrikaniyê with mortars, Sêrikaniyê Military Assembly forces responded. There are thousands of civilians in the city, children, old people, this is pure fascist terror . Al-Nusra gangs and the Turkish army are heavily bombing Serekaniye from three sides. The occupation forces attempt to enter the area amid intense artillery fire. On Thursday large numbers of Turkish paid jihadi mercenaries joined the assault on Serekaniye, but were defeated with very heavy casualties.
CNT union: Spain must end relations with Turkey
CNT warned that "the life of our partners and our international partners, who have joined their fate to that of the local population is in danger because of the Turkish attack".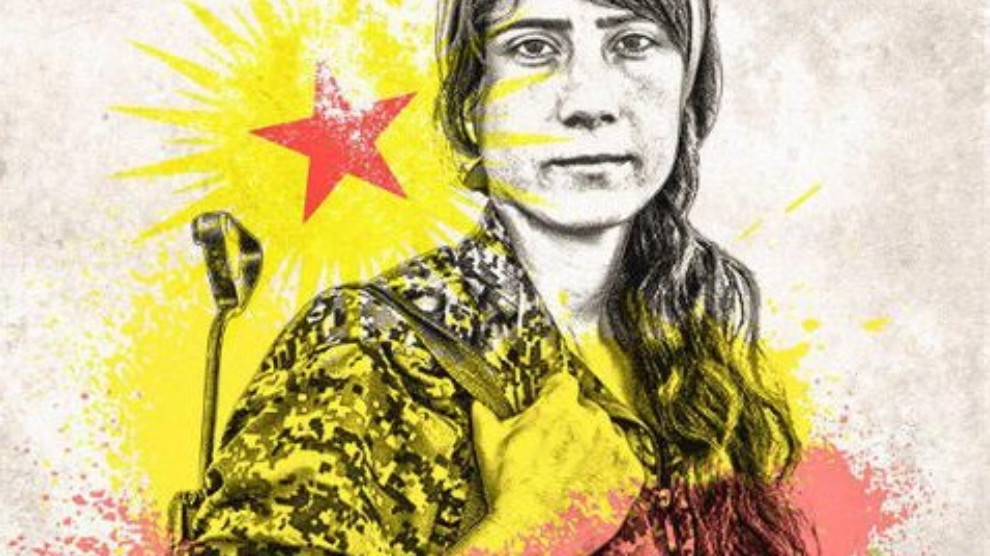 SOME OF THE MANY INVASION REPORTS FROM ANF
10:50  Internet cut off in Serêkaniyê where violent clashes are taking place.
10:49  Warplanes belonging to the invading Turkish army are bombing around Girê Spî.
10:46  After the Turkish state launched an invasion of Kurds, the Arab League decided to call an emergency meeting on Saturday.
At the request of Egypt, the Arab League Foreign Ministers will meet in Cairo on October 12 to discuss the Turkish attack on Syrian territory, said Husam Zaki, Deputy Secretary General of the Arab League.
10:40  The invading Turkish army continues military deployment to the border. Many armored vehicles and construction equipment and ammunition are transported to the Suruç district of Urfa.
The gendarmerie set up checkpoints at the entrance of the district of Suruç Aligör, while police checkpoints have been set up in Suruç.
Vehicles are stopped and searched while vehicles' license plates are recorded and released.
10:27  Warplanes of the invading Turkish army are flying over Girkê Legê.
---
9 OCT

21:08Clashes with heavy weapons continue at Qamishlo border. The Turkish army continues with mortar attacks against the city center, leaving some civilians wounded.21:00Agression on Bisheriya neighborhood of Qamishlo left 25-year-old Syriac woman Juliet Nikola and 37-year-old Fadi Hapsono heavily wounded. The ongoing bombardment has caused fire in some houses.20:45 SDF: Three of our fighters and five civilians have been martyred. 20:44 Turkish army and allies are heavily shelling the Qamishlo and Gire Spi city centers. 20:38 SDF fighters have destroyed a tank of the Turkish army at Derik border. 20:15 The invading Turkish army is shelling the village of Sülük in Kobanê with howitzers. SDF forces are responding. 20:13 Violent clashes reported between the occupying Turkish state and SDF fighters in Eyn Dîwarê, a district of Derik.
20:07Upon hearing that the Turkish state launched attacks on Rojava, the Kurds and their friends living in the Swedish capital Stockholm stood up for the defense of Rojava.
19:55Warplanes belonging to the invading Turkish army are bombing around Girê Spî. Movement of warplanes continues in the region.
19:46  A civilian was killed and 1 injured in the attack of the Turkish army against the Syrian and Assyrian neighborhood of Bêşiriye in Qamishlo.
18:32 In Dêrik, the people protested the Turkish state's invasion of northern and eastern Syria. People marched chanting slogans on the streets of the city.
18:27 While the attacks continued around the city of Sêrikaniyê with mortars, Sêrikaniyê Military Assembly forces responded. There are thousands of civilians in the city.
18:23 A 6-year-old boy in the village of Sê Girka in Qamishlo was wounded during the attack of the occupying Turkish state. In the same area, the Turkish army shot a vehicle belonging to civilians.
18:21  Responding to the Turkish state's occupation attack, HDP co-chair Sezai Temelli said in a statement, "Let us give voice to Rojava. Let's speak out against this war against the Kurdish people".
Turkey's jihadi mercenaries vow to massacre Kurds. "Strike them with an iron fist, make them taste the hell of your fires," a statement from the so-called National Army, the main Turkey-backed rebel force told its fighters.. from  Al Jazeera.


---

Spain, only European country supporting Turkey's invasion of Syria

Using the hashtag #SupportToTurkey, Spain emphasized the fact that Turkey is a NATO member state and ally, promising "commitment and solidarity with our [Turkey] ally", along with images of joint NATO drills.

Spain has large  sales of military equipment to the neo-fascist regime in Turkey, but other countries have defied Erdogan's open threats and condemned the invasion. Spain is also paranoid about Catalan campaigns for independence and may see Rojava as a bad example, although the multi-ethnic popular AA administration in Rojava has never called for independence from Syria.

---

Call to Action: Solidarity with Rojava! Against the Turkish Invasion!

On October 6, the Trump administration announced it was pulling US troops out of northern Syria, essentially giving Turkish President Recep Tayyip Erdoğan a green light to invade Rojava, carry out ethnic cleansing, and forcibly resettle the area. **We are calling for people around the world to engage in protest and/or disruption at Turkish consulates, US government offices, arms manufacturers, and businesses connected with the Turkish government, such as Turkish Airlines.**

Since 2012, the autonomous region of Rojava has hosted an inspiring multi-ethnic experiment in self-determination involving a network of councils, communes, and cooperatives, all while fighting the Islamic State (ISIS). After years of struggle, despite sustaining massive casualties, fighters from Rojava participated in liberating all of the territory that ISIS had occupied and freeing those who had been held captive in ISIS strongholds.

Barcelona amb la Revolució de Rojava contra l'imperialisme turc: Solidaritat i autodefensa #DefensemRojava #RiseUpRojava #KurdishGenocide @AzadiPlataforma @KurdisCat pic.twitter.com/BzfVjm5J7C

— 📡 LaMosca.Tv 📺 (@okupemlesones) October 11, 2019

In an attempt to justify permitting Turkey to invade Syria, Trump has tweeted that US taxpayers should not have to pay to keep ISIS fighters detained. In fact, the US has not paid a cent to detain captured ISIS fighters; that has been completely organized by the Syrian Democratic Forces (SDF). The reality is that the Turkish invasion of Kurdish territory will create the conditions for ISIS to reemerge and resume operations in Syria and around the world. For years, Turkey has permitted weapons, recruits, and resources to reach ISIS through its borders.

For years, anarchists, socialists + antifascists have given their lives in the fight against ISIS + in support of the autonomous confederation of Rojava in so-called Northern Syria. Praised by US politicians + pundits as heroes against ISIS, yet demonized at home as "terrorists." pic.twitter.com/TwjZuQxF5b

— It's Going Down (@IGD_News) October 8, 2019

Both ISIS and the Turkish invasion pose an existential threat to all the ethnic and religious groups indigenous to the region, including Arabs, Christians (Armenians, Assyrians, Chaldeans, and Syriacs), Turkmens, Chechens, Alevites, and Yazidis. Many of these groups have gained a voice in their own lives for the first time, yet now face massacre at the hands of the Turkish military and the jihadists.

Turkey's invasion of Rojava sets a new precedent for military aggression, ethnic cleansing, and the destruction of egalitarian and feminist experiments like the one in Rojava. It sets the stage for more bloodshed and oppression everywhere around the world, paving the way for ethno-nationalist autocrats like Trump, Erdoğan, Bashar al-Assad, Jair Bolsonaro, and Vladimir Putin to dominate world politics for generations to come.

For months, people in Rojava have called for international solidarity in the event of an invasion. We must bring attention to the plight of the people in Rojava and make it known that there will be consequences for this.

To keep silent is to be complicit.

We call on all people of good conscience to organize themselves, protest, and mobilize at Turkish consulates, US government offices, arms manufacturers, and businesses connected with the Turkish government, such as Turkish Airlines. The Rojava Solidarity Committee Europe has joined organizers in Rojava in calling for a day of action on October 12th, against the Turkish invasion; we endorse this call, and call for further actions before and after October 12th.

We need to build a context for broad-based direct action as a step towards building a global movement that can make such atrocities impossible. Together, we can stop the invasion.

See you in the streets.

Upcoming North American Events in Solidarity:

Wednesday, October 9th, 2019:

Thursday, October 10th:

Saturday, October 12th:

Sunday, October 13th:

Timeline of Solidarity Actions:

Monday, October 7th, 2019:

Toronto, ON, Canada: Solidarity protest outside of the US consulate.
Anarchist solidarity banners in Appalachia.

Tuesday, October 8th, 2019:

Solidarity banners dropped in Lincoln, Nebraska. Report and photos here.
Washington, DC: Rally held outside of White House by Kurdish groups and antifascists in solidarity with Rojava and against Turkish aggression.
Ottawa, ON: Protest outside of US embassy.

Tools

Endorsements

If your organization endorses this call, please circulate this text and contact us at coordination.for.rojava@protonmail.com to sign on. This list will be updated regularly at crimethinc.com and itsgoingdown.org…..

…..