Benki Piyãnko in his village, Apiwtxa, explaining about his work with agroforestry systems
Deforestation in the Amazon
Benki Pyãnko is a community leader from Apiwtxa, an Ashaninka community situated in the Amazonian state of Acre, Brazil. He has led projects to defend his community from deforestation and to defend Ashaninka rights and culture in the indigenous territory of Terra Kampa do Rio Amônia.
His community's sustainability projects were awarded an Equator Prize by the U.N. in 2017.
As TIME 
reported
 in its recent special climate issue, 
the fires from the Amazon
 seen across the skies of Brazil in August "helped illuminate something the world can no longer ignore." On the front lines of the fight to protect the land is 46-year-old Benki Pyãnko, who has experienced these significant — and devastating—changes to the environment firsthand.
A ambassador of the Ashaninka people, Pyãnko has led environmental and reforesting projects in his community of Apiwtxa, inhabiting the indigenous territory of Terra Kampa do Rio Amônia in the Brazilian state of Acre, located close to the border with Peru and covered by the Amazon rainforest.
---
This Australian documentary is about the indigenous Mundruku tribe and their efforta to stop illegal deforestation in the Brazil's Amazon rainforest. Altogether the Amazon is home to 300 indigenous tribes. All are threatened by multinational mining, agricultural and logging interests. This film also looks at the big threat to their way of life posed by the election of right wing populist Jair Bolsonaro as president.
---
Where we live, there is still a great deal of richness as far as forests, animals, plants. These species still exist because of the way we guarded and tended the forest since around 1986 when we began this work of preservation.
see also> Their duplicity was on display at the recent G7 conference, where the countries' leaders collectively promised to donate $20 million to fight the Brazilian inferno. That's about as effective as arming the firefighters with toy squirt guns. .. Most of the fires were deliberately ignited, and will continue to be ignited after the current blazes are extinguished, regardless of the amount ostensibly contributed for firefighting.   continues here..Deliberate deforestation of Amazon rainforest exposes anti-climate capitalism
---
There would be rains during the summer time as if it were winter time, and also dryness during the rainy season. There's been growing lightning storms and hurricane storms that would come and uproot many trees. We had great floods that caused many animals to die, and even people. Because of climatic changes, there are many species of trees whose fruits are borne before the correct time of the year.
All the people who live in the forest realize that over the last 30 years, the changes have been very significant.
It is man who has been perpetrating all this disaster. We see mining and oil business coming into our area and invading our rivers. There were gold mines, with many areas of the forest burned or logged, and we have seen many industries moving into the area that pollute the air, significantly. We see all the rubbish created by these industries, not only plastic but also cans and all the waste being thrown in our rivers.
---
Human Rights Watch on Tuesday published the 165-page report "Rainforest Mafias: How Violence and Impunity Fuel Deforestation in Brazil's Amazon," outlining the ways gangs exhibiting this illegal, criminal behavior not only threatens the world's largest rainforest but also the people who live in and around it.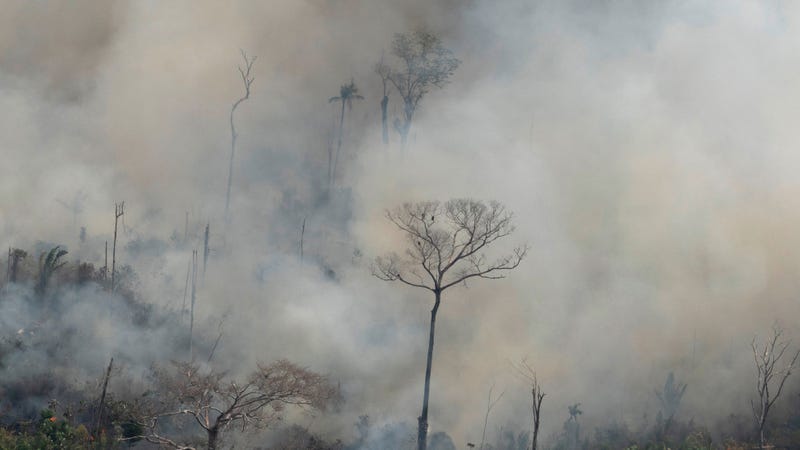 ---
All our worry about the destruction that is happening makes us take our message as indigenous peoples to the whole world, speaking about these problems. Our environment, our natural fruits, animals and plants are the security of our lives.
And if we don't take care of all these species, of this richness of nature, we are heading towards a great catastrophe that may affect us in a very deep way. That's why my work as a leader is to try to show people how we can change this attitude, and we can change all of this.
That's why I have come out of my village to go outside and show to other people with my projects what can be done to protect our environment. MORE