Super-Villains Picket the Arms Fair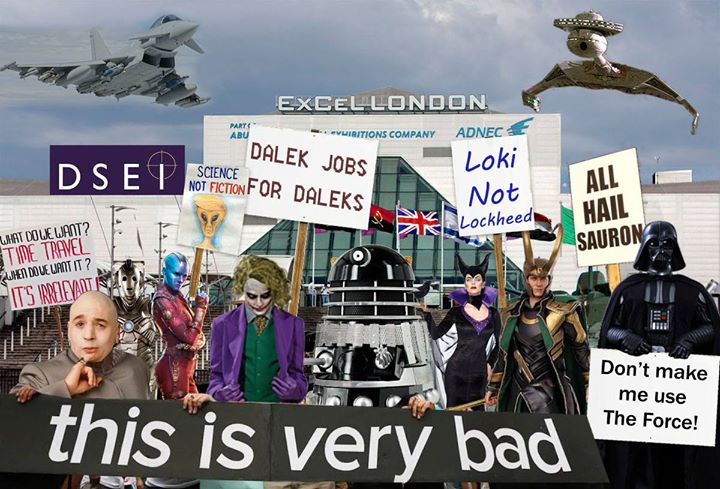 A huge week of action is planned to stop the set-up of London's DSEI arms fair between 4-11 September 2017

 ExCeL Centre
 Friday 8 September 2017
10:00 – 14:00   ExCeL Centre   ExCeL Exhibition Centre, Royal Victoria Dock, 1 Western Gateway,   London  E16 1XL
Protesters outside the arms fair 
 Eliza Egret talks to activists involved in almost two decades of protest against London's DSEI arms show
Once again, Docklands' ExCeL Centre will host the DSEI (Defence and Security Equipment International) arms fair next month. 1,600 exhibitors will showcase equipment including drones, tanks, guns, bombs, warships, cr
owd control weaponry and covert surveillance equipment.
They will be hoping to secure contracts and wine and dine with international governments and military personnel, aiming to profit from states' unending wars of aggression around the world. The arms fair is subsidised by the UK taxpayer, and DSEI's organisers work closely with the government, welcoming human rights abusers such as Saudi Arabia, the US, Israel and Turkey.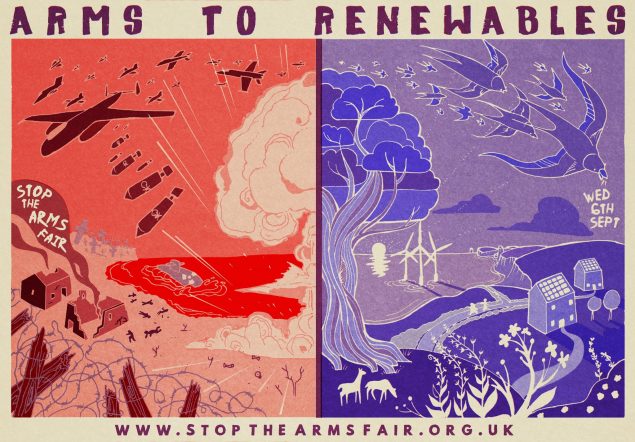 DSEI is always heavily fortified and policed, ensuring that arms companies and aggressive regimes can make deals with total impunity.
Quakers, Catholic Workers, anarchists, socialists, trade unionists and Buddhists are just some of those who have come together to protest DSEI, which takes place every two years. In recent years, British anti-militarists have been joined by activists from Bahrain, Yemen, Egypt, Kurdistan and other communities directly affected by war and state violence.
Creative resistance
Activists have been resisting the arms fair since its inception in 1999, when it was held in Chertsey, Surrey. That year, mass blockades of the roads took place in an attempt to prevent the arms dealers from getting to the event. In 2001, DSEI was moved to the ExCeL Centre in London's Docklands. As planes crashed into New York's World Trade Center, protesters demonstrated against profiting from war.
Anti-militarist activist Sam Hayward first attended protests against DSEI in 2003, at the height of the anti-Iraq war movement. 'That year, millions of people were involved in the opposition to the invasion of Iraq,' Sam says. 'When the war began it wasn't clear how to oppose it and many anti-militarist activists fell away, not knowing what to do. I started thinking about how imperialist wars couldn't happen without the weapons being manufactured and sold by the arms companies — beneficiaries of aggressive imperialist wars.'
One tactic at DSEI 2003 was to stop the arms dealers from getting to the ExCeL Centre. Sam explains how this happened: 'Activists climbed onto the roofs of DLR trains and locked themselves on, stopping the trains.
As a result, the arms dealers were brought in on buses. Protesters stopped the buses, laying down in front of them.
Delegates started arriving by taxi and on foot, so people blocked the roads. There were thousands of activists involved. It was successful in delaying the arms dealers getting there, but ultimately the arms fair still took place.'
Similar actions against the DLR trains took place in 2005. Activist Gary White believes that this has been 'the most effective form of action, as it prevented arms traders from using the train to get to ExCeL. But it was very contentious with the local anti-arms trade group because they regarded it as unhelpfully disrupting the community. It also resulted in many hours of community service sentences.' Continue reading "Stop Biggest Arms Fair London Sept 4 -11 ..WE STOP WAR HERE"