Amsterdam: Council of State wants the ADM gone within five months
On 25 July 2018, in higher appeal, the Council of State has announced ADM must be empty within 5 months, by 25 December 2018. A new court case started by the ADM against the city of Amsterdam took place on 23 july 2018.
The ADM festival 2018 is scheduled from 20 till 23 September 2018.
see also..ADM .. Amazing Free Occupied Harbour The event has been moved earlier and won't take place around the ADM birthday on October 12th.
During the Jetlag fourth edition, on Sunday 22 July 2018, Hay Schoolmeesters gave this speech about the current ADM situation:
https://player.vimeo.com/video/281527603
"People get together with a buzz of good-will to put their energy into cultural and practical things – brain-storming and building festivals for a wider public, putting on regular social events, bands, workshops, or maintaining and improving the infra-structure of ADM community: the mission to cover the roof with solar panels, to improve the roads and tracks, to lay down water pipes, make an internet network, grow a garden, collect scraps for the pigs, sow wildflower seeds… The whole is greater than the sum of its parts".
The ADM is the biggest cultural freehaven in the Netherlands. Our community consists of around 125 people from all ages, nationalities and walks of life.
We transformed a disused, derelict shipyard from the Amsterdam Drydock Company into a thriving Living Experiment, sharing our space, visions and creations. We produce our own projects such as Green ADM, festivals, concerts, workshops and arts.
Like many other historic squat' communities, ADM is a fertile, vibrant space for local and international cultural climates, as well as playing a leading role in the Creative Industry.
ADM
Hornweg 6, 1045AR, Amsterdam, The Netherlands
https://adm.amsterdam/
https://squ.at/r/5g4
ADM Sundayz    
05/08/2018
Green ADM
'Stichting ADM Leeft' has the aim to protect the natural values on and around the ADM grounds.
In 2015 an in-depth report was made by an independent ecological expert from ARDA advies voor natuur en landschap. This report lists all species of flora and fauna found so far on the ADM. Click here to view (and or download) this report.
Experimental ecosystem:
The ADM community has formed organically within her environment on the terrain. A forest has grown along with the many houses and huts. Some parts are designated as natural and thus left alone to let nature take her own course. The rest has largely been formed by the ADM inhabitants.

The ADM has quite a number of habitat types present: forest with grass ground cover; forest with understorey; pioneer forest; sea-buckthorn (duindoorn) thickets, blackberry thickets; open patches of grass surrounded by forest; larger patches of grassland; forest edges; half-wild gardens; temporary small ponds; permanent small ponds; occasionally inundated marshy areas; rocky water edges (brackish); reeded water edges (brackish); shallow brackish water; semi-landed reed islands in shallow brackish water; freshwater lake; forest at edge of lake with marshy undergrowth and reeded edges of freshwater pool.
All together these habitats and their inhabitants form the ADM ecosystem. A vital part in the larger harbour ecosystem.
All these different habitats provide home to many different plant and animal species such as the protected riet-orchis; echt duizendguldenkruid; kingfisher (ijsvogel); cuckoo (koekoek); pond bat (meervliermuis); bittern (roerdomp); nighting…
more here..ADM .. Amazing Free Occupied Harbour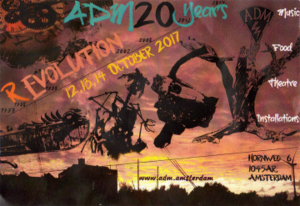 ADM celebrates her porcelain jubilee!
Take a gentri-vacation on the ADM reservation
The squatted cultural freespace ADM existed 20 years in October.  2017. Three days full of spectacle .
Artists, performers and visitors from all over the world will come to ADM this weekend to celebrate that there is still a place where unnecessary regulations do not exist, the hands of the clock are not breathing in your neck and where non-conformers walk freely.
For three years, ADM's continued existence has been under pressure, there are countless lawsuits and a lot of media attention. All in all, this does not change the ideals, life-lust and cultural expression of the ADMrs or the celebration of ADM's birthday festival! [Read More]
'Will the ADM disappear?' – Berk and the ADM, with intro SUBTITLED (August 2nd. 2017)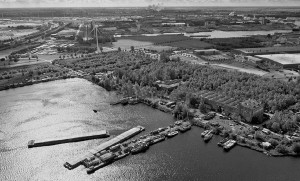 On the edge of an expanding industrial area in Amsterdam called Westpoort, a special development took place.
A group of people created a forest. The forest functions as a natural filter for emissions from local industries. It filters particulate matter, which are small particles of toxic debris and dust from the coal, concrete and petroleum industries located in the nearby area.
On the ADM terrain the trees and plants continually capture these small particles and hold on to them with their leaves and branches until they are washed away naturally by the rain. This is a pollution barrier at work.    
The ADM trees also work as a sound barrier to the activity in the industrial freight and coal terminals located in the area. The trees also capture and store CO2 gas. This sound barrier, natural air filter and CO2 storage works every day.
At present the ADM forest forms a direct benefit for the surrounding living areas such as Westzaan and Zaandam, but also for the environment in a much bigger sense. [Read More]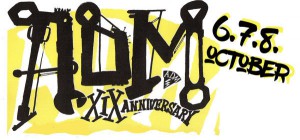 On October 6, 7 & 8 there is a unique chance to take a look inside the ADM.
This squatted community celebrates it's 19th. birthday with a multi-disciplinary-all-flavoured program, which includes dancing, safari & porcelain, circus & puppets and much, much more.
In a city where thinking within existing frameworks, economic interests and clean sidewalks dominate the public domain, the ADM is an alternative community based on solidarity, self-organization, respect, improvisation & innovation.
A place were Anti-conformists walk freely and Dreams still fly around and lay eggs. The ADM is currently under severe legal pressure, but still we present a huge program of international acts.
Not to be missed! [Read More]