note: this blog thefreeonline.wordpress.com, has now been banned in Turkey and for computers with Turkish origin. see report here:
Yesterday more convoys of Turkish troops, tanks, artillery and supplies were videoed entering Idlib province to fortify the 12 'security points', now and forever major Turkish military bases in the new "Demilitarized" Zone..
Turkish forces in a convoy on a main highway between Damascus and Aleppo, near the town of Saraqib in Syria's northern Idlib province, August 29, 2018.Omar Haj Kadour/AFP T ..Turkey deployed hundreds of its soldiers to 12 observation posts that ring Idlib
.
You can be sure the Turks will never willingly leave. Popular islamo-fascist dictator Erdogan has boasted he will "take back all the lands" of the genocidal Ottoman Empire. Turkey has already seized Jarablus, Azas, El Bab and Afrin and all are being "Turkified" with ethnic cleansing.
Idlib, with 2.5 million people,  is the last chaotic bastion of 'rebel' groups, earnest young jihadi fighters and their families, many exiled from other parts of Syria. Most have lost their salaries from the US and Arab states as the war winds down.
Turkey has been busy 'recruiting with threats', rearming them and paying 500 Turkish lira a month, which with the fall of the currency is worth barely $80 US, hardly enough to eat.
Turkey has a direct border with Idlib via the Iskendun province which it seized and 'Turkified' in the last century.
The new agreement, cynically approved by Russia is for a 15 to 20km wide Turkish controlled 'demilitarized' zone (though totally militarized) around Idlib occupying about 25% of the province, and growing.
Abu Mohammad al-Julani the 'pragmatic' leader of HTS
HTS is strong and well organised, has social services, collects taxes and though originally Al Qaida is now no more fundamentalist than various Arab states. But Idlib is a chaos under siege, with so many 'rebel' groups and refugees. Dozens of HTS leaders have been assassinated recently and one wing is happy to sell out to Erdogan. Erdogan had sought to delay an attack by trying to convince HTS to dissolve, join the FSA coalition of Turkish-backed rebels, and gertv paid. But the group's leadership has resisted those calls, and instead vowed to fight on. Turkey could stand aside for a limited government offensive against HTS in return for the regime leaving Turkish presence in Idlib untouched .
Fighters from the Jaysh al-Izza (the Army of Glory), affiliated with the Turkish-backed Free Syrian Army, take part in a training session, Idlib, Syria, April 9, 2018.
The outcome in Idlib is still uncertain. Russia has let Erdogan take control of the situation, in exchange for gas and arms deals in a cynical reminder of the Stalin/Hitler pact. Erdogan is busily threatening Europe again with 'letting loose the Idlib terrorists'.
All this is very bad news for occupied Afrin, with half the population exiled and "settlers" arriving every day, many of them arab islamists from Idlib.
Defeated but defiant. Massacres  by Turkish troops and  the mercenaries of FSA 
around Afrin  as the NATO tanks finally rolled in and the Afrin defense became a guerilla war..
Afrin is now even more cut off with 'Turkification' in full swing and Erdogan's mercenaries seizing goods and property and committing mass rape and kidnapping.
To this blatant war crime in illegally annexed Afrin is added forced language change, abolished progressive and horizontally organised Kurdish local councils, closed or destroyed schools, women forced into servitude, etc,.etc.
---
We republish below an excellent analysis of the latest Idlib developments by Aldar Khalil
Aldar Khalil: Security strip for dividing Syria, consummating Erdogan's project
Khalil said that the formation of the security strip around Idlib, which resulted from the bilateral agreement between Russia and Turkey may be the new border between Syria and Turkey, stressing that Idlib became a part of Turkey, and this is a move to complete the project of Erdogan in Syria.
(English language corrected)
This came during an interview conducted by ANHA agency with the former Co-chair of the Executive Committee of the Democratic Society Movement Aldar Khalil to talk about the latest developments in the Syrian areas, especially Idlib province after the bilateral agreement between Russia and Turkey.
How do you assess the situation in Idlib, what is the Turkish role in it?
The Turkish intervention in Syria has caused more complications. This is the main reason for the prolongation of the Syrian crisis and the distribution of terrorist gangs and mercenaries throughout Syria, which are behind the tragedies and suffering of the Syrian people, the internal causes of the regime and the like.
A convoy of Turkish military trucks carrying tanks heads past the town of Kilis yesterday, bound for Syria
As a result of the policy pursued by Turkey, led by Erdogan, to distribute the groups in the Syrian areas and effected the negotiations' fate in Syria and the balance of power in the Syrian geography, and this impact on the Syrian reality on the one hand and on the Turkish reality on the other hand, the Turkish involvement in the Syrian issue and file and the policies pursued by Erdogan in Syria lie behind the economic crisis experienced by Turkey and its differences with the other countries and the stalemate of relations between them and the rest of the world.
What is important now is to address the situation of Idlib. The Idlib crisis came after the steps taken by Erdogan by abandoning Aleppo and handing it over to the regime and helping the regime to control al-Gouta and its direct intervention in Jarablus and al-Bab. Now the presence of his forces, militias and terrorist gangs in Idlib was a major reason for Russia to resort it and its acceptance to hold a trilateral summit between the Russians, Turkey and Iran to study this issue and to take decisions on this matter, but the tripartite summit that did not give a result, as Russia wanted or as Turkey wanted, so they resorted to a bilateral meeting between Putin and Erdogan.
What is the purpose of the bilateral meeting between Russia and Turkey, and was it really to put a solution to the crisis in Idlib province?
The meeting that took place between Putin and Erdogan was a meeting of distribution of interests and quotas as well as planning for the coming months, Erdogan is in a very difficult position either to give up Idlib as he did in Aleppo and thus lose all groups associated with him in Syria, or insist, as Iran did, on the suspension of Idlib's liberation campaign.
Russia studied carefully and tried to feel the pulse and take the views of many countries, and most other countries were calling for non-escalation in Idlib for several reasons, the main reason was Erdogan's threat to European countries when he said that if Idlib has been attacked, he will send the terrorist gangs to Europe and other nations, which raised concerns of these countries, for example, if the attack began, and these groups go towards the territory ruled by Turkey, then Erdogan will direct them to these countries and this is a problem for them.
How do you assess the outcome of the bilateral meeting between Russia and Turkey?
These groups did not accept the departure from Idlib and insisted on resistance within Idlib. The regime does not have the power to defeat these groups, nor was Russia confident that its bombing would be free of international reactions, especially after the position of the United States and alliance countries towards what might happen in Idlib, especially during the spread of information about the possibility of using the system of chemical weapons in Idlib.
Air strike by Russia or SAA in Idlib
All these factors helped Erdoğan to persuade Putin to postpone this campaign and agree to form a security belt around Idlib. Idlib would be a part of Turkey, and this belt will be as the border between Turkey and Syria. This completes Erdogan's project which he started in Jarablus, al-Bab and Afrin, areas which Turkey has taken control of, and now in Idlib.
How will the parties ensure that there are no violations between the regime and the mercenary gangs?
With the presence of Jabhit al-Nusra and other gangs, the situation is different. Therefore, Erdogan cannot make firm decisions after the establishment of the isolation belt. The isolation belt will not succeed. The belt cannot be accepted by Jabhit al-Nusra or other gangs, and it will become a tragedy for Erdogan and Turkey.
The coming days or months will be a more difficult stage than now, so he is thinking of exploiting the next month by directing these gangs (note: most of the factions in Idlib are now paid by Turkey)and sending them to Afrin and relieving the burden on Idlib. Thus there is a new danger to Afrin and the east and north areas of Syria as well because this will create a new conflict focus. This will affect the Afrin issue as we have intensified our diplomatic, political, military and organizational efforts to liberate Afrin, Erdogan wants to create a new state of conflict to prevent that liberation.
What lies behind the regime and Iran's (the third party of the Syrian file) silence on the bilateral agreement and Turkish occupation of some Syrian territories?
The regime now does not care about the division of Syria or the truncation of parts of Syria, insofar as it is concerned about maintaining its authority and undermining other gangs, since when they were collected from other Syrian areas, the aim was to limit them to this area.
The most important matter for the regime is to keep them without impact in a tight and restricted environment, if they were keen on the unity of Syria they would have moved during the occupation of Afrin, Jarablus, al-Bab and other Syrian areas occupied by Turkey and which are still under Turkish occupation.
In Afrin now, the language used by the residents is changed, and the names of the villages are changed. Thousands of Idlib people were brought to Afrin to settled in it, brought by the Turkish occupation of Idlib. Neither the regime nor any other party claiming to be concerned about Syria cares about the occupation as much as the issue of power.
Iran is in a new situation due to a decision by America and its allies to fight Iran and its influence in the area and to prevent it from forming a Shiite crescent.  Iran is now under attack and subject to a blockade and what is agreed in Idlib may not be in line with Iranian policy, but Iran is trying to make a balance at this stage and does not want to become an influential party that comes into the arena directly.
How do you explain the reactions of many external and internal parties that called for avoiding any military confrontations in Idlib to preserve the safety of civilians while those parties remained silent about Turkish practices towards the people of Afrin?
Some of the parties claim their concern for the lives of civilians in Idlib during the military operation, and call to avoid them in order to protect civilians. As a human feeling, this is a good thing, and we do not want cities to be bombed, destroyed and residents killed. But the question that arises about the international community which puts these things on the table now,  is whether we are in the same situation as when the campaign began on Afrin and they kept silent?.
One of thousands of  victims of Erdogan's blatant genocidal war crimes in Afrin.
Turkey invaded Afrin and the people of Afrin were uprooted, the property of the people in Afrin was taken over and its population changed, no one moved then and the international community did not declare any such thing, why this double standard?
They are arguing about humanitarian matters in Idlib, as a humanitarian duty or as a humanitarian situation .. They have to take measures to prevent this, instead of agreeing with Erdogan on interests and things that will do more harm than would an attack on the city.
How will the agreement affect the fate of Afrin?
This agreement, above all, will give these groups an opportunity to reorganize themselves or send some of their followers to Afrin. This will affect Afrin's demographics. On the other hand, this agreement created a compromise solution between Russia and Turkey.
This compromise solution though temporary,  blocked the way to the emergence of any conflict or contradiction between them around Idlib, if a contradiction appeared that would have had a more positive impact on Afrin, but Erdogan will benefit from this agreement, if prolonged, to consolidate his rule and tyranny and occupation of Afrin.
It is most important to focus all efforts on the liberation of Afrin,  without the liberation of Afrin, no matter or subject can be discussed, neither the sovereignty of free Syria nor democratic North Syria, and we cannot talk about a free Rojava. For us, the issue of liberating Afrin is a strategic one, and it is an essential subject for our discussions and meetings with all parties.
Some parties claim that they are keen on Syria moving towards a new phase of the solution in the coming months so as to agree on a new constitution for Syria. But if this is done without Afrin's liberation it cannot be successful. Without Afrin's liberation, our partnership in these maters will be deficient, which will have a negative impact on these efforts. Therefore, the liberation of Afrin and the delivery of Syria to the solution are linked to each other, we are in a difficult stage, with intensive interventions and strong pressures, and the parties are many, so Syria is still in a state of intense conflict.
What is the new stage awaiting Syria?
Wherever Erdogan and Turkey are, obstacles are created to reaching a solution, and Erdogan is a part of this agreement.  I think it will be temporary and will not last long, though its effects will extend to Aleppo, the entire North of Syria and Syria in general, Our wish is to begin the political solution and dialogue stages seriously with everyone involved and agree as Syrians on the solution, and then we will address the issue of Idlib also after the issue of Afrin, Jarablus and al-Bab are addressed.
H/S
ANHA
---
Turkish PM: "We will put 350,000 'Syrians' into Afrin", – After expelling Kurds and 170,000 internal refugees -Turkey is openly conducting a policy of "ethnic cleansing" in the area
"Once we have purged the terrorists (from Afrin) we will then cleanse them from Manbij, Ayn al-Arab, Tal Abyad, Ra's al-Ayn and Qamishli," Turkish President Recep Tayyip Erdogan
A classic British colonial tactic, now repeated by Turkey in Afrin and northern Syria,  was the 'confiscation' of conquered lands, especially in Ireland, and the settling of this land with soldiers in lieu of pay, or families from Great Britain. This resulted in ongoing conflict, hatred, violence and war right down to the present day.
---
.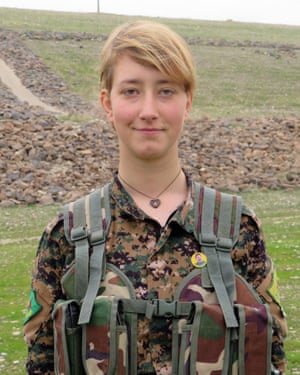 Anna Campbell, a British national who was murdered by illegally invading Turkish soldiers and their jihadi mercenaries  when defending families alongside YPJ women's forces in Afrin.
Turkish-backed Syrian rebel groups are committing serious human rights violations against civilians in the Kurdish canton of Afrin, Amnesty International revealed last week. The human rights monitor identified Syrian opposition groups Ferqa 55, Jabha al-Shamiye, Faylaq al-Sham, Sultan Mourad, and Ahrar al-Sharqiye as the main human rights abusers.  All are paid mercenaries of the rogue Turkish State.
In the middle of the Invasion of Afrin the EU shamefully confirmed the second tranche of 3 billion euros to Turkey in exchange for blocking refugees entering Europe.
Shame: EU gives 595 million euros Blackmail Payment to nazi dictator Erdogan.
Erdogan boasts openly that the same is happening in Afrin. Though he sometimes says the settlers will be 'Syrian refugees' at others he says they will be FSA mercenaries and their families, as well as Turkmen refugees from other parts of Syria and boasts that the 'Ottoman Empire will rise from the ashes'.
---
Who Accepted Most Refugees
Afrin nearly doubled its population in  hosted refugees despite a siege blockade (172k to 323k )  while Turkey's only increased by 4.4%  (3.5 million out of 80 million).(The total population of Afrin as of 2005 was recorded at only 172,095 people, of whom 36,562 lived in the town of Afrin itself.  Wikipedia. According to the United Nations, Efrin district ….has a population of 323,000 people.)
Afrin while suffering from an economic and military blockade hosted a huge number of Arab, Christian, Assyrian and Turkmen internal refugees and was hailed as a  model of direct democracy, gender equalty and religious and ethnic tolerance. We care for these people but we are not sure how to attend to their needs when our small city has been blocked from all sides," Mahmoud, a refugee camp director,  added. The Turkish takeover has forced a mass exodus amidst documented reports of mass murder, widespread looting , kidnapping, rape and pillage by the Turkish contracted Jihadi mercenaries and Turkish military
---
Dozens of girls missing in Afrin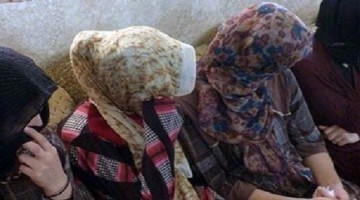 A mother looking for her 14-year-old girl who was abducted in Afrin under invasion, stated that dozens of girls are held captive and raped by Turkish forces and allied gangs.
---
The Future under Turkish Rule.
The future looks bleak. Large areas of SE Turkey itself, Cizre, Nusaybin  still lie in ruins under special forces military occupation and continuing frequent curfews after the Turkish State pogroms against the peaceful 'Kurdish Spring'.
These ex Syrian rebels, many ex ISIS fanatics, are hired by Turkey to invade, loot, bomb, rape and 'Turkify' areas of their country illegally occupied by Erdogan's military.
Erdogan's FSA army supplement their dwindling salaries by openly looting in Afrin, as well as extortion, kidnapping and property seizures. see ANHA reports
'The repercussions of the money depreciation were most visible in these area since a large segment of its Syrian residents are "civil servants" and  who receive their salaries in collapsing Turkish Lira, and have to change to Syrian pounds to spend it'.
The 'Euphrates Shield' areas in the Aleppo countryside, controlled by the Free Syrian Army (FSA), is a region invaded by Turkey which control it with their own troops and hired FSA military police.
Local councils are run from Turkey, schools are now teaching Turkish, all with a far right wing Sunni Islam and extreme anti-women policy to counter the influence of the democratic and feminist Rojava Revolution .
Erdogan has repeatedly boasted he will take over most of Syria and Iraq in this way and remake the genocidal Ottoman Empire. This means Turkification, expulsions and planting of new population (including thousands of Urghur Turkmen from China) .
Besides Turkey, Iran, Russia and the United States each have forces deployed in Syria, all the combatants in the war have to be paid by one unscrupulous backer or another, which have included at one time ..Turkey, Russia, Britain, the US,  France, Saudi, Qatar, UAE, Israel…etc . With the war winding down many factions have lost their salaries and Erdogan has seized the opportunity to convert them into Turkish mercenaries.
.
Clashes in Jarabulus city, Aleppo, injure two members of military police
Turkey has presented the town of Jarablus, which they invaded in 2016 by agreement with ISIS, as a model for 'Peace in a Post War Syria' ,
The reality is very different, it's a Turkish colony run by an Islamic fundamentalist council implementing a Turkification agenda.  Continuing clashes between rival jihadi factions and the Turkish controlled military police, many of them ex ISIS terrorists illustrate the lack of peace.
August 28th 2018 "The military police of the Free Syrian Army clashed again with the Ahrar al-Sharqiah faction in the city of Jarabulus. A military source who preferred to remain anonymous reported that the two military police officers received minor injuries during the clashes.
In June 2018, clashes between the Ahrar al-Sham Islamist Movement and the al-Shamal Brigade of the FSA killed a civilian and injured several fighters in Jarabulus. the city".
info partly from Nouha Salti at Smart News
---
Afrin Women: After rape, murder, it is time to revolt against occupation
The women of Afrin canton who settled in al-Shahba canton rejected the violations and practices of the Turkish occupation army and its mercenaries by attacking women, raping and abducting young women in exchange for enormous amounts of money. They called on women's and human rights organizations to intervene and put an end to these violations.
More Related News
."The YPG is now facing some of the same Isis fighters in Afrin with whom it fought over the past four years." Turkey pays 500 Turkish Lira a month to the 25,000 ex ISIS and Jihadis to kill Kurds (http://www.independent.co.uk/news/w… #BreakSilenceOnAfrin#DefendAfrin#YPGPressOffice
Afrin.. Genocidal 'Turkification' of Education under Turkish terrorist occupation
38 destroyed schools
38 schools out of 318 schools were destroyed as they were under the supervision of the Education Body in the canton before the Turkish invasion. All of which were funded by the Democratic Autonomous in Afrin. They had about 50,000 students in the elementary, preparatory and secondary levels.
On the first day of the Turkish air attack, three schools were damaged, and 38 schools were destroyed during the Turkish attack, including the Rajo and Janders schools. Consequently, a complaint was lodged by the Education Body of Afrin canton to UNESCO against Turkey to stop targeting schools, but that was in vain. As a result of the Turkish bombardment, dozens of children were killed and hundreds have been disabled permanently and tens of thousands displaced.
Racial discrimination against Kurdish students in Afrin
According to special information, Turkey has put great pressure on the so-called coalition in 2017 to introduce the Turkish language to the school curricula in Jrablous, al-Bab and Azaz. Afrin was also included in this agreement. Today, in Afrin schools, Turkish is taught within four classes a week according to some of the students who we have contacted with.
Afrin schools' students and curricula today have been changed. The Kurdish students are outcasts and the priority is for the settlers from al-Ghouta, Homs, Idlib and other Syrian areas who were deported to Afrin under an agreement between Turkey and Russia. The curricula have become Arabic and Turkish with Islamic color, and most of the teachers are settlers.
---
Turkey established colony of Uighurs in Idlib adjacent to the borders of Iskenderun and supports their survival. During the years 2013 and 2014, the figures indicated influx of more than 20,000 Chinese Uighurs. A significant number of Uzbeks, Caucasians, Turkmans, Tajiks and Azeris come to these areas and live with Uighurs, and they and their children have joint training camps in the town of Drakush in the countryside of Idlib.
According to Beirut Center for Middle East studies, Turkey's support for the Uighur movement in Syria is part of Turkey's expansionist ambitions and a foothold for the ethnic Turkish Uighurs within Syria and a change in its demographic composition so that it can intervene
---
Genocides by Turkey. short history and links
Turkish politicians and ruling tyrants have traditionally gained support and seized property by racist campaigns of mass hatred against minorities, leading to horrific Genocide campaigns.
The most famous case is the still denied Armenian Genocide, 1915- 1923, which led to the death of over a million Armenians, the utter destruction of their rich culture, and the robbery of everything they had in Turkey.
But nearly all the minorities of Turkey have been targeted at one time or another, check out the Greek Genocide, the Jewish and the Assyrian genocide, thatagainst Christian minorities , the Yezidi minority in Afrin the Yezidi minority but especially against the Kurds. The Kurdish minority of up to 20 million have been systematically robbed, murdered , jailed and denied basic human rights, even to use their own language. see  Genocide Watch: Kurds on brink of 'extermination'.. and  Turkey and the Road to Genocide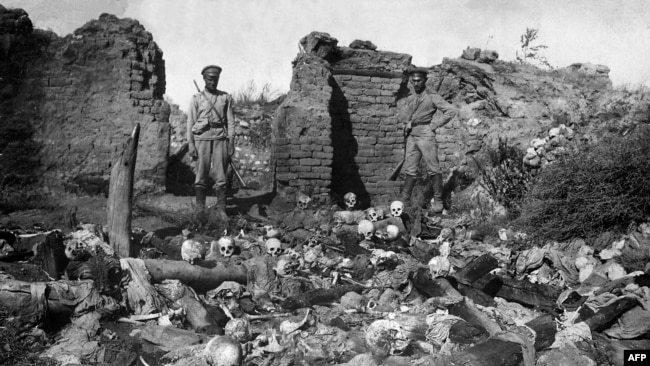 Recently the veteran politician Erdogan has abandoned a fruitful peace process with the Kurds and instigated military attacks, mass jailings, curfews and killings against Kurdish areas, fanning anti-Kurd hysteria in a successful bid to seize absolute power and invade northern Syria and Iraq.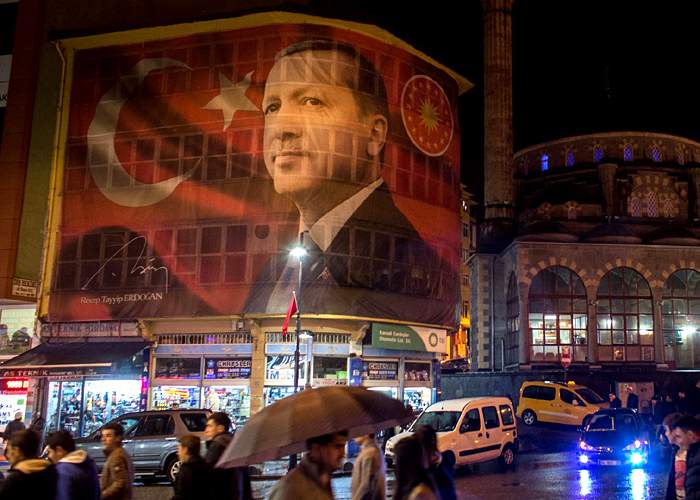 ---