1:1 FairCoop rising
The Post-capitalist movement known as FairCoop steadily grows stronger, worldwide, in an integrated way. Independently from the decisions of centralized institutions, statements of hierarchical organizations, fluctuations of market speculation and mainstream skepticism … we are empowering ourselves in an exponential and radiant way.
CONSULT FAIRCOIN DIRECTORY:  HERE
Three years of intense cooperative activism have made economic and social emancipation tools a reality, to the point where anyone with Internet access can become autonomous in their local environment, regardless of the culture, political situation, economic pressures or legal impositions, and become part of the new global fair economy.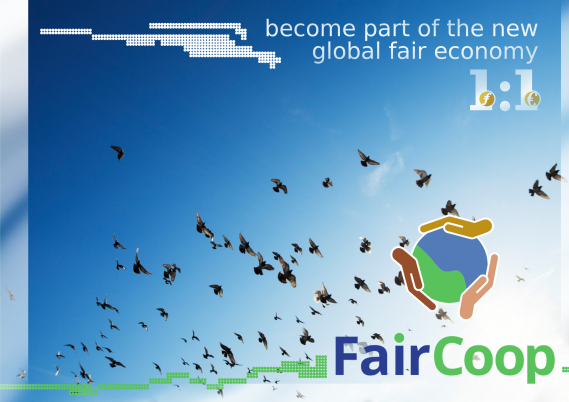 For three years with FairCoop, a group of cooperative activists have spent their energy to build an innovative set of tools and solutions to help people to have an actual, practical alternative choice: for instance, they are creating a novel, independent and fair economy with the help of a unique anti-speculative crypto-currency: FairCoin
 What is it?

https://fair-coin.org/  FairCoin is the first fairly distributed crypto currency.
99.99% Proof-Of-Stake, rewarding savers and cooperation
All the coins were premined and fairly distributed to thousands from all over the world. Computing power not needed.
Backed by a strong, diverse and committed community.
Promotes prosperity and financial freedom with real value.
Working to become the coin of fair trade.
In this way, Faircoop and its structures are creating the tools in order to slowly leave the control of the state and capital, offering a realistic transition plan instead of relying simply on empty rhetoric or intellectual abstractions.
It is a constructive project and serves an important role, as the real task for radicalism today is to help people, collectives and regions to realize that they don't need state bureaucracies, political parties or impersonal economic institutions.
Understanding that we are faced with not just a passing financial crisis but a systemic disintegration, we realized that the truly unrealistic and utopian dream was that of endless capitalist accumulation, as the established powers insist on going headlong over a cliff, stubbornly insisting on growing inequality and endless consumption of finite resources. Continue reading "Faircoin: the Eco-Solidarity money that could Sweep the World"